Public vehicles on the Mid-hill Highway charging exorbitant fares
Passengers are forced to pay anywhere between Rs600 and Rs700 one- way tickets, far exceeding the fare ceiling fixed by the Department of Transport for highway buses.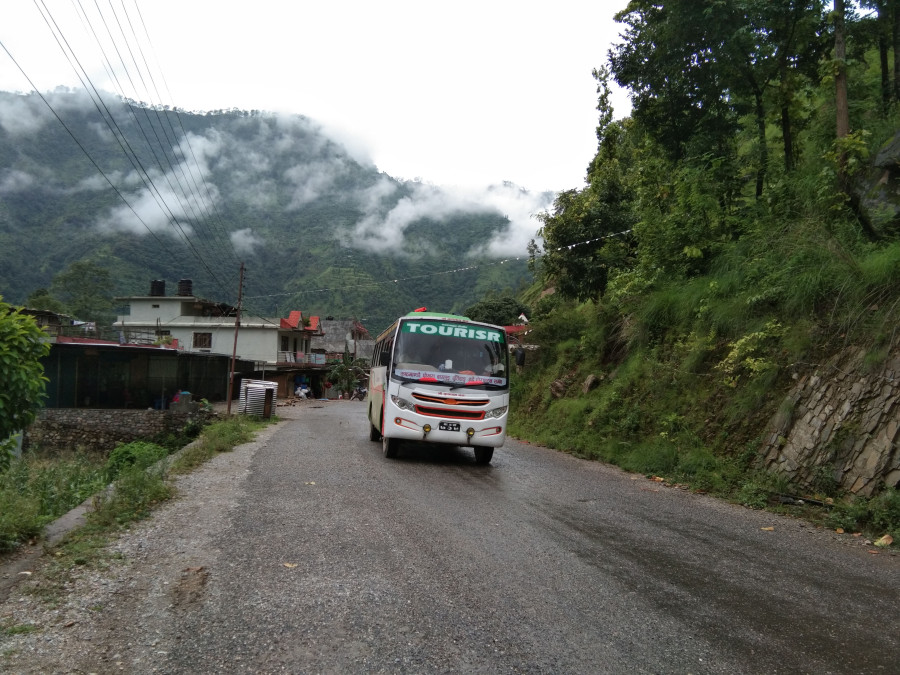 Although the road is blacktopped, buses charge fares as they would on rural roads. Prakash Baral /TKP
bookmark
Published at : September 18, 2019
Updated at : September 18, 2019 08:45
Baglung
Passengers travelling between Kharbang in Badigad and Baglung Bazaar, the district headquarters, along the Mid-hill Highway are forced to pay anywhere between Rs600 and Rs700 one way—much higher than the fare ceiling fixed by the government.
Although 65-km stretch out of the 90 km highway has already been blacktopped, locals say the transport entrepreneurs have been charging fares as they would on rural roads.
Harka Bahadur Kumal of Badigad, who frequently commutes between Kharbang and Baglung Bazaar, said that he has been paying Rs700 one way. "We pay what is asked of us because if we don't, then the conductors become unruly and misbehave with us."
According to the Department of Transport Management, transport entrepreneurs can only charge a fare of Rs2.5 to 3 per kilometre on the national highways. But passengers have been compelled to pay high transport fares along the Mid-hill Highway, as the authority concerned has not taken initiatives to address the issue.
According to passengers, a bus charges Rs600, whereas a jeep fare is Rs 700 for a one-way commute from Baglung Bazaar to Kharbang. "Earlier, the rate was Rs550, but they nowadays charge Rs600 to 700," said Kumal.
"A decade ago, the Baglung Bazaar-Kharbang road was in a state of disrepair. But now a larger part of the road has been blacktopped," said Tulasiram Kandel, an officer at the Transport Management Office in Baglung, vowing to take action against No one has the authority to raise transport fares, not even drivers. We will investigate the matter and bring transport entrepreneurs to book."
Although the department has fixed a ceiling on public transportation fares that run on national highways, it has yet to send a memo to the District Transportation Fare Adjustment Committee, said Kandel. "That's why the drivers have fixed the fare arbitrarily."
Chief District Officer Luk Bahadur Chhetri has assured that he will soon call a meeting of the stakeholders and take stock of the situation.
"A bus should charge Rs8 and jeep Rs9 per kilometre as transport fare as per the decision made last year. But, I have been informed that they have been charging exorbitant transport fares from passengers," said Chhetri, adding, "I will immediately take action and direct the stakeholders concerned to implement the decision.".
Meanwhile, Chairman of Dhaulagiri Transportation Company Umesh KC tried to justify the high fare, claiming that they have been providing quality services to the passengers. "We have fixed transport fares as per the facilities provided by the vehicles," KC said.
According to him, the vehicles have facilities including AC, drinking water and entertainment system for the passengers.
Kumal, however, begs to differ. "We haven't received such facilities. The AC doesn't work most of the time," he said.
---
---