Army, Machhindra to vie in virtual 'A' Division league final
The two teams are separated by a single point and although a draw will be sufficient for Army to win the title, both teams are looking for a decisive win.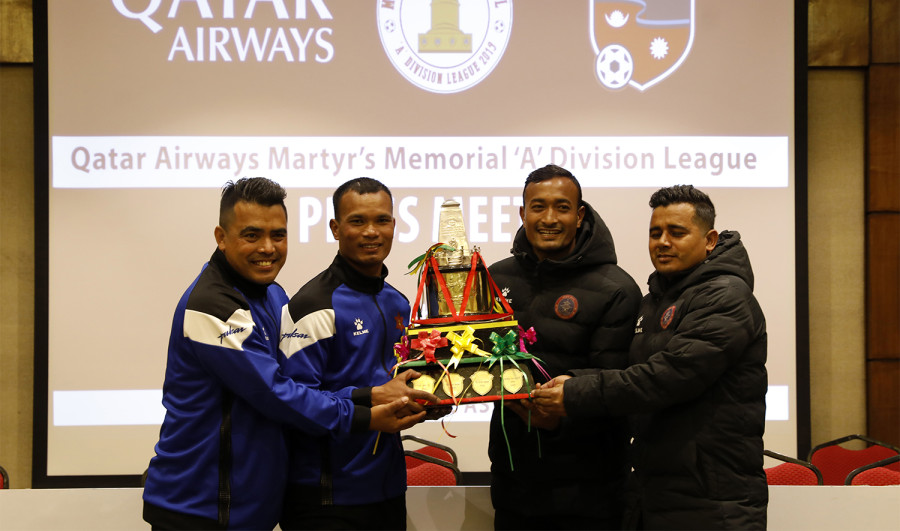 (From left) Tribhuvan Army Club coach Nabin Neupane, captain Bharat Khawas, Machhindra Club captain Bharat Khawas and coach Prabesh Katuwal with the Martyrs Memorial 'A' Division League trophy on Friday. Hemanta Shrestha/TKP
bookmark
Published at : February 15, 2020
Updated at : February 15, 2020 08:26
Kathmandu
The Tribhuvan Army Club and Machhindra Club, Nepal's top two footballing sides, will go head-to-head on Saturday, in the last match of the Martyrs Memorial 'A' Division League that will decide the champions.
Whichever side wins, Nepali football will get a new football champion. The two teams are separated by just a single point—the departmental team sits on top of the standings with 29 points, one point ahead of the Janabahal-based side. Even a draw will be sufficient for Army to bag their first league trophy. But both sides have promised to go for the win in the decisive match.
Machhindra could have been on level terms with Army had it not faced a point deduction before the league championship even began. Machhindra were penalised a point as they finished second-to-last in the last edition of the league, which did not have the provision of relegation. New Road Team, which placed last, faced a two-point deduction.
But despite their poor track record last season, Machhindra have reinforced their squad with half a dozen Nepali internationals and domestic stars in addition to three foreign recruits. A sixth-place finish during the 2005-6 and fifth in the 2013-14 seasons have so far been their best runs in the league, ever since they were elevated to the top division in 2004. The two sides have played each other 11 times in the league since 2005-6 where Army have won six while Machhindra have won once; four matches finished in a draw.
"The match is really important for the club and the players," said Biraj Maharjan, captain of the Machhindra Club and former captain of the national team. "We don't have any other option than to win."
Maharjan was captain of the Manang Marshyangdi Club last year which was crowned the champions.
The Army's best run dates back to the 2006-07 season, where they finished as runners up behind arch-rival Nepal Police Club (known as Mahendra Police Club then). Army were in similar place then as they are now—a draw could have secured them the title while the Police Club were in a must-win situation. The Police eventually pulled through.
"It will be a vital match for us as we have not won the title so far," said Bharat Khawas, Army captain and national team player, who will be paired up front with his national teammate Nawayu Shrestha: "We have not considered a draw. We are taking this match as an opportunity to achieve."
Machhindra's attacking line up will be bolstered by the arrival of star forward Bimal Gharti Magar, who joined the team recently after featuring in the Maldives' Dhivehi Premier League. Gharti Magar is coming off a 90-day suspension instituted by the All Nepal Football Association for unsporting behaviour.
"Gharti Magar had been training with the team for the last 10 days and his presence is expected to boost the morale of the team," Machhindra coach Prabesh Katuwal said. "We will play like champions tomorrow as we have no alternative."
Coach Katuwal conceded that Army are a strong side but pointed to his team's star power as the winning factor.
"In terms of individual brilliance, we are a better side," he said. "We need to utilise the few chances we get to beat them."
Machhindra's chances, however, could be affected by injuries in a few key players, including captain Maharjan, winger Sujal Shrestha and forward Rejin Subba. Katuwal has yet to decide whether to risk putting them on the field.
But Katuwal has a strategy—he plans to take advantage of the Army's one-point lead over them.
"As they hold a point lead over us, they might go for a defensive approach and we will try to exploit that," he said.
But the Army are well aware that Machhindra will try to exploit their one-point lead. According to Army coach Nabin Neupane, his team is looking for an all-out win.
"We will go for a win even though a draw will be sufficient," said Neupane. "It will be special to lift the trophy with a win."
The Army club, is no slouch when it comes to star players either, with seven Nepali internationals, although Neupane is aware of Machhindra's firepower in Sujal Shrestha, Peter Segun and Dipak Rai.
"They have solid attacking and set pieces so we need to avoid them and go with our game plans," he said.
According to Neupane, teamwork, power and speed will be key to his side's victory.
"We have a chance to create a history and each player has been performing the role assigned to them.," said Neupane. "We will play a pressing game."
---