Why Nepali football is still failing to make a mark
Players and coaches attribute the national football team's lacklustre progress to mismanagement, minimal investment and the lack of a domestic league.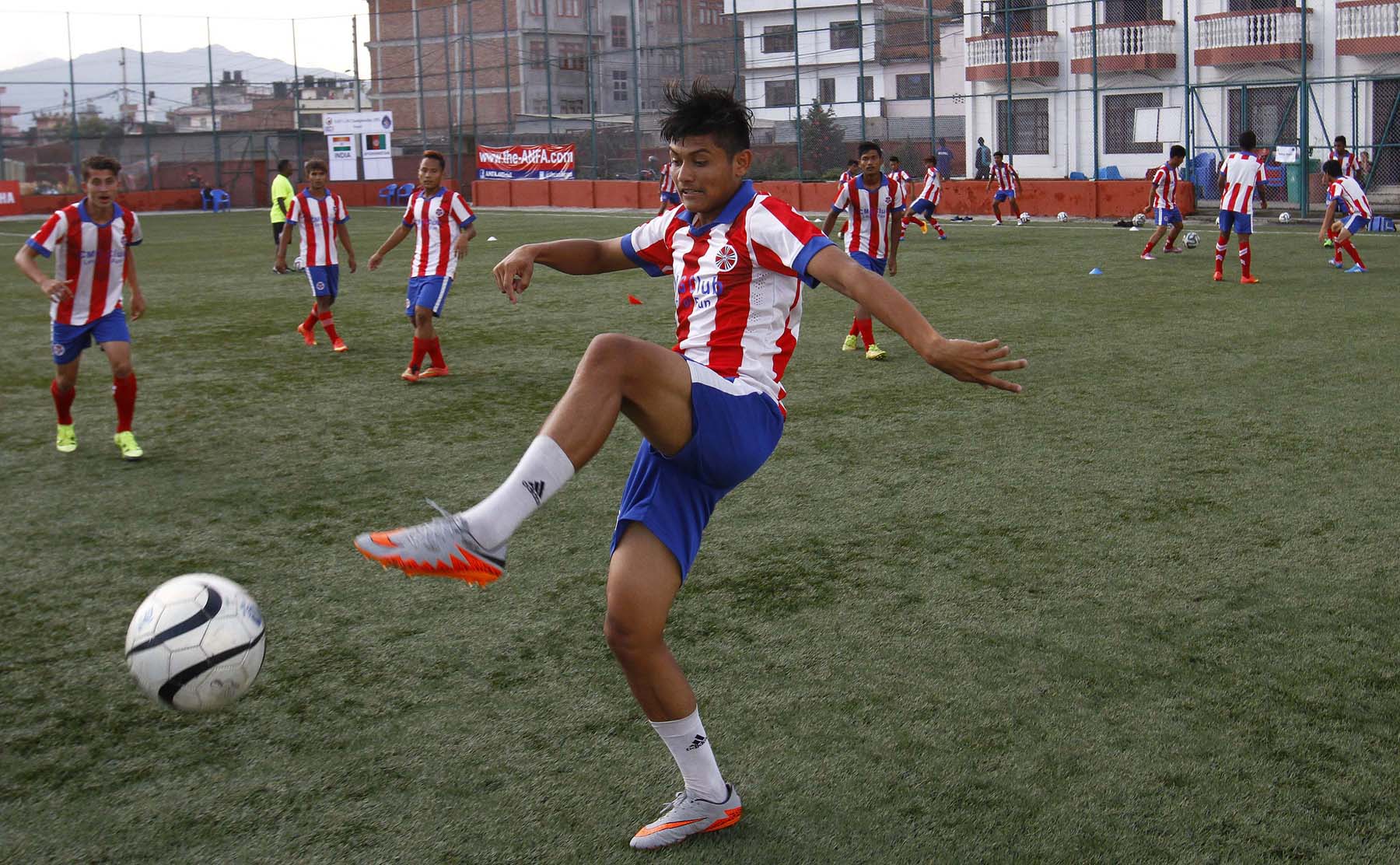 Bimal Gharti Magar, a product of ANFA's youth academy, is among the few Nepali footballers who've found an international career. Post File Photo
Published at : November 8, 2019
Updated at : November 8, 2019 20:54
Hari Khadka had been playing for the Nepali national football team for eight years when he flew to South Korea for the 2003 Asian Cup qualifiers. Nepal was about to play against hosts South Korea, a team that had finished fourth in the 2002 FIFA World Cup. Despite playing for around 60 minutes, Khadka, Nepal's highest goal scorer alongside Nirajan Rayamajhi, said he doesn't really remember much about the Incheon game.

"It has been over 16 years now so I don't remember much," Khadka told the Post. "What I do remember was the mood was dark and our morale was down after the match."
Nepal had conceded six goals in the first half and another 10 in the second half against South Korea. With 16 goals in, that game remains Nepal's biggest defeat in any international match. The tournament was even more disastrous--where Nepal conceded a total of 43 goals to no reply.
Football is arguably Nepal's most popular sport, surpassing even the popularity of cricket and volleyball, Nepal's national game. Be it the national team playing international fixtures or local clubs playing in Bhale and Khasi Cups--so named after the traditional rewards of a rooster or a goat for the winner--there are almost always huge crowds gathered to support their teams. Despite so many playing and millions more watching, Nepal has not been able to make significant strides in the game. While the Nepal cricket team has climbed to heights previously unfathomed, Nepali football has remained moribund.
Behind this state of affairs, say former players, coaches and analysts, is mismanagement, a lack of investment and a failure to groom players through domestic leagues.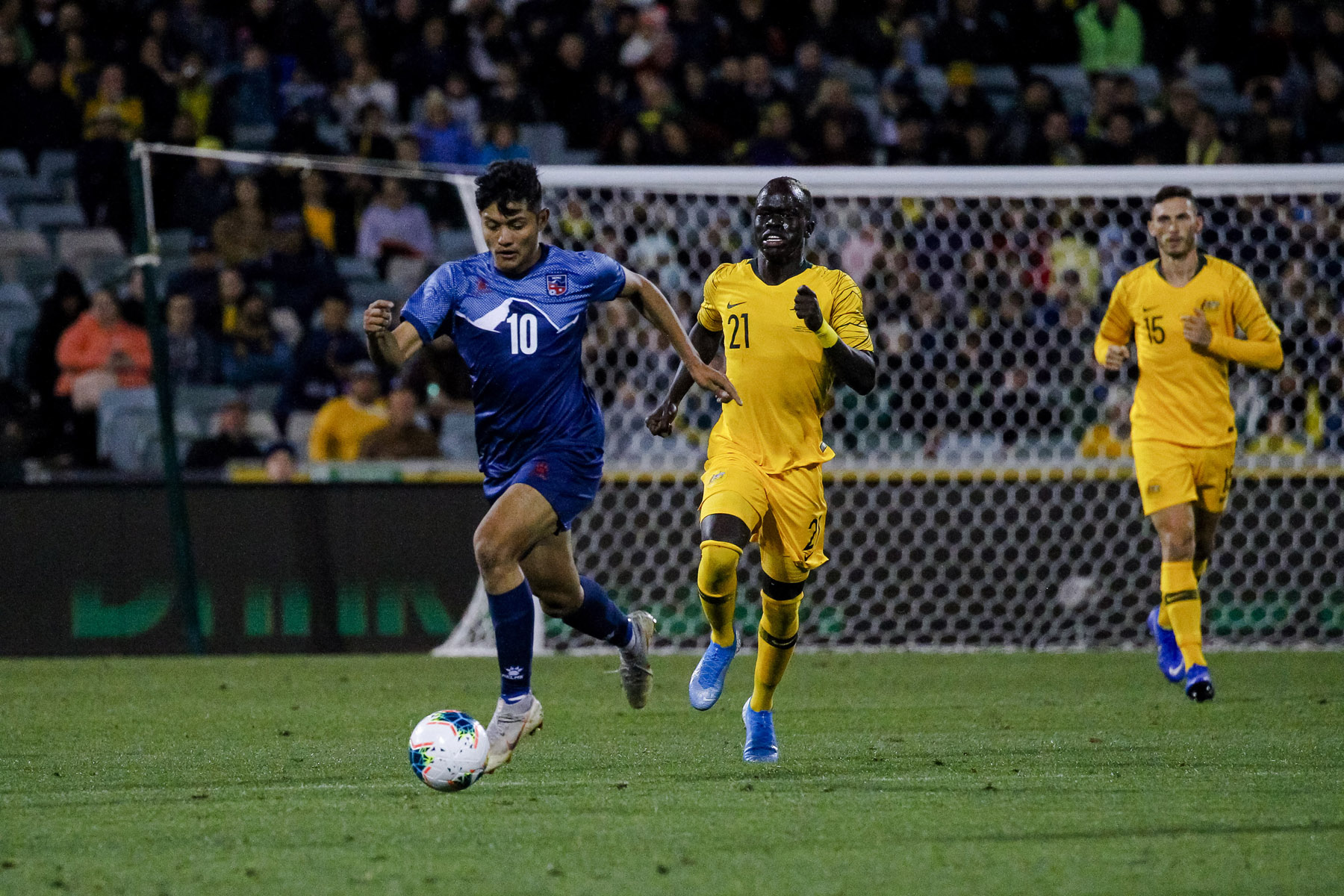 Nepal's national men's side lost to Australia 5-0 in October's World Cup qualifier, and has yet to win a match in the second round of the matches. Hemanta Shrestha/TKP
Nepali football's first half
Details are sketchy, but football is believed to have taken hold in the country during the Rana regime with a number of clubs, primarily those in the Capital, playing tournaments organised by the state. The Ram Janaki Cup in 1934 and Tribhuvan Challenge Shield in 1948 are two of the oldest official tournaments in the country. Ram Janaki has since been rebranded as the Martyrs Memorial 'A' Division League while the Tribhuvan Shield doesn't exist anymore. With the advent of democracy in the country, the All Nepal Football Association (ANFA) was established, in 1951, and Nepal became a FIFA member in 1970.
As football during the Rana regime was largely limited to the upper and upper-middle classes, ANFA was established with a mandate to promote football from the grassroots. But in the nearly 70 years since its foundation, the association is marked by lethargy and corruption. With the country marred by political changes and a simmering democratic movement, Nepali football did not see much international success in the Panchayat era.
Kamal Thapa, current leader of the royalist Rastriya Prajatantra Party, headed ANFA for nine years, from 1978-1988. Along with his brother Ganesh, Kamal was a member of the national team, which played regular international and domestic games, although without much success. The game was developing but it required much more support than the autocratic Panchayat government of the day was willing to put in. One notable achievement during this time occured at the first edition of the South Asian Games, in 1984 in Kathmandu. The Nepal men's football team won gold in the games, the first major victory for Nepal in an international tournament.
It was after 1990, when democracy was restored, that the game really started to take off. In 1993, Nepal once again won gold at the South Asian Games and in 1995, Ganesh Thapa took the helm at ANFA and restarted the stalled domestic league. He also established the ANFA youth academy, a crucial requirement if Nepali football was to advance. A former footballer with a brilliant career, Thapa went on to become one of the most powerful persons in Nepali football.
"Nepali football took concrete shape once I took over ANFA," he told the Post. "We started grassroots and school football programmes and ran the youth academy with our own resources. We tried to make the Martyrs Memorial League regular and were able to attract big sponsors. We even came up with the concept for a national league."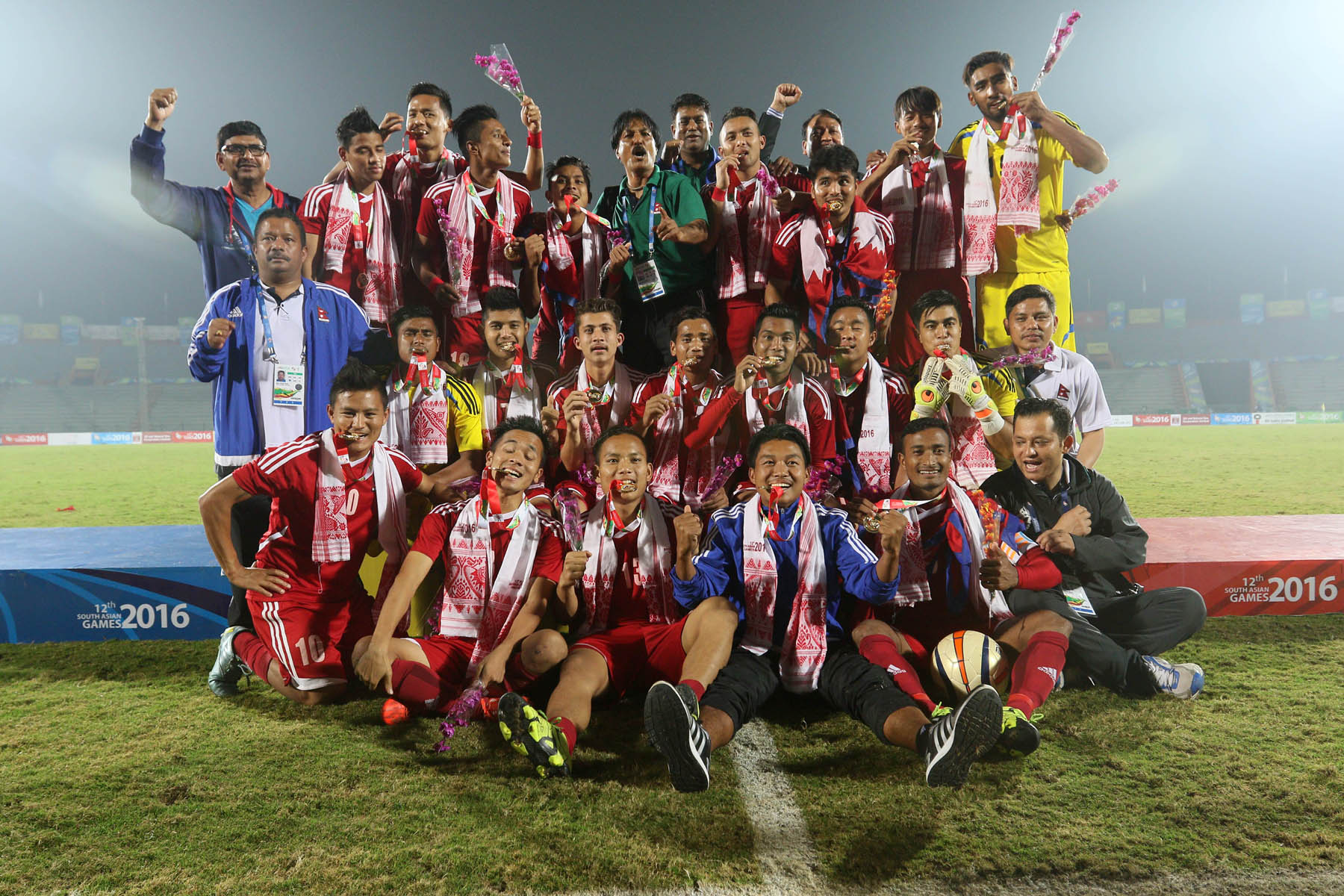 Nepal beat India in 2016's South Asian Games final, gaining its first football gold in 23 years. Post File Photo
Despite these claims, Nepal did not win a single international trophy during Thapa's tenure at ANFA. But winning trophies takes time, he said.
"Our youth football team left a mark at the international level. Even the competitive level of our senior team rose," he said. "My dream was to take the youth under-17 team to the World Cup final."
Thapa's two-decade reign at ANFA was characterised by both praise and criticism. While Thapa attempted to restart the domestic league, it did not manage to go on for very long and came to a halt again.
According to Sanjeev Mishra, a football analyst and match commissioner, the power struggle at ANFA during Thapa's reign took its toll on the game and the players.
"The country's footballing talent was scattered when there was no league in the country. Even when the league was played, its short period did not help the cause of developing footballing talent," said Mishra.
While Thapa did attempt to uplift Nepali football, he also became enmeshed in the biggest scandal to hit Nepali football. In 2015, Thapa was banned for 10 years from all national and international football activities for bribery and corruption.
"Being banned from FIFA and corruption scandals in Nepal are different things," said Thapa in his defence. "I was banned by FIFA not for any football related scam but because my family received money from Mohamed bin Hammam [then chief of the Asian Football Confederation]. It was a personal matter and not related to votes, politics or bribery."
Thapa's reign and eventual suspension was a setback for the game, but another, potentially bigger, scandal came in October 2015. Five footballers, including the national team captain Sagar Thapa, were arrested for match-fixing. Suspicions were raised earlier in 2014 when Nepal drew Jordan 1-1 in the World Cup qualifying match at Dashrath Stadium, having lost the away fixture 9-0.
The disgraced footballers, some of whom were the biggest names in the country's footballing arena, were scorned by fans across the country. Police said the match-fixing had been going on for a long time, with players throwing matches for money. However, when the case went to court, the five players were finally given a clean chit by Special Court in 2018. By then, the damage had been done. The players' image had been destroyed and Nepali football itself took a hit.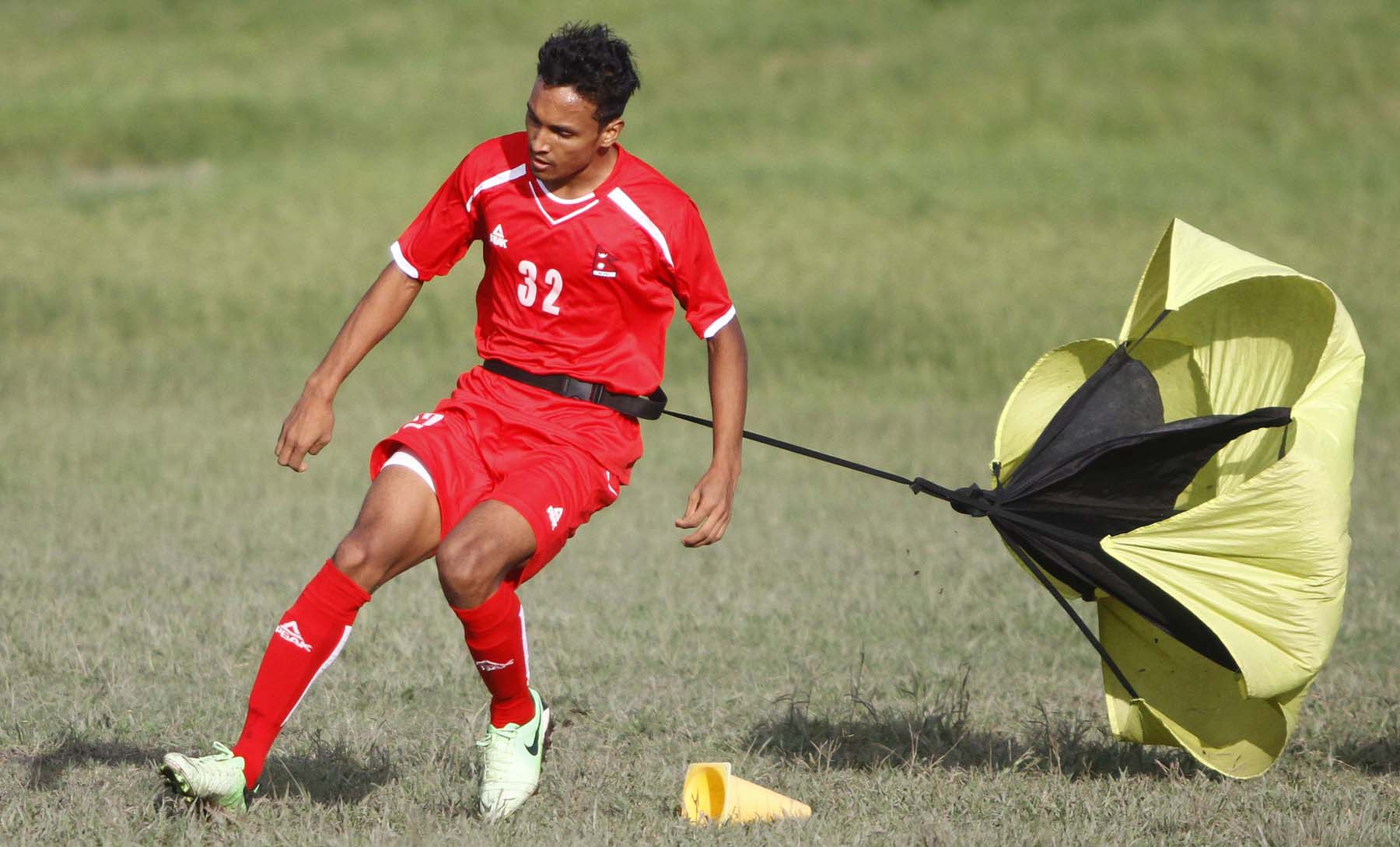 Proper training equipment, such as this parachute, is just one of many facets that need to be addressed to help the country's football succeed. Post File Photo
The match-fixing scandal and Thapa's suspension was followed by another transitional phase for Nepali football. When a new executive body was finally formed, under Karma Tsering Sherpa, Nepali football was finally expected to take off.
Speaking to the Post in August, Sherpa had listed a number of achievements that he considered significant, including the recent successes of the women's team.
"We are focusing mainly on five different areas: organised training, infrastructure development, systematic tournaments, capacity building and good governance," Sherpa said. He has promised a domestic men's league with teams from the districts and 'A' division clubs and a women's league with at least 10 teams--seven from the provinces and three departmental teams.
Today, there are over 30 official football competitions across the country and many more that are played locally. But despite the volume of games and tournaments, football in Nepal has continued to remain stagnant. Sherpa believes that this has a lot to do with the government's failure to invest in the sport.
"We get a nominal grant of Rs12.2 million from the government per annum: Rs5.5 million for the 'A' Division league, Rs2.7 million for women's tournament, and Rs2 million for school tournaments and players' felicitations," said Sherpa. "We could up our game if the government makes an investment of around Rs200 million to Rs250 million per year and constructs at least two more international-standard stadiums. If that happens, we could become a South Asian powerhouse in less than three years."
With a cash infusion, ANFA could work towards building better training facilities for players, along with providing them with more trainers, doctors and nutritionists. But the most significant drawback for Nepali football today is perhaps the lack of a proper stadium to play in, as the Dashrath Stadium, the country's only large international stadium has been under construction for the last four years. In the absence of a stadium, Nepal will be forced to play its upcoming home matches for the ongoing World Cup and Asian Cup joint qualifiers in a neutral venue, losing its home advantage.
While many agree that investment is required, a lack of funding is not the only reason that is holding back football's progress in Nepal, according to Raju Kaji Shakya, a former Nepali international and former coach of the national team.
Shakya says that the country lags behind in football due to the lack of a proper target for the country to achieve, something that Sherpa has pledged to address. When it comes to setting a target, the country can learn a lot from neighbouring India and Bhutan.
"India is spending heavily and has been organising international standard competitions for years because of their target to participate in the 2026 World Cup," he said. "Only time will tell if India will succeed or fail in achieving the World Cup target but it has a clear roadmap. We don't have that. We are lost and we bicker about being lost."
Bhutan too is an example for Nepal to follow when it comes to developing football.
"Bhutan is a country we have defeated in all formats. Our biggest win till date has also been against Bhutan, but things have changed now," said Shakya.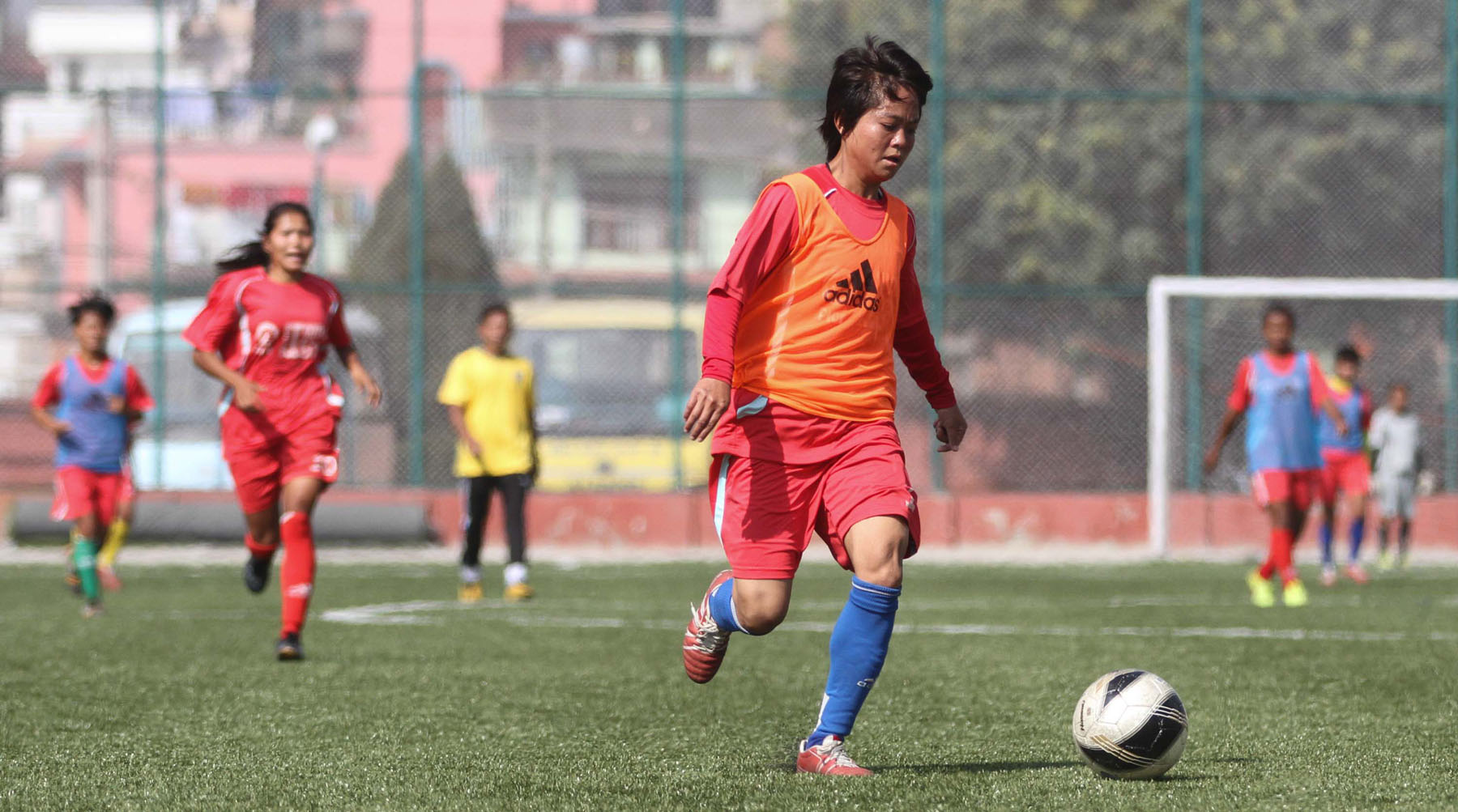 Niru Thapa, captain of the women's national team, is one of several women behind the success of the women's team in the international arena. Post File Photo
Bhutan defeated Nepal 3-0 in the recently concluded SAFF U-18 Championship in Kathmandu. It was not only the scoreline but also their performance that left the Nepali side in awe. According to Shakya, Bhutan has learnt from their past experiences and set a target for themselves.
"The 3-0 result was not just the margin of victory, but it is also a reflection of what Nepal missed out on while Bhutan was silently bettering their game," said Shakya.
Former national team striker Hari Khadka agrees.
"We play without any long-term target to achieve," said Khadka. "We have to set ourselves a target, define the things that we are going to achieve in the first 10 years and in the next 10 years. It takes time but it will pay off."
When it comes to the actual game, Shakya and Khadka believe that Nepali players can keep up, provided that they receive proper guidance, training and better facilities.
"Wherever I have gone with the squad, be it the national team or youth-level teams, the opposition has always lauded our technique and fighting spirit. But results have always eluded us, and sadly, there have been no concrete efforts to address this," said Shakya.
Most of these issues can be addressed with one quick fix, say analysts--domestic leagues that run for a majority of the year. According to Mishra, a national league should be played for at least nine months with a three-month break in between, a sentiment that Sujal Shrestha, the national team vice-captain and the stand-in-skipper of the Nepali squad against a Myanmar friendly played on Thursday, agrees with.
"The most important thing is to have a regular league that runs for eight to nine months. New talent can be spotted at such events," said Shrestha. "But we don't have a league or tournament on a regular basis and the ones we do don't run for more than four months. When there is no league, clubs are reluctant to offer contracts to footballers, which is directly related to the survival of the players."
Birat Krishna Shrestha, another former national team coach, believes that domestic leagues should be supplemented by age-group tournaments that take place throughout the year.
"It is only when a major age-group tournament comes that we begin to prepare, " said Birat. "What can we expect when we are participating in tournaments without proper preparation?"
Nepali football, both clubs and ANFA, needs to focus on the youth and on identifying and developing talent early, according to analyst Mishra. Football clubs, the majority of which are capital-based, need to expand across the country.
Nepal currently has 14 'A' division clubs, the highest level in the hierarchy of Nepali football. All of them are based in Kathmandu, including the three departmental clubs--Tribhuvan Army, Nepal APF, and the Nepal Police Club.
"Clubs are locally based. They can increase the number of their members and start selling club merchandise. This will help generate revenue and in turn sustain the club and pay the players," he said. "This will also help players play football around the year. In the present context, there are few clubs that can play football all year round."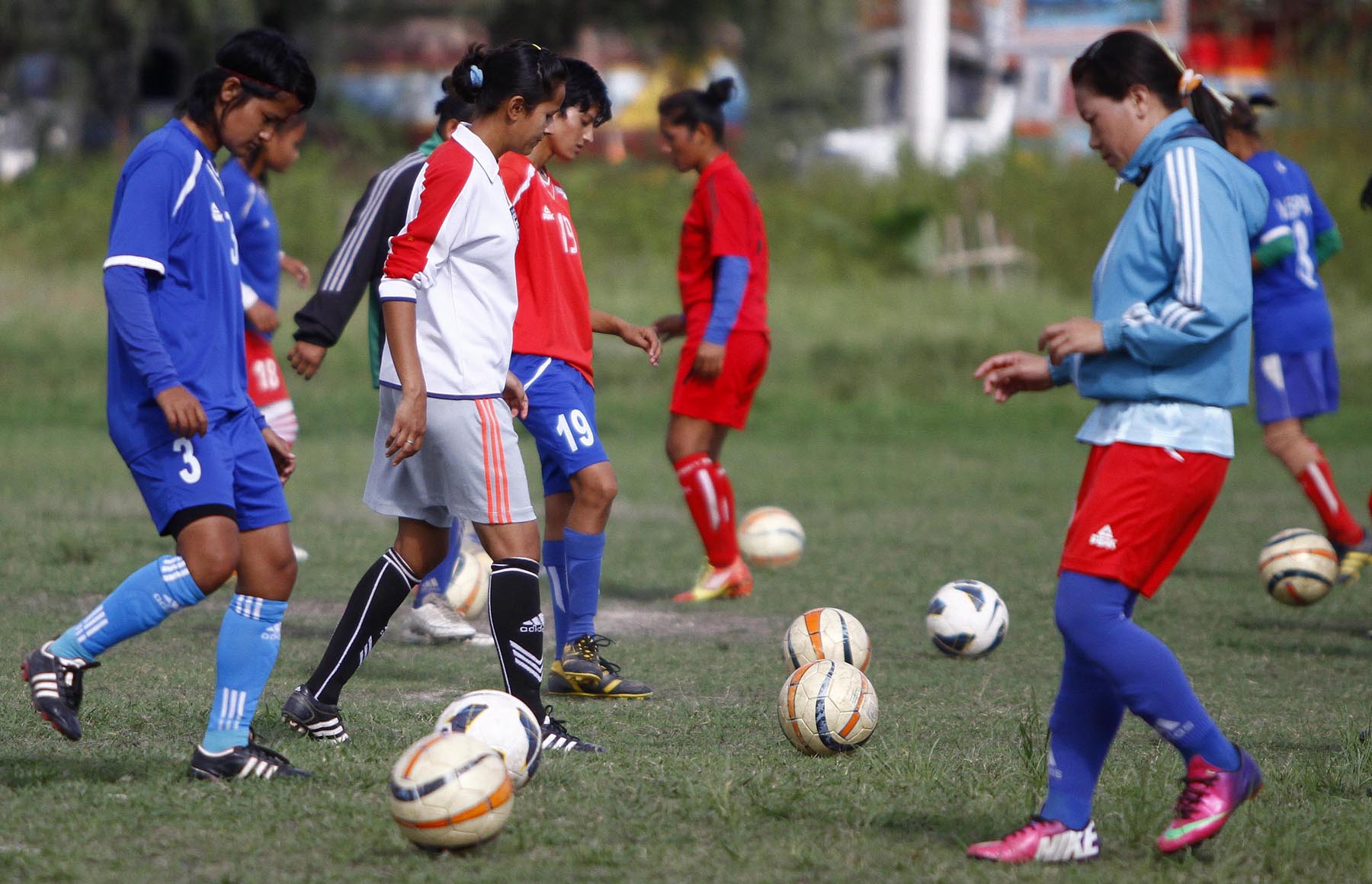 Women's football is relatively new in Nepal, but the country's national side has already shown promise in several international tournaments. Post File Photo
The men's football team might be struggling but the women's team, although with a shorter history than the men's, has enjoyed much more success at the international level. Nepali women played their first international tournament in 1986 and since then they only played three tournaments--10 matches--in 24 years, until 2010. In fact, women's football only gained momentum after it was included in the 2010 South Asian Games. Since then, Nepal has finished as runners-up to India in four of the five editions of the SAFF Women's Championships while it has gone down twice against the same opponents in the finals of the South Asian Games.
Unlike the women's team, the men's team has consistently failed to cross the group stage of the SAFF Championships. Since the beginning of the biennial SAFF Championship, the best result the men's team has achieved so far was entry into the semi-finals.
But despite the success of the women's team in the international arena, women's football has always received less priority domestically. There are hardly two or three domestic tournaments for women footballers, in comparison to the dozens of men's events.
"This is not only in Nepal. Women's tournament were less attractive throughout the world until 2000. But women's football gained momentum once FIFA included a mandatory provision to spend at least 15 percent of its grant to national associations on women's events," said analyst Mishra. "Many other developed countries introduced women's football late. But now the scenario has changed. Women's international events are getting sponsors as well as audiences."
Mishra credits the departmental teams--Police, APF and Army--for Nepal's strong presence in the South Asian region.
"Nepal Police formed its women's team back in 1997-98, the APF formed its in 2003 and the Nepal Army in 2010. The departmental team plays and practices round the year so they became better," said Mishra. "Nepal also has comparatively more freedom for women than Islamic countries, so this has contributed to their better standard of play."
Mishra believes that women's football is capable of much more success than its male counterparts if equal investment is made on both of them.
"Developing a women's league, which we don't have, along with more investment would take women's football to much greater heights. Until now, Nepali women have been playing more passionately than men and they are happy to have earned their bread and butter through football. Around 70 footballers are enrolled with the women's team," said Mishra.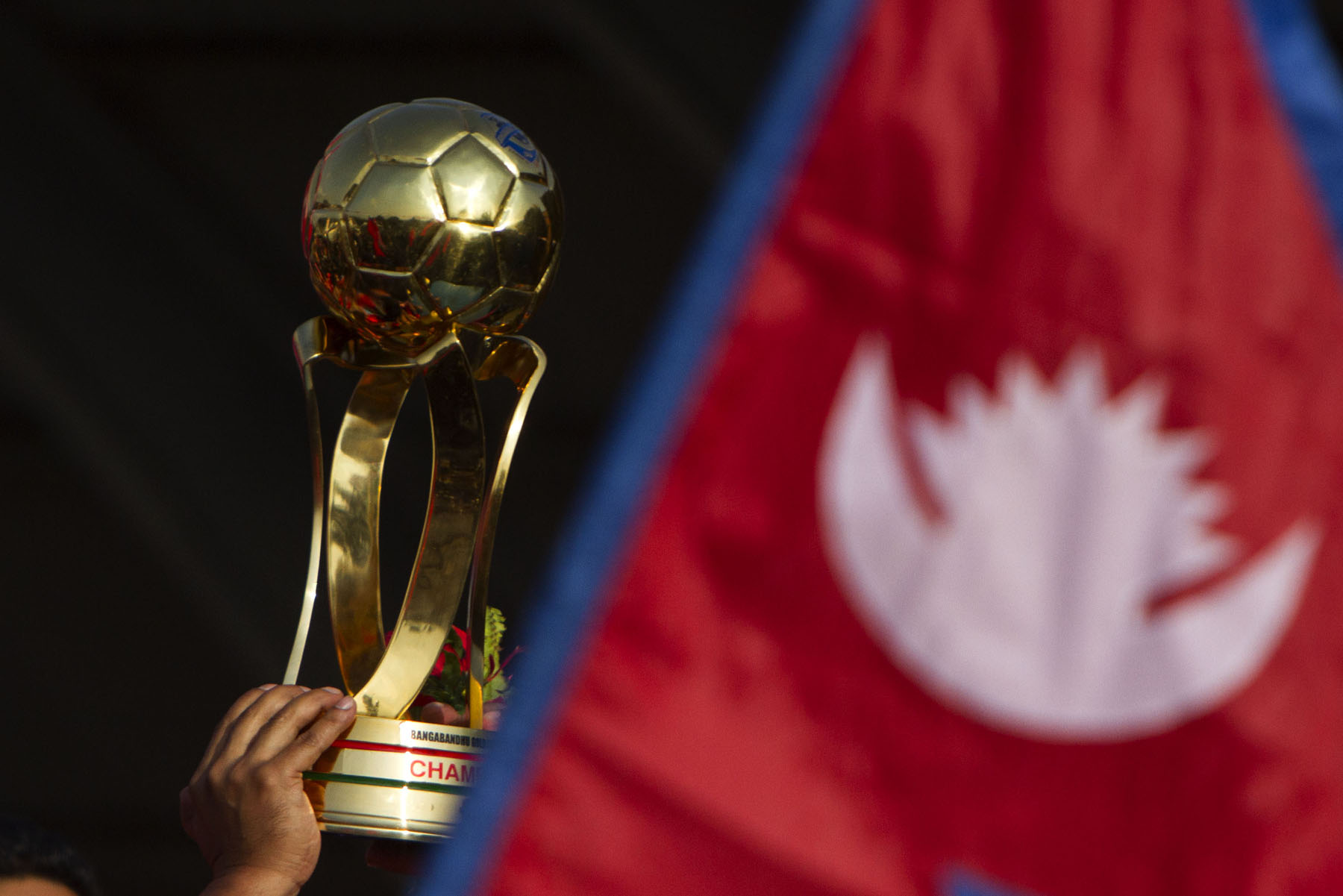 Nepal defeated Bahrain 3-0 in 2016's Bangbandhu Gold Cup final, in Dhaka, Bangladesh, which ended the country's drought in the international arena. Post File Photo
It is not all bleak for the men. After a decade of decline, Nepal has had a fair amount of success since 2015. Nepal's 22-year wait for a trophy ended when they defeated India 5-4 in the tie-breaker of the first edition of the U-19 SAFF Championship on home soil in 2015. A year later, Nepal won the Bangabandhu Gold Cup defeating Bahrain 3-0 in the finals in Bangladesh. That same year, Nepal also won the first edition of the AFC Solidarity Cup, with a 1-0 victory over Macau in Malaysia.
These titles reflect a measure of success but they also set a standard for more to follow, said Shakya.
"We waited 23 years for a title. Yes, we should bask in our success but we should think more about why it took us 23 years to win a title. If we don't think about that now, we may have to wait for another 23 years for another title," he said.
The failure to learn from past mistakes has not helped the country's football. The 16-0 drubbing took place 16 years ago. Players can have a bad day and matches can be lost by huge margins.
"Had we learnt from our mistakes and set about addressing them, we might not have lost 7-0 against Kuwait in the recent World Cup qualifiers," said Shakya.
Dear reader, we'd like to hear from you. We regularly publish letters to the editor on contemporary issues or direct responses to something the Post has recently published. Please send your letters to tkpoped@kmg.com.np with "Letter to the Editor" in the subject line. Please include your name, location, and a contact address so one of our editors can reach out to you.
---