Flavours of Nepalgunj
The city has a vibrant street food scene. Locals enjoy a variety of dishes—from chickpea gravy and puri to biryani and ghamanja.

Rupa Gahatraj/TKP
bookmark
Published at : September 30, 2023
Updated at : September 30, 2023 06:38
Nandalal Baishya of Nepalgunj Ward 8 begins his day with a simple yet satisfying breakfast. Every morning, he heads to the street cart at Tribhuvan Chowk, where he's been enjoying chickpea gravy and puri from the same vendor for the past thirty years. For just Rs30, this breakfast ritual never fails to delight his heart.

For thirty years now, Baishya has made it a daily routine to enjoy a snack from the same street vendor. He has a fondness for not only chickpeas and puris but also pakodas and ghamanja. He runs a wholesale clothing store in the local market and insists that missing his morning snack leaves him with an unsatisfied stomach. "In Nepalgunj, chickpeas, puris, and ghamanjas make up our breakfast," he reveals.
Often dubbed the 'city of taste', Nepalgunj attracts travellers eager to savour its unique dishes. Bijaykumar, another local business operator, emphasises the popularity of rawadi among the locals. "Residents here even send this dish to their relatives living far away," he notes. While one can get rawadi at Rs20 at most local shops, it is sold at a higher price in some of the more upscale eateries.
The fusion of diverse flavours is a defining trait of the culinary scene in Nepalgunj. The influence of Indian cuisine, because of the city's proximity to the border, is also evident in its flavours.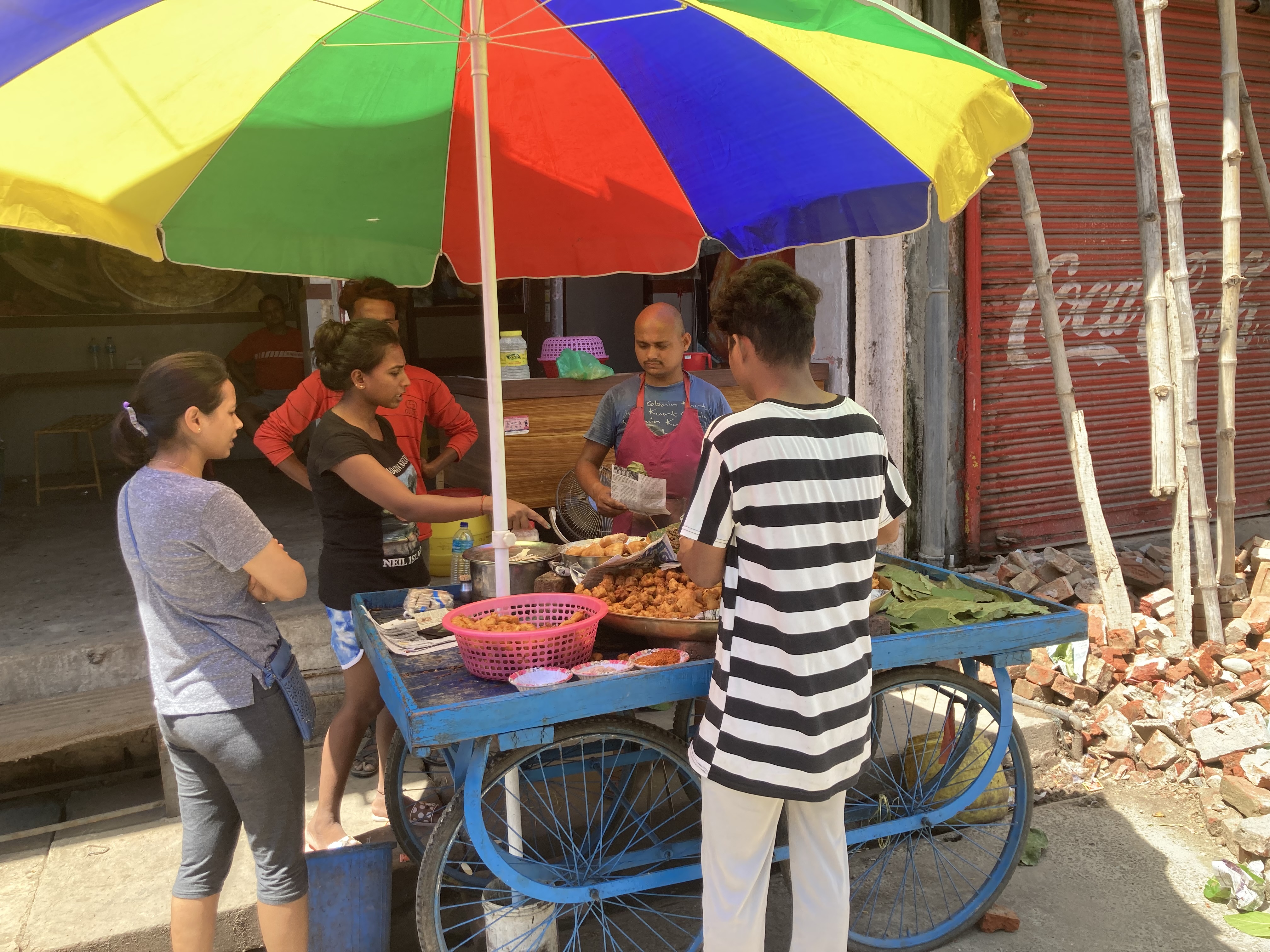 Rupa Gahatraj/TKP
A popular eatery in the city is Mubarak Biryani. The restaurant manager, Mubarak Ali, revealed that American Ambassador Randy W Berry also said he liked their food during his visit last year. "We haven't received a single complaint about the taste of our food in all our years of operation," says Ali.
Biryani has been gaining popularity in the city over the past decade in general. Some locals credit this to the establishment of Rahim Hotel by Abdul Rahim. Currently, Rahim's sons run the establishment, and their biryanis are as popular as ever.
Pahunaji is another long-running eatery in Nepalgunj. Located near the Radhakrishna Temple, the thirty-year-old food hub is known for its rawadis which is a must-try when one visits the city. Krishna Bhog Sweets, located in Tribhuvan Chowk, is also renowned for its rawadis. The owner of the sweet shop, Rakesh Kumar Gupta, believes using his grandfather's recipe—which stresses the importance of using high-quality milk—is the reason why their rawadis are so tasty. He reveals that the shop buys between 20 to 50 kilograms of dairy products to make different sweets every day.
Other dishes popular among Nepalgunj locals include halwa paratha and suji halwa. One of the more popular eateries selling these local delicacies is located in Chaulika Chowk and bustling with customers from 5 o'clock in the morning until 8 o'clock in the evening.
The nearby Tribhuvan Chowk is also home to another local eatery renowned for its chaats and panipuri. Dharmendra Lakher, who runs the chaat shop, says he tailors the dishes to each customer's preference and makes them more tangy or sweet according to their taste. "That is why people like my chaats and panipuri," he states, adding that some of his regular customers have as many as 10 plates of panipuri.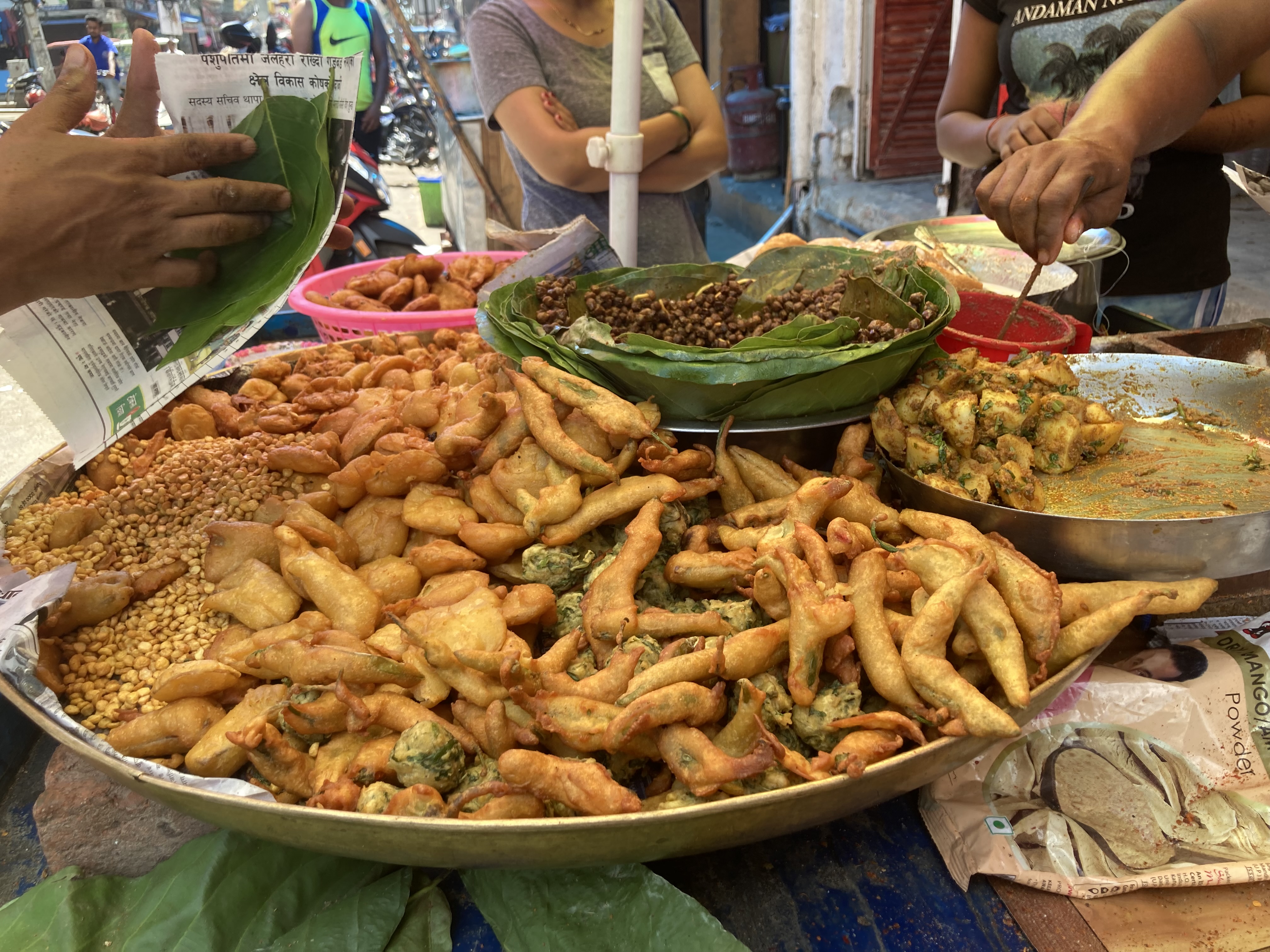 Rupa Gahatraj/TKP
Ghamanja, which is an assortment of snacks including potato pakoda, bread tikia, spicy chilli peppers, potatoes, and cauliflower tikia, is another popular breakfast dish in Nepalgunj. 72-year-old Santosh Kanoudia, who has been living in the city for over five decades, reveals that many residents prefer having these dishes at local eateries over cooking breakfast at home. Roadside stalls in the city buzz with activity every morning, and after indulging in these treats, locals often conclude their meal with a refreshing lassi.
Businessman Krishna Shrestha thinks the diverse cuisines of Nepalgunj can be utilised to promote the city and attract tourists. Shrestha is currently working to launch a 'Street Food Lane' in the Tribhuvan Chowk with his team. Shriram Sigdel, the coordinator of Nepalgunj Food Lane Byabasthapan Samiti, underscores the importance of unity and cooperation of locals for this endeavour. The aim is to showcase Nepalgunj's culinary delights, but Sigdel emphasises the need for health standards. "First, we must organise the city and establish health standards to elevate our food businesses," he says.
---
---