Unwind at The Lawn
Nanglo Restaurant's newest eatery offers affordable and delectable dishes—inspired by cuisines from all across Asia.

Keshav Thapa/TKP
bookmark
Published at : August 10, 2023
Updated at : August 11, 2023 07:55
Kathmandu
The Lawn, a newly constructed franchise of Nanglo Restaurant, commenced its operations a mere month ago. Nanglo Restaurant, founded by brothers Shyam and Gopal Kakshapati, established its first branch at Durbarmarg back in 1976. Today, Nanglo has over eight branches of cafes, restaurants, and bakeries inside of Kathmandu Valley, making it one of Nepal's largest and most popular restaurant chains.

The Lawn, still in its nascent phase, is presently managed by the second generation of Kashapatis. Taijash Kakshapati, son of Gopal Kakshapati, completed his studies at the Culinary Institute of America in New York and has been serving as the Managing Director of Nanglo since his return to Nepal in 2012. He is also the force behind The Lawn. He observes that Nepali people tend to follow a specific pattern of food consumption, and it's time to explore new horizons.
Upon entering The Lawn, one is transported to a luxurious and serene environment, far removed from the hustle and bustle of the city. The outdoor seating area, adorned with lush greenery, embodies the essence of the restaurant's name. While the dining experience may not necessarily reflect that of a traditional Nanglo restaurant, it does carry the professionalism and homeliness one associates with the parent restaurant. The ambience is unique, yet the overall vibe remains true to the original Nanglo experience.
The outdoor lawn area serves as a recreational space and welcomes children. Barbecue enthusiasts can enjoy the restaurant's daily 5:00 pm grill sessions, which last till the night. Individuals who do not smoke can unwind in the restaurant's indoor section, while those who smoke can enjoy their dining experience in the outdoor area.
Hickory Mushroom
Price: Rs425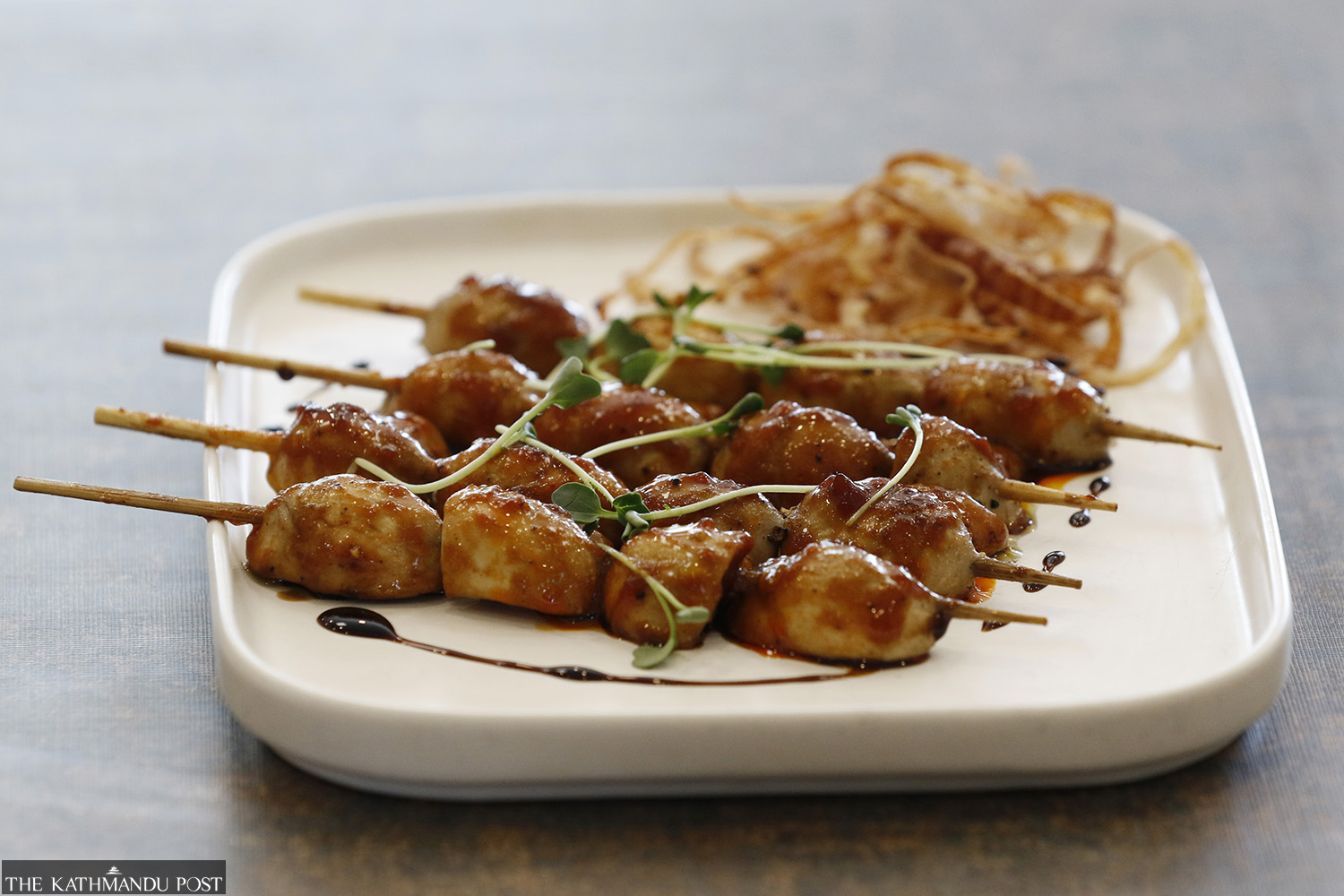 Keshav Thapa/TKP
For this dish, button mushrooms are thoroughly cleaned before being grilled with salt and pepper. The cooking process involves monitoring the mushroom's water content to enhance its natural flavour. Once cooked, a BBQ sauce is prepared and generously slathered onto the mushrooms.
Presented on skewers, the mushrooms' chewy and condensed texture was quite a delight to bite into. The BBQ sauce only added to its flavours, ensuring it didn't overpower the mushrooms.
Unlike other preparations of mushrooms, which usually entail additional flavourings or intense frying, this approach highlighted the mushroom's natural flavour. By eliminating additional seasonings, the natural essence of the mushroom was brilliantly emphasised.
Chicken Chop
Price: Rs475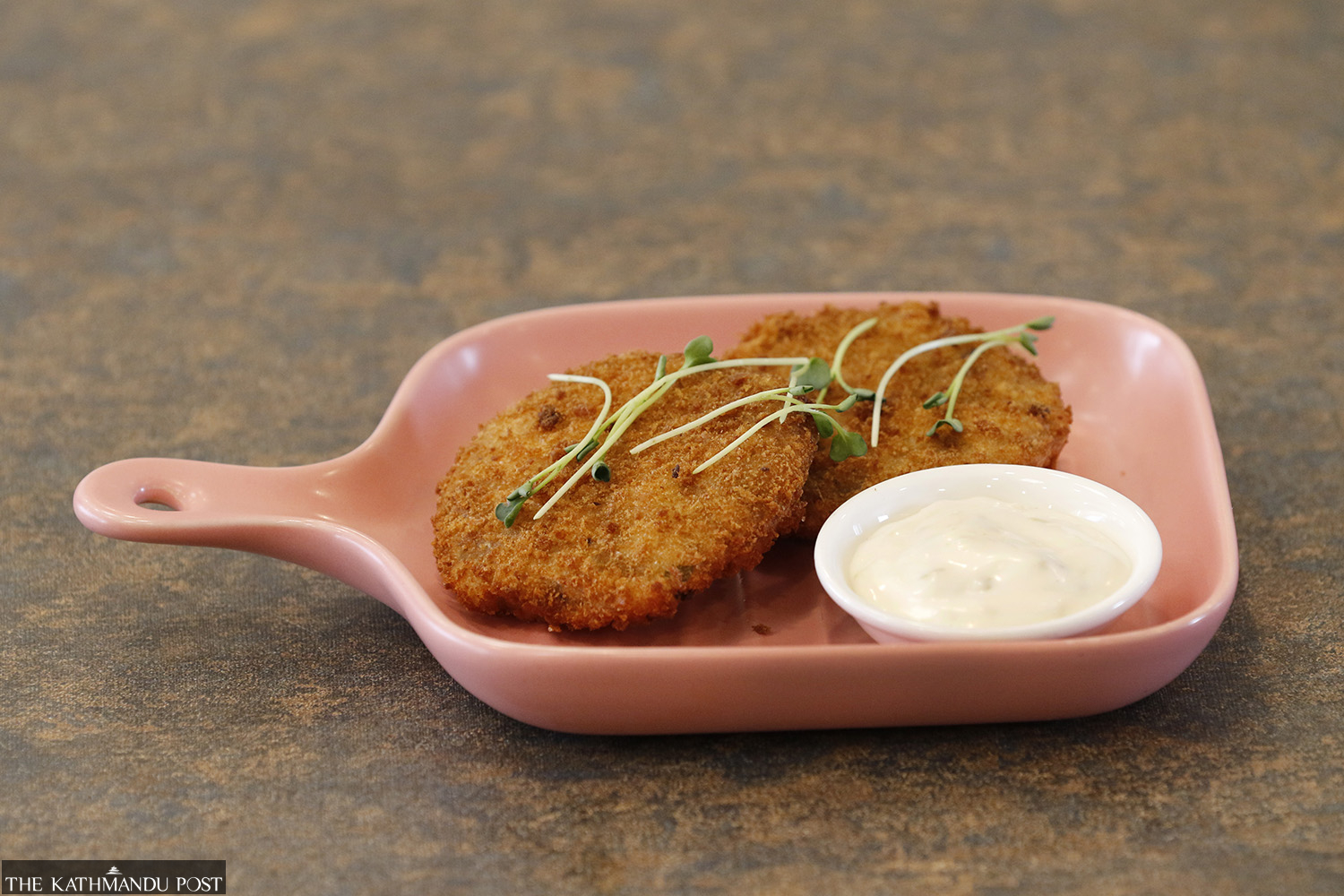 Keshav Thapa/TKP
Chicken Chop is a dish characterised by chicken stuffing covered with bread crumbs and gently fried, resulting in a light texture. The dish's lightness can also be attributed to the absence of overt spices, which may suit individuals who prioritise healthy and light food. It was like a classic Chicken schnitzel. The accompanying Tartar sauce, a mayonnaise-based condiment, was simple yet pleasant on the mouth.
Anda Bread
Price: Rs385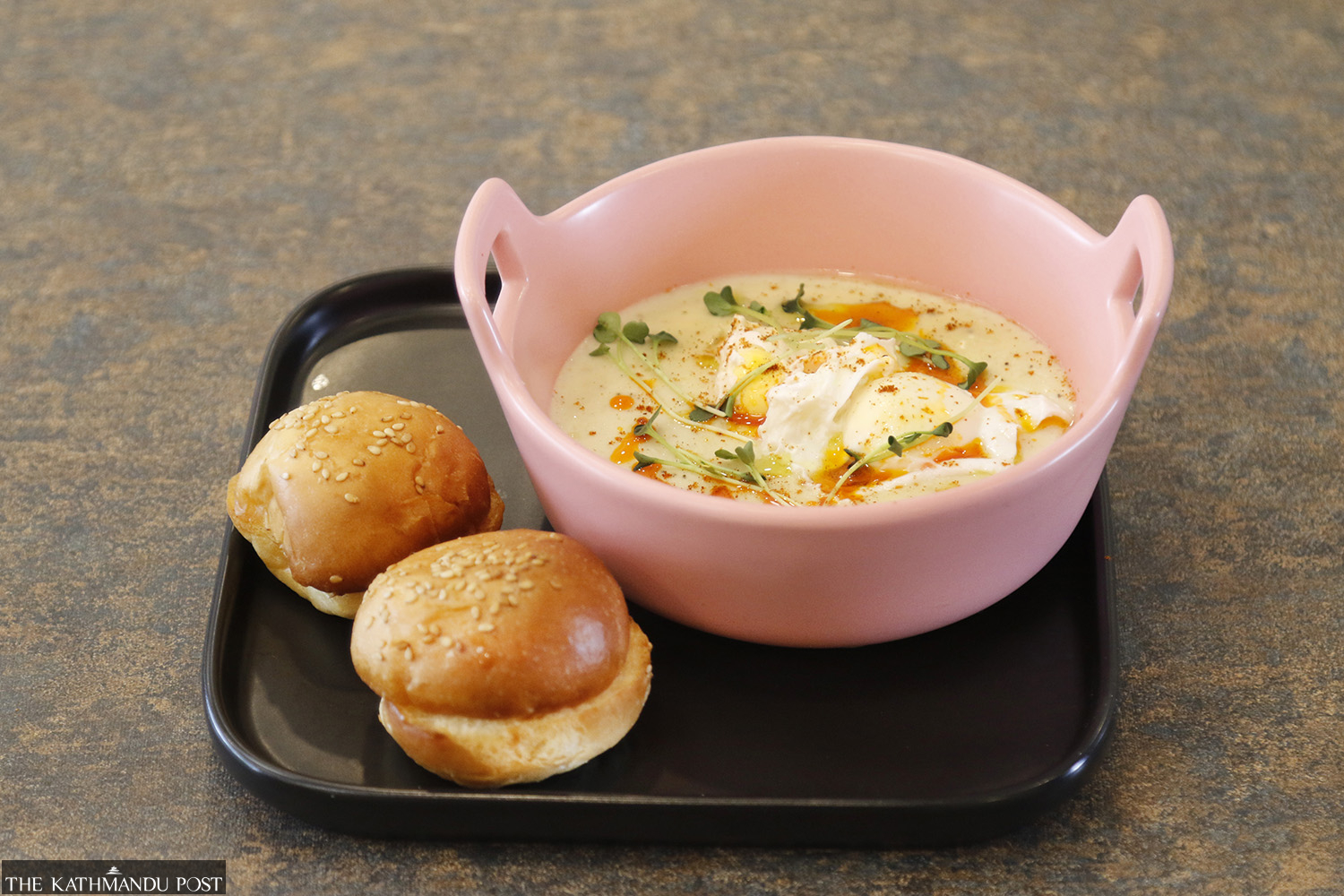 Keshav Thapa/TKP
Taijash was the one who decided that the menu include Anda Bread, a dish he consumed for breakfast during his trip to Istanbul. The dish comprises of two poached eggs accompanied by a thick cream and cheese sauce—served with glossy, buttered sesame buns.
The bread in Anda Bread is brought in from Nanglo Bakery. This dish will appeal to ovo-vegetarians due to its novelty. The saltiness of the egg and sauce combined with the slight sweetness of the bun creates a delectable flavour that will delight the taste buds.
Keema Bun
Price: Rs675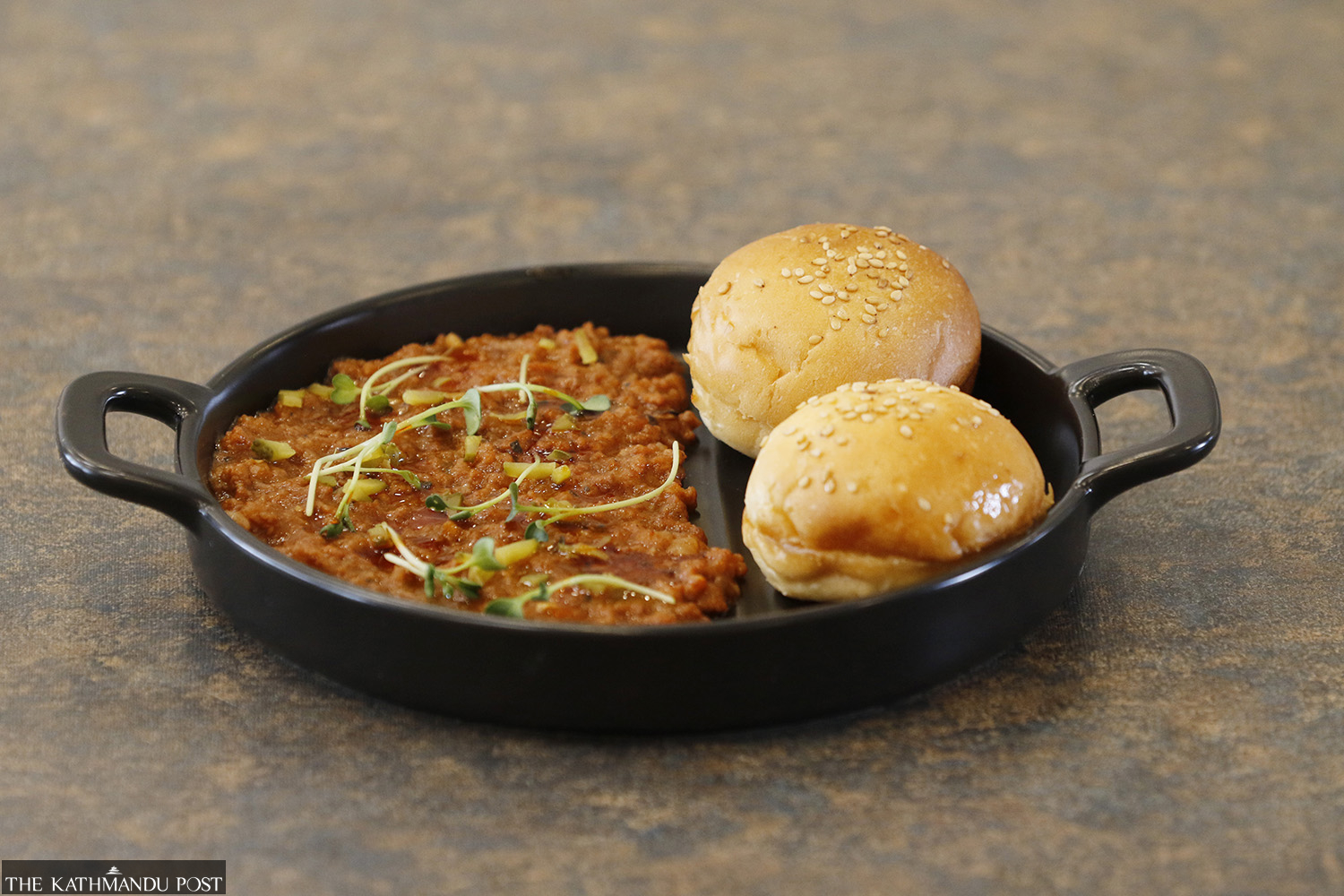 Keshav Thapa/TKP
Keema Bun is a popular Indian street food that bears a resemblance to the well-known dish 'Pav Bhaji.' 'Pav Bhaji' is often considered a symbol of everyday man's food; it comprises of a rich curry served with soft bread rolls.
Taijash, an ardent fan of Indian cuisine, sought to innovate with the conventional 'Pav Bhaji' and demonstrate that mutton could be used to create something just as iconic. As a result, minced mutton curry is paired with two buns, similar to Anda Bread.
Combining the minced mutton with the bun created a delicious symphony of flavours. The spiciness of the meal was enjoyable, and the mutton curry had a lighter taste than what is typically found in other mutton dishes. Overall, Keema Bun was a delightful culinary experience.
Mutton Shank
Price: Rs950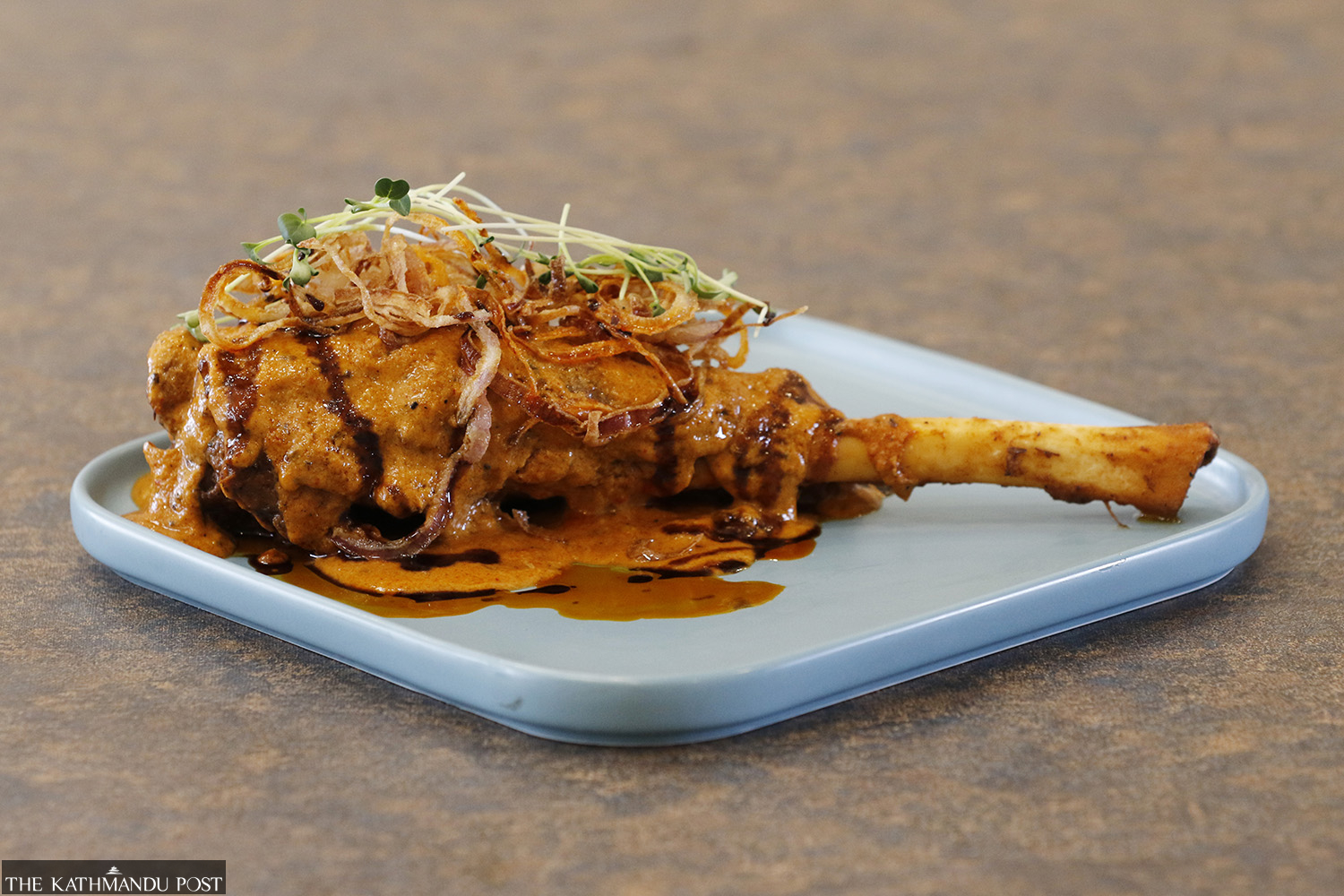 Keshav Thapa/TKP
Mutton Shank is an innovative dish that utilises the bottom piece of the mutton leg. This dish requires a time-intensive cooking process of six hours. However, this technique results in tender meat that effortlessly falls off the bone. Adding coconut cream and Thai curry paste provides a creamy and flavorful touch that pairs exceptionally well with either rice or mashed potatoes.
I loved the dish's velvety consistency and exceptional texture. Although it was spicy, pairing it with rice subverted the spiciness to bring forth the savouriness of the mutton.
Grilled Eggplant
Price: Rs500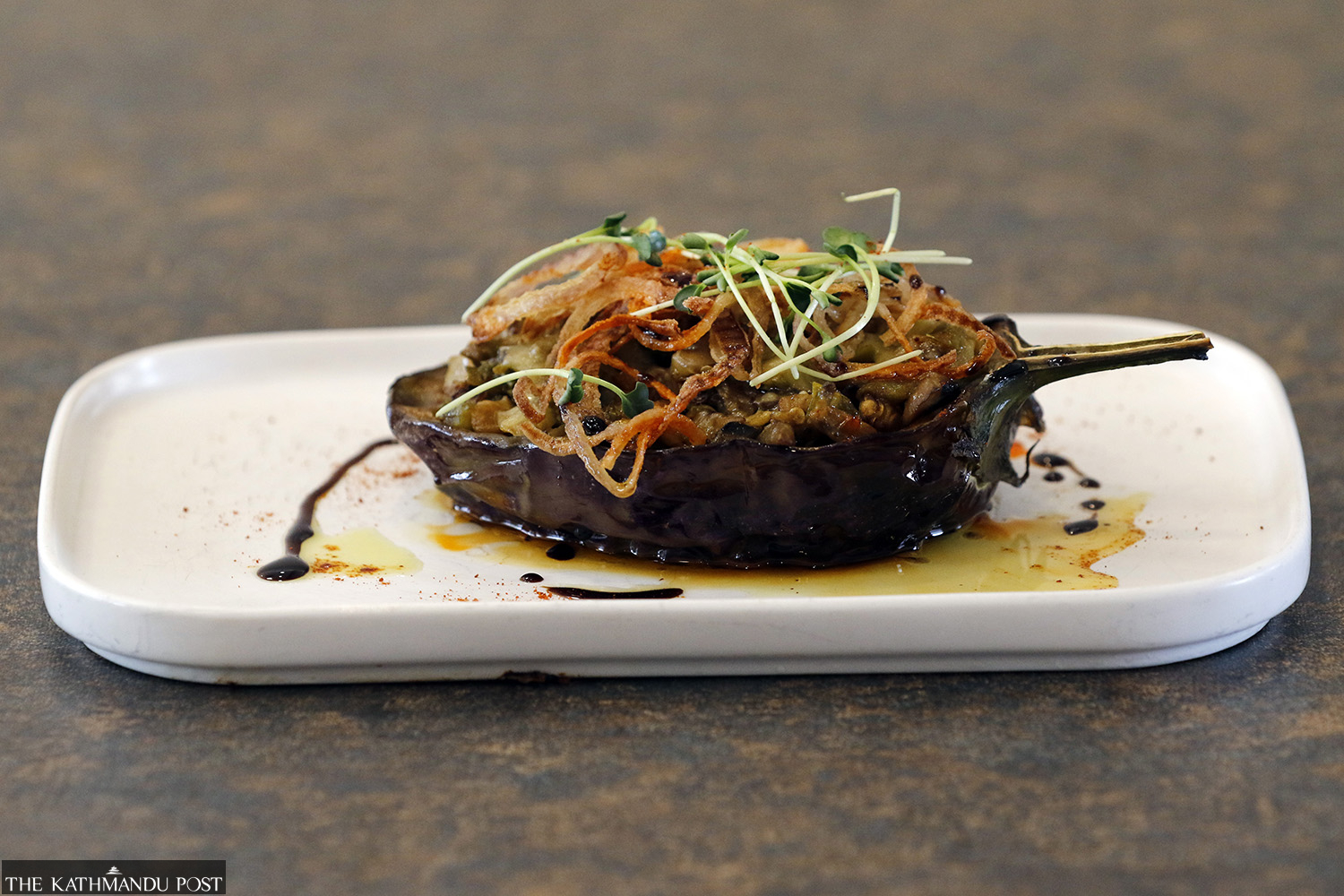 Keshav Thapa/TKP
The preparation of this dish involves roasting the eggplant and extracting its inner contents, which are then mixed with mushrooms, potatoes and capsicums. The mixture is cooked and seasoned with quick spices to create a delectable curry. The mixture is then stuffed back into the roasted outer layer of the aubergine, which is grilled and topped with cheese.
The dish features prominent notes of mushrooms and capsicum, which somehow do not overpower the star ingredient, the eggplant. Combining it with rice made for an excellent meal.
Highway Fish
Price: Rs495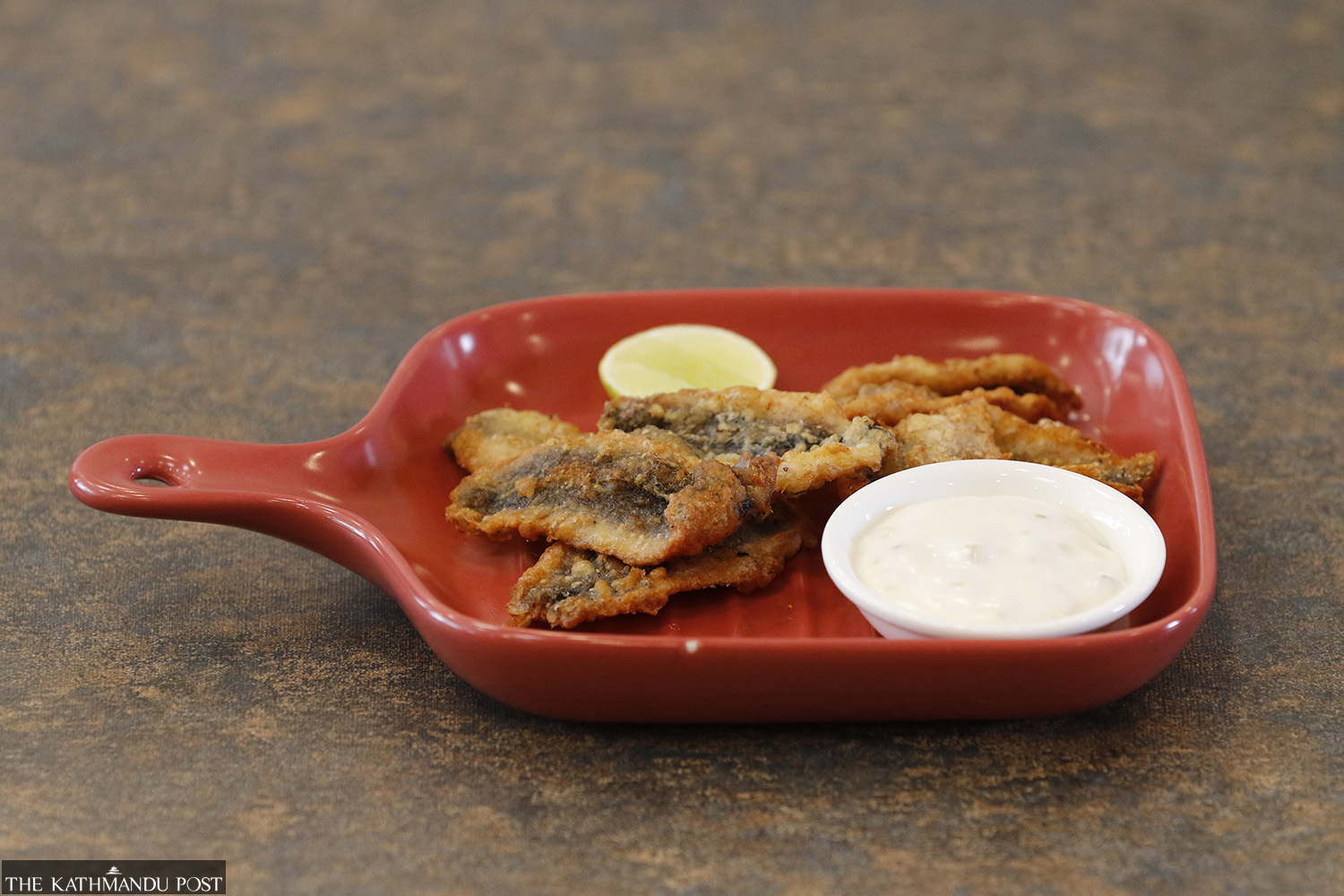 Highway Fish is a culinary creation that draws inspiration from fish served on highways during travel, specifically on Mugling Road. The restaurant's owner— recognising the popularity of Mugling's fish among Kathmanduites—sought to incorporate this beloved dish into their menu. However, as fishes brought in from Mugling have plenty of thorns, the fish itself was replaced with thornless ones while still offering the same flavour profile as their Mugling counterparts.
The initial texture of the fish was crispy, while its insides were soft and chewy. Served with a Tartar sauce, it makes for a perfect dish to have on the side, perhaps with a chilled beer.
The Lawn
Location: Jhamsikhel, Lalitpur
Time: 10:00 am to 10:00 pm
Service options: Dine-in, takeaway
Price: Inclusive of all taxes
Parking: Available
---
---