The pizzeria you want to visit next
Vera Vino seeks to bring true Italian flavours to Kathmandu.

Elite Joshi/TKP
bookmark
Published at : May 5, 2023
Updated at : May 5, 2023 09:41
Kathmandu
Whether it's through the 'Friends' character Joey or Aakhri Pasta from the Bollywood movie 'Housefull', we are all familiar with the pop cultural idea of the satisfaction that Italian food brings. With an abundance of places offering Italian food items, deciding where to eat can feel like a task. But we suggest you try out Vera Vino. Situated in Durbarmarg, it overlooks the Narayanhiti Palace. The pizzeria seeks to bring Italy's flavours to Kathmandu's streets. It was established in 2021 and is an outlet of Vera Pizza in Mandala Street, Thamel.

Despite being in close vicinity to the city's bustling crowd, Vera Vino provides a surprisingly calm environment for a cosy time with your family and friends. Its hues of creamy walls, warm lights, and upbeat music create an elegant backdrop for a lively time.
Whether it is a book you want to read, find yourself a space to work, or simply spend some quality time with people accompanied by good food, Vera Vino can be your space. Even with its menu being a little pricer, the flavours they offer are worth spoiling yourself over.
Margherita Pizza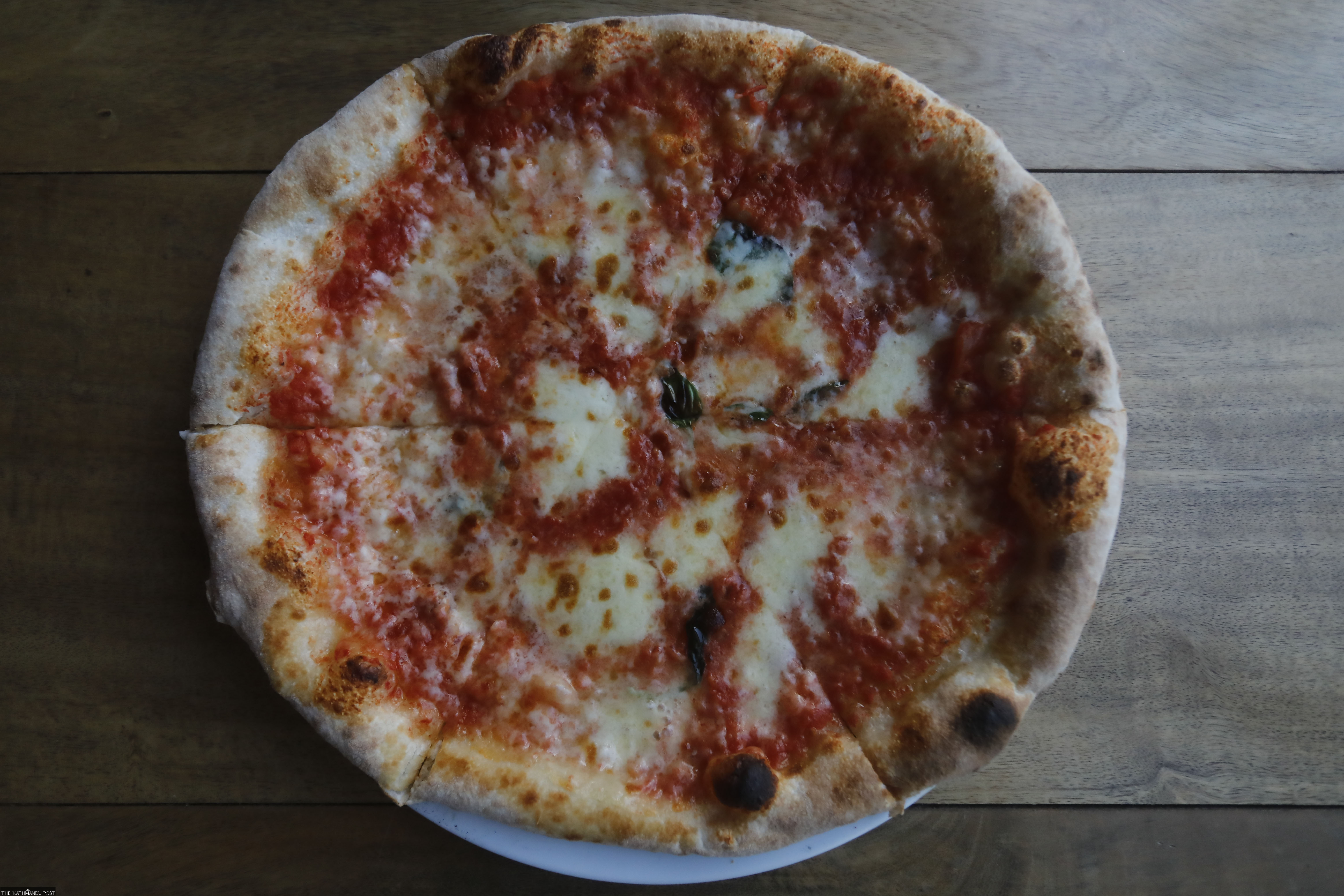 Elite Joshi/TKP
Price: Rs800
Margherita is a popular pizza choice enjoyed by foodies all over. The fresh tomato sauce and the creaminess of the thick layer of Parmesan cheese were a delight to bite into. The crust was particularly thin, with the classic Neapolitan-esque bubbles.
One can tell the quality of a crust by how chewy it is. This emphasis on dough consistency is what elevates Vera's pizzas from other pizzas found in Kathmandu. The fact that they won me over with a simple Margherita pizza—without any extravagant toppings made me excited to try out other things at Vera.
Vera's margherita pizza could have used a little less olive oil, but overall the pizza was a clear indication that classics never dissapoint.
Aglio, Olio E Peperoncino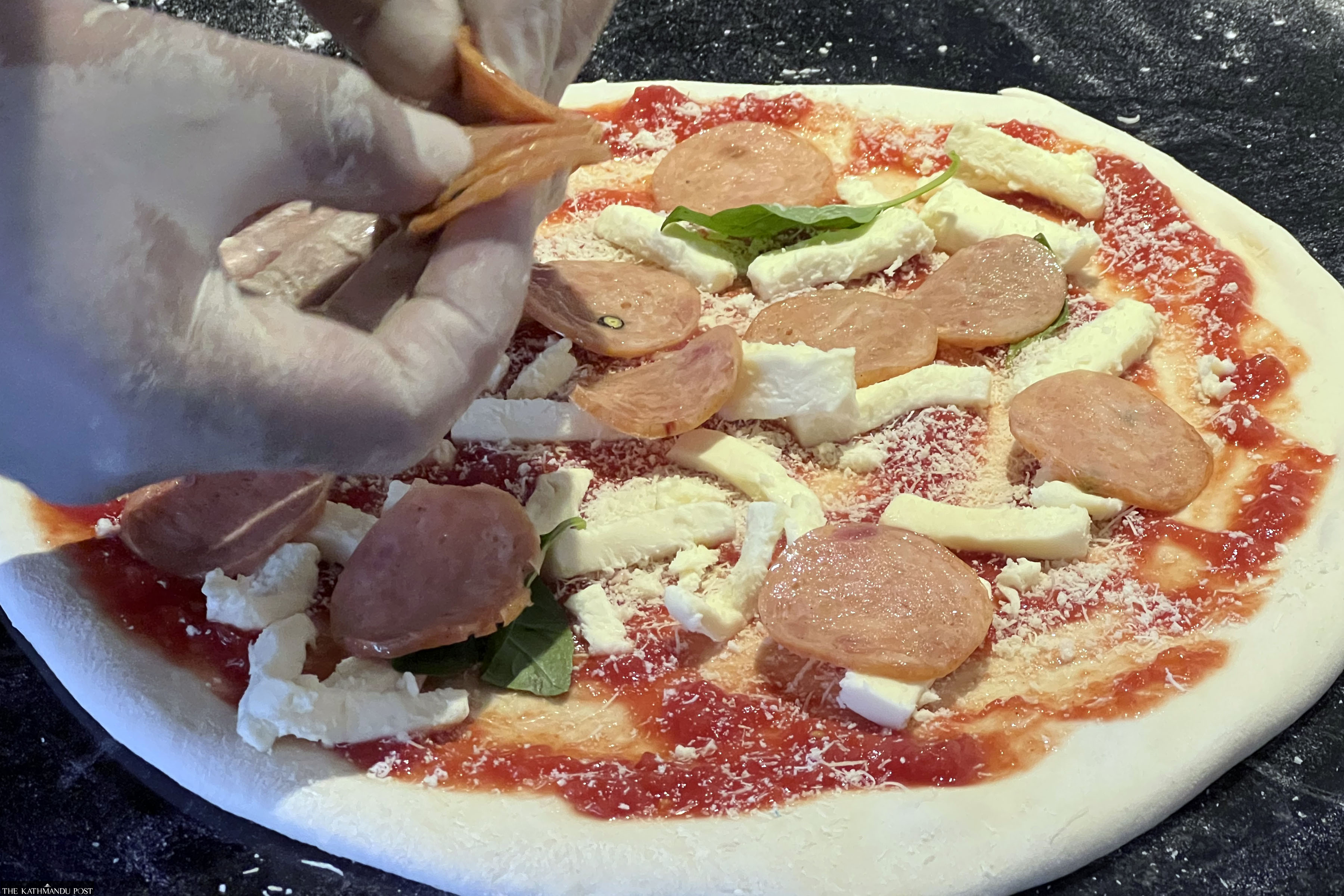 Elite Joshi/TKP
Price: Rs990
I can see why Aglio Olio is a customer favourite at Vera Vino. It is a simple pizza that has been tweaked to fit the Nepali palette.
The garlic oil and chilli on its base provide its savoury and spicy taste—very reminiscent of pasta. The savours of mozzarella, garlic, and grated Grana cheese with toppings of parsley created a tarty-tingly sensation in my mouth.
You can ask for extra toppings to add to the Aglio Olio if you want to. I, for one, wasn't used to the flavours of garlic and cheese mixing in my mouth, but it was a pleasant surprise.
The quality and taste of the pizza live upto its price—which is on the expensive side. I say you should definitely try it out if you want to treat yourself to something boujee for a special occasion.
Chicken Pepperoni Pizza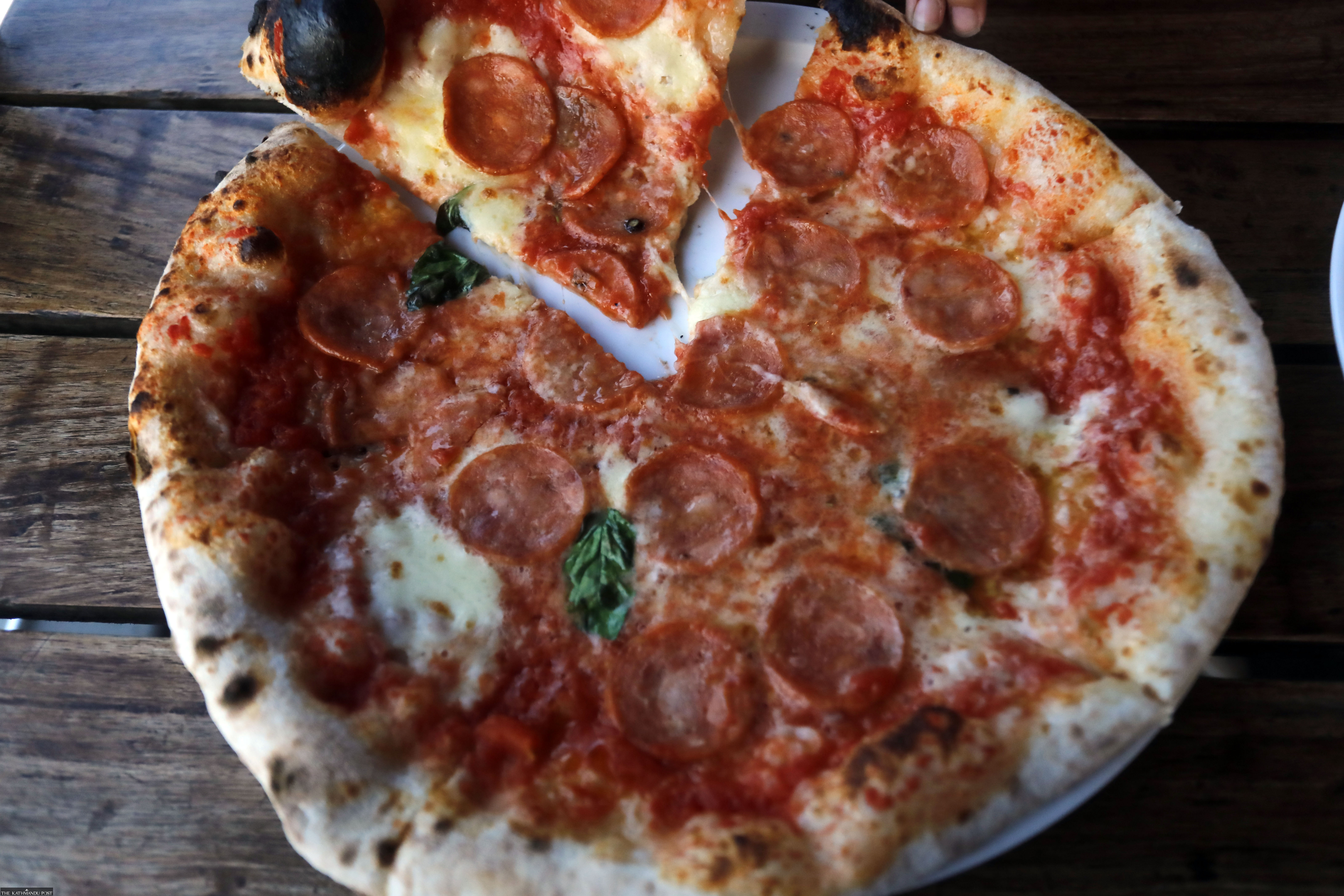 Elite Joshi/TKP
Price: Rs1070
With its balanced flavours, the chicken pepperoni pizza was my favourite of the bunch. It is a non-traditional variation of pepperoni made from ground chicken meat instead of regular pork-based pepperoni.
Chicken pepperoni does taste slightly different from the pork one but, it still adds a pleasantly salty and meaty taste to the pizza. The best thing about this dish was the mildly smoky flavour it had, along with a tinge of spice blending perfectly with the sauce base. The pizza could have used additional herb toppings, but it was pretty good as it is. Like the margherita pizza, this pizza also carried a Neapolitan-esque vibe with its bubbled-dough texture.
Vera Vino by Vera Pizza
Location: Sherpa Mall, Durbarmarg, Kathmandu
Opening Hours: 11:00 am to 10:00 pm
Delivery: Available
Price: Inclusive of all taxes
Parking: Paid parking of Durbarmarg
---
---