Serving you a Qatari feast
The country's ambassador recommends a series of Qatari dishes. His expert culinary team breaks them down.

Sarah Shamim/TKP
bookmark
Published at : April 7, 2023
Updated at : April 7, 2023 08:12
Kathmandu
The downstairs kitchen was in a state of organised frenzy. In one corner, battered green chillis were thrown into a wok with hot oil, erratically crackling until golden brown and crisp. In another, a stove was cranked up and ready to roast pieces of elaborately marinated chicken. Spiced rice was scooped onto large dishes and samosas were Jenga-piled on smaller ones. I was informed that this is an everyday affair at the residence of Qatar's Ambassador to Nepal, Yousuf Bin Mohamed Ahmed Al Hail, during the month of Ramadan.

I was only beginning to process the exceptional team effort that went into preparing the fast-breaking evening meal, Iftar, when I was invited by the ambassador to the poolside patio. We were joined by anchor Shawarni Khanal and pastry chef Deepti Khanal, who arrived with boxes of freshly baked pastries. These pastries became part of the starter spread, alongside an assortment of fried finger foods and fritters, as well as dates and water. The view from the patio was a refreshing break from Kathmandu's usual urban landscape. We watched the sun set behind the hills as the Bhaisepati breeze gently shook the nearby trees.
At last, it was time to break the fast. The ambassador explained that fasts are typically broken with nutrient-rich dates to ready the body for the feast to come. Conversations ranging from universities in Qatar to the popularity of Arabic desserts in Nepal ensued. I bit into a samosa mid-chatter, the outside resoundingly crisp and delicate, and the potato filling piping hot. The samosa alone was enough to convince me that the Iftar spread was a product of laudable culinary expertise. After some light snacking, the ambassador went for a prayer break. He reappeared to invite us to the dining table.
"Come, come, everyone," he gestured, gregariously.
"Bring your camera!" he told me.
Resultingly, I found myself at a table extravagantly set with several Qatari dishes. Intrigued by the authenticity of the cuisine, I decided to learn more about it from the head chef, Nizamuddin Mian who deconstructed the ambassador's recommended dishes of the evening. Mian learned Qatari cooking by working as a chef at a restaurant in Qatar in 2004.
Majboos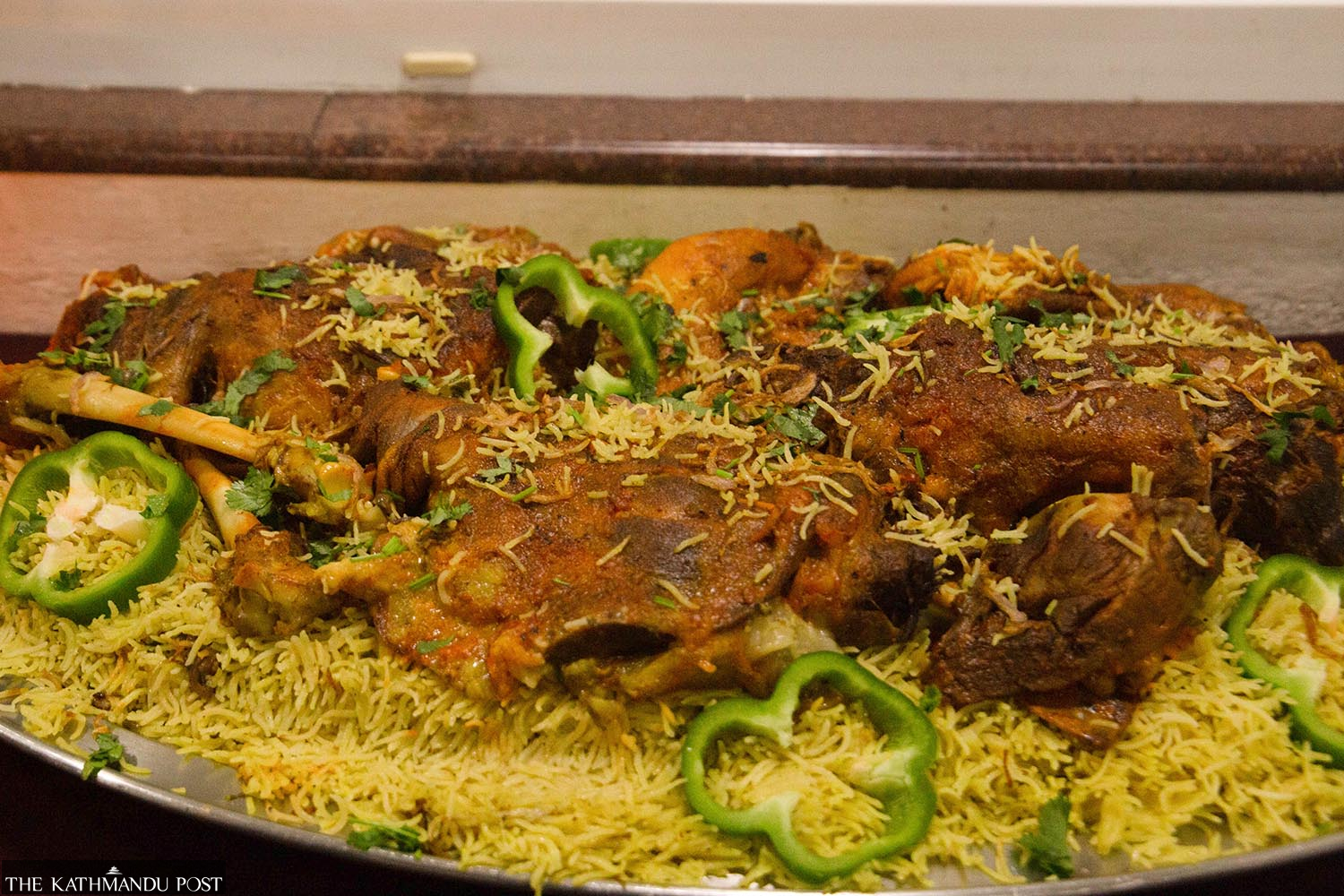 Even considered the national dish of Qatar, this meat and rice dish is characteristic of Qatari cuisine. Majboos is typically made using chicken or lamb meat. Lamb was used by Mian during this instance. In a large steel pot, the meat is boiled until the fat separates. After the fat is removed, the meat is marinated with a combination of spices for three hours. This includes a curry powder mix imported from Qatar. Additionally, cumin and coriander are added.
Rice is cooked in the same water used to render the meat. This water serves as a meat stock to enhance the flavour of the rice. After the marinated meat is roasted, it is served on a bed of rice.
You can find an exact recipe by Qatari chef Noor Al Mazroei here.
Harees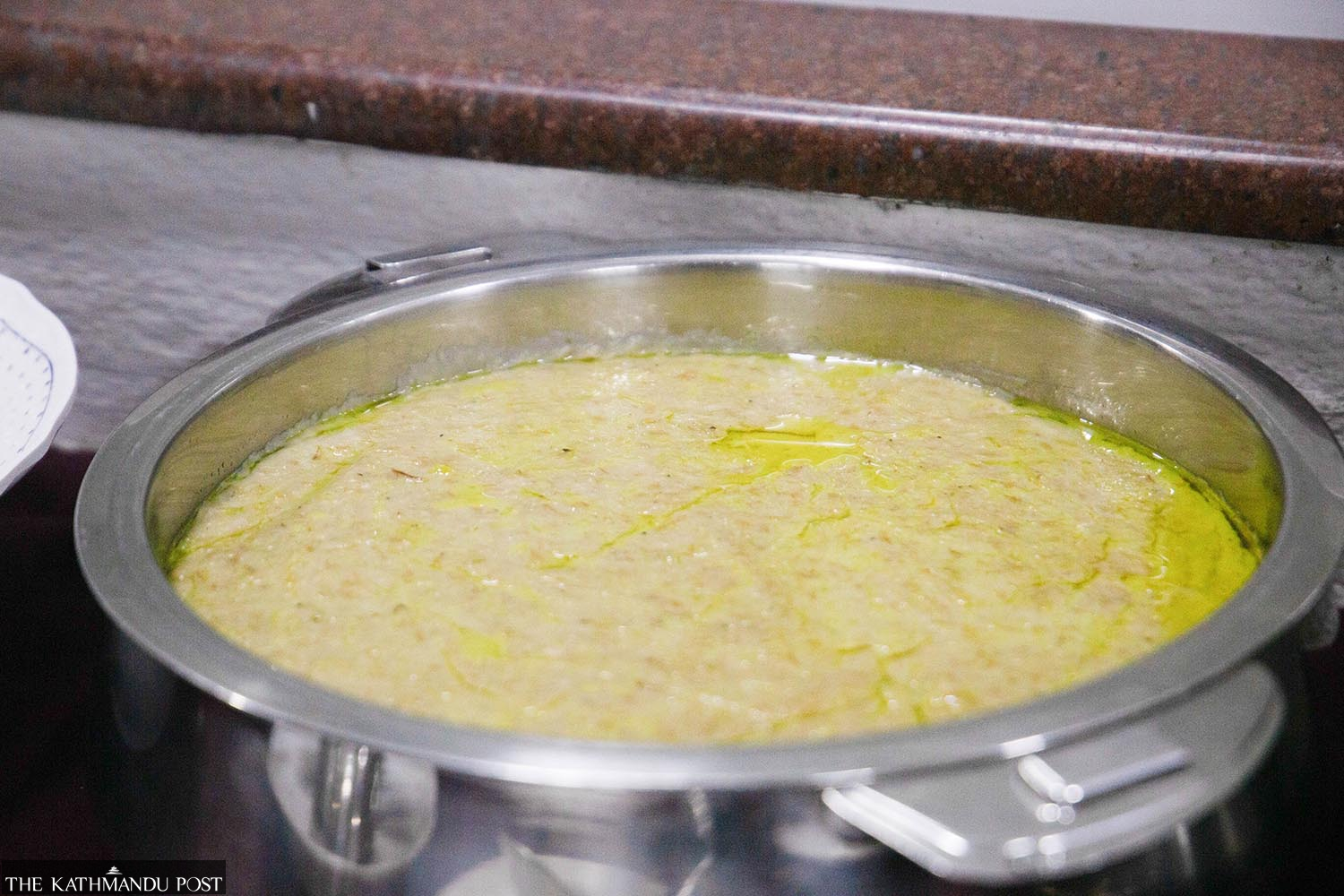 Harees is a creamy blend of meat and wheat. Wheat is soaked overnight. "If we have 2 kilos of wheat, we take 1 kilo of meat," Mian broke down the ratios involved in the making of Harees. The meat is boiled and voided of its fat. This meat is combined with overnight-soaked wheat and beaten together by hand. Butter and cardamom powder are added for texture and flavour.
You can find a more extensive recipe here.
Crème Caramel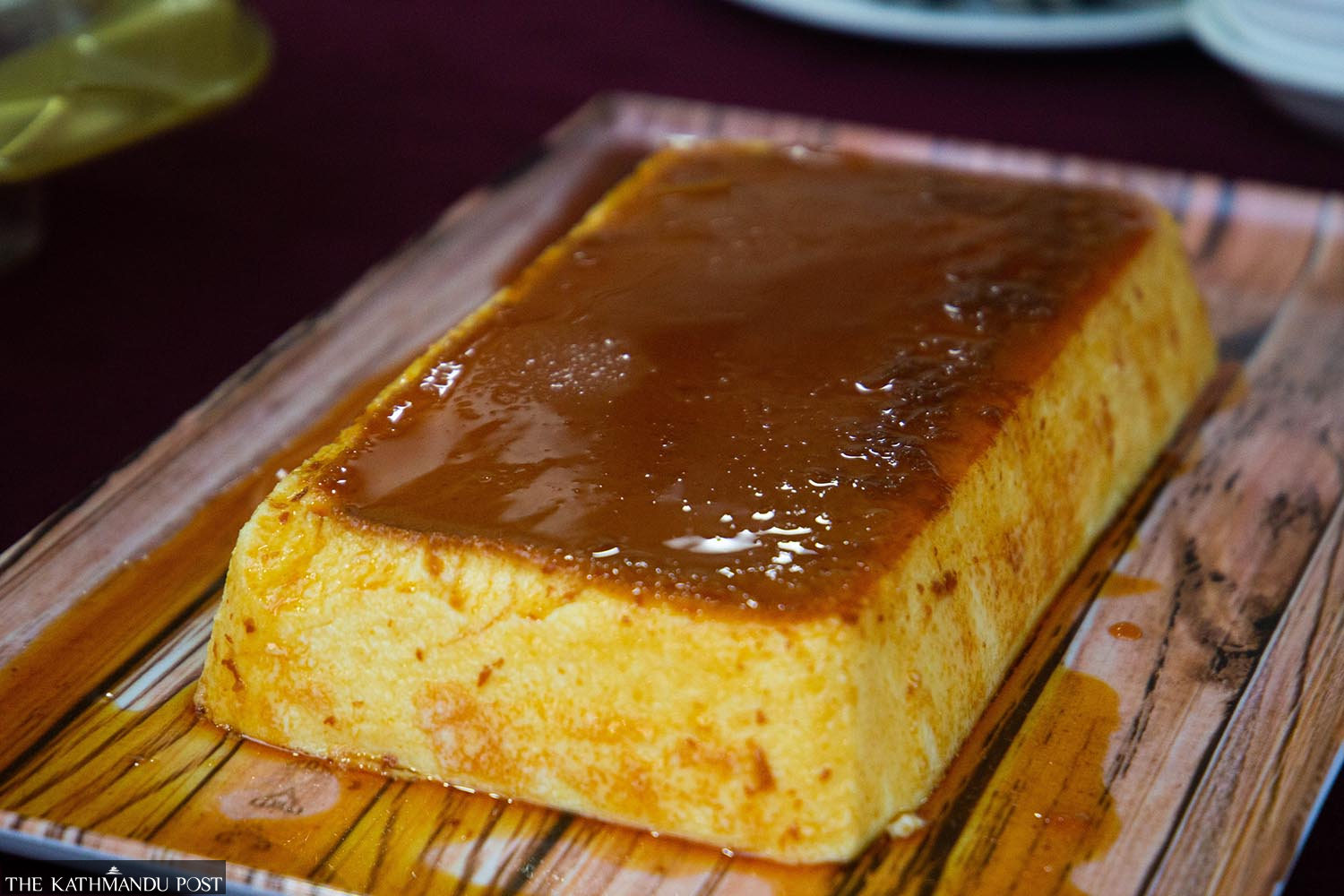 I was surprised to learn from Mian that this simple Parisian dessert is a staple on a Qatari Iftar spread. I later found out that the dessert is famous enough in the Middle East that Arab dessert companies developed pre-made mixes for creme caramel and flan. A possible reason for this could be the French control of Lebanon. How the pudding exactly went from Lebanon to Qatar is somewhat an undocumented mystery.
For the preparation, eggs are beaten together with powdered milk. For one cup of powdered milk, four eggs are used by Mian's team. "Four cups of powdered milk are suitable for our dish," Mian explained that cooking in his kitchen is intuitive and based on the size of dishes and the number of guests.
This mixture is baked in a warm water bath for around 40 minutes.
Find a more detailed recipe here.
Luqaimat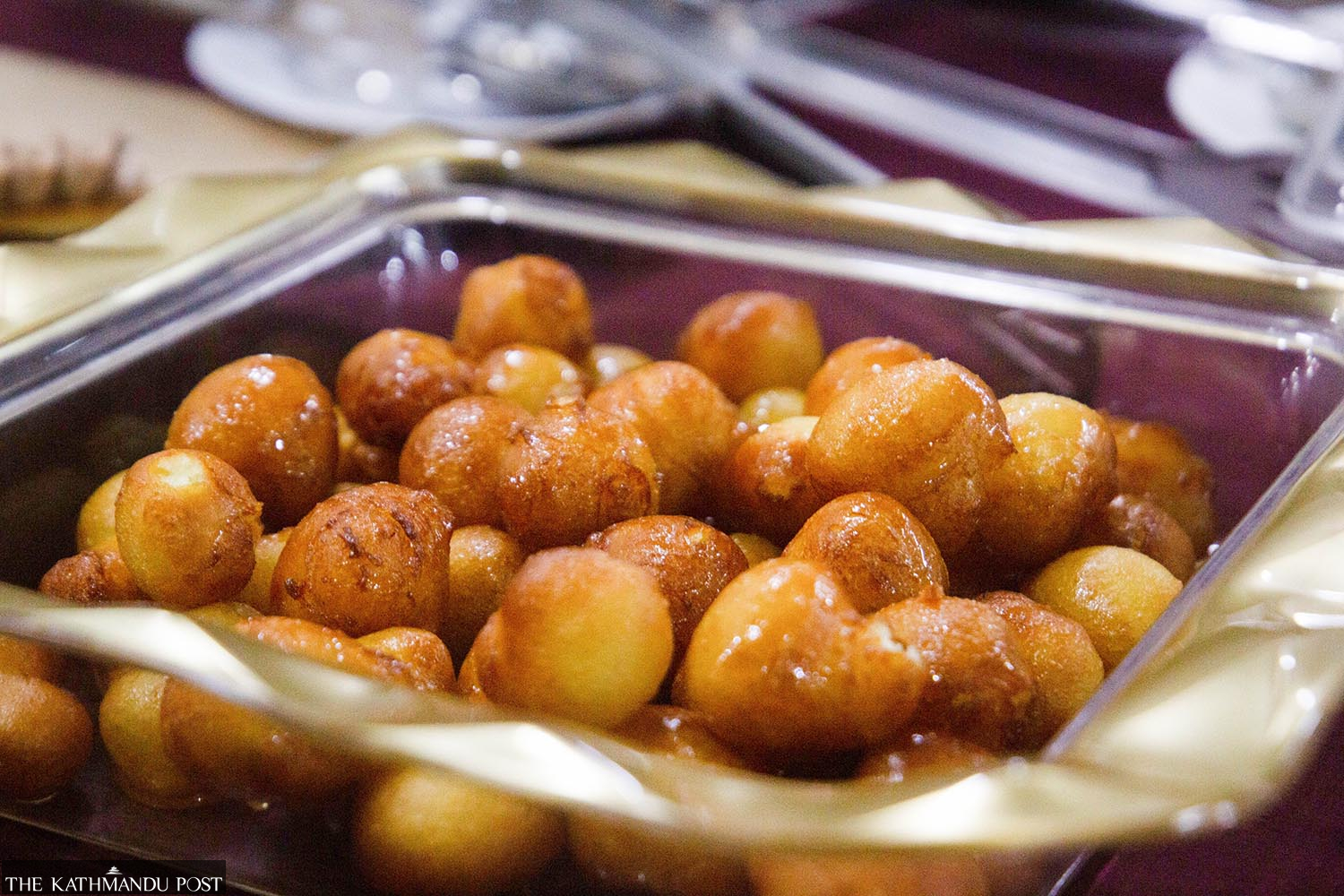 Luqaimat can be mistaken for Gulab Jamuns from afar, but the appearance and the sugar syrup are where the similarities end. These dessert bites are crunchy and airy with an aromatic saffron kick. I have had Luqaimat before, but the dessert at the Iftar was truly the best I have had. "These are a Ramadan speciality," remarked the ambassador.
I had imagined the recipe of Luqaimat to be akin to doughnut batter. Hence, I was a little surprised to learn from Mian that yoghurt was used in its preparation. Yoghurt is not used in all variations of Luqaimat, but Mian's team preferred combining flour and saffron with the yoghurt, forming a rich and thick mixture. Small scoops of this mixture are deep-fried in hot oil, forming bite-sized dessert balls. These are dipped in sugar syrup. Toppings such as honey are added to bring out deep flavour notes within the simple dessert.
You can find a different variation of the Luqaimat recipe here.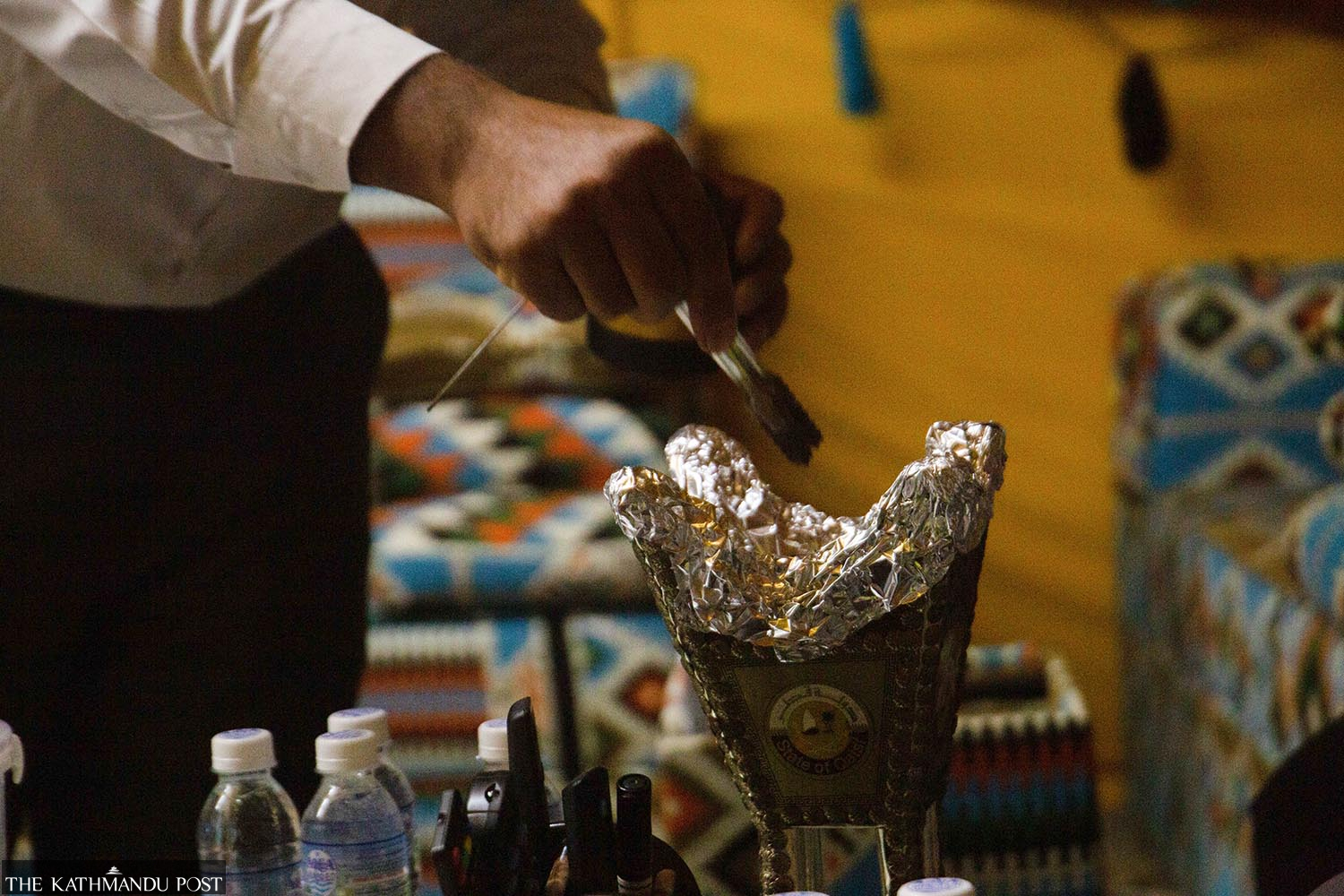 Even though we wrapped up dinner, the festivities were far from over. We all found ourselves in a backyard tent, perched on the brightly patterned majlis (traditional Arabic seating) style sofas. We communally perfumed ourselves with the fumes of bakhoor (incense chips) and drank several shots of cardamom-rich Arabic coffee out of special gold-rimmed Arabic coffee cups called fenjans. The caffeine formed a crisp mix with the breeze, keeping us awake and alert until the day's late end.
---
---