Good Tharu food in the Capital
Barghar Tharu Restaurant in Bauddha could soon be your go-to eatery for authentic Tharu cuisine.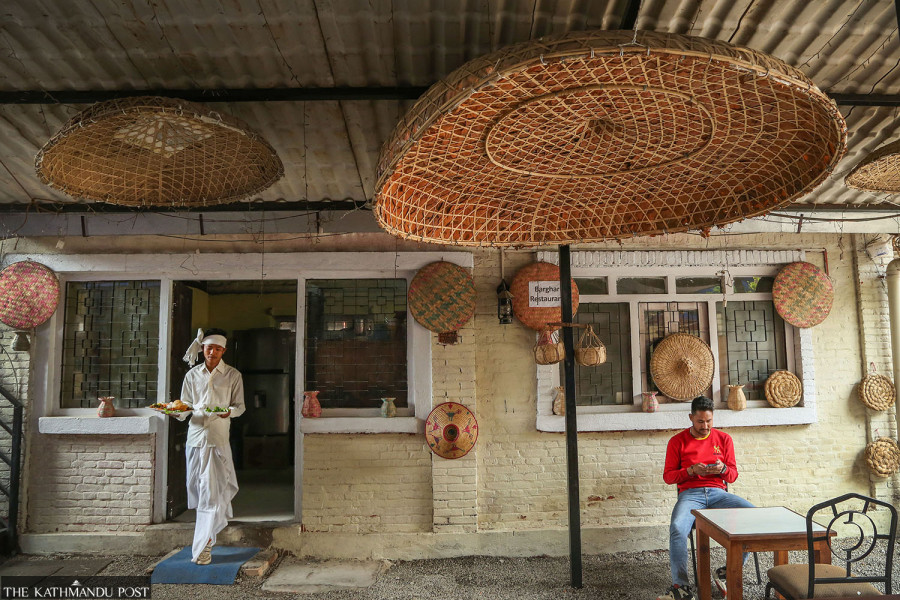 Prakash Chandra Timilsena/TKP
bookmark
Published at : March 10, 2023
Updated at : March 10, 2023 10:05
Kathmandu
If your taste buds have a hankering for sophisticated dishes, then you would enjoy trying out Tharu cuisine. It is all about using fresh ingredients from rivers and the forest so it also makes for healthy food. Additionally, the traditional spices and seasoning are unique and delectable.

Barghar Tharu Restaurant in Baudhha could be your go-to eatery for Tharu food. Located opposite Mission Public School, the cosy ambience of this restaurant is filled with plants and makes you feel like you are in an actual forest. The restaurant also has another branch in Kirtipur.
The staff at Barghar are very hospitable. I liked how friendly they were and how kindly they explained how the food was prepared to me. They are all very knowledgeable about the food too.
Sita Ram Chaudhary, the owner of the restaurant, is also a chairperson of Bardiyali Tharu Bikash Manch. He shared that he opened Barghar to promote Tharu cuisine in Kathmandu. "It is the only restaurant in Kathmandu Valley which carries the typical taste of Tharu cuisine," explained Chaudhary.
While my overall experience eating at Barghar was pretty pleasant, I had to wait for quite a bit to get the food I ordered there. I would suggest you call the restaurant at least an hour before you intend to get there and place your order.
Ghonghi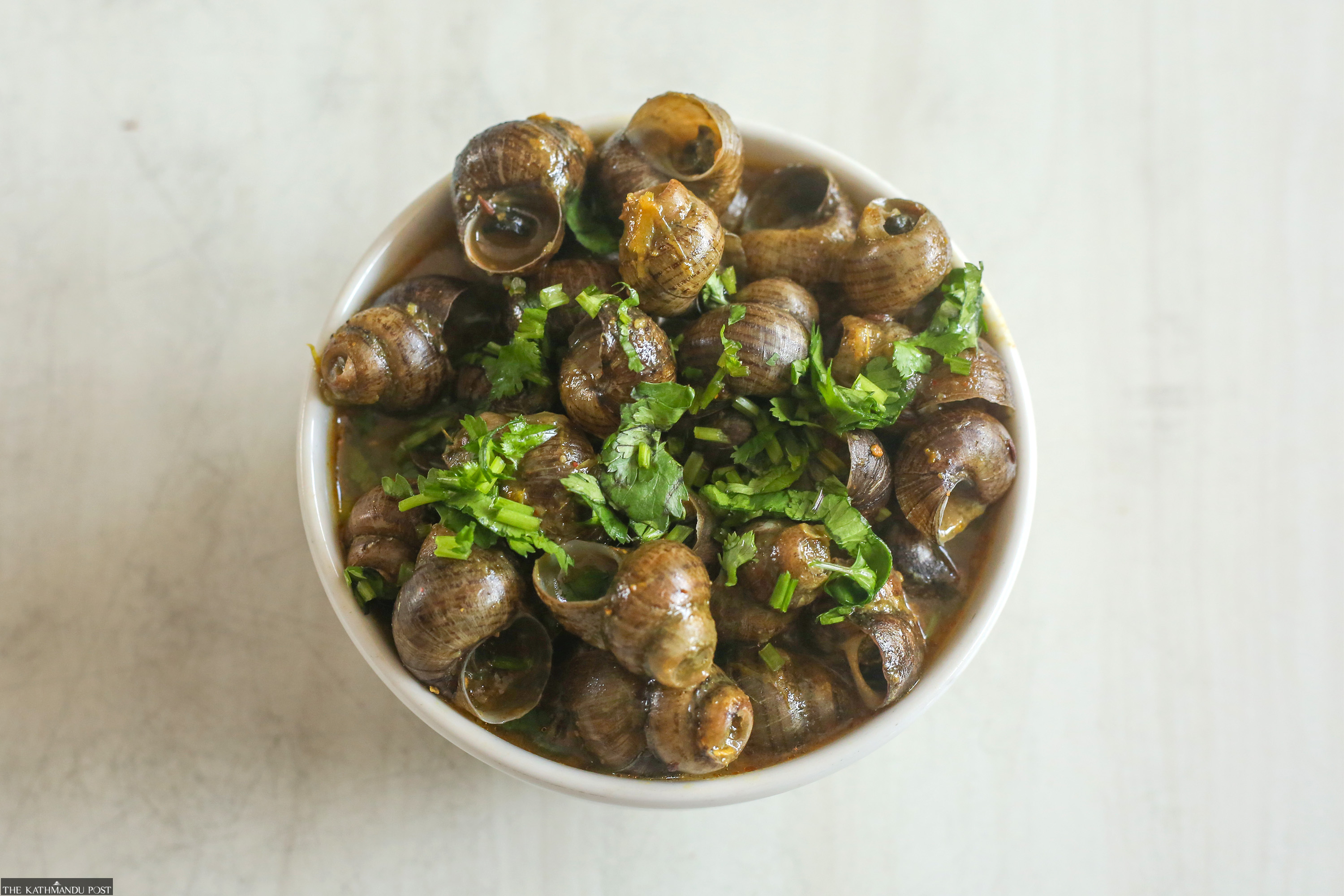 Prakash Chandra Timilsena/TKP
Price: Rs150
Ghonghi is possibly the most well-known Tharu delicacy. However, it is definitely an acquired taste. Ghonghi are snails found in paddy fields and Chaudhary mentions that they are believed to be very nutritious and healthy.
You slurp the insides of the snail from its shell and it tastes similar to fish eye or fish brain. Once you get past the fear of trying something completely different and new, the lingering aftertaste might pleasantly surprise you.
Dhikri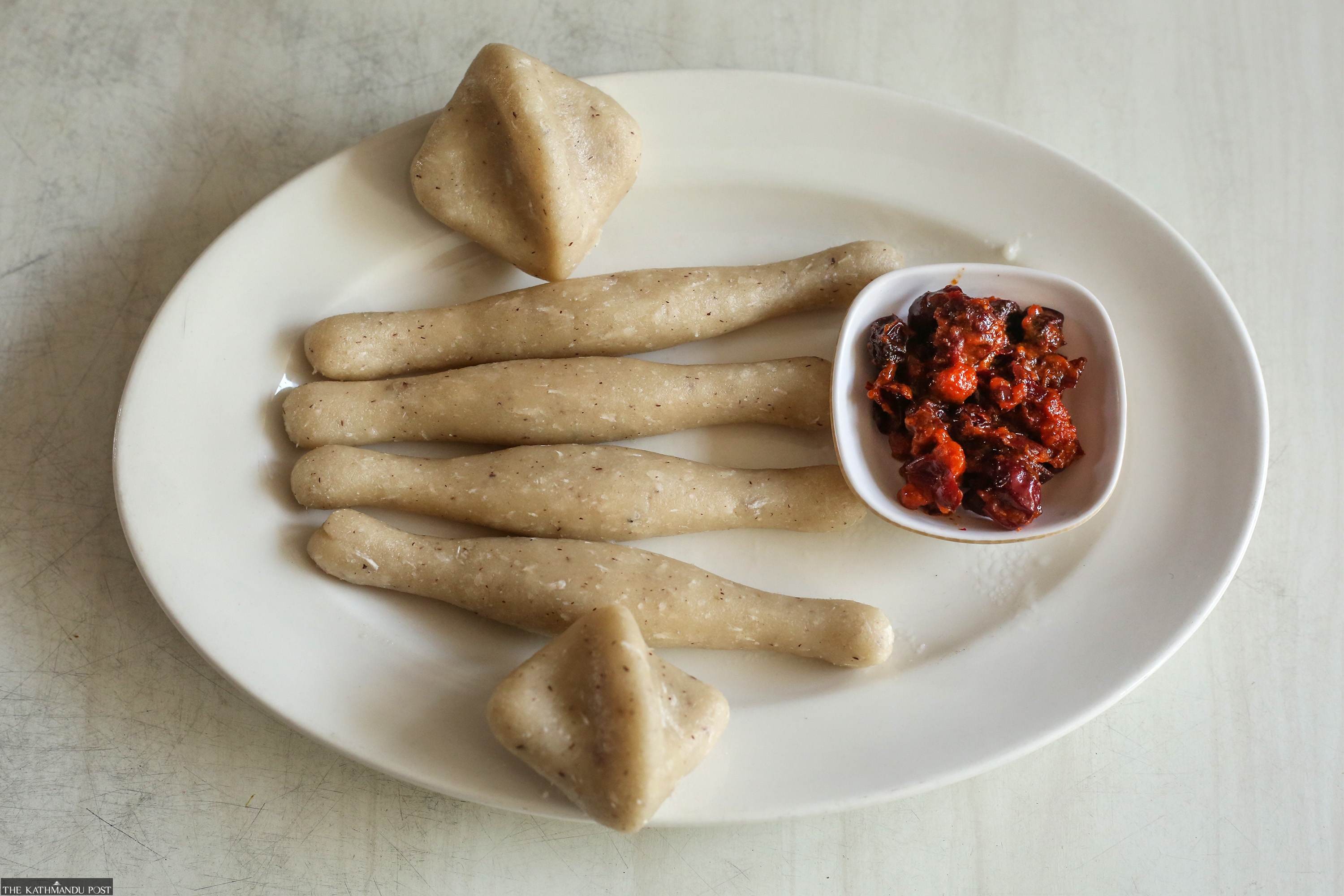 Prakash Chandra Timilsena/TKP
Price: Rs200
Dhikri is the Tharu take on steamed rice cake. It can be made in a variety of shapes and sizes. The ones I had at Barghar were shaped like rolling pins and diamonds.
I loved biting into the Dhikri. It is soft and mushy in texture and incredibly satisfying to chew on. It is a little bland in taste though so you should probably order a sauce with it. I ate it with the Bairik chutney which added the much-needed flavour.
Bairik Chatni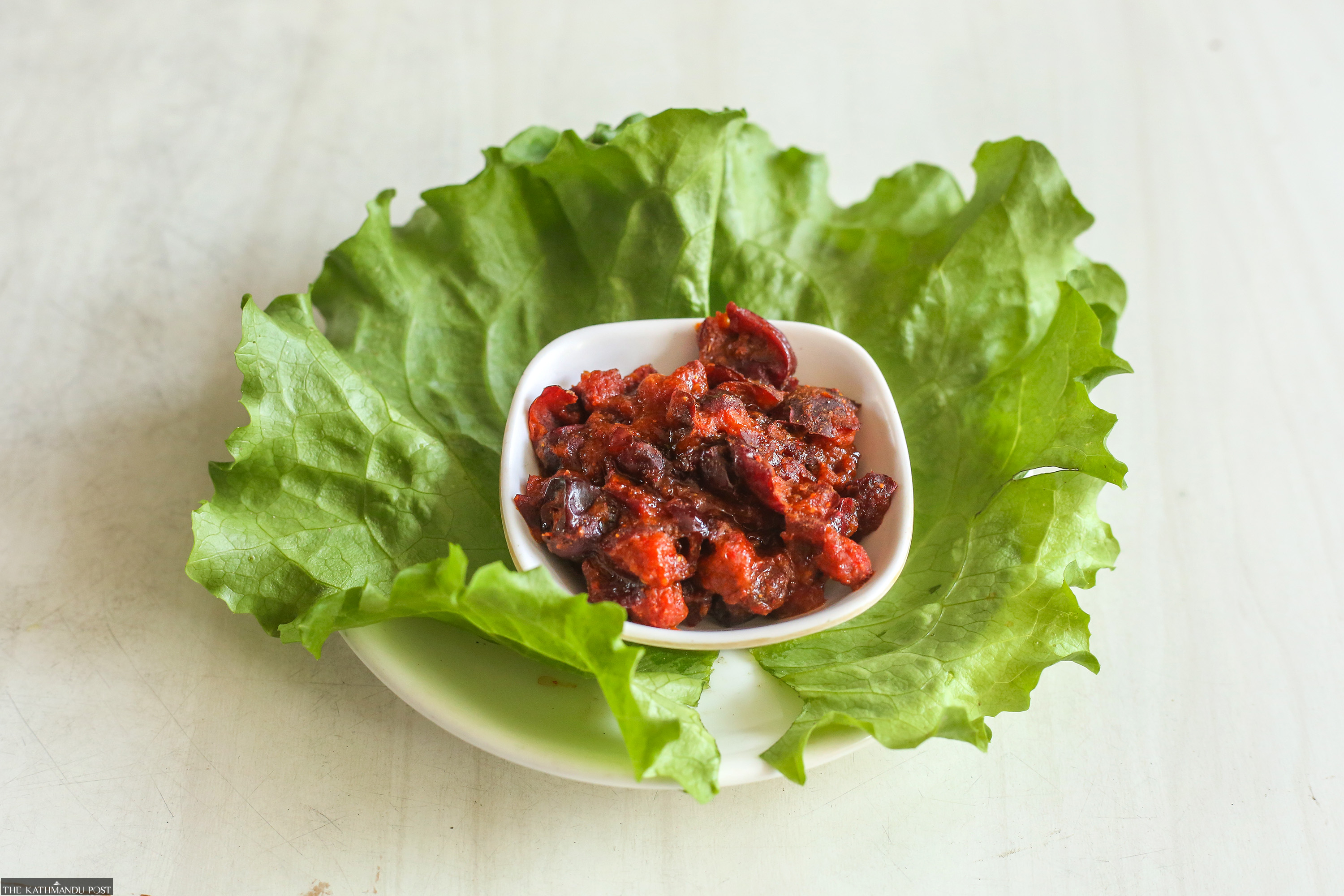 Prakash Chandra Timilsena/TKP
Price: Rs80
Bairik Chatni is very similar to titaura—a sweet, sour, salty snack made from fruits, most commonly hog plum. The chutney is made from Indian plums and balances the sweetness of plums with equal amounts of spice and sourness. The one downside to it is how tedious spitting out every little plum seed is.
Bairik Chatni works as a great appetiser and dip. I strongly recommend you try it out whenever you visit a Tharu eatery.
Deruwan Machha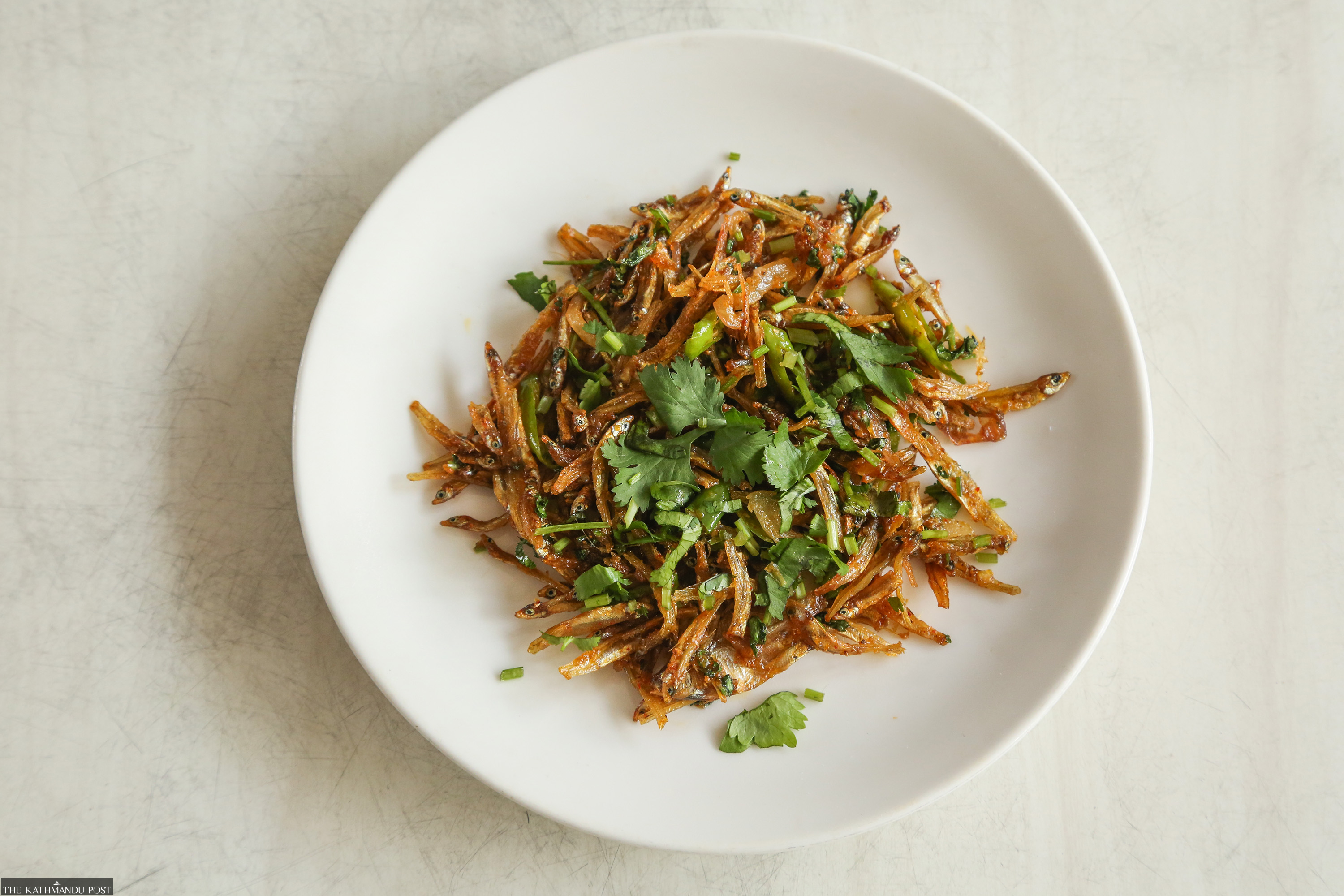 Prakash Chandra Timilsena/TKP
Price: Rs200
Deruwan Machha are small fish, akin to anchovies. Barghar serves it deep-fried, mixed with fresh coriander leaves. This is probably the item with the most conventional Nepali taste out of everything I tried at Barghar. It is very flavourful and does not leave behind an unpleasant fishy smell.
Chaudhary reveals that the restaurant imports local fish from Bardiya. It paired very well with the sticky rice from the Khaja Set.
Tharu Khaja Set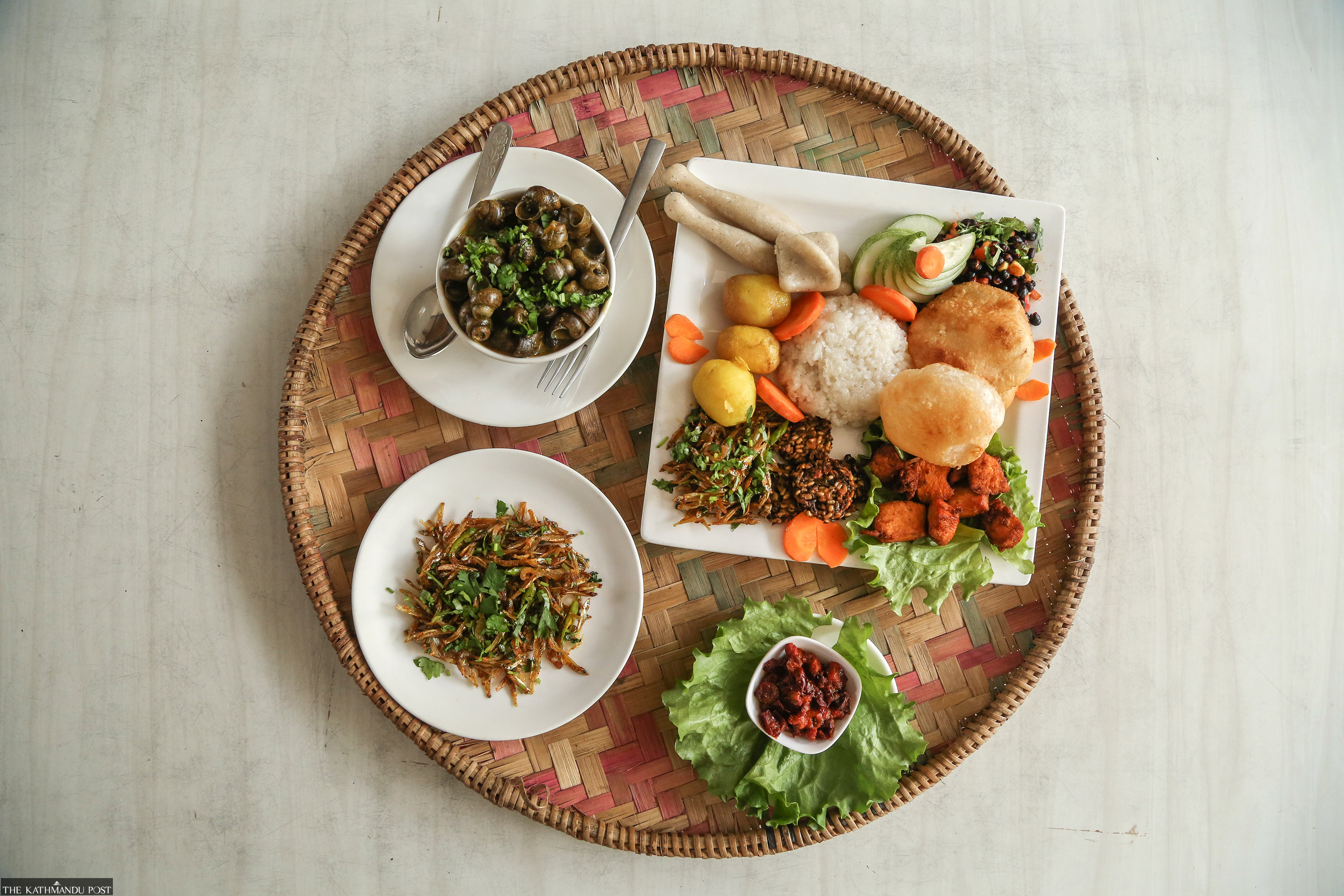 Prakash Chandra Timilsena/TKP
Price: Rs450
The Tharu Khaja Set at Barghar incorporates many dishes including Ghonghi, Dhikri, Khariya, Tharu Aalu, Andik Bhaat (sticky rice), Andik Roti (sticky pancake), Bhatthar, Deruwan Machha, Murgik Sekuwa and salad. If you prefer pork over chicken, you can opt for pork sekuwa (grilled pork) over the Murgik Sekuwa (grilled chicken).
The presentation of the Khaja Set won me over. I also love how it is served in a nanglo (bamboo tray). My favourite from the set was the Khariya which is a kind of pakora (fritter) made from black lentil seeds and wrapped in a banana leaf.
—
Barghar Tharu Restaurant
Location: Bauddha, Kathmandu
Opening hours: 9am to 9pm
Delivery: Not available
Price: Inclusive of all taxes
Parking: Available for two-wheelers
Payment options: Cash, Fonepay
---
---