The garden of good food
Walnut Bistro in Maharajgunj is a restaurant you will likely revisit—both for its food and ambience.

Located in an alleyway opposite the Office of the President, in Maharajgunj, the restaurant looks more like a garden than an eatery. Anish Regmi/TKP
bookmark
Published at : February 10, 2023
Updated at : February 10, 2023 21:11
Kathmandu
With so many restaurants and food options around Kathmandu, it can be confusing to pick one to go to. Limiting your choices based on the kind of food you are craving and the ambience you are seeking can help. If you are looking to enjoy fusion Nepali food in a tranquil space akin to a forest, you should definitely check out Walnut Bistro.

Located in an alleyway opposite the Office of the President, in Maharajgunj, the restaurant looks more like a garden than an eatery. One you can imagine seeing in a movie, with the musically inclined protagonist strumming his guitar in a corner, wooing the crowd of diners with his baritone crooning. If you can imagine that scenario vividly, it is because restaurateur Akash Poudel based Walnut Bistro on this very concept.
Poudel is a filmmaker. Most recently, he worked as a producer of the movie 'Aina jhyal ko putali'. He wanted to open a restaurant ever since he went to the UK in 2007 for a BHM internship. While completing his internship, he realized how prominent the restaurant culture there was. People from all walks of life came into eateries and shared moments of their lives with each other—be it happy moments or sad ones.
But as he switched to filmmaking from the hospitality industry, he abandoned his dream to open a restaurant. That is until a couple of years ago when Poudel was writing the script for a new movie. In it, he imagined the main character as a musician who did live gigs at a beautiful forest-themed restaurant. As he was working out the logistics behind creating the set for that eatery, he thought why not open a restaurant where he could film that movie? "This, I thought, would fulfil my lifelong dream of opening a restaurant and I would also have the set for my movie all ready for the shoot," says Poudel.
Opened in 2019, Walnut Bistro is a popular hang-out and lunch spot for friend groups and families alike. It has a plethora of seating options for both small and large groups and even features a mini library with a 'Exchange a book for another' campaign and a kids' play corner.
Utilizing his knowledge of hotel management, Poudel came up with the menu for the restaurant himself with some help from its in-house chefs. Most dishes listed on the menu can be categorised as a fusion of Nepali and international cuisine. The Post tried out four dishes while visiting Walnut Bistro. Here is what we thought of them.
Trikone Faparos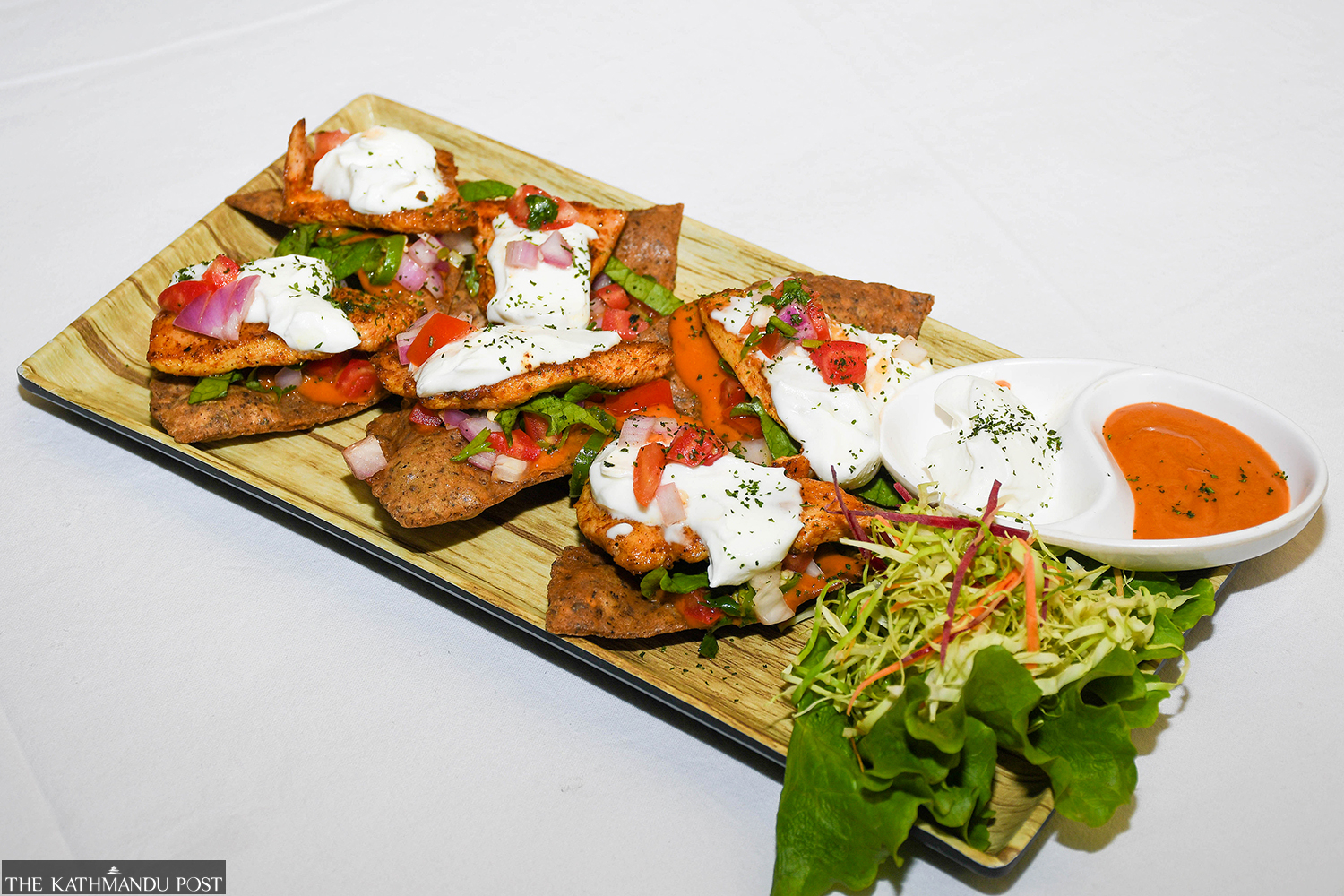 Anish Regmi/TKP
Price: Rs 599
Rating: 3/5
The Trikone Faparos is essentially Nepali-style nachos. The crispy chips are made from fapar (buckwheat) topped with meat, cheese, salad and Walnut's homemade sauce and served with a side of shredded leafy greens. It works as a refreshing appetizer—just a little spicy and sour to arouse your appetite. The ingredients used in the salad are notably fresh, however, the side of shredded leafy greens is surprisingly dry and stale. The best part about the faparos though is how well all the textures—of the chips, meat and salad—mesh together. Although the Trikone Faparos works as a cool appetizer, it does seem a little overpriced.
Polpaal Chicken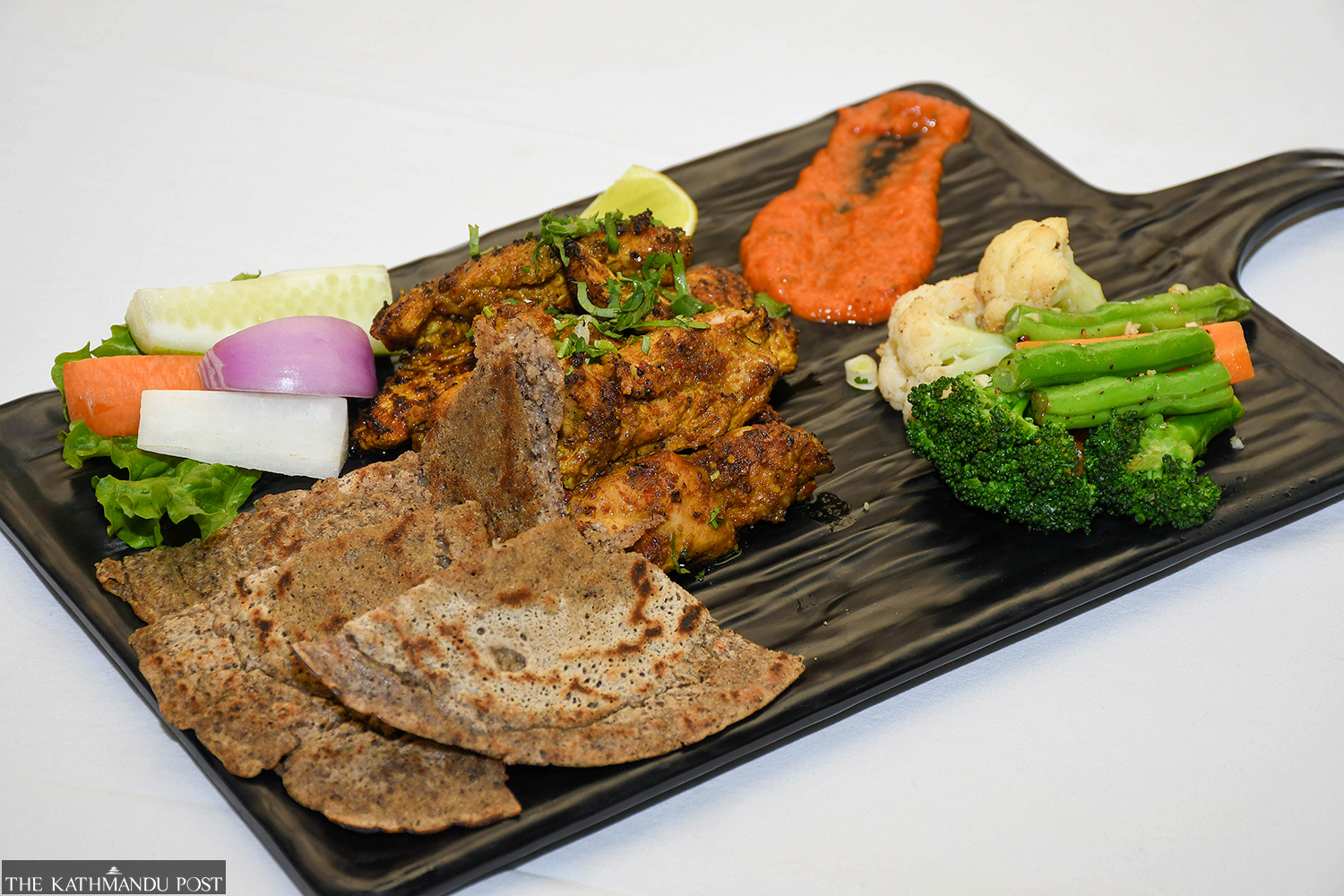 Anish Regmi/TKP
Price: Rs 799
Rating: 4/5
Polpaal Chicken is a Walnut staple—something Poudel encourages every customer to try out and it isn't difficult to see why. It is a classic grilled chicken dish served with sauteed veggies, salad and tamatar ko chutney (tomato sauce), ad fapar ko ryaale roti (Nepali style buckwheat tortilla)—they sure love their fapar. I love how the chicken is grilled just right—tender and juicy. I, personally, do not like my meat chewy and dry—something I've noticed most Nepalis love. The sauce has a strong taste of timmur (Sichuan pepper) and adds the bit of spice the Polpaal Chicken otherwise lacked.
Nepali Dal Bhat Tarkari - Chicken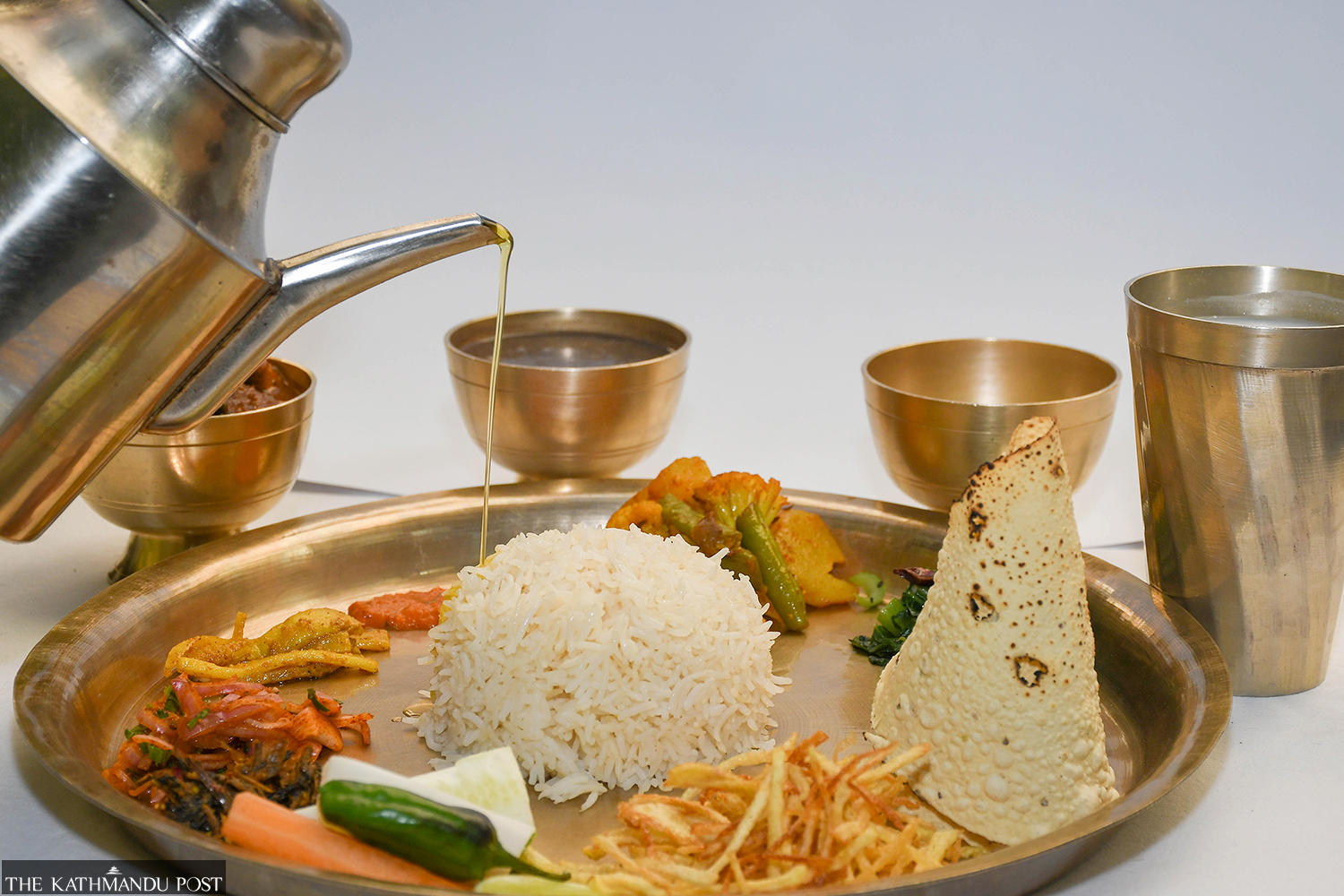 Anish Regmi/TKP
Price: Rs 619
Rating: 4/5
This is a traditional Nepali Thali. You get a decent serving of rice with three variations of tarkari—aalu bhujia, aalu kauli, saag, and aachar—tamatar ko chutney, mula ko aachar, pyaaz ko aachar, gundruk sadheko, papad, salad, Amrit, a tall glass of Mohi, daal and chicken curry. Walnut does aachars well. Tamatar ko chutney, mula ko aachar and gudruk are all excellent. The tarakaris are decent but nothing to write home about.
The daal and Amrit are stars of the thali. The thick dal, which is a mixture of six different types of pulses and beans including gahat, maas and rajma is apparently cooked for six hours straight and it is a delight to have during the winter. Amrit, which is a Walnut creation—sweet yoghurt baked in the oven—lives up to its name. The tangy and sweet flavour of it makes you believe that it is in fact the nectar of the gods.
Walnut Tri Colori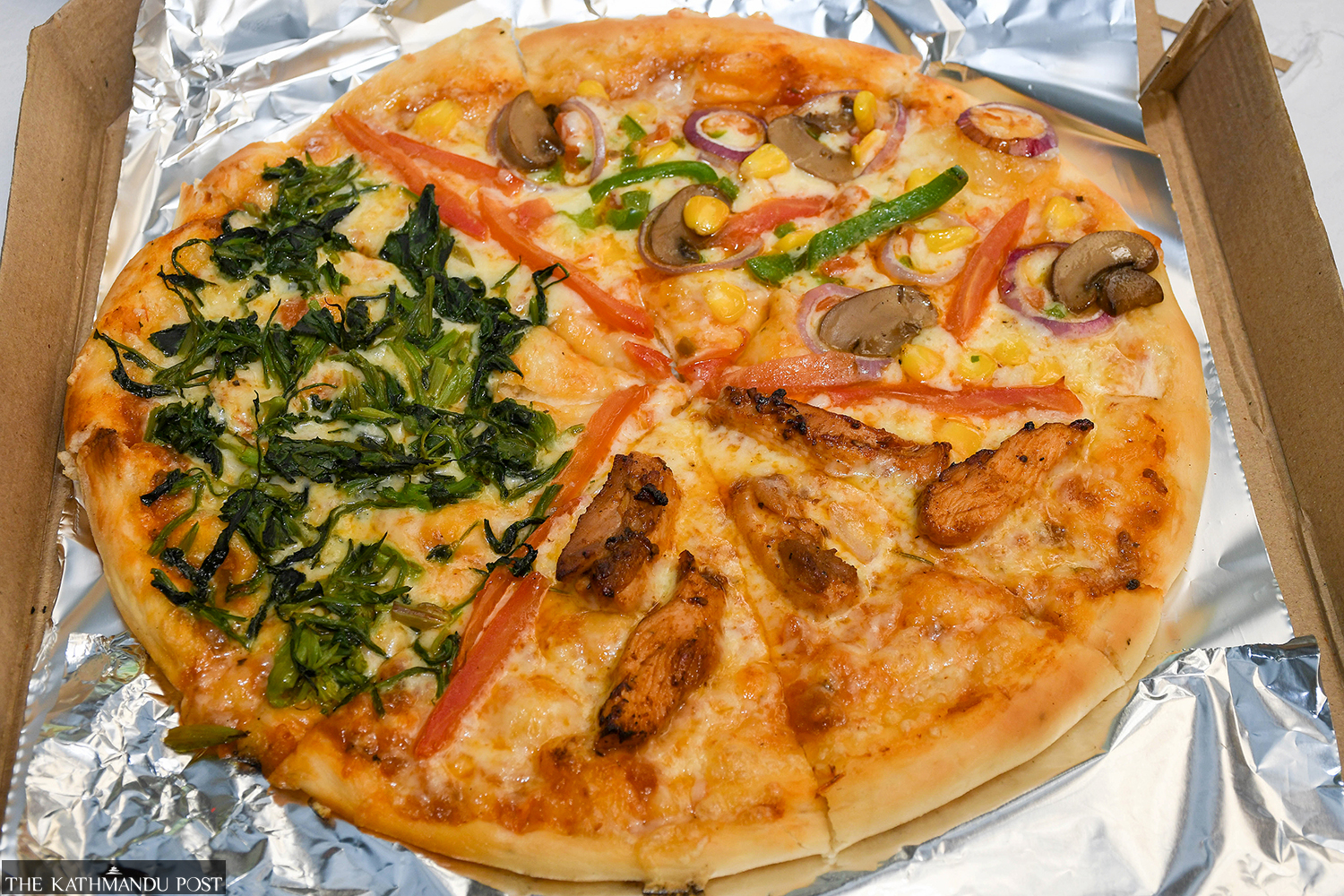 Anish Regmi/TKP
Price: Rs 789
Rating: 3/5
If you are confused about what to order when you visit Walnut Bistro, opt for their Tri Colori pizza which brings you three different kinds of (pizza) toppings in one. The nine slices of it feature three slices each of mushroom, mix vegetable and spinach, and chicken pizzas. This is another Walnut signature that Poudel says is loved by their regulars. While the concept of this dish is quite nice, the taste of pizza is just okay. The dough is a little too thick and the pizza overall is a little bland.
—
Walnut Bistro
Location: Do Cha Marg, Kathmandu
Opening hours: 10am to 10pm
Delivery: Limited options
Price: Inclusive of all taxes
Parking: Available
Payment options: Cash, POS, digital wallets
---
---