Come for the burgers, stay for everything else
Queens Eatery is famous for its burgers but the place—recently incorporating a breakfast/brunch menu—is much more than a burger joint.

Started in 2019, Queens Eatery regularly experiments with new food items on its menu. Beeju Maharjan/TKP
bookmark
Published at : November 12, 2021
Updated at : November 12, 2021 00:32
Along the road leading to Sanepa chowk from Jhamsikhel, a little way ahead from the humongous towers of the Imperial Court housing complex, and just beside the main road lies Queens (or Queens Eatery). Outside the eatery, abutting the footpath, are three outdoor tables, suited for chilled and laid back weekends (the irritating groans of vehicles on weekdays makes the outdoor setting less than ideal). A cosy yet rebellious interior envelopes the eatery inside: Bulbs with warm lights hang from the ceiling; chill lofi music strums through the speakers; big and snug seats beckon potential foodies; a mural combining Patan Durbar Square and Kathmandu Durbar Square with a graffiti-styled 'Queens' written in between the two natural heritage draws one's attention.
Queens is a culinary venture envisioned by two school friends Sashant Pradhan and Shreyash Lal Shrestha. Shrestha is a silent partner, whereas Pradhan actively handles the day-to-day workings of Queens. Although a comparatively new venture started in June of 2019, Queens has quickly amassed a loyal following, especially for its mouth-watering, scrumptious burgers.
Pradhan shares that the desire to own a cafe had been brewing in his mind since childhood. As a child, Pradhan often visited Japan as his dad lived and worked in Japan. He was fascinated by the cafe culture of Japan, where boutique and themed cafes spring up in confined spaces. As his house was at a prime location in Sanepa and was already renting out the ground floor to cafes, he thought it was high time he pursued his dream. He consulted with his parents and made a leap of faith with the opening of Queens on the ground floor of his house.
"I was completely new to the entire food and beverage industry when I started Queens," says Pradhan. "However, I was lucky enough to get an amazing team to operate Queens. The staff and I are like a family, and I take care of my staff as such." Currently, there are eight staff working in the eatery(including Pradhan); four chefs and four servers.
For Pradhan—a burger lover-connoisseur himself—it was a natural instinct to deviate towards the burger niche with Queens. Unsatisfied with the burgers available in the restaurants and cafes of the Valley himself, he saw a growing need of customers who wanted authentic burgers. "The tastes of people have already changed. Burgers made with frozen patties and a few vegetable slices are not good enough for people now," he says. "The burgers we serve are gourmet burgers, meaning we prepare our own brioche buns, coleslaw, burger sauce, and patties."
Later, when the burgers arrive, he invites us to push down on the burger buns with our fingertips. The burger buns sink with the pressure but quickly rise back up, like dough left on a countertop. The burger buns do not break apart, nor do they turn soggy from the meat juices and fillings.
The burgers in the menu of Queens are mostly influenced by North American cuisines and culture. Oklahoma onion burger, bagel burger, cowboy burger, etc., speak for their culinary influence themselves. The patties are also combined with a mixture of buff meat and fats to mimic the taste of beef and recreate American burgers, says Pradhan.
However, Pradhan doesn't want to limit the scope of his eatery to just its delicious burgers. "Queens is not just a burger joint: It's an eatery that sells flavourful burgers, but the rest of the menu features dishes like bagel benedict, stuffed brioche French toast, chicken/tofu tenders, etc. are also as good if not better," he says.
Eateries in the Valley have a tendency to become multi-cuisine, multi-faceted, and multicultural. The menus, thus, read like a phone book and include almost every possible dish and cuisine from Nepali, Indian, Chinese to American. Most of the time, this approach just creates a literal example of 'too many cooks spoil the broth'.
Pradhan—well aware of this shortcoming in Nepali eateries—has deliberately limited the menu items so that the chefs can specialise in the few dishes on the menu. The sacrifice of quantity for quality is a necessary exchange, says Pradhan. The mains are mostly burgers (hot chicken/tofu burger, Thai satay chicken/tofu burger, black bean burger, Queens burger, big nasty, etc.) while the appetisers are common food items with an in-house twist such as house fries, chicken/tofu tenders, panko onion rings, and chicken wings with bbq sauce.
However, the menu also goes through a healthy dose of experimentation from time to time. Now and then, one or two new items are added to the menu (most often new burger variants). Presently, black and blue burger (double buff patties with blue cheese sauce), cowboy burger (double buff patties, bacon, bbq sauce and onion straws), spicy chicken/tofu with blue cheese, chicken basil melt(grilled chicken or tofu, mozzarella, basil mayo on toasted sourdough), and tomato basil(tomato, mozzarella, basil mayo and fresh basil on toasted sourdough) are limited edition specials on the menu.
The addition of a breakfast and brunch menu to capitalise on the early morning crowd was also an experiment that has proven quite successful for Queens. Starting about a month and a half ago, the breakfast/brunch menu now includes bagel egg and cheese sandwich, bagel BLT, bagel benedict, among others. For now, a special weekend menu consists of patty melt, BBQ pulled pork burger, Queens NY cheesecake, and cheesecake shake.
Recommended menu items from the owner
Bagel benedict
One of the popular items from the breakfast/brunch menu, bagel benedict is a soothing companion for early mornings with its accompanying americano and hashbrown. Sandwiched between a fresh bagel are a poached egg, sizzling bacon and pork belly, and hollandaise sauce.
Price: Rs 700(non-veg)/Rs 500(veg)
Stuffed brioche French toast with cream cheese and jam
Keeping in mind the ones with a sweet tooth, Queens pays homage to French cuisines—one of the best cuisines for morning breakfasts—with its stuffed brioche French toast with cream cheese and jam. The brioche French toast, albeit different from the traditional French toast that we are used to, comes filled with cream cheese and is a decent alternative to meat for breakfast.
Price: Rs 400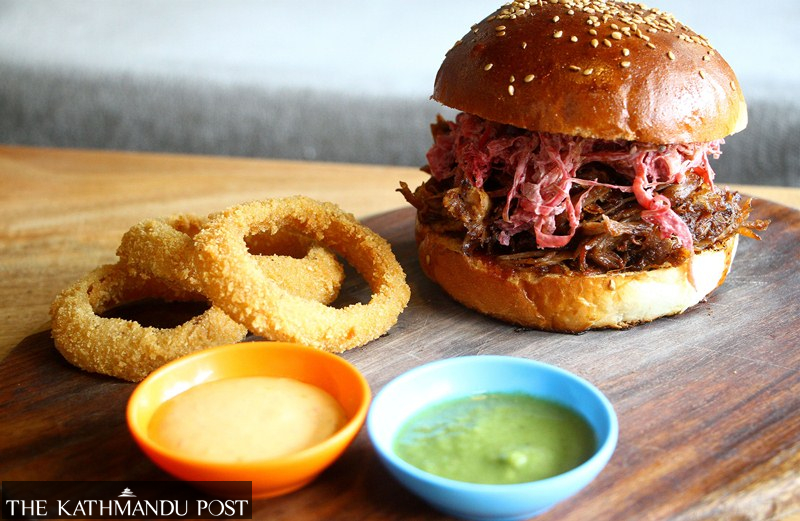 The Queen's juicy BBQ pulled pork burger flavoured with melted fat is a delicious treat. Beeju Maharjan/TKP
BBQ pulled pork burger
The most exclusive special of Queens, BBQ pulled pork burger is available only on Fridays. The preparation of this burger starts with marinating shoulder cuts of pork, which are cooked for 10-12 hours over an oven. A coleslaw is made by combining salad dressing with beetroot and cabbage. The combination of succulent pulled pork with homemade coleslaw and burger sauce is a refreshing change to the typical burger patties(crispy chicken, spicy chicken, grilled chicken, and so on) available in almost every eatery. Onion rings, as well as house sauces, are also served on the side.
Price: Rs 700
Queens NY cheesecake
One of the few pastry options on Queens' menu, Queens NY cheesecake is a hot item, and it's no secret why. The cheesecake is prepared at Queens from scratch and left overnight in the fridge to set. The dense texture of the cheesecake with its base creates a delectable dessert. The Queens NY cheesecake alone is worth a trip to the eatery.
Price: Rs 500
(The above prices are inclusive of all taxes.)
Name of the eatery: Queens (Queens Eatery)
Opening hours: 7:45 am to 8:30 pm
---
---