Annamaya: Colours you can taste, with spectacular views
Annamaya is a cafe with a perfect view, a chilled vibe and dishes more colourful than its panorama, but how does it taste?

TKP Photo
bookmark
Published at : March 12, 2020
Updated at : March 13, 2020 08:22
Kathmandu
Within Kathmandu's crush of pizza, momos, burgers, fried chicken and cake, there are few places dedicated to catering to their customers' health. Rather, going out to eat seems an exclusively decadent pursuit, where most go to regale themselves with salt, fat and sugar—not that there's anything wrong with that.
But there are not many places catering to those niche customers looking for a fix to satisfy themselves without arterial compromise. There are a few places around town, slinging smoothies and vegetarian, vegan and organic this-and-that, but one of the places that has seemingly been around for a while is Annamaya, sitting atop Gyan Mandala in Jhamsikhel. Taking the building's rooftop, which it shares with a gym, it's certainly a place that's at gym bunnies' fitspirational goals.
Looking over the city, with a view comparable to Vivanta's, the space lets the panorama sing and does little to detract from it. There's a wooden bar that shows off a small kitchen, a few tables surrounded by floor-to-ceiling glass that lets the view be beheld by all inside. On a good day, the space is perfect for loafing about and basking under the sun.
When I arrive, there are less than a handful of people around. There's a couple of young lovebirds cozying up while pretending to study, and one or two others attending to their laptops. The afternoon sun anointing the tables outside calls for a couple of the spot's elixirs, of which there is a long list. With various names alluding to their apparent benefits, I go for the 'liver flush', to atone for my sins, and my counterpart opts for a 'slim gym'.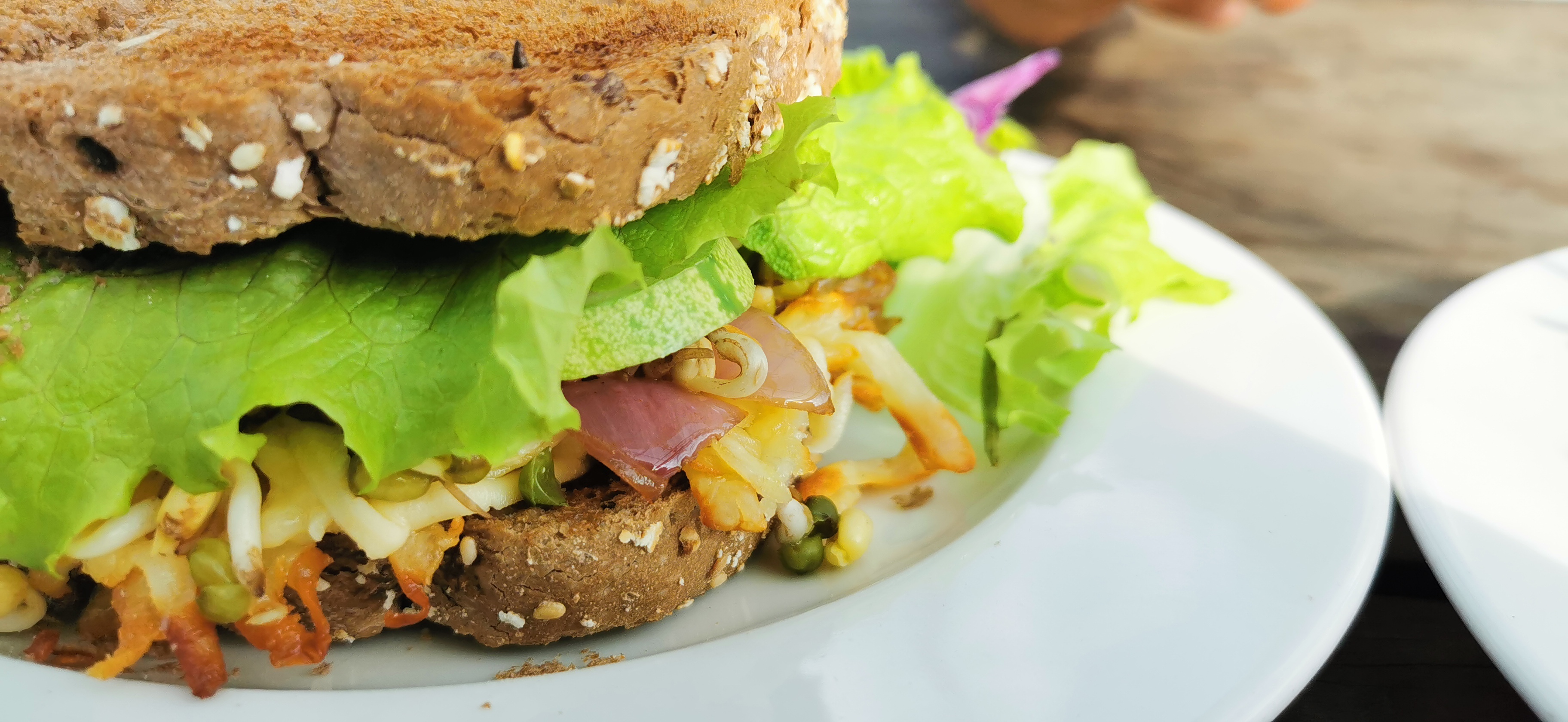 The juices here cover the entire Skittles gamut, but rather than tasting of the rainbow, they are distinctly earthy and healthy. Whether that's a good thing or not, I'll let you decide, but I believe it's just what my liver wanted. The flush draws its colour and healthiness from raw ginger and turmeric, while a slight balancing dose of sweetness comes from carrot while acitity hails from lemon.
In the name of Covid-19, I avoid my friend's slim gym. But that juice looks a lot like many green smoothies out there, and its constitution is about the same. Think apple, cucumber, ginger, kale and lemon. Both juices are a good indication of what this place is all about: nourishing food in a digestible form.
Perusing the menu, one can see this place's modus operandi. In one interview, founder Anna Karuna Egan told TNM that the place was conceived as a spot where the body and mind could be nourished, laying emphasis on the interplay between health and food. So, there are plenty of well known so-called "superfoods" on the menu in the form of breakfast items, Buddha bowls, salads, sandwiches and various other bites. The only animal products on the menu comes in the form of eggs and cheese so vegetable-hating carnivores can leave their plant-based prejudices at the door.
The dishes on the menu are recognisable, for sure, and the idea of a tabbouleh of quinoa piques interest, while a sandwich, a Buddha bowl and a plate of hummus and vegetables should lift our dietary karma high enough to indulge in something disgusting at a later time.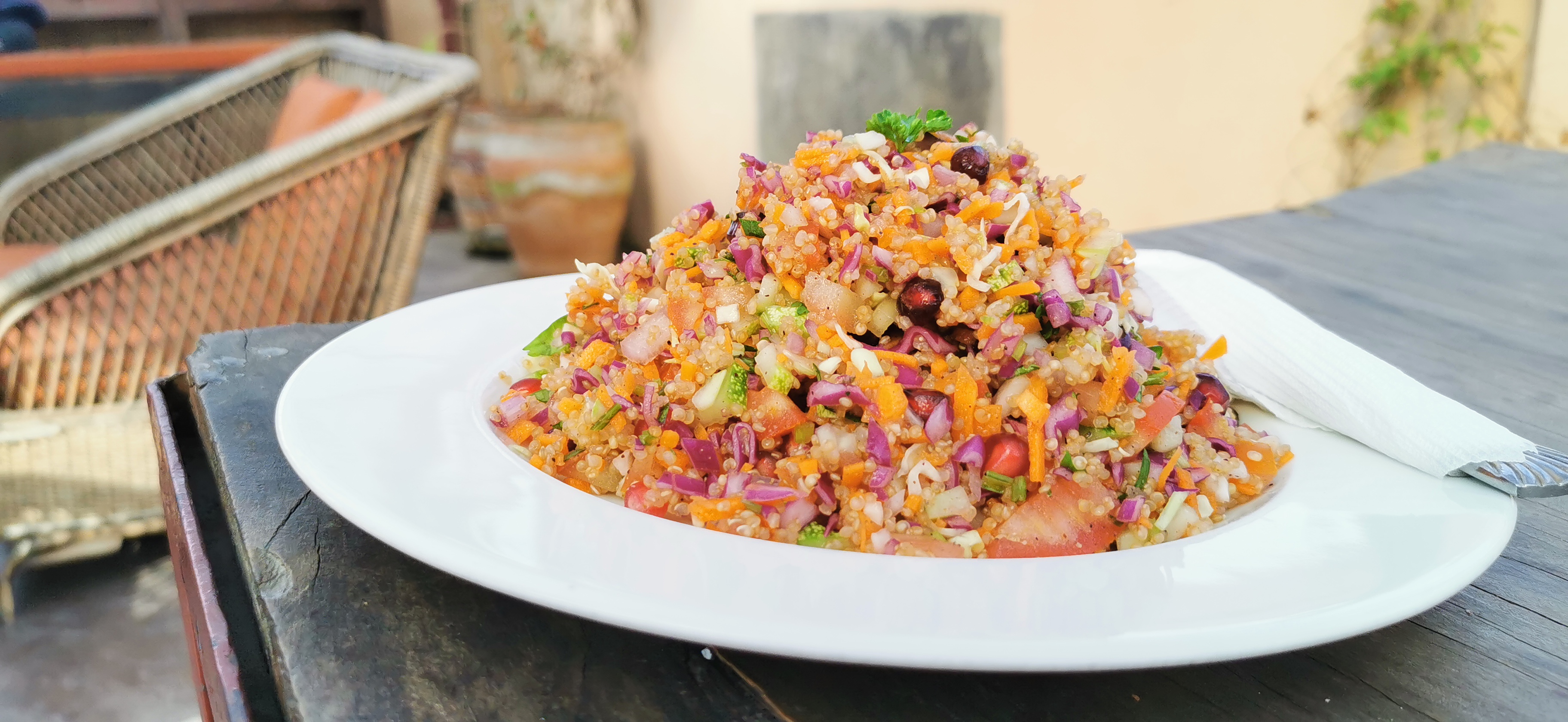 The Buddha bowl and hummus plate arrive first, and the sight is rather nice. The bowl is filled with a mound of white quinoa, and around it are placed various vegetables in different forms. Shredded mushrooms, sweated, cooked and served cold; cucumber and tomato, sliced and served raw; green beans, boiled and squeaky; turmeric-tanned potatoes; and a dose of chickpeas. There's also some leaves of salad and a shot of tahini sitting in a tiny ramekin. In the middle sits a small pile of golden-fried tofu bricks. Each constituent is rather pleasing, but nothing to blow minds. The tofu is perfectly cooked, the beans are sometimes good, while others are shriveled, the quinoa is as it should be. The mushrooms are rather rich, which complements the rest of the fresh elements. The main disappointment, however, is the tahini, which tastes slightly oversalted and its nuttiness doesn't quite shine through. If it were slightly better, it would certainly be great to mix into everything and tossed as though it were a salad.
Now, the hummus. It's a simple dish, and there's nowhere for Annamaya to hide. And, honestly, it needn't try. There's absolutely nothing wrong with virtually any of it. It's not traditional hummus, rather a coarser mixture of chickpeas, which leaves a nice texture. But, one little thing that would certainly improve the dish is to chop the crudite fresh. It seems that this was done for the cucumber and carrot, but the peeled beetroot had suffered from exposure and lost its sheen.
The final facets of the meal are a sandwich and a salad. Bejewellled with pomegranate seeds and grated and chopped vegetables, gazing upon the quinoa salad is like looking through a vegan-friendly kaleidoscope. There's red onion and cabbage, quinoa, bits of pomegranate and a dose of carrot in the salad, but it's dressed rather plainly. It's a simple mixture of lime and, from what I can tell, a rather large dose of black pepper. It's kind of spicy and blistering, and just a little too plain in flavour to keep the eater interested, but it's not quite enough to satisfy on its own.
The sandwich is a rather dense stack, with a whole heap of salad sitting between whole-wheat toast. Under its bready hat is draped some lettuce, and under that are vegetables, including sweated sweet onions and mung beans. It's a rather pleasing dish, and it packs the largest savoury dose of the lot—other than the over-saline tahini. The nice thing about the sandwich is the sheer amount of texture, which comes from various things, but the great part of the sandwich is the melted cheese on the bottom. If you imagine a grilled cheese sandwich, but threw your garden at it, this would be it. It's, all in all, a rather decent and filling dish.
Unfortunately, the sandwich was the best of the food. The drinks were rather lovely and left its drinkers feeling virtuous, but the food—on the whole—left its eaters wanting. It's not that I don't like vegetables, I love them more than any other food, but it's the execution at Annamaya that lets it down. The salad could do with a little more interest and the buddha bowl with a slightly more balanced dressing, but there's one thing Annamaya delivers in droves—guilt-free food at one of the best locations I've been in a while.
Annamaya: Rs 800 pp
Food: ★★
Ambience: ★★★
Value: ★★★
---
---