Authenticity comes at a price
Kotetsu has long reigned over Kathmandu's Japanese dining scene, and its competitors still seem to be lagging behind.

TKP
bookmark
Published at : March 5, 2020
Updated at : March 6, 2020 08:11
Kathmandu
Up the stairs from the marble and wood lobby of the Hotel Ambassador is a haven from haught, a place where rarified forms of food appear in a somewhat rustic setting.

Inside the sauna-like space of the Kotetsu Restaurant, the first thing we see is an old man stooped over a game of Go. It only takes a second for the white-liveried staff to belt out a chorus of Namastes in greeting. At dinner time, the place is likely to be full of Japanese folk, either at the izakaya-style bar, the teppanyaki station or sitting at the various tables, armed with their personal bottles of whisky and hovering over their grilled, cold, raw or soupy dishes. Behind the cashier is an extensive array of whiskeys and sake on offer, paired of course with the necessary varieties of beer. At the tables are various sizes of bottles of grog—one table has what, on first glance, looks like a large plastic bottle of oil. On second glance, it's actually four litres of Suntory Whisky. This place definitely has a loyal crowd of followers, which is quite a sight. The ambience is as busy as the chefs in the kitchen—loud and energetic.
Those chefs, in plain sight of everyone eating, are stationed at various spots fulfilling their various roles. One is making maki, sashimi and sushi, plopping them on wooden boards to be served to the single-diners at the bar. A group of chefs is in the main area, grilling, frying and presenting the food while others dart in and out of the space, placing plates in front of diners. This restaurant is considered one of the best places for fish in the city, and the price point reflects that reputation.

Checking with the server, we're told the shipment of fish arrived on February 11, nearly a month ago. Sitting in the deep freeze for that long might scare some, but the taste of the salmon belly that arrives sliced in a slightly thicker sashimi-style is enough evidence that the quality hasn't suffered much. Fanned out and draped on a bush of daikon, the sight alone is enough to serenade any fish lover into a stupor. Take a bite, with a dab of wasabi and a dip of soy, and it's like being transported to a place you didn't know existed in Kathmandu. Eat with care, because this does come at a premium, but it's hard to consider that it's not worth the hefty price tag.
With one raw salmonid down, it's time to dive into some tuna—the spicy variety. The spicy tuna maki looks typical, without the frills one might find at Yum Yum Cafe in Jhamsikhel, but with a sesame-based spice that might be a little too distracting from the fish's own integrity. Having said that, it's not nearly as complicated as Yum Yum's Kathmandu Roll.
Kotetsu expertly shows why it's one of the city's institutions, and with several of its dishes, it proves why there are so many of the home countrymen present at the restaurant. Look at the bar, and you might see a reserved man nursing a whisky and a fillet of fresh-grilled fish; at a table, you'll see a group of businessmen drinking sake or whiskey by the litre. They're here because the food is familiar and it stands up to a level of authenticity. There seem to be no windows in the restaurant, so it's stuffy, hot and slightly uncomfortable, but that too is authentic. It's a bit smelly, with no real functioning extractor fan to take away the various smells—luckily each waft previews another dish.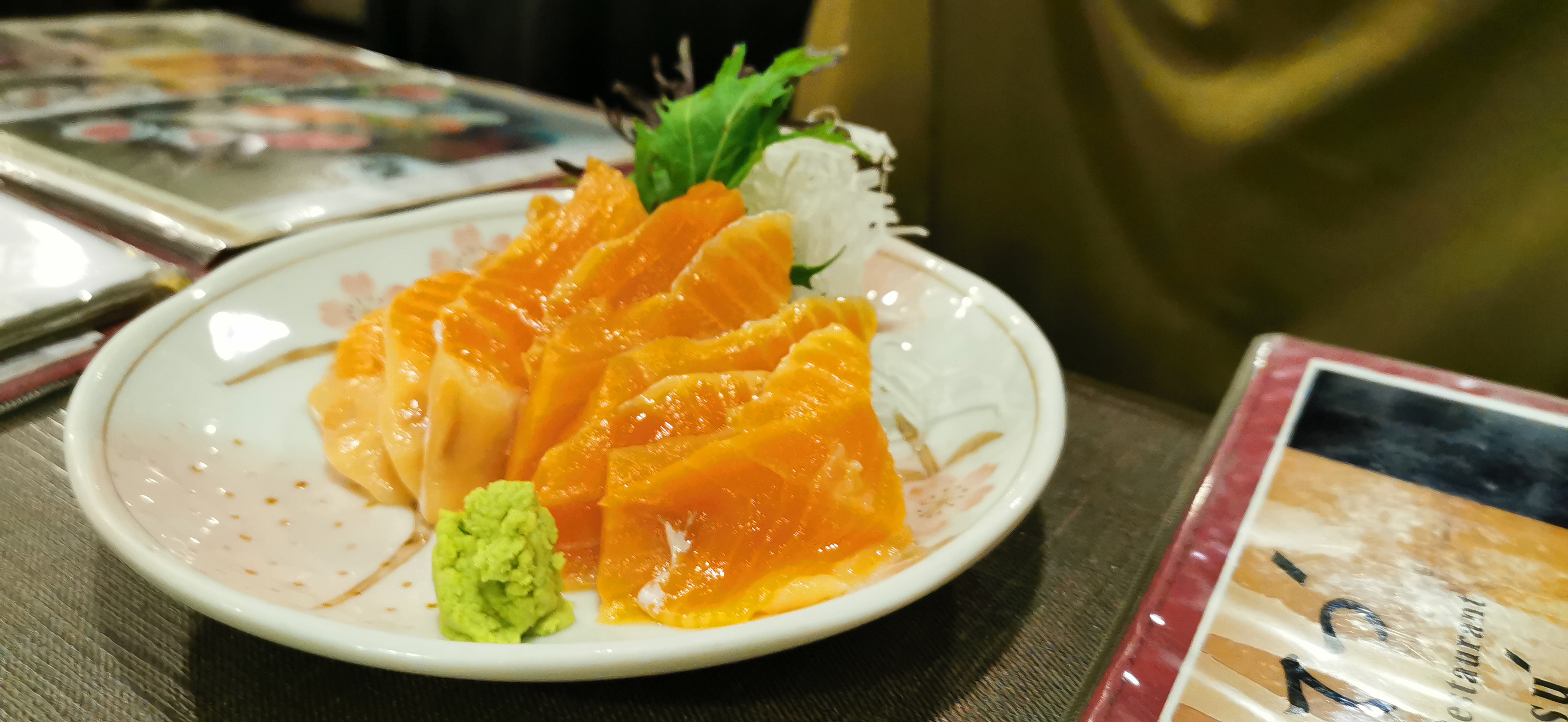 TKP
The stuffy intimacy seems to create a charming reality. Following the lead of one of the lone diners, this table takes up a rather junky-but-delicious dish next: chicken- and crab-stuffed crab shell, covered in mayonnaise. That mayonnaise might sound off, but it's not just any mayonnaise; it's MSG-rich Japanese mayo, the stuff of gluttons' dreams and cardiologists' nightmares.

Called Kani Kora-age, the result is succulent, cloying, unctuous, oleaginous, gluttonous, guilt-inducingly insane, and over the top. Try digging out just one single spoonful from the crab's cranium—yes, that's a dare. Japan knows its food, and its junk food is no exception.
I feel like I need a shower after feeling so utterly smutty from the crab. But out comes the next dish. Soba is complexity disguised as simplicity, and the Kotetsu version does the job. Puritans may contest the noodles as sub-par and lacking texture, and that its execution is a little off, but in this case, the buckwheat noodles do everything they need to, especially when dunked in their sweet, saline and savoury bath of cold sauce.
The dish that this diner was awaiting the entire meal for arrives at the end. It's skin still blistering from the grill, it's the mackerel—oily, pungent, with a racing stripe of dark flesh through its centre. The meat is soft and its muscle fibres flake from each other.
For many, this fish would be far too much to stomach. Some say they don't like fish that's too fishy—well, next to anchovies, mackerel would be what they're talking about. But, it's worth eating. Perhaps with a lime-based drizzle, or with the pulpy mound of oroshi (grated daikon), it's more acceptable for the pescatarily perverse. Either way, there's no questioning the execution and the Kaizen nature of the fish. It's just a perfectly cooked representation of simplicity.
But all this authenticity comes at a cost, and that cost is wallet-based. Kotetsu is easily one of the most expensive places in town, but that steep price tag is justified by the relative freshness and unquestionable quality of the fish imported from Japan. Just ask the staff when the fish came in. While the price and the heat might be the only real points of contention, the reality is that the price point is prohibitive for a large portion of Kathmandu's population.
All that considered, perhaps this is the price one must pay for the luxury of having good authentic food in a city laden with restaurants using 'pan' or 'fusion' to cop out of delivering anything specific.
Kotetsu: Rs 2,000 pp

Food: ★★★★
Ambience: ★★★
Value: ★★★
What we ate:
Spicy tuna maki: Rs 900
Salmon sashimi: Rs 1,200
Zaru soba: Rs 700
Kani kora age: Rs 700
'Saba' mackerel: Rs 700
---
---