OR2K is still going strong, 20 years on
OR2K might be vegetarian and filled with elephant-pants wearing tourists but it does good food that is hearty and healthy.

Hantakali/TKP
bookmark
Published at : February 14, 2020
Updated at : February 14, 2020 07:52
As the server walks over to the table with a platter laden with beaten-copper bowls, I almost think he's bringing over a thali set. We're sitting on the floor, knees tucked under a stooped, discoloured table, sipping on coffee and tea in glasses. But, we're not at a chiya pasal nor are we at a bhatti. We're in the heart of Thamel at OR2K, a place that rules over TripAdvisor algorithms and sits as Lonely Planet's 'Top Pick'—at least in my dated 2012 edition.
Although I don't put much stock in TripAdvisor or Lonely Planet, given that OR2K has been around nearly two decades, and that it's meat-free, it warranted a visit. Shoes off at the door, all seating is on the floor with most of the clientele foreign and sipping on a freshly boiled pot of Turkish coffee. The place is as relaxed as it is quiet. The music is not eardrum-breakingly loud, which is nice. Tracy Chapman would be odd to have on full blast anyway. I'm sure OR2K's primary market matches their drapes—elephant pants-wearing foreigners.
What's in these copper bowls then? It's not achar, but it's plenty of things for dunking focaccia and naan into. There's a slurry of tomatoey matbucha, an arrestingly refreshing labneh, a whiter-than-expected baba ghanoush, hummus, and a tahini concoction. There's a salad next too, and in the middle sit falafel balls. All of these dips hailing from the Middle East should provide a good indication of how the restaurant represents the area it claims to.
I dive in and lap up the labneh as quickly as possible. It is bracing and has the savoury tang of strained yoghurt that one expects. It's a dairy-dense treat that coats the mouth and leaves a comfortable residue of sourness, but it's not as thick as some might expect. There's a nominal dusting of pistachio on top, which is purely aesthetic. Of all the dips, the labneh is best paired with the slightly-too-sweet focaccia.
The matbucha is refreshing, but doesn't really seem to be the result of a roasting process. It seems slightly too fresh to have been roasted, but the sweetness does infer a bit of cooking and the possible addition of something other outside the nightshade family. It's nice paired with the labneh too.
The baba ganoush, though, is something I was not expecting. It's paler than what I'm used to and doesn't reek of roasting. But it, like the labneh, is refreshing. There's certainly a decent amount of tahini in the treat too.
These dips are great for tossing falafel grenades through. The falafel is a herbaceous treat but it is permeated with so much leafy stuff that its chickpea foundation is stained entirely green. The balls' outer coating is crisp enough to have its own set of acoustics.
Finally, the tahini and hummus are both rather nice. The hummus obviously has a decent amount of the tahini, which provides some earthy and slightly bitter undertones. The chickpea mash is thick and gluey, and takes better to the sheet of flatbread than it does the focaccia. The tahini, on the other hand, is far more aqueous—in retrospect, I wish I had dressed the relatively plain salad with it.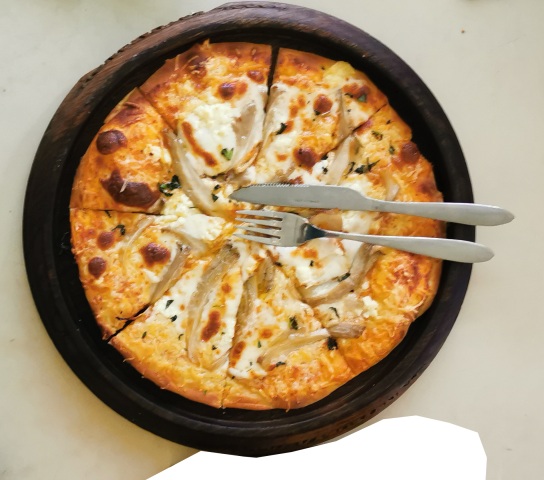 Hantakali/TKP
By the time the table finishes just about everything in the copper bowls, we decide to order a couple more things to eat—space, for some reason, still exists after consuming a bakery's worth of bread. In retrospect, I wish I had worn some ballooning elephant pants to alleviate the strain on my belt.
We decide to venture north-west of where our palates had just travelled—to Italy. There are plenty of other culinary destinations, but we decide on a goat cheese and mushroom pizza, along with a panino.
They arrive while the table continues to graze on its OR2K platter, mopping up the dregs. The pizza sits on a wooden plate and looks enticing. The goat cheese is in varying states of melt while the oyster mushrooms have browned and are cooked enough to resemble roasted eggplant. The first taste is one of triumph and disappointment—the toppings are deliciously funky, with the mushrooms having taken on an almost bacon-like meatiness while retaining a level of chew. The base, however, is just too doughy and biscuity. It seems as though there was either not enough water in the dough and it was perhaps underworked, so it's a little too substantial and heavy. If the base were better, the pizza would be close to perfection. It has all the right things going for it, it's just the base that lets it down.
Hantakali/TKP
While the meal has thus-far been a belt-loosening affair, the show must go on with a couple more things. The panino does what it says, and that's that. The panino, in "country style", is ribbed from the press and the cheese inside has melted to a point where it stretches as far as the arm can reach. Stuffed with a fried egg, olives and sliced tomato, there's also promise of some hyssop—a herb in the mint family—but there's no evident taste of it. The olive quotient is unfortunately minimal, but with a complete bite it's pleasant enough. The egg is a bit chalky because of the double cook and yearns for some lubrication. The hot sauce-mayo mixture that coats the inside is a decent sweet-spicy substitute.
Finally, with everyone almost horizontal from the weight of the filling meal, we decide on something treacly to tip us over the edge: a chocolate pumpkin tart. It's delicious, almost table-quieteningly good, and it's intense. It has a tack to it, it paints the palate thick, and it lingers. The flavour is pumpkin spice, so think of the warming things you might find in masala chiya—only cinnamon forward. The base isn't biscuity, it's chewy and nougaty, and definitely a naughty end to an indulgent vegetarian meal.
While putting on our shoes to leave, we're heavy from the weight of a filling meal. Looking back into the space, full of foreigners, it's very easy to see why they like OR2K. It's recognisable food, it tastes pretty good, and it's hearty, despite being animal-free. OR2K sells itself as healthy and it's a relative retreat from the bacchanalian rabble of Thamel. One thing is for certain—it's obviously not broken, so doesn't need any fixing.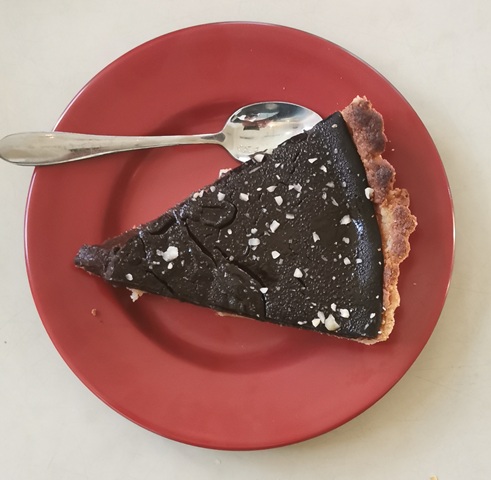 Hantakali/TKP
OR2K Restaurant Rs 150 to 995 per person
Food: ★★★
Ambience: ★★★
Value: ★★★
---
---