Dubious execution at a Kathmandu favourite
Nina's in Maharajgunj has everything going for it, but could leave diners wanting.

Hantakali/ TKP
bookmark
Published at : February 6, 2020
Updated at : February 6, 2020 18:07
Kathmandu
Dolls, figures and number plates from around the world line the walls. Nina's feature wall is all knickknack and bric-a-brac—it's kitsch even if it isn't meant to be. There are snarky placards that say "Today's menu: Take it or leave it," "Beware of owner," and "Free beer, tomorrow", but on the whole, it seems to work. Maybe there's something warm and homely about cluttered kitsch that people take solace in, but I can't help wondering just how serious the snark is. We shall wait and see, I think to myself as I sit down for a meal.

At this Maharajgunj restaurant, tucked down a quiet street and away from the main road's hubbub, guests mingle in a 50-50 mix of foreign and local. Inside, you can sit afront massive windows and look out while outside, you can relax under the shade of massive umbrellas and peer in. Everywhere seems comfortable enough and it honestly seems to be a well-thought-out space.
While kitsch and clutter adorn the feature wall, the rest of the space is simple. So is the meat-forward menu. If you like meat, then this is the right place, owned and operated by the Nina from the Nina and Hager meat products. If you've ever perused the selection at Nina and Hager's grocery store near Arun Thapa chowk, then you'll have an impression of what constitutes the menu.
How do you like your meat? Grilled, sliced or marinated? Smoked? In a curry? Between slices of bread or in a bun? In tube form? On a salad? Or do you prefer surf over turf? They have that covered too, with calamari and salmon and basa. But if your tastes lean more towards what the meat eats, your choices are spare. There are also a few dishes of the day, written on framed glass in iridescent pen.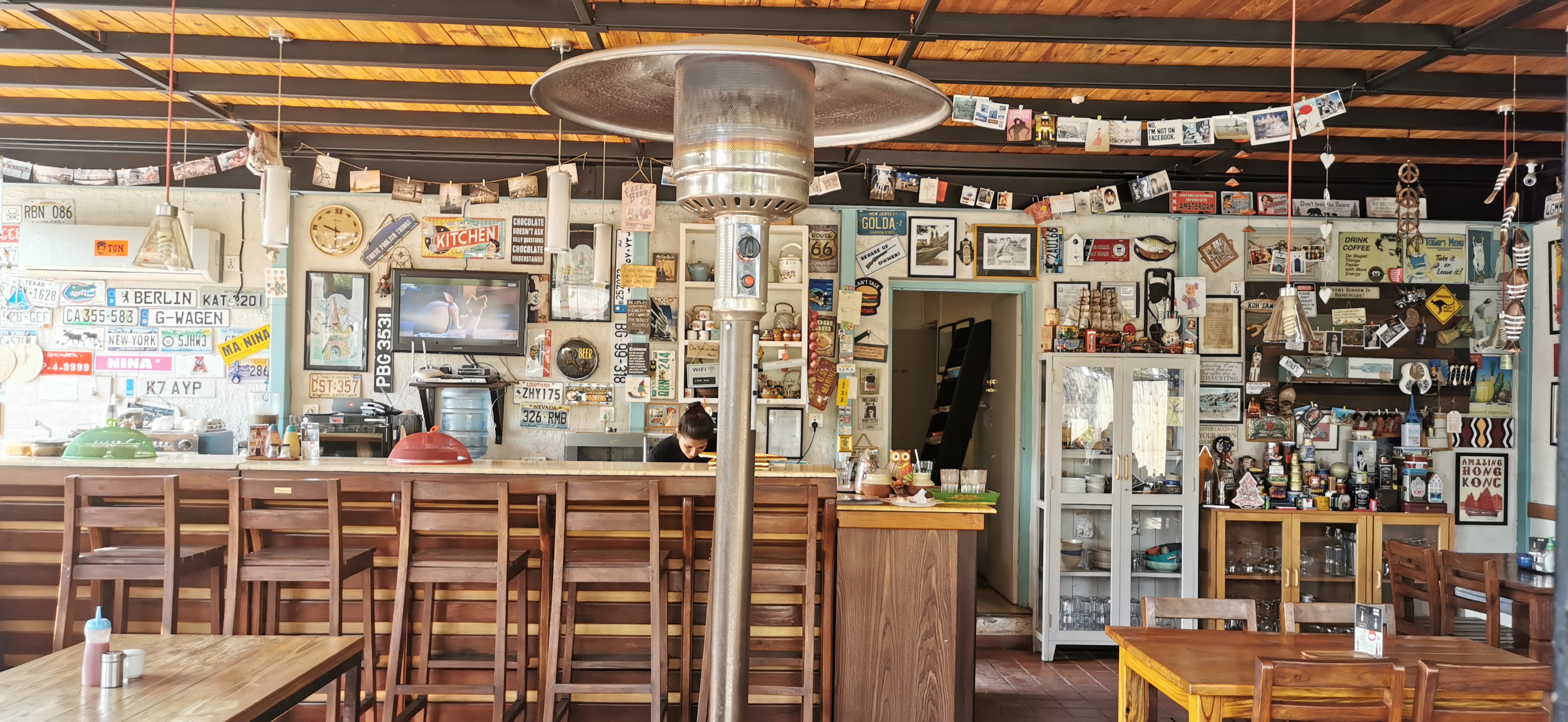 Hantakali/ TKP
To start, a handful of chicken fingers arrive and we grab at them. Alongside that—perhaps as a result of the table feeling a little juvenile eating the aforementioned plate—comes an 'Australian steak salad'. We stick to the paltry dish at hand for now. The chicken fingers are crumbed and served alongside an acidic sauce with sliced green chilli bobbing in the mix. They're fine. Perhaps not serving them with tomato sauce is a chance to help us older folk feel a little less guilty about our childlike pleasures (there's ketchup and mustard on the table, however, which go far better with the chicken).
In an attempt to act as adult as possible, our table shares the Australian steak salad. It's hard to know what exactly is Australian about it, other than the meat atop the salad, but we'll have to give the restaurant the benefit of the doubt. The entire salad is rather well dressed, with cucumber, onion and tomato tossed with green leaves. There's also a small ramekin of blue cheese crumbs plopped next to the beef on top.
But, let's talk about that steak—it tastes as tough as the journey from Australia to Nepal. While the beef's cooked in a relatively nice sauce of soy and a few other bits and bobs, which act as a bit of a dressing for the salad, its texture is a little too close to its farmer's boot. All in all, it's a pass. The bowl the meal came in was more captivating than the salad itself—a far cry from the boorish white plates and bowls that fill the Valley. The virtue of a salad helps the table forgive itself for the impending carnivorous onslaught.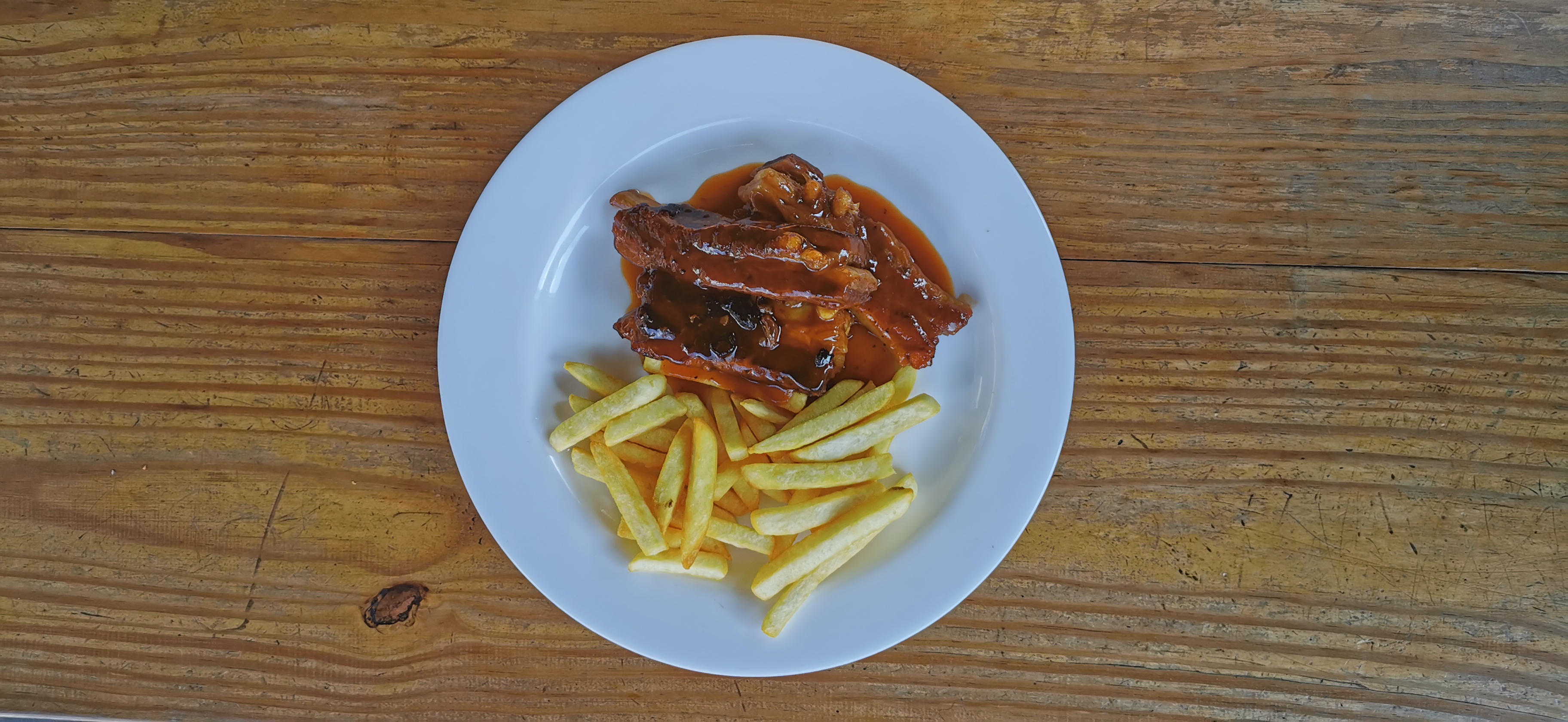 Hantakali/ TKP
I've had a burger at Nina's before, and I have to say it was underwhelming, so the meal continues and ends with a hefty couple of dishes—a Philly cheesesteak and some ribs. I'm cagey whether the ribs will be worth ordering from the specials menu, following a rather disappointing experience at Trisara on Durbar Marg, but we can't just focus on the chicken and cattle at Nina's. The ribs are glistening a rusty shade of bronze, bathed in a runny pool of sauce. The ribs are interesting because they're far meatier than those I've tried at other places around the Valley. They're thick and fall off the bone—rather oddly, some don't even have bones. Is a rib a rib, without the rib? I think this is more belly than rib, but that's a transgression I am willing to forgive. The sauce isn't necessarily sticky, but it's got enough tack to balance its inkling of acidity.
Like the ribs, the Philly cheesesteak comes out next to a scattering of pre-cut, pre-packaged fries. I mention the fries, and emphasise them, because some of the supposedly-best and definitely-dearest restaurants in the city use them, and they're a rip-off. Potatoes aren't expensive and making fries yourself is not difficult, and they taste so much better. I'm sick of being suckered into eating boring fries because restaurants cut corners.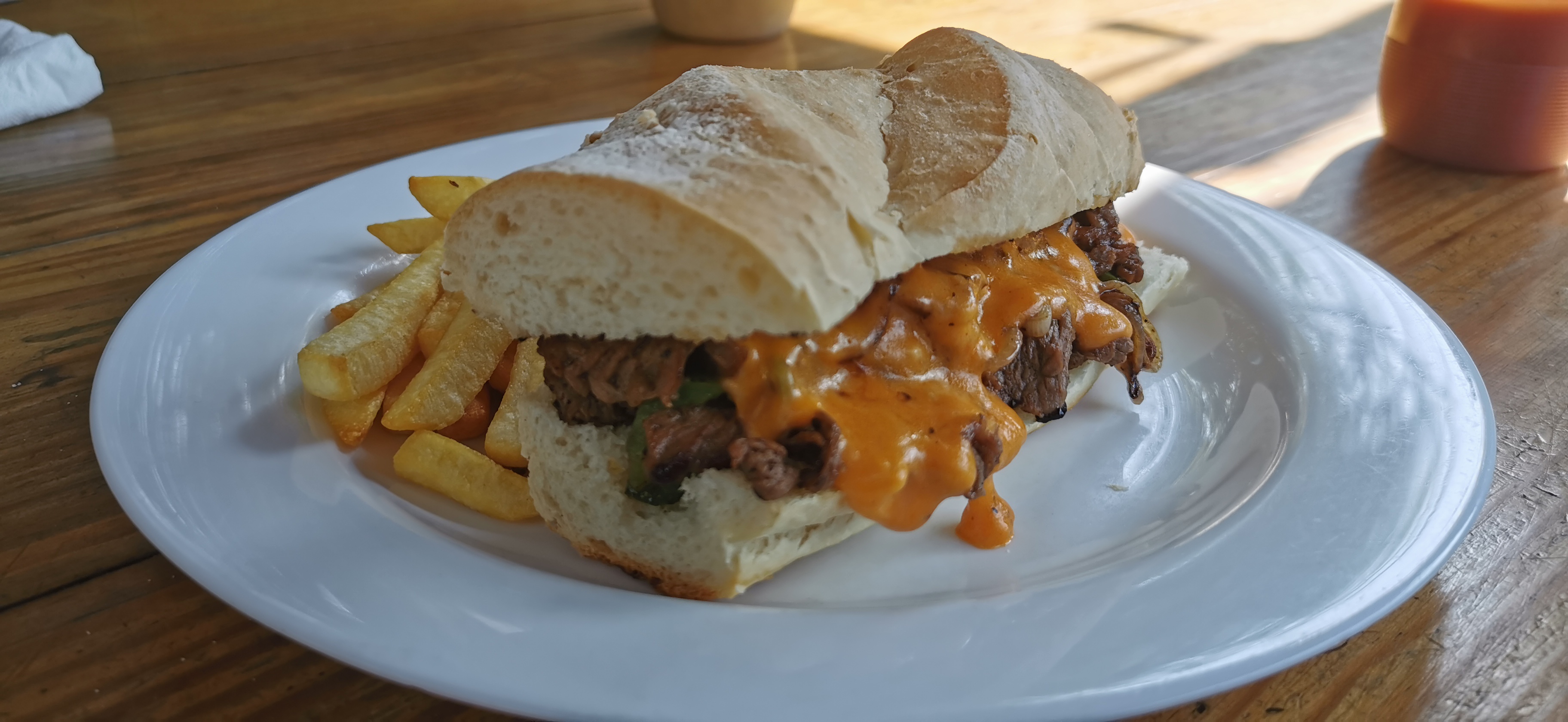 Hantakali/ TKP
The cheesesteak is not the most enticing thing to look at. But, honestly, I don't think I've met a cheesesteak that doesn't look like it's been dropped and hastily packed back up. They're beautiful messes that make you want a shower after eating. Nina's interpretation is placed in a baguette-style roll, and its meaty insides are blanketed orange with melted cheese. Under that cheese, which has already solidified in the winter weather, is thinly sliced beef, onions and bell peppers. While it's fine, it certainly could do with a more aqueous element to help the bread, because it is just a little dry. It's an underwhelming end to an unexceptional meal.
What is exceptional, however, is something I read in the bathroom while washing my hands. On the men's room door, there are a few lines written in white-out, that are far brasher than the cutesy ones on Nina's feature wall: "If you have a complaint speak to the owner, TripAdvisor doesn't cook your food," says one. Then there's a couple of others that seem to have been written in rage.
Luckily, however, I'm not reviewing Nina's on TripAdvisor and having seen what was written on the wall, it appears that talking to the owner is inadvisable too.
Nina's Rs 350 to 2000 per person

Food: ★★
Ambience: ★★★
Value: ★★
---
---