A real taste of home, with Mama
It's refreshingly humble and human at Mama's Curries, and the flavour is familiar.

Hantakali/TKP
bookmark
Published at : January 16, 2020
Updated at : January 17, 2020 10:12
Lalitpur
Cooking with love seems a rather odd concept. It's preposterous to consider it an ingredient. It's the only intangible substance that people somehow seem to be able to taste, and it's an ingredient that mothers around the world are famed for stirring into their dishes. It's not salty, spicy or sweet, sour, bitter or rich—it's not one of the five flavours, but it's there. It's unfussy, it's humble—and it's real.

Those three words are likely the best way to describe Mama's Curries in Jhamsikhel, tucked down a lane, where it's hidden from the frillier and stuffier places on the neighbourhood's namesake road.
Inside the restaurant, one will find newspaper clippings proudly displayed and a collection of plants sitting on a pseudo bar. Behind that bar, one might see the heads of staff bobbing side to side as they fuss over the food in the scrupulously clean kitchen. When we arrive, there's a single head bobbing along. The tables are utilitarian, with benches for seats. We plop ourselves down and out pops a server. Both encouraging and informative, she rattles off ingredients to dishes when asked about the more enticing items on the menu. Each dish's heritage is firmly within the South Asian realm. In a mechanised restaurant industry, with prescribed uniform menus and grumpy or imperious servers, this humility is a welcome change. There are no momos on the menu, just curries and Mama's famed biryani.
Just looking at the various clippings framed on the walls exemplifies the fact Mama's Curries cemented its place in Kathmandu's dining scene a rather long time ago. There's a clipping of a short interview with Julie James, the bonafide mother of this establishment's curries. It shed a little light on how the restaurant works, and what its values are—homecooking, with family recipes, passed down from her very own mama.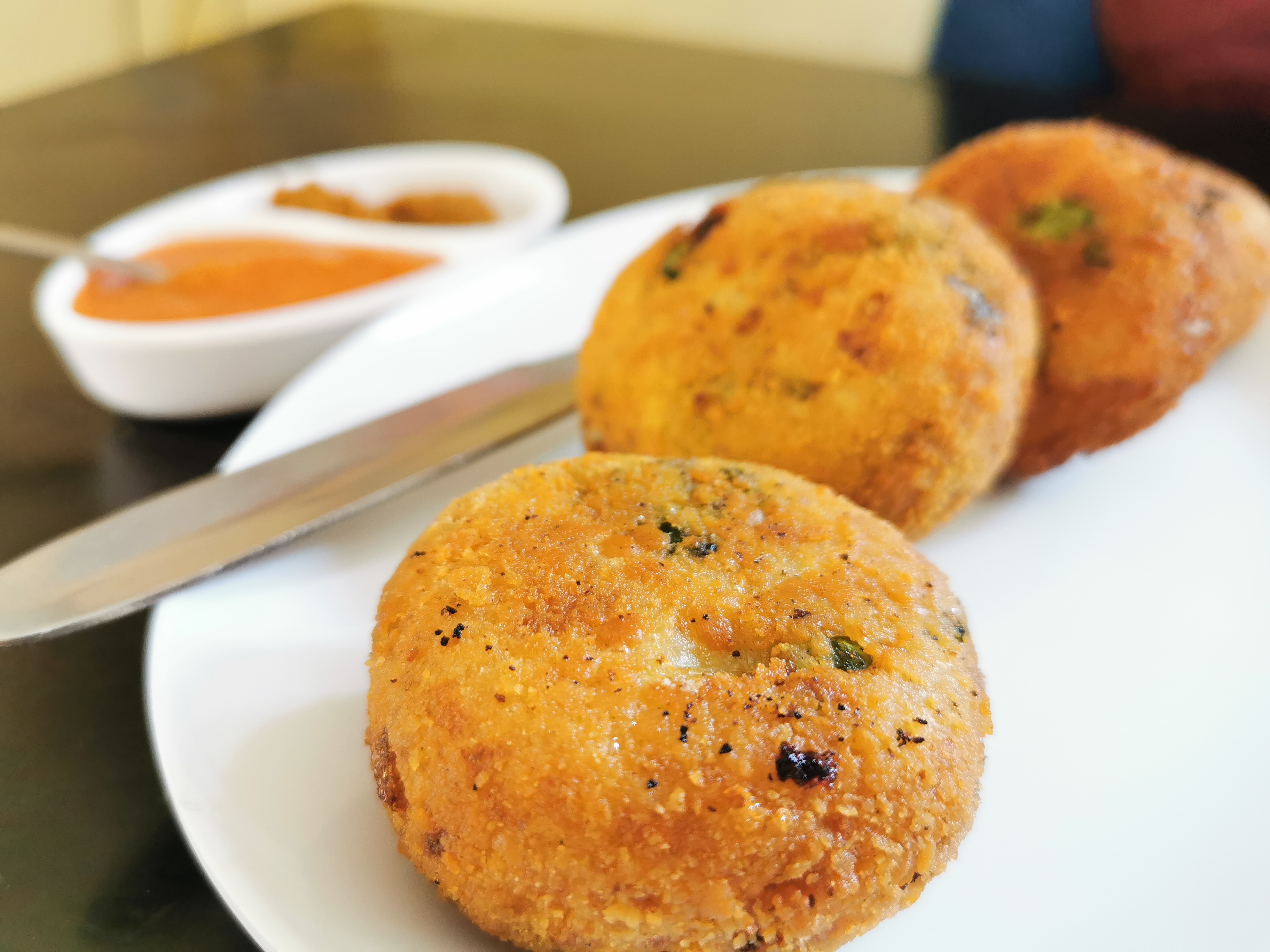 Hantakali/TKP
While curries constitute the brunt of the menu, the first thing I savour is the veg potato chop. Cracking into the not-too-crunchy skin of the discs, one will find rice-like shredded potato that has a delightfully gluey clag to contrast its crisp skin. Within that somewhat salty mix are green ball bearings of peas and rings of scallion, which add a minor dose of virtue to a nicely decadent mix. They're rather solid in their execution, and the sauces provided hurt in their own ways—there's a numbing tingle from one, and a peppery green chili hit from another. Both contrast the hot pucks of potato with their scoville-based trills.
The other non-curry that graces the table is the famed chicken biryani—shouldn't it be Mama's Biryanis, if it's so good? Taste the dish, and one will see why it seems to be a crowdpleaser. It's nothing fancy—it's not Pollacked with coriander, crispy onion or garlic, rather two halves of a boil-fried egg look up at you from its red and orange rice-based face. A little excavating and you'll find your chunks of chicken. The flavours are all so familiar, and certainly unsurprising, but so much of the Capital's biryani is a gamble, even at the best of times—so, it's a good thing. The egg's fine, but certainly doesn't seem to be the best of the dish; the chicken isn't super-spiced either. It's the rice that sings, glistening with masala and just the appropriate amount of meat fat. The only real letdown is the raita. The cucumber seems to not have been squeezed, so it seems to have wept uncontrollably into the raita. It does its job of refreshment, but any creaminess or yoghurty funk has been lost. That doesn't stop the table from demolishing as much as humanly possible.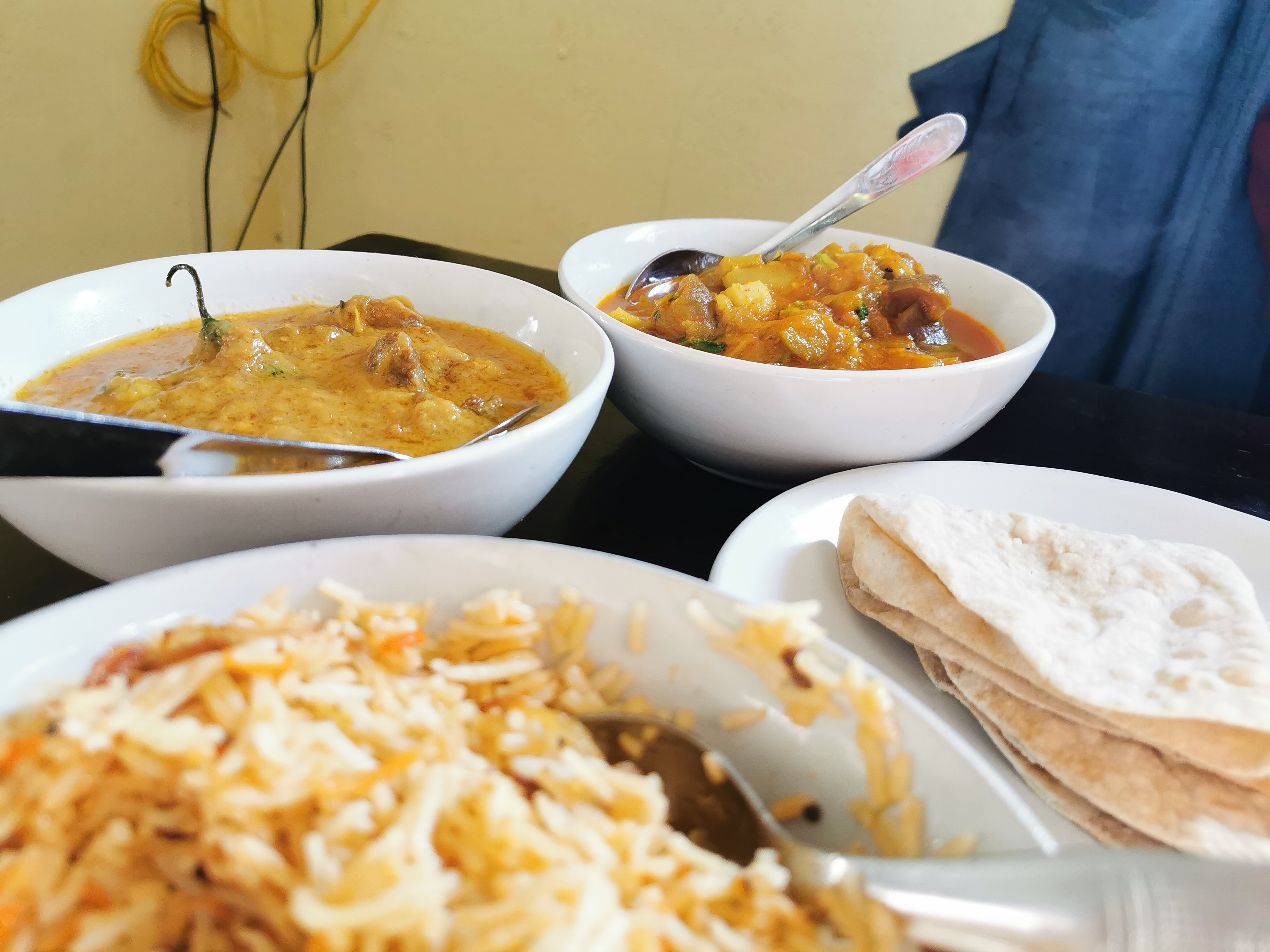 Hantakali/TKP
But room must be kept for the accompanying curries that Mama has on offer. The table has opted for two—brinjal and potato, and mutton shahi korma—and received its complimentary livery of rotis and rice.
The first taste of the korma is rather arresting. While this eater knows a korma is a rather sweet dish, the sheer saccharine kick is surprising. Braced for the following spoonful, the flavour grows on the tongue. The sweetness seems to come almost completely from the sweated onions that form the gravy's base, and carbonised pieces seem to offset the sweetness. That treacly quality seems to come from a yoghurty origin, but only Mama can know that for sure. The meat, sitting in its gloop, is of goat origin. All semblance of strength in the flesh has been lost over what seems to have been a slow-cook, despite the curry being prepared fresh.
The brinjal and potato curry is a tomato-based delight that a Frenchman might compare to his ratatouille; an Italian might cry caponata, a Spaniard might say pisto. Nonetheless, this dish is spiced five times in true Nepali style. It's a warming, soulful dish, typecast to shine during winter's gray. The brinjal, or eggplant as some might say, is cooked to melting point but not over. It's melty and soul-coddling, and a dish you would expect from a curry mama.
The truth is that Mama's Curries is not likely to blow your mind. It's not going to innovate nor is it going to refine or deconstruct. But, it might inspire. It will inspire memories of yesteryear, when you were knee-high to a grasshopper, bouncing about the house and pouncing on the old favourites you now pine for as an adult. It might inspire memories seared into your gastronomic subconscious, that can only be mustered by a bonafide mama. Even to non-South Asians, this place inspires some semblance of memory.
It's hard to know what the secret ingredient really is. It's solid fare, and it's fair to say its simple. But, there is beauty in simplicity. And this matriarch might just have that intangible touch when it comes to cooking, something that not many restaurants have: an unadulterated and authentic taste of home.
Mama's Curries Rs 140 to 600 per person

Food: ★★★

Ambience: ★★★

Value: ★★★
---
---