Serving a humble purpose
It's not clean, it's not refined, there's nothing to amaze, but it fills you up—for a modest price.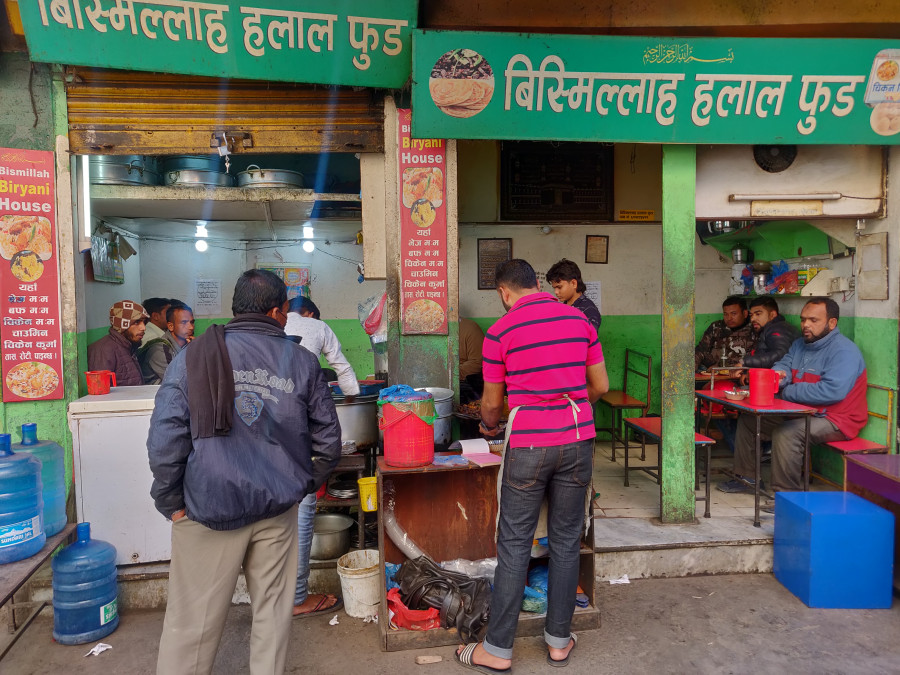 TKP
bookmark
Published at : November 28, 2019
Updated at : November 29, 2019 07:27
Kathmandu
The first thing you will encounter is bus conductors yelling as they whack the smoke-belching backsides of buses ready to groan their way to Bhaktapur. There's a ripe stench of vegetal decay and a school of dormant motorcycles. But tucked into the foundations of a footbridge sit a few shoebox eateries providing brief respite from people's daily trials.

Here, surely by virtue of proximity to a Jame Masjid, the restaurants are halal. They serve buff and chicken in a few forms, with a choice of less than half a dozen items. The shops are almost always busy and would leave sanitary sods with palpitations. In all seriousness, some stomachs may need steeling before eating here.
When I said shoebox, I wasn't kidding. This place literally spews onto the footpath, to give room for its customers to sit briefly in a space small enough to make sardines question the limits of their personal space. There's nothing that speaks luxury here.
The seats are functionally uncomfortable enough to keep people from staying too long, and the food arrives faster than Ronald McDonald could utter "I'm lovin' it". The first thing you'll find isn't a chair—it's the kind-looking honcho at a hot plate, stirring meat at various stages of dead and done.
The man quietly runs the restaurant while playing with the meat, cooking it to order, sliding generous piles of flesh onto customers plates. Occasionally, he'll bring out a batch of fresher meat and a large repurposed gum container filled with masala, and toss ladlefuls of it on top and mix. The result is a hot mess of tarry flesh—it could be offal, but it's all in black masala uniform, so it's hard to tell. It's called taas and it's an exceptionally enticing sight. The taste can only be described as bitumen-black masala.
The meat doesn't particularly play any flavour roles, rather providing texture. And while at first sight, it looks like meat, it's pretty much every imaginable piece of the animal, from muzzle to liver to unknown chewy bits—everything is painted with the same brush. It's spicy, it's smokey, it's slightly bitter. It's damn cheap, and is optionally served with a short stack of paratha—it's Rs90 per plate, with the option of half meat, half bread, or full meat. The paratha is denser than cardboard, and relatively tasteless, but acts as a nice edible plate for singular pieces of meat.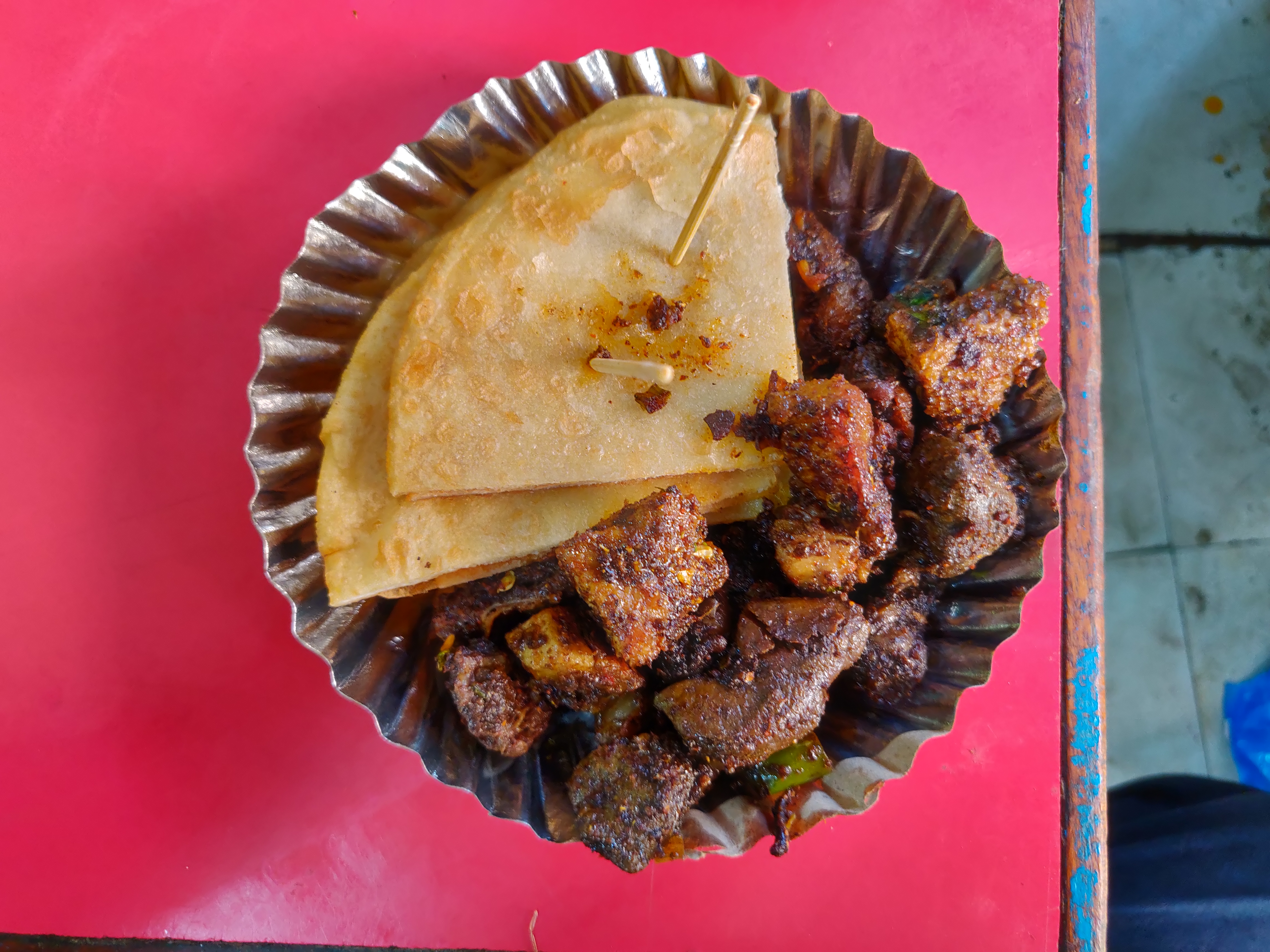 Buff tass with paratha. TKP
Around said honcho are a group of younger lads, divvying out shiny paper plates of other comestibles; the customers ritualistically scoffing their fuel. Some stare into space, others converse, but everyone's mouth is full. One of the more popular dishes at this spot is the biryani.
The rice is cooked well, soaked in various shades of fat—yellow, orange, red. That fat carries the flavour, which comes in the form of relatively normal masala, with flourishing cardamom and cinnamon notes—no real clovey flavour here. The first form of the biryani I try is the buff, which uses the same meat from the honcho's hot plate. One of the servers grabs a plate to scoop the rice, shapes it, and dumps a rather generous portion on top. While the fat does its job in transmitting flavour, it's an overbearing emissary. Every grain is lacquered by the stuff, and it coats the lips. A slight overdose in salt adds to the fatty wound, but people scarf it down with glee. The best way to eat it is with the emerald coriander and chilli sauce which is served in a large yoghurt tub. The spice and herbaceousness cuts the fat, but could be overbearing for aromaphobes.
Next comes the plate of chicken biryani. While one plate of biryani is always enough, I'm doing this for you—I'm eating the entire menu. The chicken is actually rather refreshing, with fluffier rice and meat that has been cooked in the rice itself. It seems this is the most popular form too, given that by 2pm they're all but sold out. The rice is shades of terracotta and the meat is tandoor-red. It sports the same masala uniform as it's buff counterpart. But because they sold out, they cooked up a fresh chicken curry to add to the biryani mix.
Sometime during the menu-eating escapade, one of the younger servers arrives with a few leaning towers of par-cooked paratha. There's a team on the upper level of the footbridge who make paratha all day, to cater to the hordes below. He peels parathas from each other, one by one, before dropping them into simmering oil and letting them puff like puri. Sandwiching them back together and draining excess air and fat, he continues until it's done.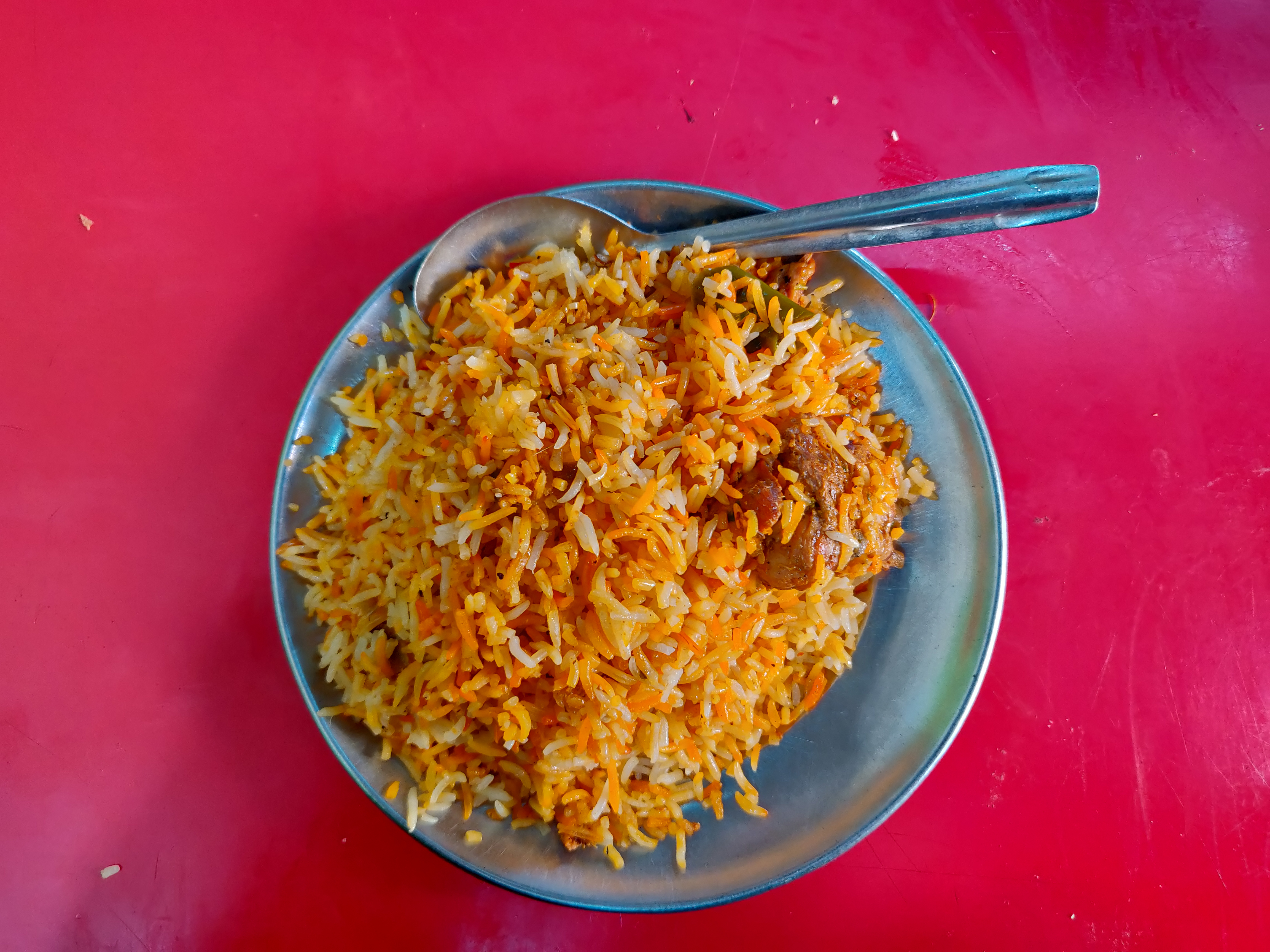 Buff biryani. TKP
With the menu is just about completed, there are just two more things available—if you were wondering about a secret menu, it doesn't exist; I asked. Buff curry is occasionally being sold too, in generous portions for the meager price tag. With a few wedges of paratha, it is hardly refined. Its gravy is akin to the paya's, at the other Bismillah in Thamel, but unfortunately it is over-salted and I need water to digest it all. Overseasoning overpowers the flavours, and it is difficult to taste anything else. But the buff is melty and succulent, so I'm even saltier about the fact it lost its own flavour.
Finally, and perhaps with a flourish, the final piece of the menu is placed on the table. Wrapped up and stuffed, the server presents some momos. The buff-filled crimped crescents are doused in a muddy, black-flecked jhol. Their constitution, while perfectly done, is relatively plain. But lapsi adds a certain raw astringency to the jhol, with a little zing of chili and tomato playing the foundational notes. It's an entirely new experience for me, having such momos, given there's a flavour I cannot pinpoint. It's almost Tibetan in its constitution, but definitely Bismillah in its execution.
While this eatery is grimy, sooty and unclean and the food is often salty, oleaginous and hit-or-miss, one needs to step back and look at who is frequenting the place. It's not glamorous, and should not be compared to the bourgeois places around town. It's rough, raw and real. People don't savour the food—they ingest it, fueling their corporeal vehicles before taking on the second part of the day. The prices are rock-bottom, but the food is hearty and quick. Many would glance and walk past, but many don't—that's why it's been around for almost 10 years. It's exactly that for the people that go there—it's a pit stop.
Bismillah Halal Food: Rs 70-130 per person
Food: ★★
Ambience: ★★
Value: ★★★★
---
---