Snowman Cafe: The final bastion of Freak Street
The cafe is now approaching its 55th year of business, and it has lived just as many lives.

Ram Prasad Manandhar (right) and son Raju continue business despite the many changes Freak Street has faced. Sanjog Manandhar/ TKP
bookmark
Published at : November 21, 2019
Updated at : November 22, 2019 07:49
Kathmandu
There used to be lines of people, five deep, sitting outside Snowman Cafe in Jhochhen, on the now mythical Freak Street. They'd relax and sip juice, coffee or tea, in a version of Kathmandu that no longer exists. Bell bottom pants, floral shirts and bright colours filled the streets, marijuana smoke filled the air. Vehicles were a rarity, and the reality was that they played second fiddle to foot traffic.

"There was no place for vehicles to pass, but now there's no space for people to pass," says 74-year-old Ram Prasad Manandhar, the man who opened Snowman in 1965. Back then, he says, Freak Street functioned like how Thamel does today. Ram compares the entire period, especially the 70s, to "a dream".
While the spot Snowman sits on is no longer peaceful nor home to hoards of hippies, it is still busy. It is difficult to get a word in with Ram or his son Raju—who has taken over as his father reaches further into old age—as young people filter in and out. They sidle past Ram, who stands in the doorway, and greet Raju with an order of whatever option they want from their three-year-old Nescafe machine. That machine is symbolic of all the change Snowman has witnessed, considering what the place started out as.
Next year will mark 55 years for the cafe, and a lot has changed about the place. Ram now sports a grey beard in lieu of his black moustache, he wears glasses and is harder of hearing. His son, Raju, is the sole worker at Snowman itself; it's no longer a restaurant, now a cake shop; the traditional means of making coffee and tea has been replaced by a machine. Glasses replaced by paper cups. The son runs up the stairs, the father lumbers.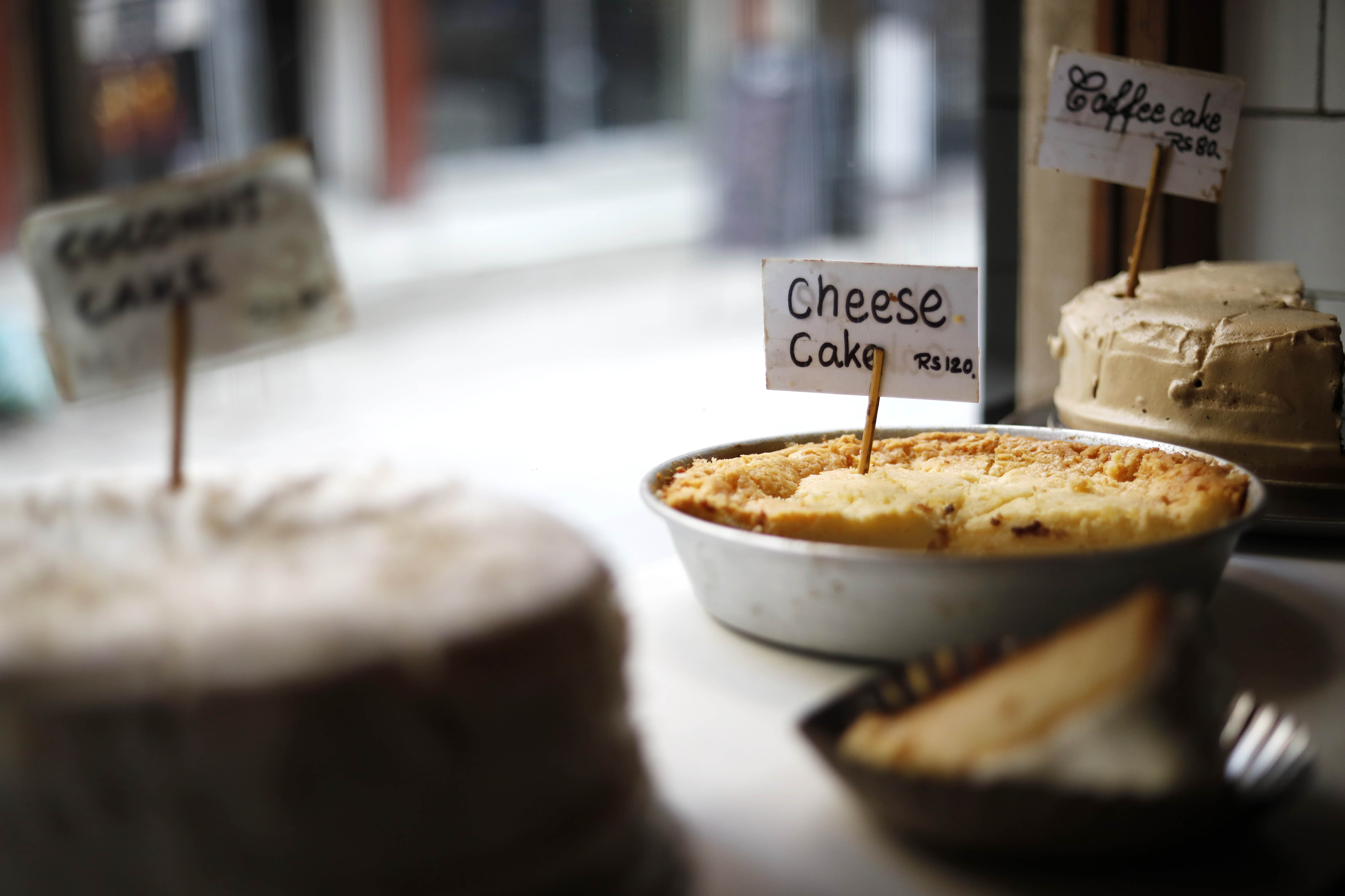 Snowman Cafe has a wide variety of cakes, and a couple of pies, but 'chocolate love' reigns supeme. Sanjog Manandhar/ TKP
Snowman used to be a fully functioning restaurant, according to 49-year-old son Raju. It served multi-cuisine food and was relatively successful, but good quality chefs were hard to come by and employees were too often unreliable. But relying on their own family has seen them last the long run. Mum still bakes the cakes with Raju's younger brother as a helper, but things are slowing somewhat, according to the father-son duo.
The difference is, now, most people come for tea and coffee from their relatively new machine. Son Raju says they sling up to 600 cups of the stuff each day, in addition to going through close to 20 cakes. They used to have a wider selection of cakes too, but that's slowly being whittled down. The most popular cake by the slice is Chocolate Love, but there's creme caramel, banana chocolate cake, brownies, apple pie and crumbles, and several others.
Ram harks back to Snowman's heyday with pleasure—he admits it was a "happier" place back then. "We used to carry two big sacks of papaya and two sacks of bananas for juices, which we would sell over four days, but now it's just two or three papayas," says Ram. "People would smoke and drink four or five glasses of juice in a sitting."
The criminalisation of marijuana was one factor, among many, that led to the death of Freak Street and the businesses around Snowman. It also led to the change in clientele. While before it was three-to-one in terms of tourists and local customers, it's the opposite now. Among the other reasons is the growth of Thamel as the tourist hub, which they both claim was Freak Street's initial function. Ram lists off names—The Indian Hotel, Greenhouse, Don't Pass Me By, Eden—when he talks about the places he used to compete with.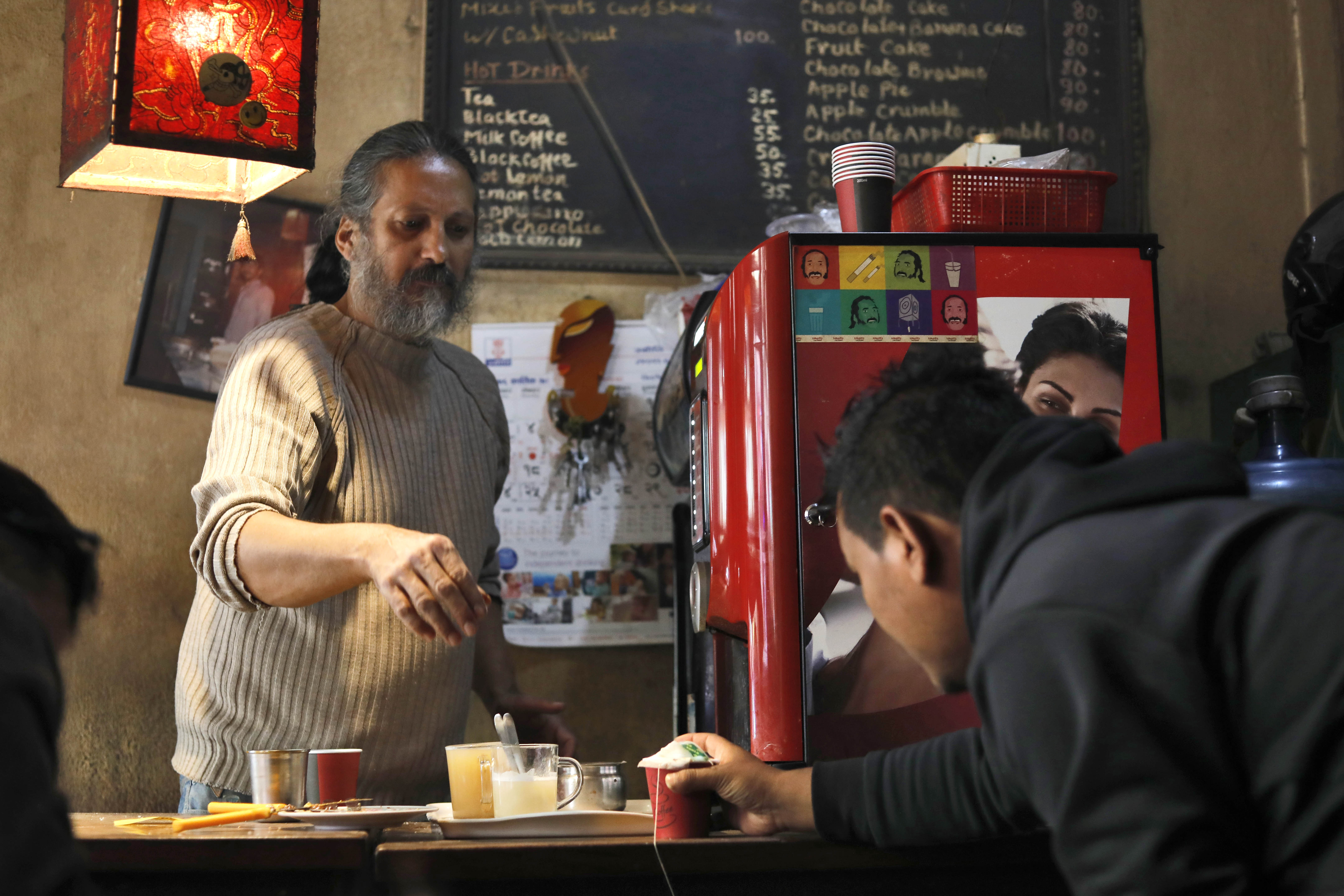 Snowman slings up to 600 cups of coffee and tea each day. Sanjog Manandhar/ TKP
When Ram started the business there were plenty of other pastry and cake shops, but they closed with the pressures of rent and infrequent business. The difference for the Manandhars is that they own the property. If the family had to pay rent, Snowman may have melted away along with the other older businesses on Freak Street, Ram says.
Raju believes everything changed the most during the 90s, when people gave way to cars and pollution—both environmental and noise-wise.
Sometime during their conversation with the Post, a tourist walks in looking a little bewildered—he orders a coconut cake and coffee, and is directed to a table with others sitting on it. He eats quickly and leaves.
Raju says it's rather normal now for foreigners to react in such ways—some don't even stay to try the cake or tea, or anything.
"They think it's an iconic place, but people just look. There are a few people who stay, but not nearly as much as before, about 50-50—it's crowded, and some don't like the smoke," says Raju. When asked whether there would be a day that Snowman wasn't filled with smoke, he's nonplussed. "It has been like this for ages, and my father smokes too. I quit four years ago."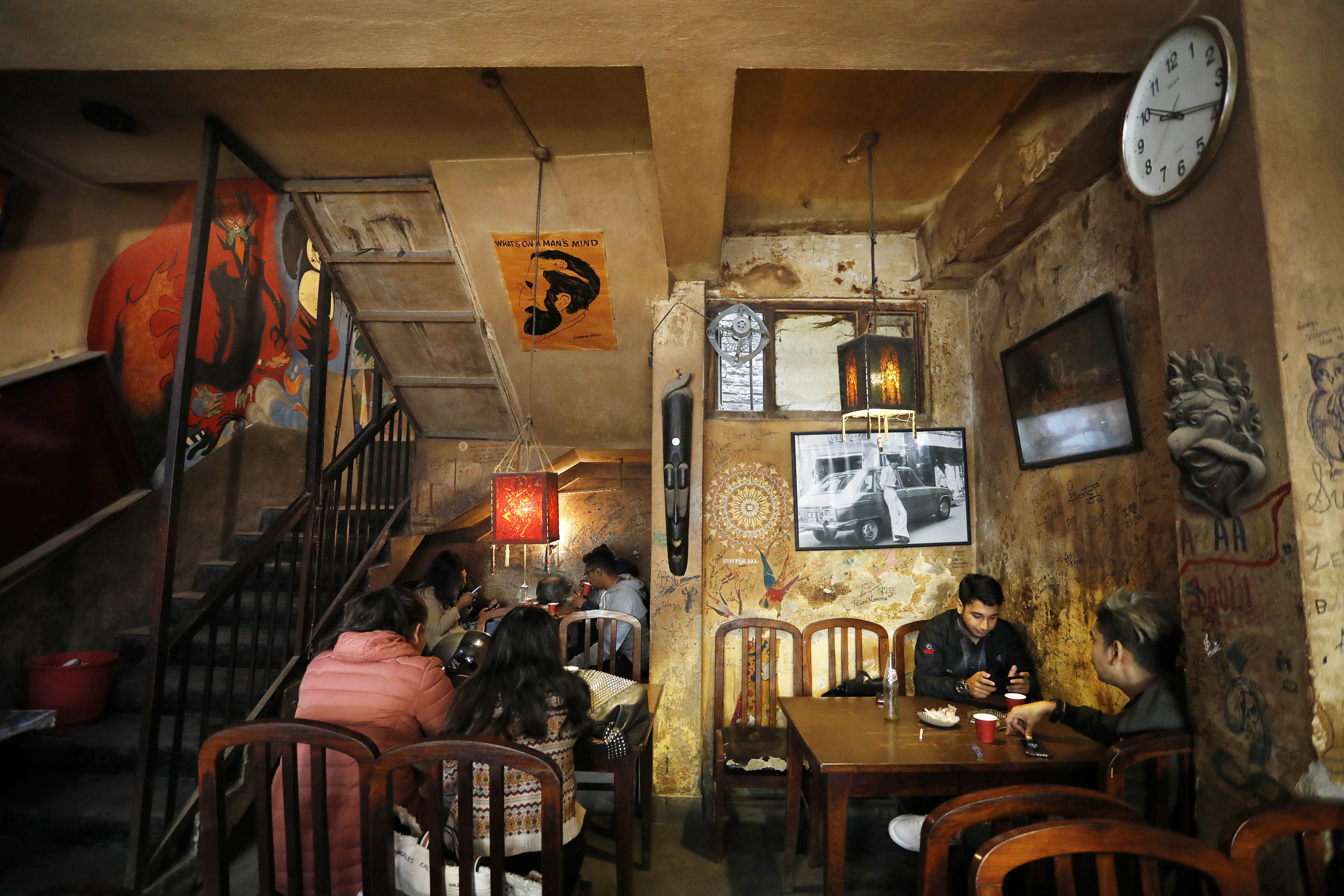 Sanjog Manandhar/ TKP
It's a rather fitting use of the space, considering before Snowman opened, it functioned as a tobacco store. And while customers have replaced THC with nicotine, and the menu has been whittled down to milkshakes, cakes, juices, lassis, coffee and tea, it still holds its old charm. On the walls are messages, scrawled by friends and besotted couples, poets and musicophiles, artists and tourists. There are a few pieces that remain untouched too. Raju is protective over those works. One of which was done 16 years ago by a German artist, who Raju excitedly says he met a few months ago, when the artist returned to the cafe for a visit.
Ram admits Snowman reaching 55 years of business is a rather surreal feat. He never thought it would last as long as it has. But how long the place will last seems to be another scary question to ask.
Raju's children are currently studying in Australia, and it seems as though they won't be taking over. Seeing as he's 49 now, he says he will work as long as he can. But after that, neither seem to know.
"I don't know what will happen," Raju says, distracted by yet another customer. But Raju doesn't seem stressed about the future of the place, nor does he seem stressed as he works from 6am to 8:30pm each day. It's evident that Snowman is his life, as it is his father's. It just so happens that they're in a completely different chapter of Snowman's story.
Once again, harking back to one of the earlier times in its life, Raju proudly points out the glass-front till. In it sits a dusty and diminutive library of cassettes, among them: The Beatles, David Bowie, Elvis Costello and Pink Floyd. While they sing of a bygone era, and gather layers of dust, a youngster plays The Beatles on their phone. Like those cassettes, and the songs on them, Snowman seems as though it will continue to be enjoyed by new generations for a long time. It just might be in a different manner.
---
---