Getting to know selroti
This celebration bread is more than a sweet, it's a symbol of diversity.

Thomas Heaton/TKP
bookmark
Published at : October 25, 2019
Updated at : November 7, 2019 14:27
Kathmandu
It looked as though the hairs on my arm were covered in mud. They contrasted the porridge white hand, covered in selroti batter. It's not mud though—I've singed the hair on my arm while trying to make selroti.
Scooping the sticky batter with a cupped hand, with the glutinous mix moving further towards the elbow, making selroti is not a tidy affair. Nor is it particularly easy. But making it for the first time and doing it over simmering oil? For some reason the pressure is high.
The crunchy copper halos are everywhere in Kathmandu, in just about every pasal and tea shop one comes across. Fried quickly and stacked next to samosa, pakoda, donuts or gwaramari, they're savoured alongside tea across the early hours of every morning. The easiest thing about them is in the eating.
Selroti is always the darling of Nepal's food at this time of year, with Tihar fast approaching and pujas needing to be performed. It's a ubiquitous treat, a celebration bread if you will, that is no longer limited to special occasions, despite apparently being reserved for such times.
They're wonderful fresh when crunchiest, but some may argue for the day after, or the day after that, is the best time for consumption. But there's one thing that's certain: Nepalis love the doughy hoops.
Like many things in the food world, the making of these treats is something that can be taken for granted. But sitting in front of the kadai and making it, following some of the most traditional methods, is a surefire way to regain appreciation. It's an hours-long process involving multiple steps and plenty of waiting, and a rather high stakes finale. I decided to give it a go myself, and it was an exercise in malformed rings and burnt arm hair. But, first, I wanted to find out a little more.
Why is it so popular?

Just why selroti is so popular during Tihar might incite a shrug between bites, and even experts are seemingly unsure of the specific importance of selroti. But it's a question worth asking.
Perhaps the reason for the diversity of the celebratory bread now, and it's firm place in Nepali gastronomy, is the sheer age of the food, according to Nepal Sanskrit University's Dinesh Raj Panta, who said the treats are some 800 years old. Over those 800 years, the professor told me, with the melding and mingling of cultures, the selroti has been picked up by all as a tasty treat despite Tihar historically being celebrated predominantly by Brahmins and Chettris. The particular significance of selroti, above other forms of sweets or foods for prasad, is that it simply came before the rest, Panta said. One of the other reasons for its historical popularity was that it lasted for days. "It's made mostly during Laxmi Puja, so that there's enough for Bhai Tika too," Panta said. Why Bhai Tika? Because it used to be the only time of year when brothers were able to eat in their sisters' homes— a cause for celebration, a cause for sweets. But over those hundreds of years, things have also changed for the bread.

Madhulika Dash, an Indian food columnist, calls the food an "ancient pancake". While that might be up for discussion, she claims the food was once a rather "bland" bread savoured for its versatility. It was apparently an evolved, more shelf-stable, version of barbari bread. And the shape? That was, according to Dash's story on Sify Bawarchi, "more of convenience and the fact that it ensured that it cooked well, and could be carried with ease."
What should go into it?

There's no doubt they're shelf-stable, given they sit in the front of pasals and tea shops waiting to be ripped and dipped into piping hot tea. But shelf-stability is not so much of a problem these days. Jyothi Pathak, author of Taste of Nepal, told me that they actually freeze exceptionally well, and are hardly different to fresh when properly reheated. I'd tried a microwaved selroti before, and I personally found it far too oily and chewy, but to each their own.
The idea of what goes into a selroti is certainly another question entirely, and the answer differs between families and, apparently, time periods.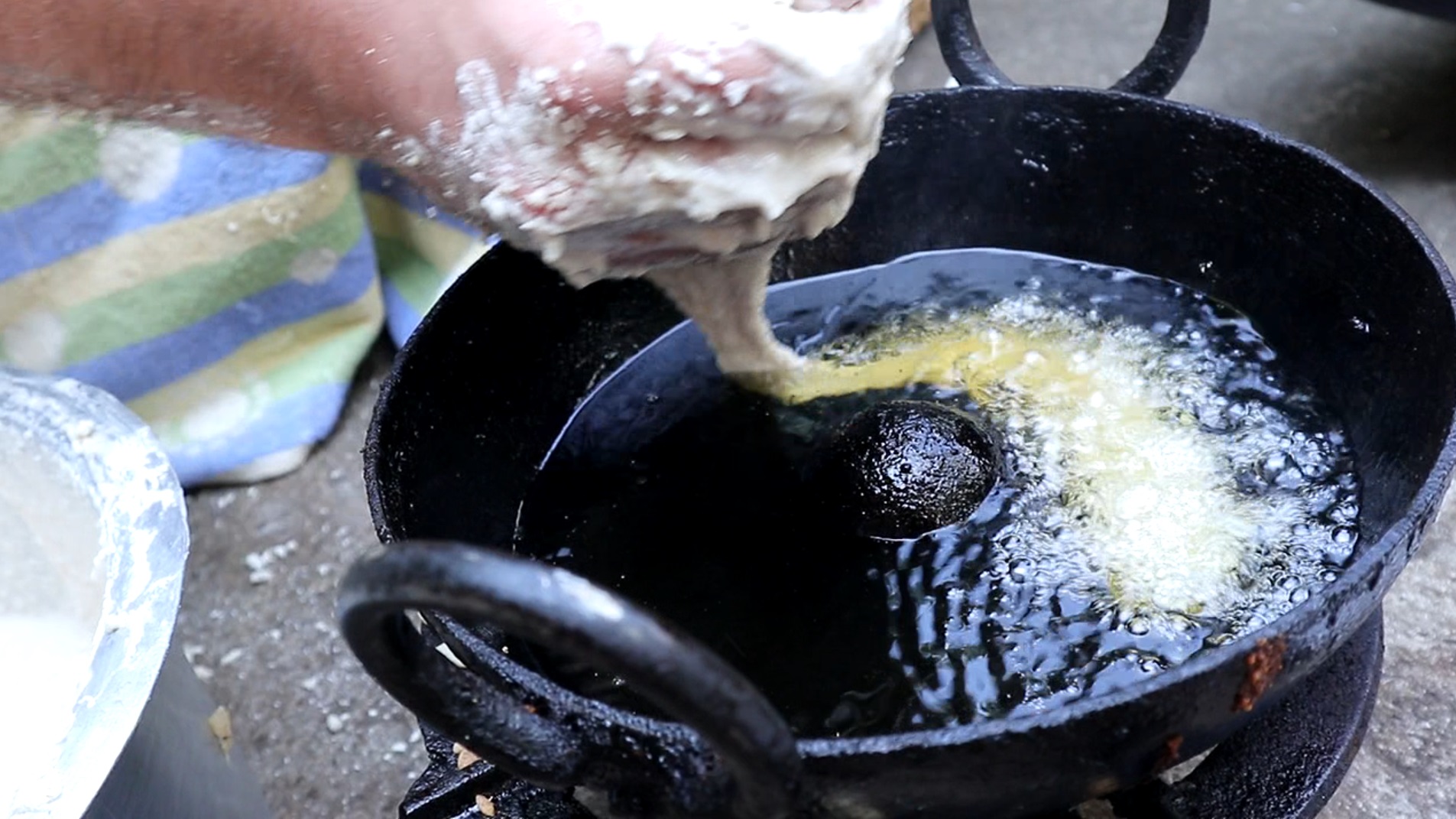 Sikuma Rai/TKP
"In the most traditional recipe, selroti consists of only four ingredients. Uncooked rice grains, soaked and ground, chamal; clarified butter, ghiu and sugar, and oil for deep frying," Pathak said.
While it was a simple list of ingredients, the ingredients had to be the right ones—especially the rice. Nepali grown taichin rice was always held in the highest regard for its glutinous and waxy qualities, according to Pathak. Now, there's no hard and fast rules of what is the best recipe. For Pathak, the recipe should include mashed banana, but not milk, and doesn't contain spices. Why mashed banana? "My family uses ripe banana in the batter, perhaps it acts as a baking soda and gives perfectly puffed up sel with light crunch. I have seen some people using baking powder, cardamom, cinnamon, clove powder. Some people use cashew nuts, coconuts and other dry fruits. I have never made selroti with these ingredients."
The one I was making was like she suggested: nutmeg, clove and coriander seeds, and curd and milk—baking powder was in there too.
Years ago cooks might have used their hands for pouring and stones for grinding rice, and it was all hand-poured into simmering oil. Now modern kitchen appliances and ingredients, such as baking powder or blenders, make the entire process easier.
Opting for electrified conveniences, the only thing I did was pour the selroti by hand. It's a very difficult process to perfect, but it's one that's as much fun as it is messy.
The process first requires, for my recipe, mixing a dough of various flours including rice, wheat and white flour with curd, the spices, milk, butter, sugar and baking powder. Forming something that looks a little like dhido, the mix is kneaded enough to work out the arms. Dropped into the rice slurry that was soaked overnight and blitzed, the final step is mashing the mix together until it's homogenous. One hour's waiting is all that's needed before the messy fun begins.
The batter solidifies on every surface it touches, the concrete below the kadai, the burner below or on the skin. So, it requires constant stirring to keep it from becoming sel concrete.
Cupping the hand slightly, and sealing the fingers, the mix is poured from the heel of the palm in a fast but measured motion. The first pour looks like a scribbled picture of a chatamari, the following rotis look more like shrapnel—one looks like a seahorse. By pour number 30, it looks close to something edible. At 40, it's back to terrible again. Everything tasted good, because the batter was nice, but they looked worse than a dog's breakfast.
When I told Pathak about my hand-pouring ways, she was elated at the thought. She didn't even do it herself—"Oh my god, you used your hand to pour batter in the hot oil. You must be serious professional cook," she said.
Little does she know that of the 50 or so shapes I made, two or three were identifiable rings.
---
---