Lack of authentic dishes on Nepal-China state dinner menu riles foodies
It started with Nepali dishes, and ended with Nepali tea and coffee, but the rest was continental.

President Bidya Devi Bhandari and Chinese President Xi Jinping during the state dinner organised by the former at Soaltee Crown Plaza in Kathmandu on Saturday. RSS
bookmark
Published at : October 13, 2019
Updated at : October 13, 2019 11:55
Kathmandu
Norweigan salmon, Dijon mustard, mascarpone cheese, Cantonese noodles and "pot roast lamb chop in oyster garlic sauce"—this is the taste Xi Jinping was offered at Saturday's state dinner.

Chinese President Xi Jinping arrived in Kathmandu and found himself surrounded by fanfare, cleaned and cleared roads, waving flags and streets lined with locals. It seemed the government was putting its best foot forward in the Nepal-China relationship, to the bemusement of some and the pride of many.
The second point of order for Xi's visit was the state dinner, a time when most countries put themselves on a plate, highlighting their culinary pride, but Nepal's state dinner delivered a menu that upset some on social media.
Shared on social media, the four-course menu offered few tastes of Nepal. The menu began with the expected flavours of momo, and perhaps slightly lesser expected bara and bhatmas sandheko, the soup on offer was kwaati, then the rest failed to have any actual Nepali influence whatsoever.
The menu for the state dinner at Soaltee Crowne Plaza, where Xi is staying, irritated some Twitter-based Nepali foodies. The state dinner menu, which appeared to have only started and ended with Nepali products, had the choice of lamb chops, Norweigan salmon and Cantonese noodles for mains.
"The menu is quite clumsy! They should have made at least one Nepali main course and dessert," said @alienepalien. Others referenced the menu for Xi's state dinner with the Indian prime minister from the day prior, for its authenticity.
"Cantonese Pan Fried Noodles with Lu Han Chi can make or break the visit," said Ashok Pokharel on Twitter. "Whose idea was it to push Chinese food on the menu? @hello_sarkar please see what the GOI did. They stuck with an all Indian, mostly Malabar, menu. Good luck all the same, and Bon Appetit!"
Xi's most recent state dinner was in Tamil Nadu, India, where a lavish menu highlighted fresh flavours of South Indian gastronomy. There was an Indian name for everything—rasam, ulathiyardu, kozhambu, sambar—and there was minimal influence from outside the countries borders.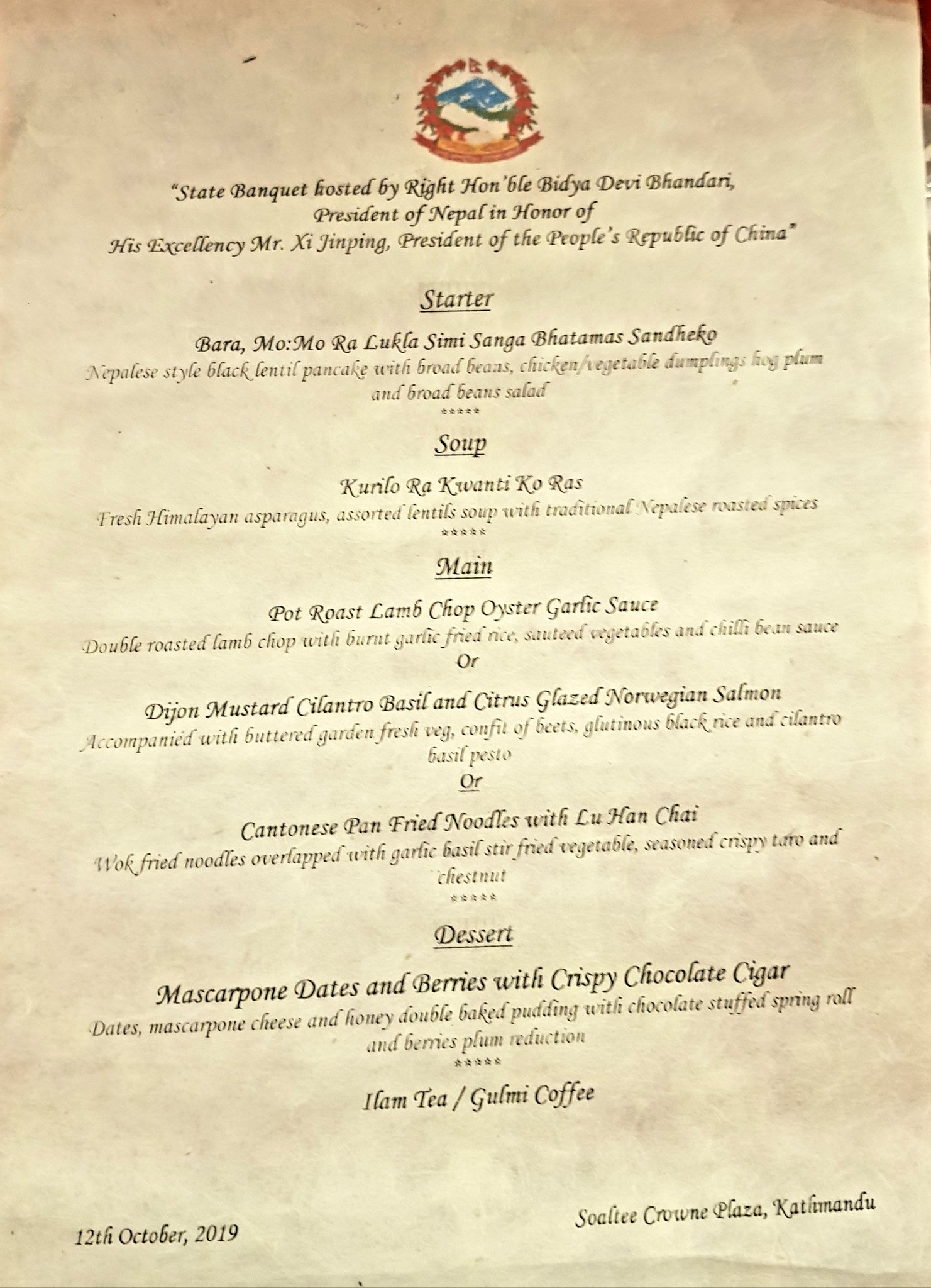 "Jorailo basmati or Marsi ko bhaat could also have [been] added for choice," another Twitter user said.
"Why can't we promote our own cuisine instead of the tauko-puchhar namileko menu?" asked @saud2ep.
State dinners, like all things diplomatic, are more than just food on a plate. They're a time when countries can show their national pride, and display a refined form of diplomacy in the form of food. In the US in 2017, when President Donald Trump hosted the Chinese leader, there was a straight-forward please-all menu that served New York strip steak and chocolate cake. There was Caesar salad too, which isn't necessarily American, but is a firm favourite in the country. The menu featured American wines, but was still deemed "a safe bet".
Some were pleased with the choices for hot drinks, however, as Gulmi coffee and Ilam tea were on offer. Others had alternatives to offer, suggesting the whipped yoghurt dish of sikarni for dessert instead of the date-chocolate-mascarpone dish, or Nepali trout in lieu of Norweigan salmon.
President Bidya Devi Bhandari hosted her Indian counterpart, Pranab Mukherjee, in November 2016. The menu also featured Norweigan salmon, but had no Nepali dishes on the menu.
---
---