Food trucks in Kathmandu don't move, but they're still a big hit
For people looking for fun ways to dine, several immobile food trucks offer an enjoyable experience.

Food Truck Park is one of few places around the Valley one can eat in such a unique setting. TKP/June Karkee
bookmark
Published at : September 6, 2019
Kathmandu
Who needs fine dining when you can step into a small unmoving bus, sit yourself down and order a tapari of momos, choila, sausage sticks, and aloo dum?
This experience may sound unusual at first, but it is being offered by several places around the city. One such place is Newari Food and Darjeeling Mo Mo, an eatery inside a bus located in Gahana Pokhari, Tangal, which is both known for its juicy Darjeeling-style momos and its unique setting and ambience.
"I think the concept is just so unique," said 15-year-old Sabina Lama, as she ate Newari khaja set from a traditional tapari. The set consists of the normal bhatmas, aloo, choila, and chiura. "I come here to eat, of course, but I also come for the experience," said Lama.
Although the idea of eating inside a bus is not found anywhere else in Kathmandu, the experience it offers could be compared to food trucks. The concept is becoming popular among Nepali entrepreneurs looking for ways to appeal to trend-seekers wanting different dining experiences.
Places like Food Truck Park in Naag Pokhari and Pangra Express in Bhatbhateni have also become attractions for adventurous folk to indulge in food that is not prepared and served in a traditional restaurant setting.
Breezendra Bhattarai, who describes himself as a street food enthusiast, regularly visits Food Truck Park, which opened a year-and-a-half ago, to indulge in a wide range of food options—from basic Western fast-food items like burgers and onion rings, to Japanese dishes like sushi, and Mexican favourites like tacos. He attributes the park's popularity to the rise of social media and people's interest in exploring different cultures.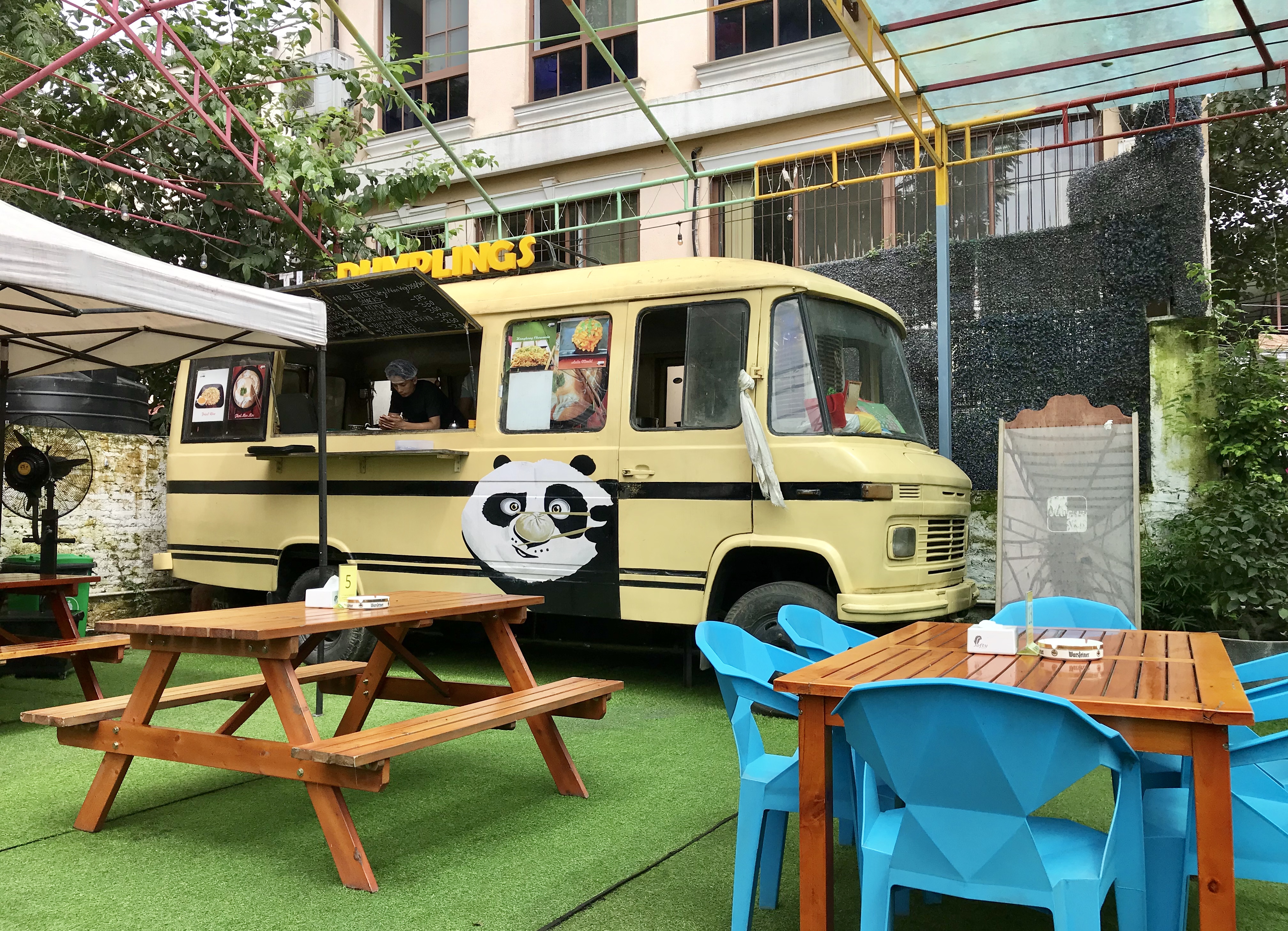 TKP/June Karkee
"They're not typical food trucks, but they're the closest we can get to experiencing one for now," he said.
When one passes by Newari Food and Darjeeling MoMo early morning or late night, it appears to be an abandoned vehicle with nobody to claim it. Only between 1pm and 8pm, when the menu board is put up, and people are seen stepping in and out of the bus, does one find out that it is actually a place where you can eat.
"We only opened two months ago, but we have already attracted a lot of the locals," said Lalit Gurung, who manages the bus on a daily basis. "At first we weren't sure how well we would be received, but so far people have really enjoyed sitting here and eating our food."
And it is easy to see why. Parked right next to several panipuri and chatpate stalls, and painted bright yellow, green and orange, the eye-catching bus stands out. People from all walks of life stop by the bus, order food, and either eat outside or inside the bus itself.
Food trucks are common throughout the world. Most often associated with ethnic street food, they provide affordable and filling scran. But a simpler reason that they're so popular is because they can move from one place to another.
According to Gurung, Newari Food and Darjeeling Mo Mo was originally intended to be a mobile food truck, but limitations such as Kathmandu's impossible traffic, pollution and lack of regulation and parking spaces made it difficult to successfully achieve the concept in its moveable originality.
"I think that driving the bus and going from one place to another would be a really big hit, but the way that our city functions makes it hard for us to do so," said Gurung.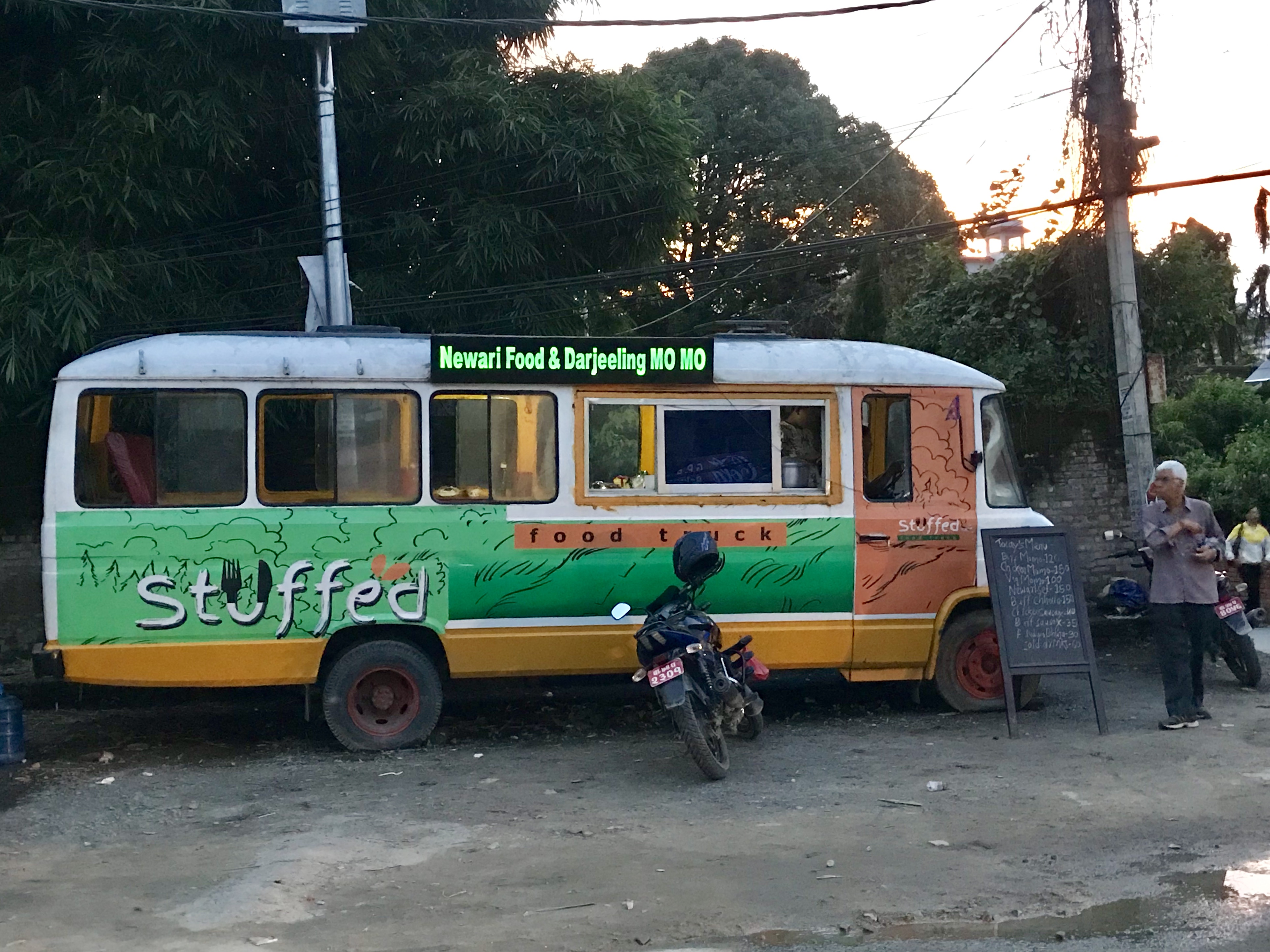 TKP/June Karkee
Tashi Palzor Sherpa, one of the owners of the Food Truck Park, faced similar obstacles when bringing the food truck concept to Kathmandu.
"We purchased all the buses ourselves with the intention of being able to operate them as normal food trucks, but many people were sceptical of the idea, and so we also began to realise that there were many factors such as hygiene, traffic and pollution that would make the concept difficult to achieve," Sherpa told the Post.
Although there are no specifically stated legal barriers preventing Gurung and Sherpa from driving their mobile eateries around Kathmandu, the tedious bureaucratic process they faced was one they preferred not go through.
"We were told to pay a tax amount of Rs 4 million by the Kathmandu Metropolitan City, and that was just the first step. There are probably more things we would have to go through to get approval from higher level authorities," said Sherpa.
Nevertheless, in a place like Kathmandu, where there are plenty of local cafes, restaurants and khaaja ghars, those limitations may not be a hindrance to attracting customers.
What then draws so many people to places like Newari Food and Darjeeling Mo Mo, Food Truck Park and Pangra Express? It comes down essentially to the experience, ambience and fun of dining inside a bus (not forgetting that the aesthetics provide make for social media content.)
Sweta Subedi, a regular at Pangra Express, admits that although the food there is pretty good, she and her friends have more fun posing on the little bike made out of tires and taking photos behind the board frame painted to look like an actual food truck. "It's all about what's popular these days and going with the trend," she said.
According to a Pangra Express spokesperson, the place is technically a mobile Airstream trailer, the first ever of its kind in Nepal. On its menu, one can mostly find finger foods, such as chicken strips, cheesy fries and breaded sausage sticks, but you can also find unique takes on snacks like 'chatpatey corn'.
"Being positioned as a simple alternative to food courts and fine dining restaurants, our street food is all about going back to the basics," said the spokesperson in an email to the Post.
At Food Truck Park, customers use a coupon system, where coupons are used as common currency at the various trucks. Sherpa believes that in addition to serving affordable food in an enjoyable atmosphere, Food Truck Park has gained popularity because it is a space where people can relax, read, even work, without being bothered.
"A person could buy just one drink, spend the entire day here, and nobody would say a thing. You wouldn't really be able to do that in typical restaurants," said Sherpa.
But being popular comes at a cost, especially for Gurung, whose bus does not have the same kinds of protection the Food Truck Park and Pangra Express have—at least in terms of security.
"When we first opened, ward officials would come, ordering us to move and demanding we give them money to be able to stay, but after we spoke to locals here, they negotiated on our behalf," said Gurung. "Since then, we have not faced any problems other than complaints from other restaurants, and occasionally having dogs and people litter next to the bus."
Nevertheless, he says he is content with the amount of customers he has been receiving. He believes the bus will continue to do well because people nowadays are looking for simpler and more exciting ways to eat.
Whether food trucks will ever be seen driving around Kathmandu is up for question, and there seems to be a long, long road ahead before that might happen.

***
What do you think?
Dear reader, we'd like to hear from you. We regularly publish letters to the editor on contemporary issues or direct responses to something the Post has recently published. Please send your letters to tkpoped@kmg.com.np with "Letter to the Editor" in the subject line. Please include your name, location, and a contact address so one of our editors can reach out to you.
---
---