Remember orange balls? Here's how they died.
The beloved orange and rimjhim balls from the 70s, which had their run till the early 2000s, still induce nostalgia.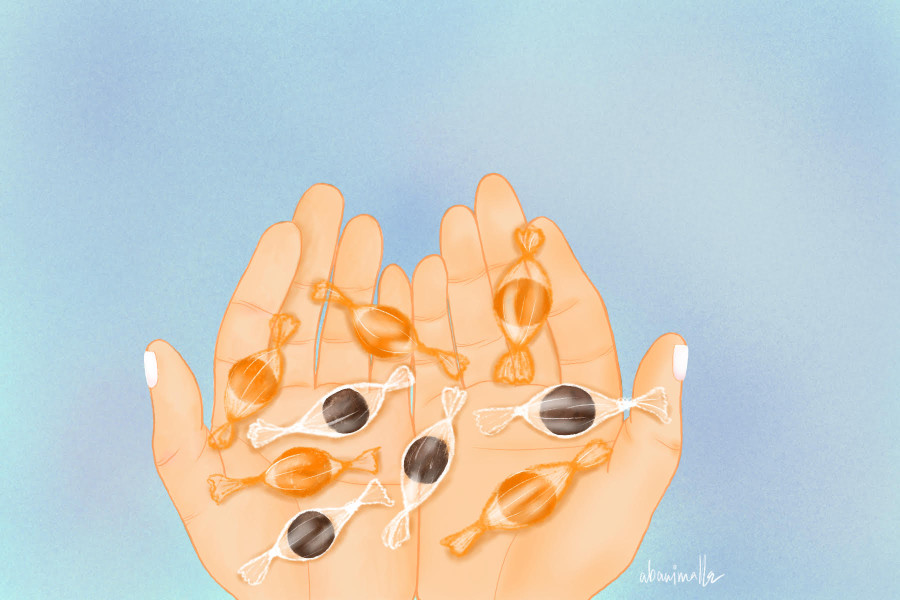 Post illustration: Abani Malla
bookmark
Published at : August 6, 2019
Abhinav Pandey remembers his four-year-old self running down to the local shop at the end of the street whenever he had a one rupee change. That was all he needed to buy his favourite candy: orange balls, which cost a rupee for four pieces—hence, popularly dubbed as 'ek suka' candies. On lucky days when he had a five rupee note, he'd go home extremely happy, with a pocket full of the sweet treats.
"The candy made me so happy," says Pandey, now 26, who has carefully stored the familiar taste of the candies, intricately laced with the nostalgia of his childhood, in memory. "I loved the orangey, sweet flavour, and the fact that they were so cheap."
But four years ago, when Pandey went to Ason searching for his favourite childhood candy, he couldn't find them anywhere.
Orange balls, along with rimjhim, widely known as black balls, were Sujal Foods Private Limited's popular creations that dominated the Nepali confectionery market since its release in 1977. While rimjhim balls had a picante taste, with a tinge of Nepali spices, orange balls were orange flavoured and sweet. Both were round in shape, came in transparent packaging and were ubiquitous in the Nepali market.
Almost everyone who grew up then—and until the early 2000s—remembers the candies.
According to Mahendra Shrestha, general manager of Sujal Foods, these popular 90s candies were made in the Shrestha residence at Pokhara. Founders Ganesh Bahadur Shrestha and Buddhi Bahadur Shrestha came up with the recipe for the candies after frequenting various confectionery markets in neighbouring India—researching machinery, raw materials and tastes. When they first introduced their product in the market, each candy weighed five grams of Nepali spices and other local flavours.
The Shrestha brothers, who were based in Pokhara, soon found their products gaining momentum in the Nepali market. But, because they were a small business, they only had about 25-30 employees, and didn't even have a proper retailing system. However, as the candies became instant hits, the brothers circulated their products via local buses that travelled from Pokhara to the Capital. In Kathmandu, these candies soon became available everywhere—with children loving its sweet and spicy tastes, and parents happy with its affordability.
For Zoya Gurung, the candies take her back to childhood. The taste reminds her of her time together with cousins, when they would huddle together and share the candies among each other. After her cousins left Nepal, she would often send the candies to them. "Now I can't send them the candies anymore," says Gurung, 30, who used to eat the candies when she was around four. "And that makes me nostalgic."
But even with such history and popularity among the 80s kids, around 10 years ago, Sujal Foods stopped production of the beloved candies. By 2008-09, the trace of the candies that had contributed to almost 40 percent of Sujal Foods' business had almost disappeared.
The candies died a slow, natural death. "Back then, due to fewer options, even our simple orange and rimjhim balls were elite candies," says Shrestha, the general manager.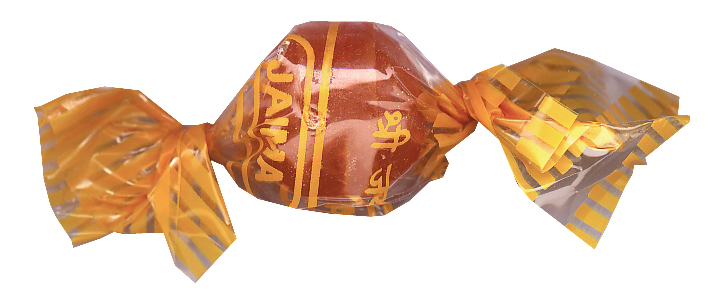 Orange ball candies could be purchased for just 25p per piece. Photo courtesy: Sujal Foods
The only other options people had to fix their sugar craving were mango tart, lacto and white rabbit, at least until the 1980s. But as the Nepali market began to open up to its neighbours, things started changing.
Well into the 80s, the term 'chocolates' were used interchangeably to identify both candies and chocolates. It took awhile for Nepalis to differentiate between the two confectionaries. Although in neighbouring India, chocolates were introduced in 1964, when Cadbury started farming cocoa beans in the south; however, in China, chocolates were only introduced in 1980. So, when chocolate bars gradually found its way into the Nepali market after the '90s, candies were forgotten.
With the variety of chocolates that were being imported, the local confectionery market was compelled to widen its variety. The Nepali confectionery companies started experimenting and introduced wafers, chewing gum, lollipops, and various chocolate-coated or chocolate-filled toffees. By the early 2000s, the market was overwhelmed with an assortment of candies with flashy wrappers.
Even Sujal Foods introduced 'Chocofun' in 1997, to compete in the wafer segment. All these developments signalled the phasing out of candies like orange ball and rimjhims, says Shrestha.
"As the market got more and more refined, offering people more choices, the environment no longer felt favourable for our candies," he says.
Once a profitable product and always high on demand, the candies stopped seeing much sales. The cost of commodities and labour fees also rose, and Sujal Foods had to increase the price of the candy from 25 paisa to 50 paisa as well.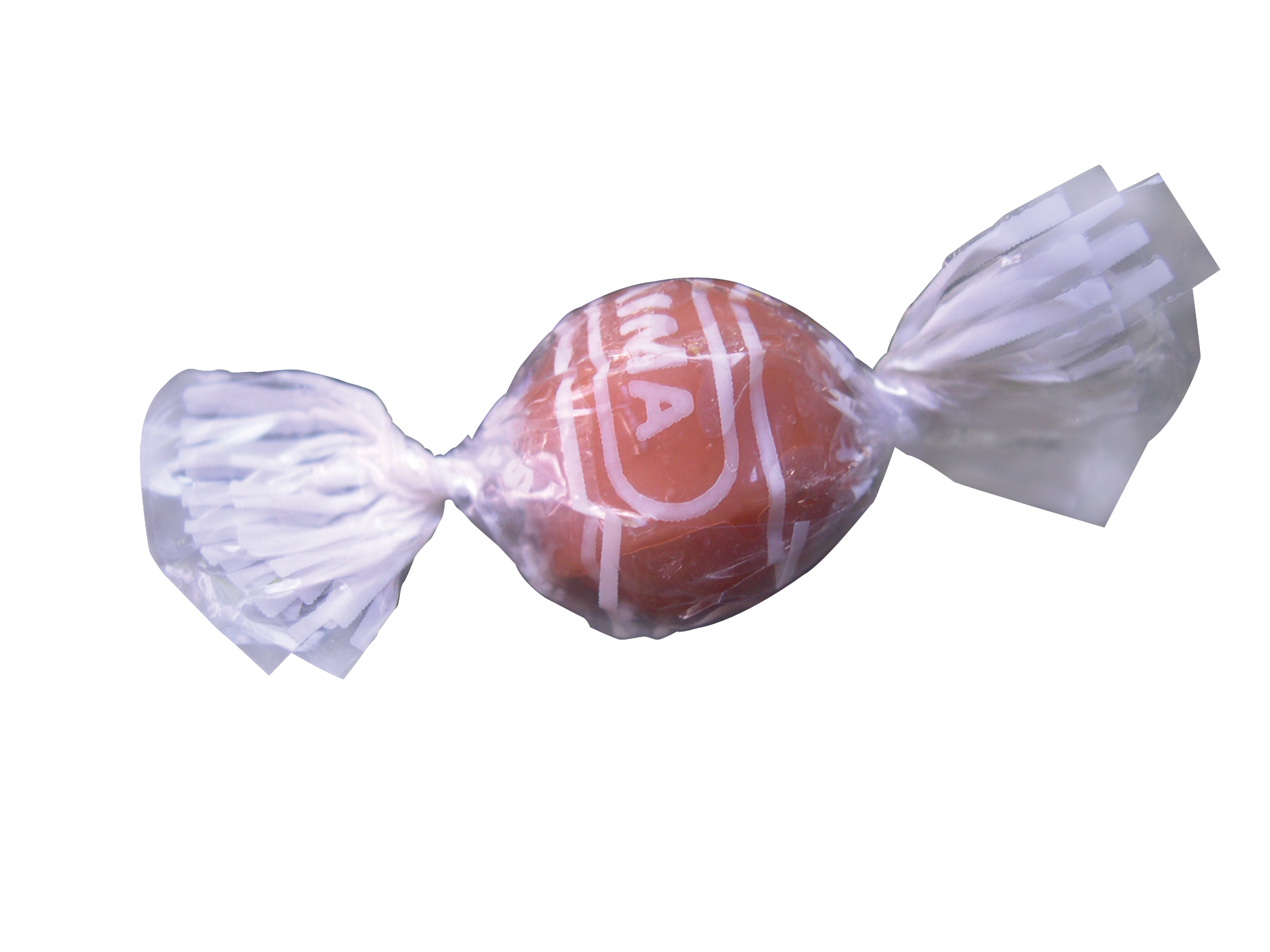 Rimjhim balls were popularly known as black ball candies. Photo courtesy: Sujal Foods
"But this didn't sit well with customers and our sales kept dropping," says Shrestha. "The demand for orange and black balls was gradually decreasing in the market."
Eventually, Sujal Foods realised that it was time to end production after it started affecting the company's profitability. The company instead ventured into manufacturing new products in favour of the developing confectionery environment.
It's been years that the candies have disappeared from the market, but people still remember them. "More than its taste, its presence has been a part of a generation of Nepalis' childhood," says Shrestha. "People might demand them now because of the nostalgia it carries."
And there's good news for people who still crave the unique taste of the spicy rimjhim balls, or the sweetness of the orange balls. Sujal Foods still treasures its 'secret' recipe to making the candies, and according to Shrestha, if a favourable environment arises some day, they would consider rebranding the candies again. "If we find a way to make them relevant again, we might revive our product," he says.
Which means that if things fare well, customers like Gurung and Pandey will get a chance to relive their childhoods again.
***
What do you think?
Dear reader, we'd like to hear from you. We regularly publish letters to the editor on contemporary issues or direct responses to something the Post has recently published. Please send your letters to tkpoped@kmg.com.np with "Letter to the Editor" in the subject line. Please include your name, location, and a contact address so one of our editors can reach out to you.
---
---