Finding a sweet spot
Business is booming for Bishnu Devi Confectionery, which started making candy pops two years ago and now makes Rs 300,000 every month.

All Photos by Beeju Maharjan/TKP
bookmark
Published at : August 4, 2019
Updated at : August 5, 2019 17:07
Kathmandu
What kind of business can you start with five kilos of sugar and a handful of YouTube videos?

For Kedar Rajbahak, the combination was the beginning of his dream of running a company.
After watching tutorials on repeat for two years to practise making candy at his home in Baneshwor, Rajbahak, launched a confectionery in 2017. Today, the Bishnu Devi Confectionery churns out more than 12,000 candies every day and is earning him plaudits, and at least Rs. 300,000 in income every month.
In a market where hundreds of candies are produced and sold every day, Rajbahak's candies stand out—the confectionery produces spiral candy pops, which are sold across fun parks, department stores and shopping malls in the Kathmandu Valley.
"Our coconut, litchi, milk and strawberry flavoured candies are hitting the sweet spot among consumers," said the 35-year-old businessman.
Rajbahak said even though he wanted to start a business, at the beginning he wasn't sure what kind of industry he wanted to dive in. After graduating with a Bachelor's degree in computer applications, he initially opened an IT company in a joint investment with a few friends. The company developed and sold educational software, but Rajbahak said it never really took off. And once his friends left the business and went abroad, the company was shut down.
Even though the software company didn't live, his itch to operate his own company was still alive, and that's what propelled him to search for another idea he thought would be less risky than the previous one. That's when the idea to make spiral candies came to him. Nobody was producing these candies in Nepal, and for Rajbahak, there was an opportunity with little downside.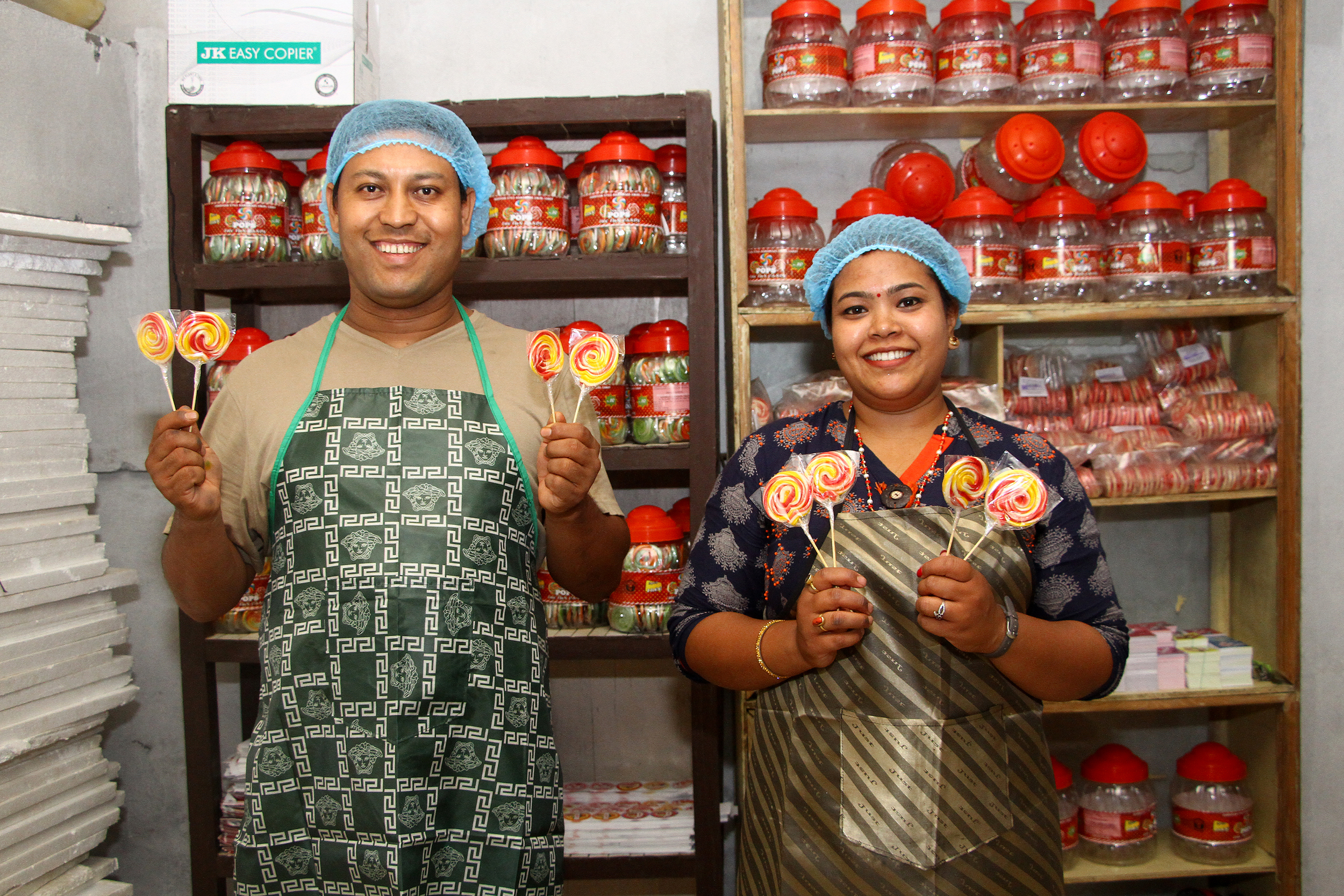 Kedar Rajbahak and his wife Nikee Shrestha at their factory in Samakhushi.
"I went through Youtube videos for almost two years and learned the skills and techniques to make candy at home," says Rajbahak, who became obsessed with tutotials posted by Hercules Candy, a New York-based YouTube channel.
Rajbahak then researched the market potential for different varieties of chocolates in Nepal, before he moved into commercial production. According to him, there was very little risk in operating a confectionary because it was a skills-based business and it did not require a huge investment.
He started with Rs400—the cost to buy five kilograms of sugar, and began producing samples of spiral candies and distributed them at retail and wholesale shops.
"The samples got a good reception from the market and we soon started receiving inquiries for orders," said Rajbahak.
The first order came for 5,000 packets of candies. Each packet contains 36 swirl candies, which cost anywhere from Rs10 to Rs300 per piece, depending on the size and quality.
Rajbahak's swirl candy formula seemed fairly simple: the main ingredients, sugar syrup and liquid glucose, are combined with a variety of fruit flavours and citric acid. First, the sugar is heated and then glucose is added to the mixture along with the fruit flavour. The mix is then left to cool on a marble slab. Once cooled, the mix is heated up just enough to allow workers to pull the candy into a spiral shape by hand.
As the demand for swirl candy grew, he slowly expanded his business by hiring more people. Today, he employs 15 people and has a small factory to produce these sweets.
Still, Rajbahak said there are plenty of obstacles, mostly in the form of competition from imported chocolates and popular local brands that dominate Kathmandu's market.
"It is hard to establish a homegrown product in the sea of candies that is available for sale in every corner," said Rajbahak, who feels the Indian and Chinese candies that have flooded the market are often not of top quality.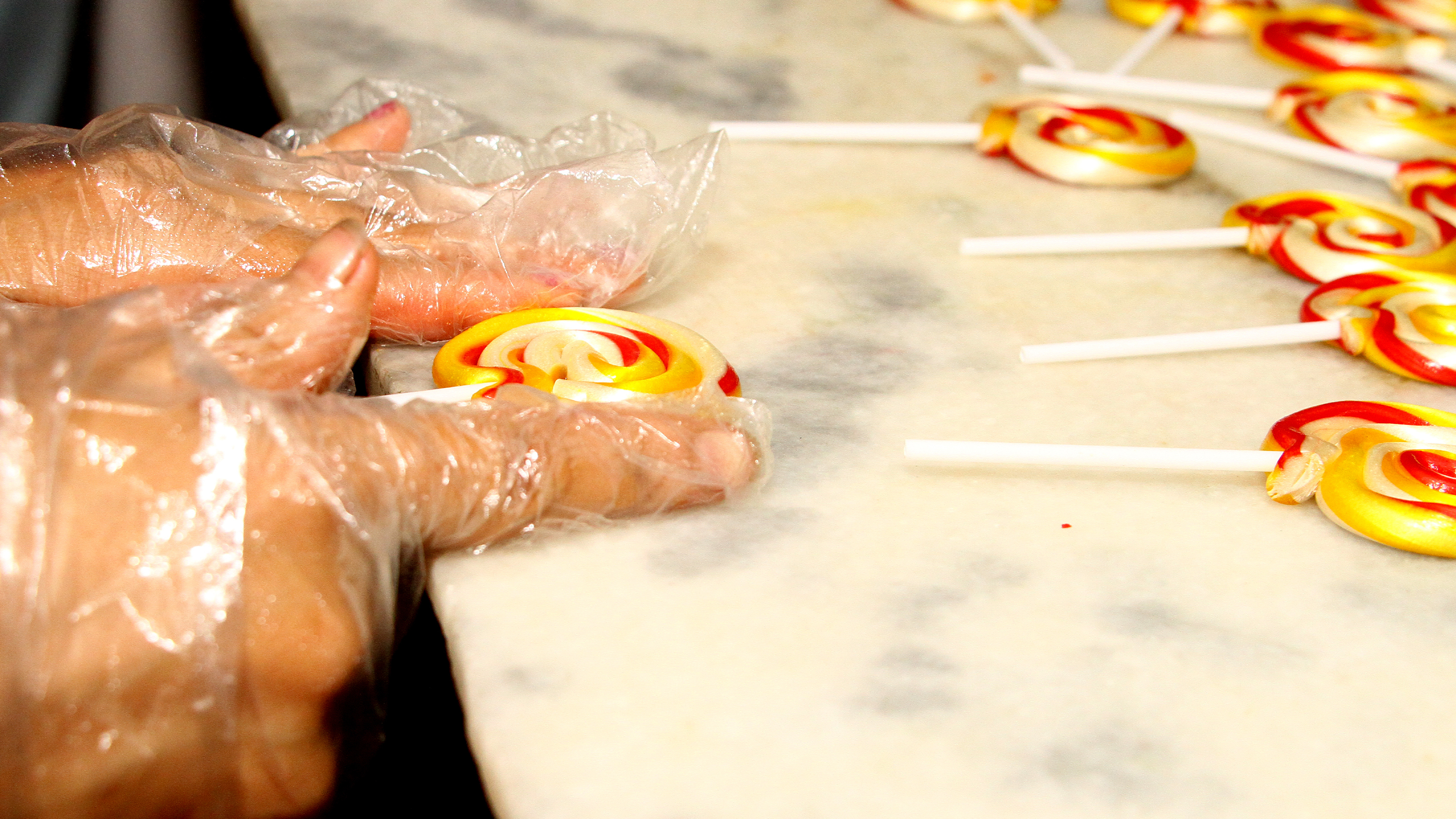 A worker shapes candy into spiral shape.
Other problems are more technical. He has had a hard time finding skilled manpower to produce candies to meet the demand and there's no investment to scale up the company.
Another challenge that keeps Rajbahak on his toes is the continually changing consumer taste, which is always looking for something new and exciting.
"We have to, and we do, update our flavours to meet the demands from our customers," he said.
Encouraged by the market response, Rajbahak is planning to take a bank loan to increase his production.
"I have also been talking to some Chinese companies and hopefully will import a machine to manufacture candy," he said.
Once the machine is procured, he wants to expand his product lineup to include jelly candy and dairy milk candy. With more flavours and products in the pipeline, Rajbahak says he wants to expand the distribution network across the country, too, so he can reach more customers. He said he was currently in talks with over a dozen online platforms, like Daraz, where people can order Rajbahak's swirl candies.
***
What do you think?
Dear reader, we'd like to hear from you. We regularly publish letters to the editor on contemporary issues or direct responses to something the Post has recently published. Please send your letters to tkpoped@kmg.com.np with "Letter to the Editor" in the subject line. Please include your name, location, and a contact address so one of our editors can reach out to you.
---
---