Nepal's indigenous fermented foods are good for gut health
The West is obsessed with fermented food and the health benefits that come with it, but Nepal has had these preserved foods for a long time—and they're vital to their diet

Post Photo
bookmark
Published at : July 4, 2019
Eating fermented foods is incredibly important to the Nepali diet for many reasons, and not just as a means for preservation.
While sinki, tama and gundruk might spring to mind, there are plenty of other facets of the Nepali diet that are the result of fermentation—all of which have several dietary benefits.
Health nuts all over the world now look to fermented food to improve their gut health, and health in general. Topping the list of fashionable foods, there is kombucha, a fermented tea; miso, a paste of fermented soybeans; and sauerkraut or kimchi, cabbage preserved in various ways with salt. Though Nepal's offerings are tasty, they could be just as nutritious, but any definitive nutritional information is hard to find.
Considering the benefits of similarly processed foods, however, could help nail down some of the benefits of these foods to Nepalis' diets.
Naomi Saville, a Kathmandu-based public health researcher for University College of London, says both fermented bamboo shoots, tama, and fermented greens, gundruk, could be a source of vitamin B12. However, Saville says it's difficult to define how much B12 is present in gundruk and tama, given there is a lack of nutritional information and studies available.
"I am quite fascinated by gundruk and tama myself and I do think that fermented foods are a very important source of vitamin B12, especially for people who eat little or no meat," says Saville.
Vitamin B12 is important to the human body, and is largely responsible for healthy brain function and red blood cell production, but the traditional dal-bhaat based diet means there are chronic deficiencies throughout the country. This is largely due to the scarcity of animal products, which contain the highest possible levels of B12.
However, according to the University of Helsinki, vegetables do develop vitamin B12 during the fermentation process. This means the host of Nepali fermented foods could help relieve some of the diet's B12 inadequacies.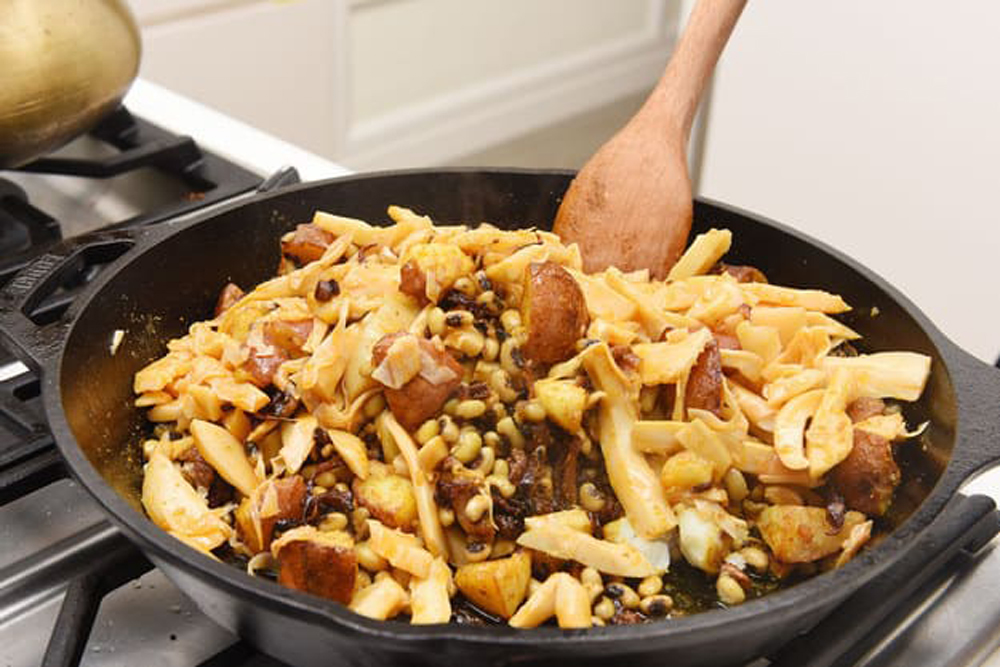 There is no specific evidence on gundruk and tama, but fermented foods are inherently considered healthy. Photo Courtesy: Buzzfeed
Bhupal Baniya, a clinical nutritionist, contends that these foods are slowly disappearing from Nepali plates, as a fixation on highly-processed "western food" is driving them away from traditionally fermented foods that supplemented nutritional voids in the past.
"Nepali society needs to not only include fermented food in their everyday diet but also include it in cultural functions so we don't forget it," says Baniya. While the Nepali diet, he says, remains generally lacking in animal proteins—both in Kathmandu and in the regions — fermented foods such as gundruk and tama, paired with various other legumes, can fill the protein gap. A dish such as traditional kwati, which boasts about eight different types of beans, would still need something like rice to provide complete proteins.
"If you lack protein, then you lack everything in the body. They're the building blocks of the body."
"Before, throughout history, when these foods came about, they did not have any evidence or knowledge to say if they were beneficial or harmful. But these have had a benefit for the body," says Baniya. "They're rich in iron, fibre and there are also many phytochemicals in these foods."
Phytochemicals, a term for various active compounds in plants, are a rich source of antioxidants, which have several health benefits, but are namely attributed to their cancer-fighting qualities.
According to paper Traditional Indian fermented foods: a rich source of lactic acid bacteria, the benefits of sinki and gundruk are innumerable. As well as being rich in lactic acid, gundruk is said to aid milk-production during lactation for mothers, while sinki helps cure diarrhea and stomach pains, the study says, it is good for indigestion. Lactic acid additionally helps relieve diarrhea and boosts the immune system.
When it comes to things other than greens, however, there are other fermented foods that contribute to gut health. Curd is one of the tried-and-true methods of improving one's gut health: dahi baat has long been recommended for people recovering from sickness.
Saville says the key to curd's benefits lies with lactobacillus, which is positive for general gut health because it essentially replaces pathogenic microorganisms in the stomach, restoring some semblance of balance.
"It helps with digestion because you've got the right kind of bacteria. It also helps with [nutrient] absorption," she says.
The pro-biotic nature of lactobacillus can also be found in chyang or tongba, because of the amount of live yeasts in the substances that ferment the drink, she says. Anything like raksi or aila, however, would be too refined to have any benefit to the gut.
While it seems evident the fermented leaves or vegetables do not completely fill the B12 void, Saville says she still believes the foods are beneficial for the diet.
"I do think they are really great, but I can't give any evidence for that. But, I can tell you that in terms of diet, eating fermented foods has got to be good," says Saville.
---
---