Honacha in Patan might not be the prettiest, but it is an authentic representation of Newar cuisine
Shunning all frills, Honacha's plain decor and spartan serving leaves the food to speak for itself.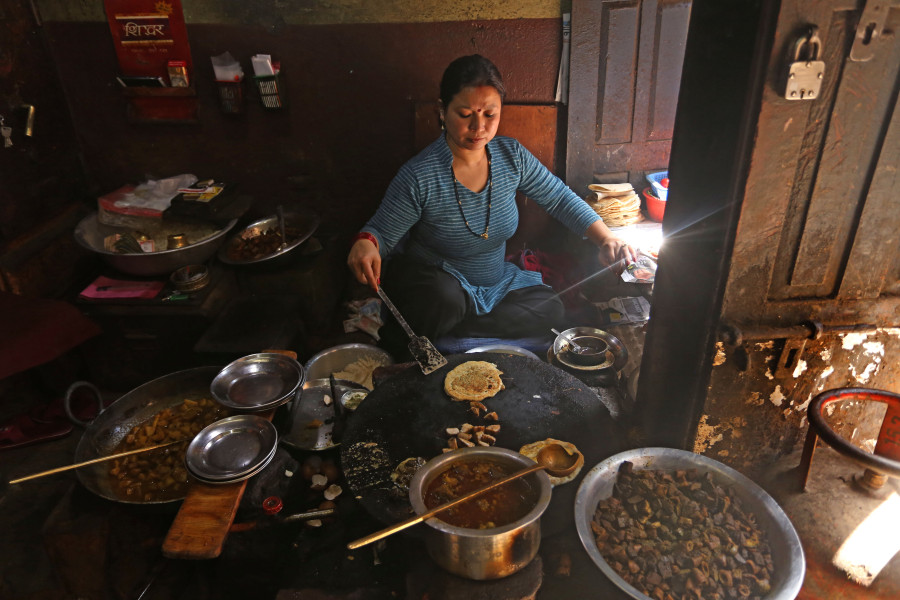 bookmark
Published at : March 14, 2019
Updated at : March 15, 2019 18:02
Kathmandu
Newar dishes are dropped on the table in quick succession: bhatmas sadeko, buff choila, then kachila.
Sitting on battle-hardened tin plates, they are cooked fresh and systematically. The lady at the door, sitting in front of a blackened table-sized pan, works various meats with one hand while shaping handfuls of sticky dough with the other. A man, not far from her, takes payment and throws handfuls of sapu mhicha—the dish we came for—between the motley mix of Newar delicacies.
Honacha in Patan is famed for its Newar delicacies, declared the best by many, and we sit in one of its two iterations. Tucked away on the northern edge of Patan Durbar, next to the Bhimsen Temple, this Honacha sits a stone's throw away from its sister restaurant, also called Honacha, less than 20 metres away—opposite the Krishna Mandir. Although there is dispute on which of these two eateries came first, they have been operated by the same family of Byanjankars for at least 60-70 years.
Ducking in through a leaning doorway, squeezed through the congested kitchen and into our seats, this bunker-like restaurant is obviously popular. Sitting next to fellow enthused eaters, the order-to-eat process speaks to decades of precision.
First comes a steel tumbler of cloudy chyang and a small bottle of raksi. The raksi is strong, not violent; the chyang is sweet with a bit of fizz. Having just barely sipped our tipple, tin plates start appearing.
Bhatmas sadeko arrives freshly roasted, tossed with chunks of chilli, slices of red onion and pieces of tomato. Cracking under the tooth like unpopped corn, the bland soybeans provide texture while the bulk of the work is done by the fresh ingredients.
The buff choila tastes like the walls look: blackened with smoke. Heroically shunning its affinity for chewiness, the charred buff is served cold with a not-so-spicy sauce of chilli, oil, garlic, ginger and spring onions. The dish must have had time for the flavours to combine and mellow, but the spice seems to have mellowed a little too much.
Halfway through that second plate, another dish swoops in. A flattened patty of raw meat, the spiced mince is somewhere between yellow and orange, topped with—once again—ample amounts of onion and chilli. Known as kachila, this might seem a formidable dish on paper, but there is nothing scary about it at Honacha. The buff meat tastes of an amalgam of spices, cumin and coriander chief among them, with welcome pops of bitterness from fenugreek. At Honacha, it makes complete sense.
A dose of beaten rice—chiura—between each bite cleanses the palate for the next spoonful.
The keema bara is gnarly and crispy, while the turmeric-yellow keema livens the otherwise subdued soft and earthy flavours of the fermented black lentil interior.
At Honacha, the bara is a perennial favourite, coming in plain, egg, buff and mixed variations. [Photo: Niranjan Shrestha for Roads & Kingdoms]
Shunning any frill or fancy—except the mixture of Coca-Cola and Pepsi paraphernalia—Honacha's plain decor and spartan serving leaves the food to speak for itself.
As the dishes arrive thick and fast, the selection thins and the restaurant's frenetic pace slows. Pouring a glass of raksi, my dining partner tells me this is normal: they cook until they have nothing left to cook. If you're late, you're out of luck. The best time to sample all of Honacha's offerings is the late morning to early afternoon, from 11am to 2pm.
Having arrived at about 3pm, we were lucky to get the last of the good bits. That means: bhuttan, which are stir-fried intestines and liver, and sapu mhicha, packets of buff bone marrow wrapped in leaf tripe.
The bhuttan is certainly not the spiciest available in the valley, but the offal textures are as one would expect: soft, crunchy and chewy. Cumin raises its hand, but any other spices don't seem present, so the iron-rich offal is unadulterated. It's a good thing for some, bad for many.
The sapu mhicha, however, is pure indulgence. Having bounced around the baras on the restaurant's large single pan, the leaf tripe is crispy on the edges. But beware, the just-solid marrow turns to magma in your mouth after chewing through the tripe wrapper. These small black packets, eaten in one mouthful, burst with a flavour one could only relate to a trip to the cardiologist.
The sapu mhicha's simplicity is just like Honacha: not the prettiest, but a distinct and delicious representation of Newar cuisine.
Honacha: Rs. 80-200
Food: ★★★
Ambience: ★★
Value: ★★★★
Each week, the Post will carry a review of a restaurant, rated out of five stars.
Read other articles from our inaugural food & travel section:
— From Kochi to Kathmandu: a taste of Keralan cuisine in the Capital
— Tarebhir is perfect for a quick weekend getaway—and for some great food
---
---