In with draping: How 'Marsyangde' is deconstructing design norms
Founder Arsya Giri's ethos revolves around the age-old art of draping and crafting unique garments that leave no room for waste in any of the designing phases.

Keshav Thapa/TKP
bookmark
Published at : July 29, 2023
Updated at : July 31, 2023 12:34
In a world where the fashion industry's impact on our planet looms large, one visionary designer redefining sustainability in the fashion landscape is Arsya Giri, the founder of Marsyangde. Giri's design ethos revolves around the age-old art of draping, crafting unique garments that leave no room for waste during both the production and post-production phases.

Launched in January, Marsyangde is a sustainable fashion brand for women who want to experiment with their style, while keeping the overall look sophisticated. The brand is named after river Marsyangdi—which begins at the junction of two mountain rivers, Khangsar Khola and Jharsang Khola—and perfectly represents its identity, as draping creates a garment that is as free-flowing as water. 'Marsyangde' also contains Giri's name, just as she writes it 'Arsya', which she says was the deciding factor for the brand's name.
Something very apparent while looking at Marsyangde designs is how big of a role draping plays in it. From the asymmetrical layered dresses to the loose and flowy pieces, Giri starts every design by draping the fabric over a mannequin, pinching and pinning the fabric at different places to create the general structure and shape.
Draping, says Giri, is the best way to reduce waste, so she prefers that over pattern-making, which is the more popular approach. "When you drape to create your designs, you play with a piece of fabric, pulling and pinning it different ways, trying to get the most out of the whole piece."
This also allows her to visualise the design in a three-dimensional way, seeing how it bends to the body's curves, the silhouettes it creates and how much it restricts the wearer's movements.
Another element Giri loves exploring in her designs is cuts. "I am fascinated with the way things are cut. I often wonder about the first person who decided to design a v-neck, an off-shoulder or an armhole. How did they come up with that stuff and how can we deconstruct and find new ways to cut our fabrics to make them more versatile and easy to move around," she says.
Many of Marsyangde's pieces are reversible, detachable, and generally very experimental. While the pieces look unassuming at first glance, they turn a little daring as you strip off detachable layers and reverse pieces.
Giri with a tailoring staff at her studio. Keshav Thapa/TKP
The brand has put out two collections—their debut fall/winter collection and a resort one—to date. Giri reveals that in the future, too, the brand will put out two major collections every year, with a few mini collections in between for special occasions.
In every collection, Giri picks an element or two as the central design theme and incorporates them into every single piece. This brings cohesiveness to the collection even if the overall designs of the pieces vary wildly. In the most recent collection, Giri cleverly incorporated a 'v-cut' in the neckline of blouses, waistband of trousers and as sharp collars over mock neck designs. The inclusion of this element isn't obvious, but it ties the collection together subtly.
Giri at her studio in Budhanilkantha. Keshav Thapa
The designer has been utilising this technique since her university days. Giri pursued fashion after completing her first undergraduate degree at Symbiosis International University in Pune, India. She passed by the design department every time she went to her mass communication classes and found their practices fascinating. "I would stop and stare inside the design classrooms. It would be buzzing with activity. The way students crafted new designs looked fun. I wanted in on that," reminisces Giri. So, after finishing the media programme, she joined the Diploma in Fashion Design course at Raffles Design International, Mumbai. She then enrolled in the London College of Fashion's undergraduate programme for Fashion Design Technology. While in the UK, Giri interned at multiple fashion houses and worked for two years at Lula Laora, a London-based fashion boutique.
As the brand is still in its initial days, the Marsyangde team is pretty small. Giri works with two tailors who help her with the stitching and finishing. Her elder sister Sherya looks after the branding and marketing aspects. She has set up a quaint studio space at her home in Budhanilkantha and works very closely with her team to create the company's products. She calls the shots on everything regarding her brand—she's the one who designs the pieces, she doodles drawings that are used as the prints for the designs and experiments with the tailoring process looking for ways to make the stitching more durable.
"My full creative control is what maintains the direction and cohesiveness of Marsyangde," says Giri, adding that being involved in the whole process also helps her keep a lookout for ways to reduce the waste generated during production.
Arsya Giri, founder and designer of Marsyangde. Keshav Thapa
To ensure they don't create more clothes than necessary, the brand uses a pay-to-order strategy which means they only start cutting the fabric after an order is confirmed, and avoid extra waste generation. Even a little bit of leftover fabric is incorporated into new designs.
Their sustainability philosophy also carries through post-production. "Fashion is everchanging. If someone gets bored of their piece and wants to transform it into a new design. We are open to that. We can sit with you and sort through that designing process."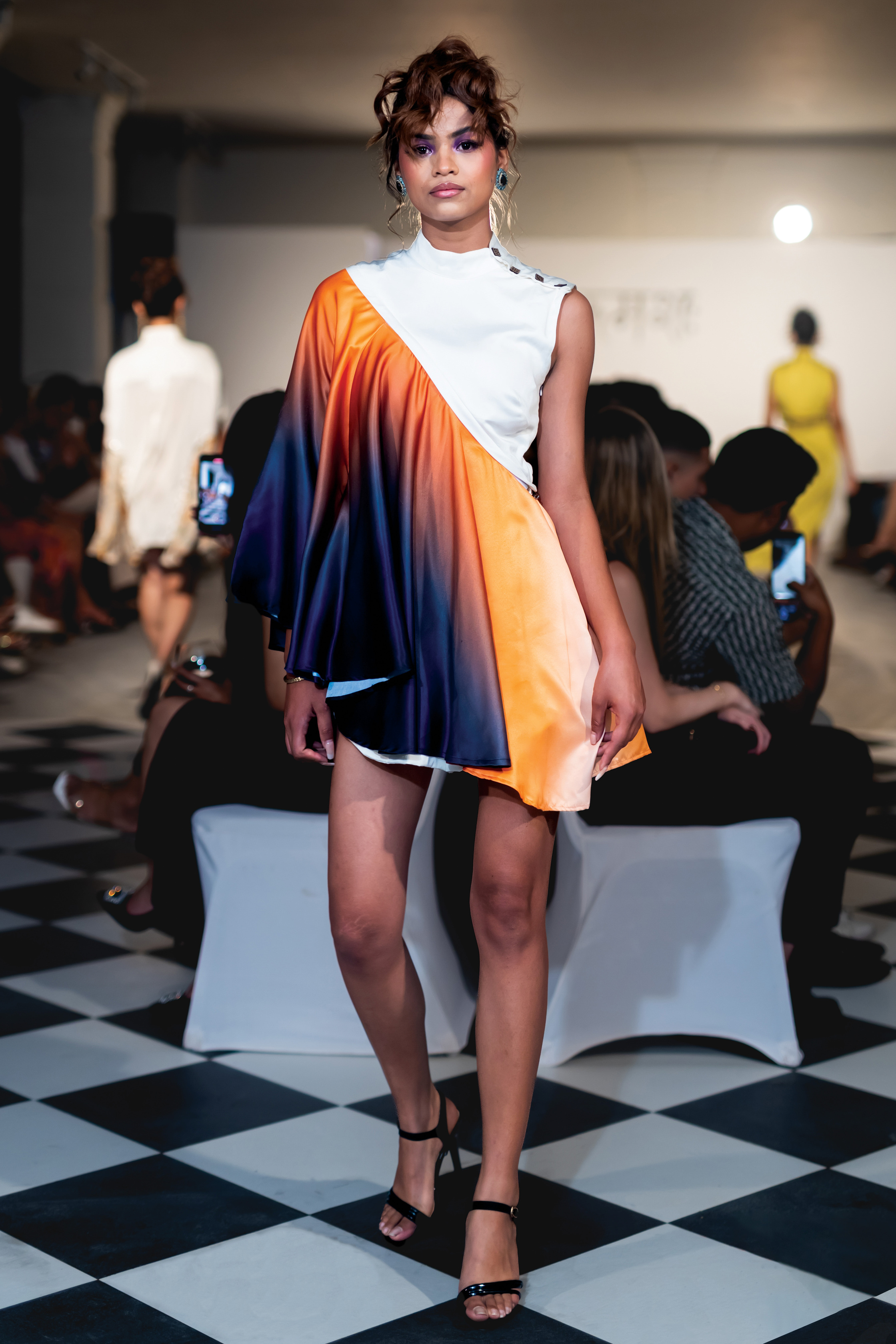 Photo: Courtesy of Marsyangde
The Ombre Detachable Romper is one of Giri's favourites from the Marsyangde Resort 23 Collection. The versatile design features a detachable ombre panel with a gradient burst of colour. The romper transforms into an elegant all-white ensemble with a detachable zipper, creating two outfits in a single garment.
Art Shirt Dress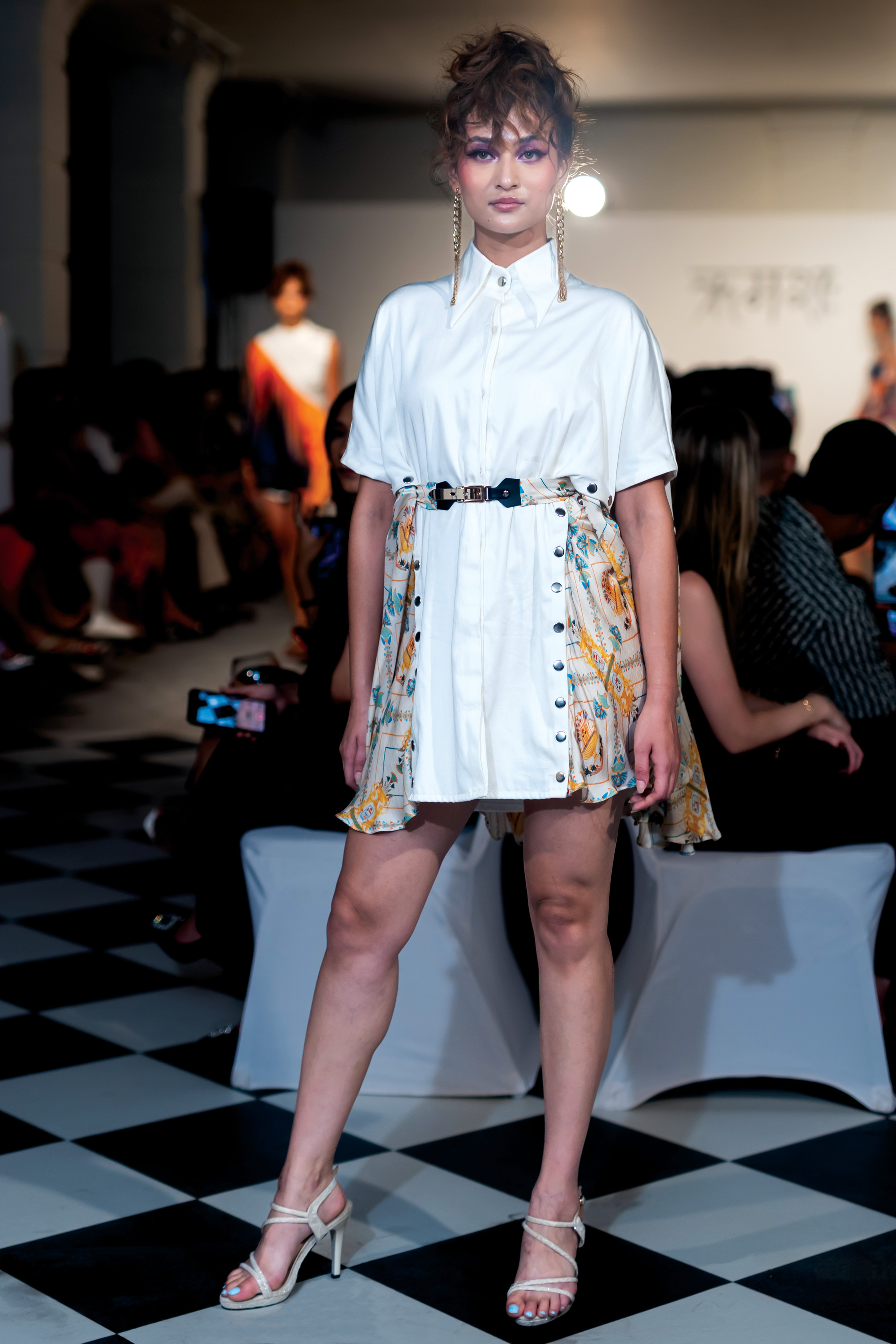 Photo: Courtesy of Marsyangde
The Art Shirt Dress from the Resort 23 Collection is a versatile staple. It is a transformative piece which can be worn two ways—either effortlessly flowy or cinched in with a belt. The snaps on the side panel that look like studs are functional and detachable. Once you remove the side panels, the dress transforms into an all-white top with a long front and short sides. It can also be worn as a classy top with a pair of trousers.
Asymmetrical Layered Dress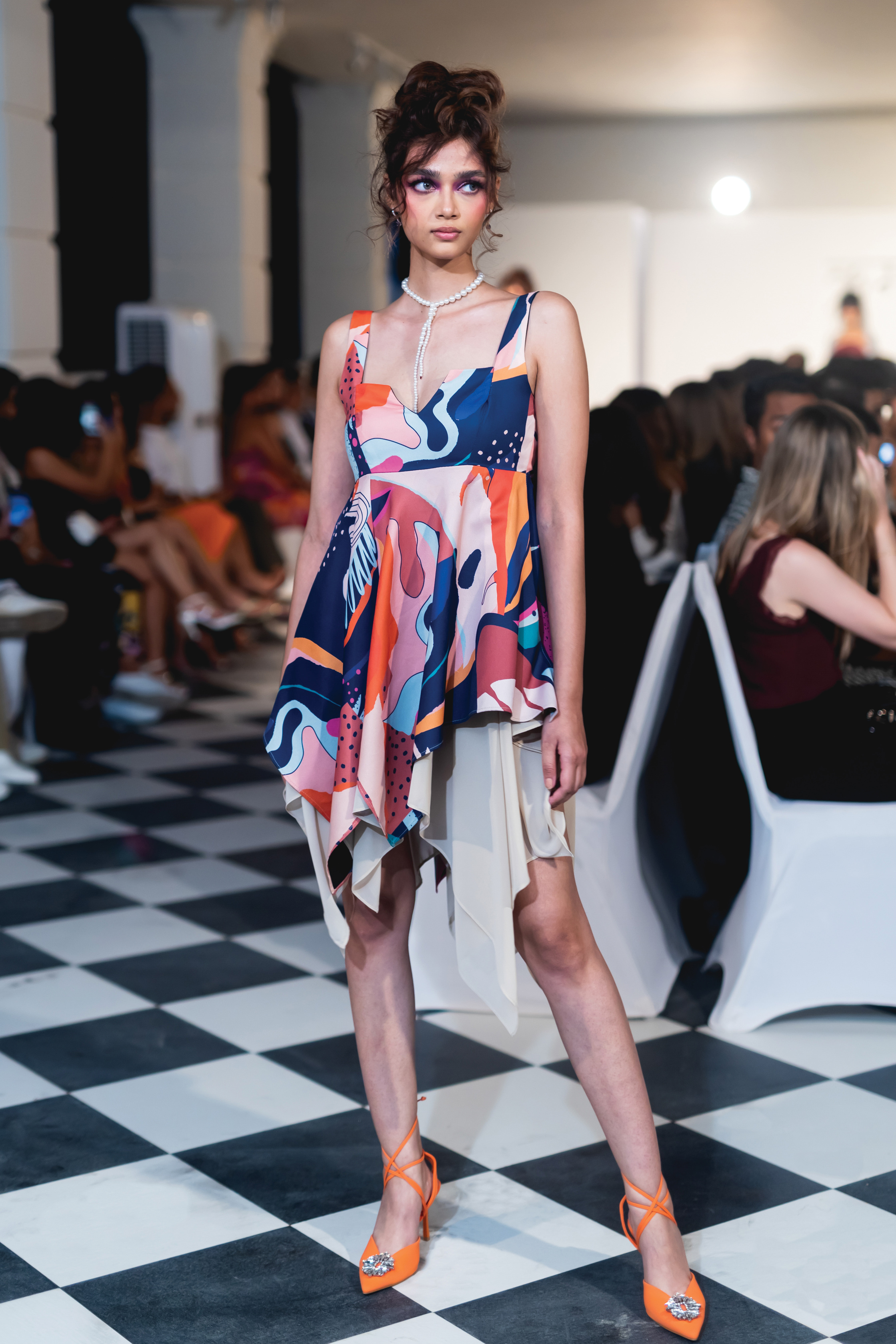 Photo: Courtesy of Marsyangde
From the Resort line, Asymmetrical Layered Dress is a zero-waste design with an empire line cut and loose layers that flatters all body shapes.
The Open Back Pleated Dress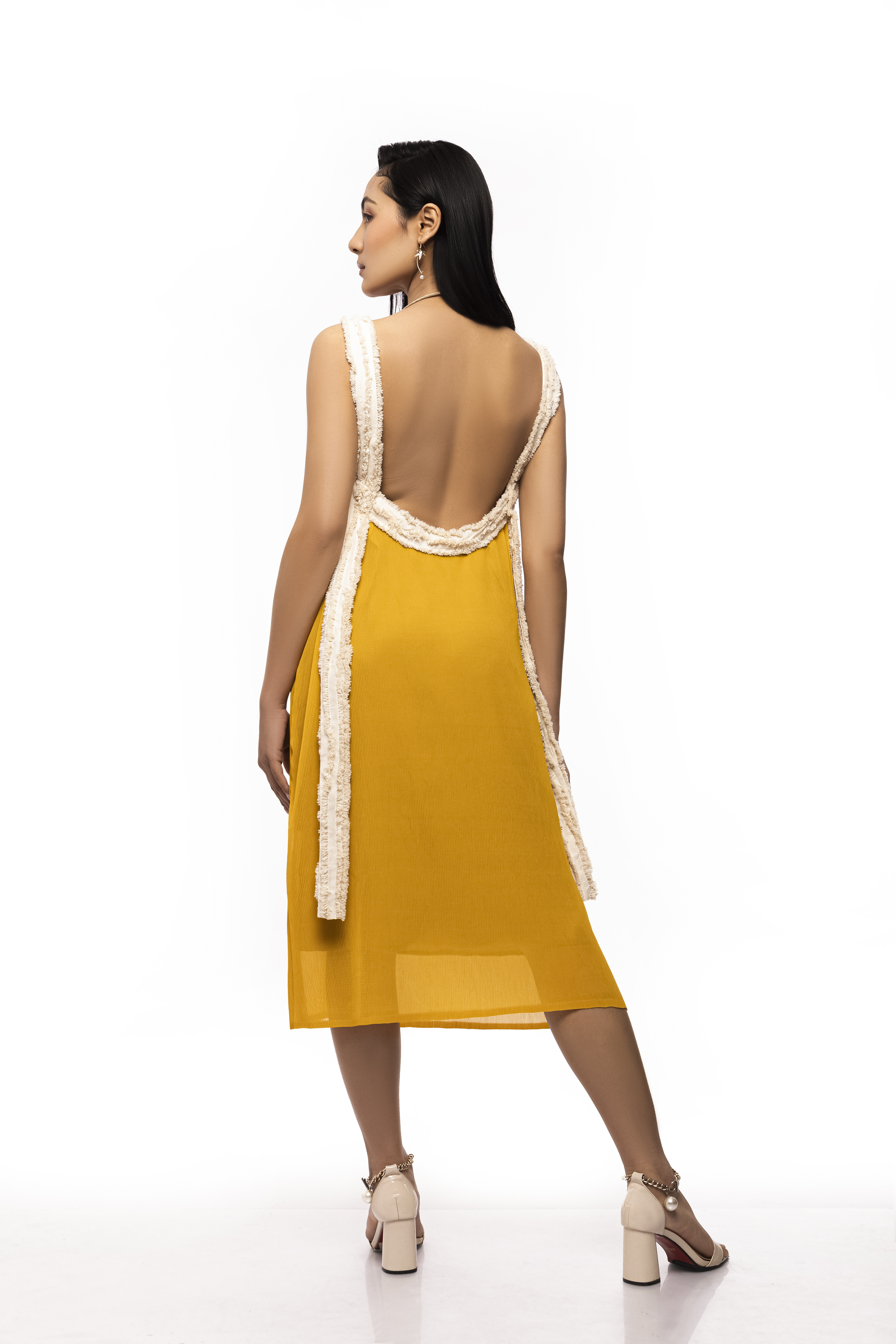 Photo: Courtesy of Marsyangde
The loose front silhouette of this dress gives an effortless look while the lowcut back brings in the drama. The straps, made with textured cotton, elevate the look. Giri reveals she has worn thid dress multiple times because she loves the design.
Scarf Top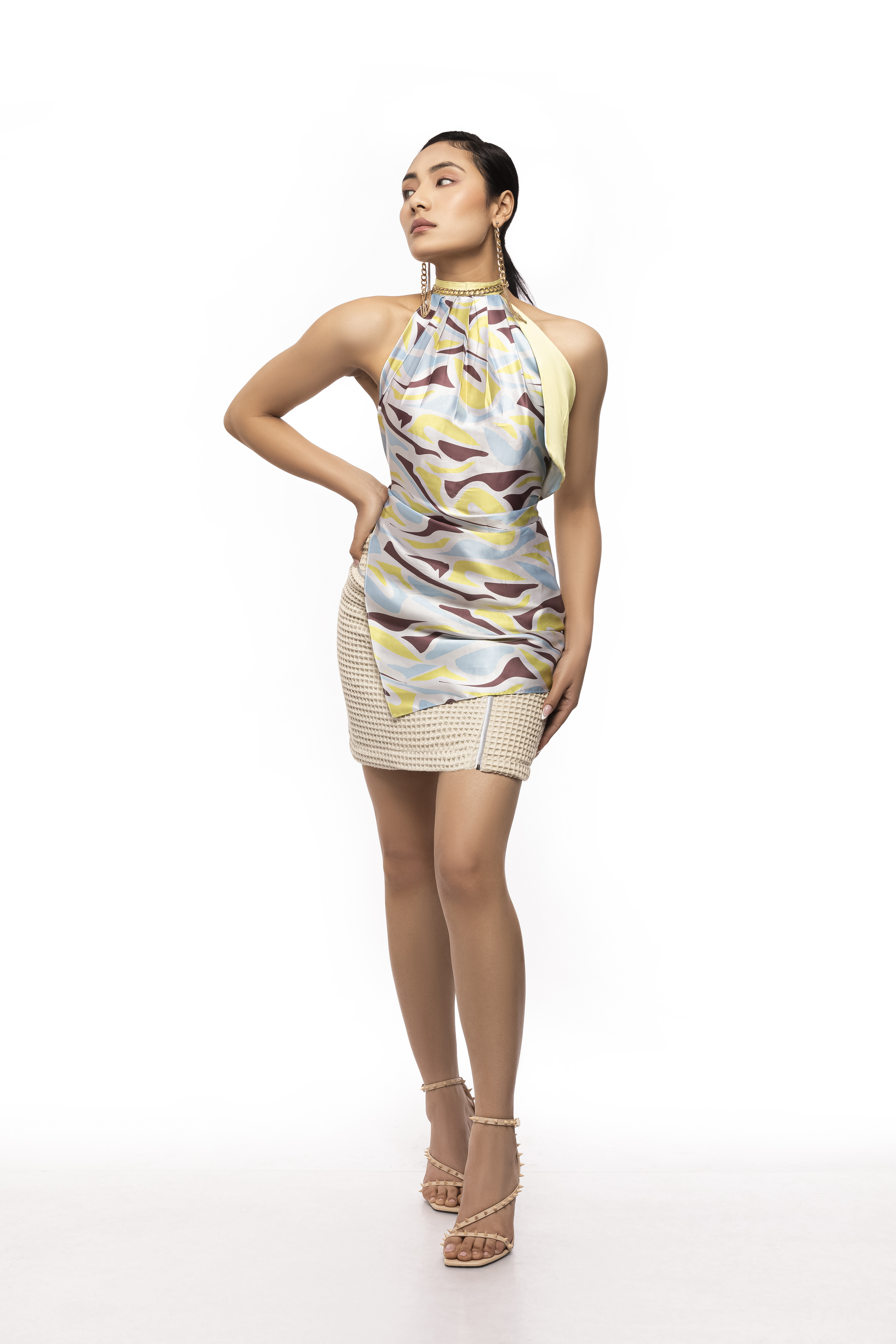 Photo: Courtesy of Marsyangde
Another zero-waste piece, the scarf top looks simple but according to Giri, it is one of the most time-consuming items to make. The top has a lot of hardware like lobster claws, rings and loops. The chain detail on the neckline is sewn with invisible stitches.
---
---
Most Read from Fashion
E-PAPER | December 08, 2023