Accessorising sustainably
The main motto of sustainable fashion is to reduce consumption and recycle the pieces you already own, says Rashmi Tandukar, the founder of Nhu.

Photo Courtesy: Nhu
bookmark
Published at : February 23, 2023
Updated at : February 23, 2023 13:24
Kathmandu
Fashion is the second largest waste-generating industry in the world. When fashion consultant, stylist and writer Rashmi Tandukar found out about the impact of fashion on the environment, she felt compelled to do something about it. So, she launched Nhu in 2022 to work on fashion's waste management problem however she could.

Nhu means 'New' in the Newari language. Tandukar, who is also a fashion designer, calls herself an environmental lover. The company upcycles unused and damaged clothing made in denim—collect the fabric from individuals and warehouses—into accessories.
"The main motto of sustainable fashion is to reduce consumption and recycle the pieces you already own," says Tandukar adding that this is also the motto of Nhu. She reveals that the reason the brand is focused on recycling denim, in particular, is because manufacturing it is very harmful to the environment. Denim is made from cotton whose production results in an excessive use of fertilisers that harms the environment. The fabric is also dyed very frequently which contributes to water and air pollution. So, Tandukar feels we should recycle the fabric as much as possible and reduce its production. Additionally, the fabric is very durable which makes it perfect for long term use and recycling/upcycling.
Nhu has introduced an exchange scheme where customers get to swap six pairs of their old jeans with brand new accessories from the brand. This, Tandukar believes, will encourage individuals to come and recycle/upcycle their clothes—or at the very least, swap them for something new—instead of throwing them away. The Nhu team settled on the number six for the exchange scheme because the large number will motivate their customers to collect more (denim) pieces and possibly collaborate with other individuals for the needed number of pieces. All of this will eventually reduce the amount of fashion waste they and the people around them produce.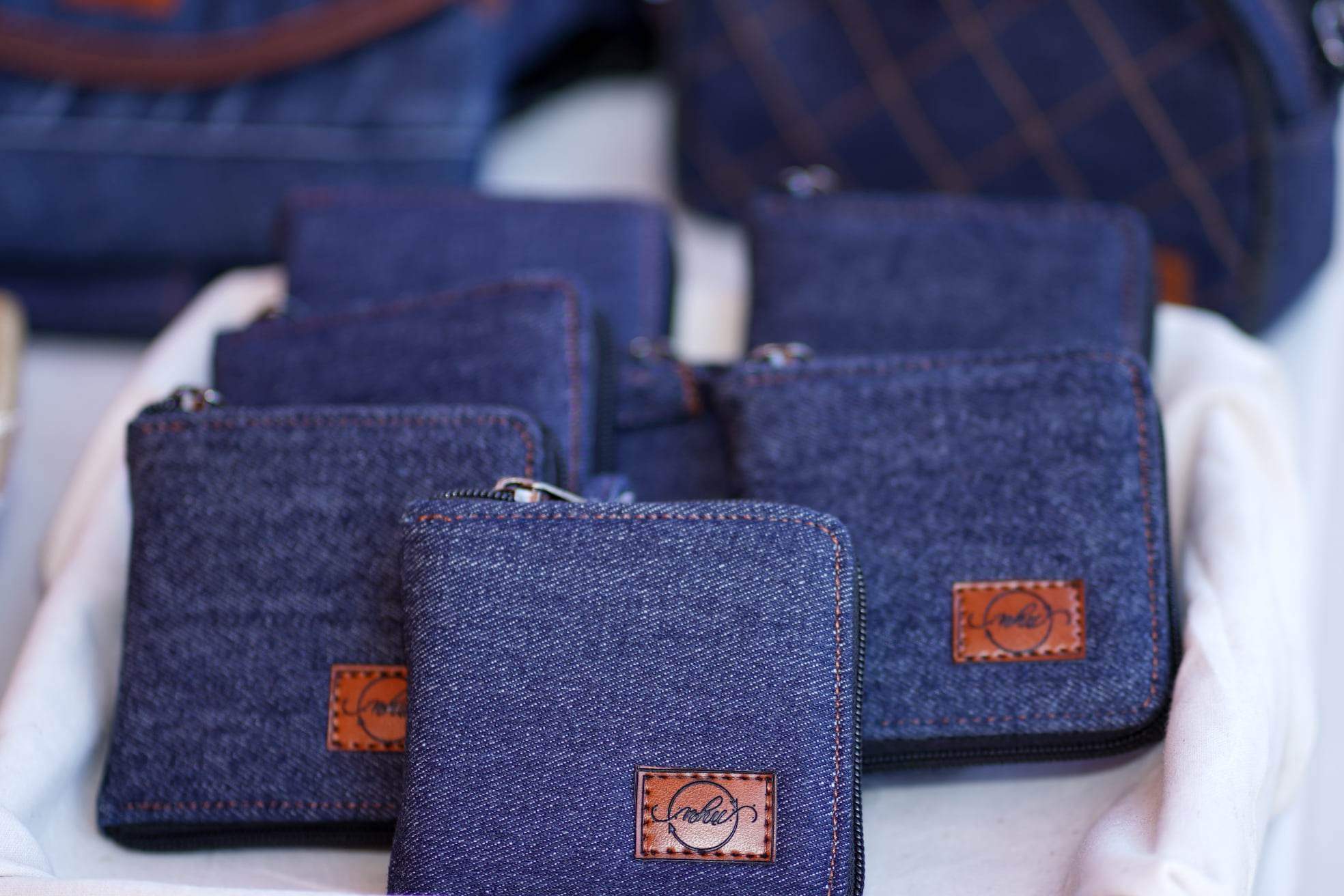 Photo Courtesy: Nhu
Customers can also ask Nhu to create new designs on or out of their old denim clothing too. While the brand does not charge customers anything extra for the exchange scheme, customers are expected to pay when they ask the company to add new designs to their old pieces. The amount goes into paying the workers who do the stitching and finishing for the brand.
The Nhu team is pretty small right now. Besides Tandukar, the team consists of one other full time employee who works on cutting and finishing the products. When they need extra help, which they do while making tote bag and laptop cases, the company outsources other workers who are skilled in bag-making.
When Nhu was first launched, it was difficult for Tandukar to explain to other individuals what she was doing. She reveals that her relatives, who were already criticising her for studying fashion design, thought the brand would not further her career. However, now that her brand is getting some visibility—especially on social media—she gets a lot more positive and encouraging comments from other individuals. These comments motivated her to continue working on the brand.
During the initial days of the brand, Tandukar used to make many versions of the same products and give them out to her friends and family members to get their reviews. She would then tweak the products according to the feedback until she was satisfied with them.
The biggest problem Nhu is facing right now is how customers do not find their bags stylish or trendy. The company only has a few products out right now and they are all in classic designs. So anyone looking for something trendy is not inclined to buy Nhu's products. This is something Tandukar says she is very aware of and working on improving.
Although the company is only creating accessories right now, they are planning to expand their catalogue to other items of fashion in the near future.
---
---