Don't shut them again
More than the BRI, Nepal would arguably benefit from hassle-free border points with China.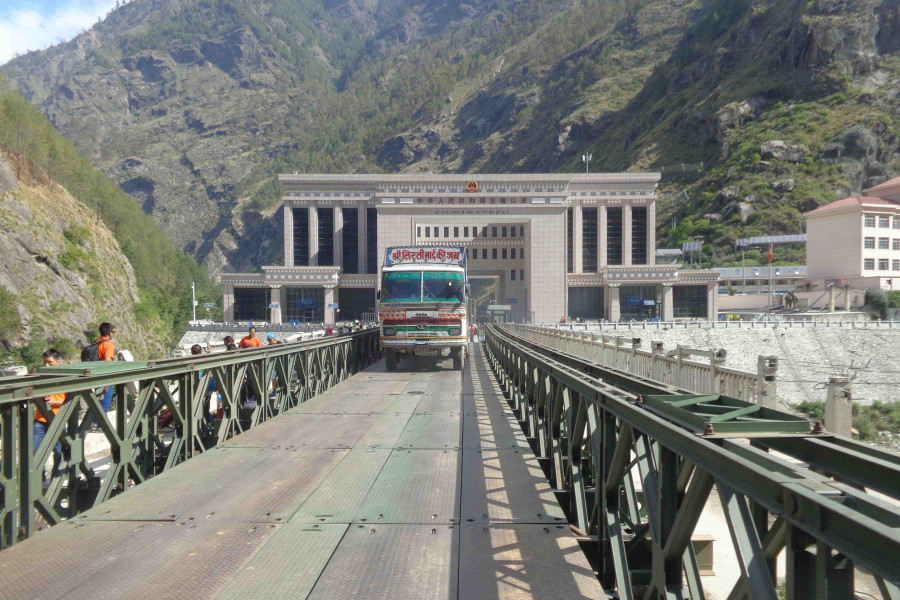 RSS
bookmark
Published at : April 3, 2023
Updated at : April 4, 2023 07:16
Nepal-China relations have passed the test of time. There are not many friction points that can disrupt bilateral ties. Most Nepalis hope the Chinese will continue to maintain their traditional hands-off approach in Kathmandu. In this light, the growing engagement of Chinese officials with individual political parties and leaders is looked upon with a bit of suspicion. Yet China can easily refrain from this type of pick-and-choose diplomacy. Another of the rare points of disagreement between the two countries of late has been their now-open-now-close border points. China has fully reopened the border point at Rasuwagadhi from April 1 and also vowed to lift all trade restrictions via the Tatopani border point starting May 1. This news has been widely welcomed by the Nepali business community. Having to re-route their goods through India was causing long delays in imports and unnecessarily increasing their costs. Yet, as happy as they are, they are also sceptical—for a good reason.
China has in the past stopped the movement of goods and vehicles in and out of the country through these border points, often with no notice. The Tatopani point was shut following the 2015 earthquakes, and China refused to open it despite repeated requests from the Nepali government. Even when the border points have been declared open, in reality, they were only partially operational. For instance, while some trucks were rolling into Nepal from Rasuwagadhi, there was no traffic the other way. These border restrictions were imposed on different pretexts: Bad state post-quake roads, China's strict zero-Covid policy, and security. But that is not how international borders operate. A functional international border allows for (largely) free and unhindered movement of people and goods, come rain or shine. When the opening and closing of borders is erratic, the importers are in a dilemma: Can they rely on the Chinese to keep the border points open this time? If not, they cannot make long-term plans. Separately, China would do the Nepali tourism industry a huge favour by again allowing Hindu pilgrims to use the Nepali route to visit Kailash Mansarovar. The restrictions on such pilgrims travelling to the religious site via the Hilsa border point, imposed since January 2020 following the Covid-19 outbreak, has been costing Nepali tourism entrepreneurs millions of dollars a year.
Now that China has declared the two main border points fully open, this is no time to gripe. But surely our Chinese friends realise the importance of having a reliable, long-term alternative trade route for Nepal, a country which has been repeatedly blockaded. If only the Nepal-China border points operate smoothly, a major irritant in bilateral ties will be removed. China has been pursuing multiple projects in Nepal under the BRI, and most of them have stalled. But Nepal would arguably benefit as much—if not more—if only its citizens could trade and travel unhindered through the northern border points. The more these ancient trade routes are used, the stronger Nepal-China ties will be.
---