Politics and expletives
Politics in Nepal has been attracting people from those quarters devoid of any form of modesty.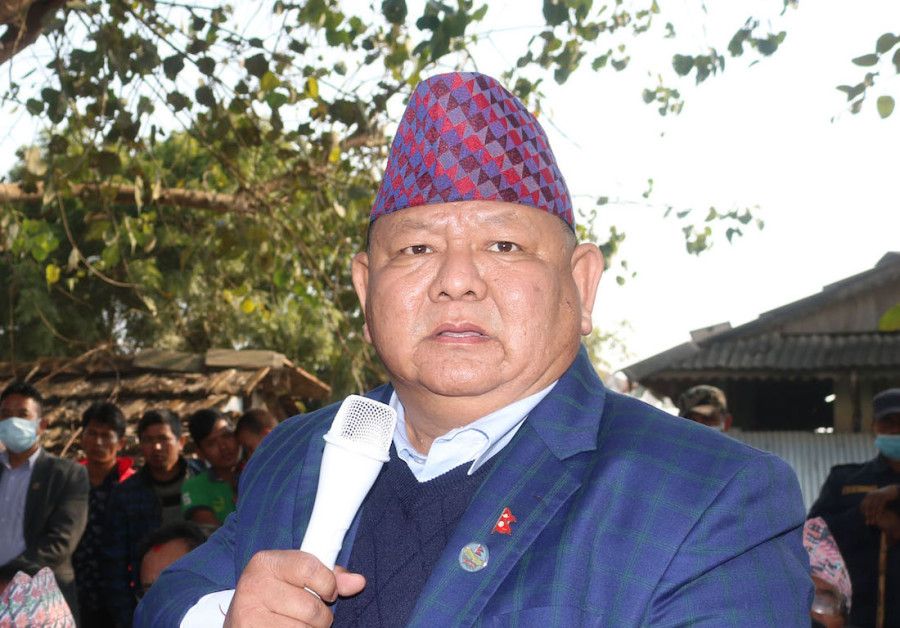 Minister of Culture, Tourism and Civil Aviation Prem Bahadur Ale. RSS
bookmark
Published at : February 16, 2022
Updated at : February 17, 2022 01:16
When the video of a current serving minister spewing expletives went viral a few days ago, it could be said that it reflects the degenerative direction of the nation's politics. For it seems to be attracting people with the worst etiquette. It wasn't a slip of the tongue or a gaffe; it was impropriety at its finest. It was clear that such expletives were unbecoming of a person holding the rank of a minister, but not quite surprising for it seems that politics in Nepal has been attracting people from those quarters devoid of any form of modesty, in word or deed.
But degenerative politics isn't just about Prem Bahadur Ale, minister of culture, tourism and civil aviation, and it's ironic that the word "culture" is latched on to the designation he holds. It isn't the first time he has courted controversy—there was no modesty either when he decided to paste pictures of himself on the oxygen cylinders dispatched to various hospitals during the height of the pandemic. Politics, in general, seems to have gone downhill right around the world, but more so in Nepal and the subcontinent. A person can do and say just about anything and get away with it. There isn't much thought given to what is being said—it is us, the people, who have failed to hold them accountable for what is said and done. Hollow words are bandied about without any fear of repercussion, and since accountability is non-existent, the politicians in Nepal are well aware that their actions will go unchallenged.
It is unthinkable for even the slightest inference to expletives to be tolerated in the private sector. It would also be ridiculous for a convicted criminal to pursue jobs in the private sector. A gap in the curriculum vitae is often questioned with utmost scrutiny before a candidate is invited for an interview, let alone offered a job. But in stark contrast, we have allowed persons with criminal track records and those of questionable reputation to hold high political office without anyone batting an eyelid. If it is natural to think that maintaining high standards in private recruitment isn't out of the ordinary. What stops us from adopting those standards for those who seek to stand for public office?
Adoption of democracy isn't just about seeking votes and being elected to public office but upholding the reverence of the position one occupies. For these reasons, perhaps Plato was able to use the metaphor of a ship to highlight the concerns of electing unfit people to the highest office representing their people and the state. And with the way things are going, for the last few years, we have witnessed our politicians' absolute disregard for the rule of law; they have blatantly exposed their inability to rule. Politics has been reduced to a mere tool for achieving their ambitions and goals. While another election year nears, undoubtedly, the majority of us will once again fall victim to their deceptive acts and promises.
---