Bird's eye view
We remain predatory humans that seek to thrive by disregarding the lives of others.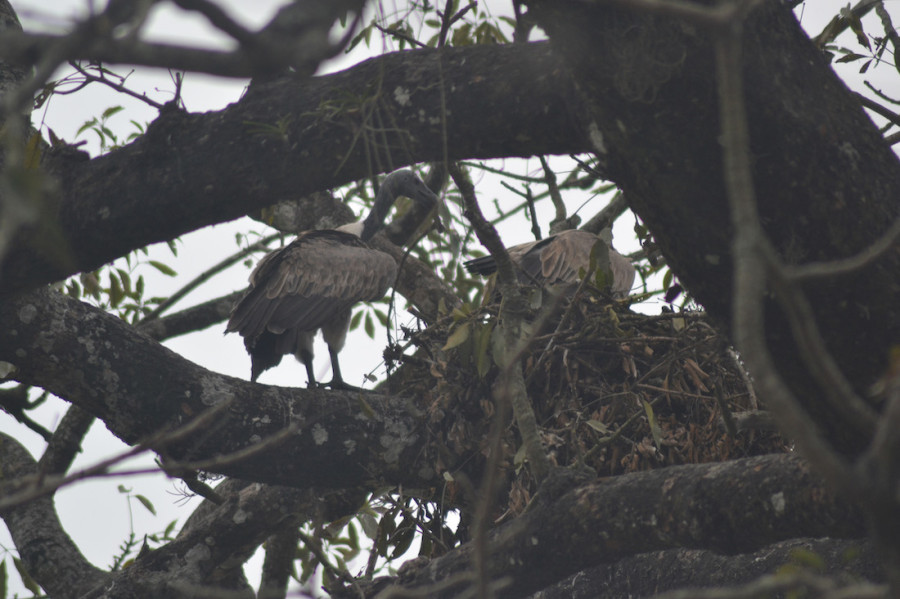 Photo courtesy: Hemanta Dhakal
bookmark
Published at : February 10, 2022
Updated at : February 13, 2022 17:22
The tragedy of human life is that we often realise the implications of our action only after the wrong has been done. That is evident most poignantly if we see how our unbridled greed for infrastructure development has led to the destruction of the world around us. The latest instance of our foolhardiness is the felling of a kapok tree in Shuklagandaki Municipality-2 as part of the expansion project of the Muglin-Pokhara section of Prithvi Highway. If the cutting of 8,000 trees along the highway was not enough, the Department of Roads failed to halt the felling of the kapok tree atop which a slender-billed vulture had built a nest and laid eggs. Desperate requests by conservationists to not chop down the tree until the eggs were hatched fell on deaf ears, although it wouldn't be too difficult to know that the bird is an endangered bird species.
It is almost always the case that a new infrastructure development project leads to a conflict between the natural environment and the built environment. Such has been the story of our flawed development paradigm that a narrow track is opened at first following old foot trails, and a few years later, the narrow track needs an expansion due to traffic congestion. And, inevitably, the old chautaris, bisaunis, patis and pauwas become a nuisance in the flawed path to development. What follows is a destruction of heritages that have remained in place for centuries as part of our society and culture. The juggernaut of unbridled development spares nothing on its way, and that is a sad reality of our times. Why is it that we, in our endless endeavour for development, design our projects in such flawed ways that we end up displacing or putting at risk the humans or other forms of life that have lived there for generations?
For a country that is obsessed with development, heritages, lived memories and the lives of living organisms seem to mean absolutely nothing. For an engineer or a contractor, or a people's representative keen to finish a road project, the nest of a vulture may mean nothing. Or a vulture's eggs may have little value than the poultry eggs that one can purchase in the market. The very existence of an endangered bird's nest atop a tree next to a highway may come as a nuisance to an agent of development who has little training in empathy. And that shows how, despite monumental gains in knowledge about environment, ecology and society, we remain predatory humans that seek to thrive by disregarding the lives of others. It is high time we became more thoughtful about how to coexist with ecology and environment even as we develop infrastructures for our convenience.
This mad rush for development ultimately leads to the making of a world full of concrete structures that push to obliterate our stories, memories and histories. Could we not exist alongside one another without turning predators? Yes we can. But what we need is a radical rethinking of the very idea of infrastructure development, where non-interference with the natural world is non-negotiable.
---