Murdered by caste
We have become accomplices to crimes against humanity and brought dishonour upon ourselves.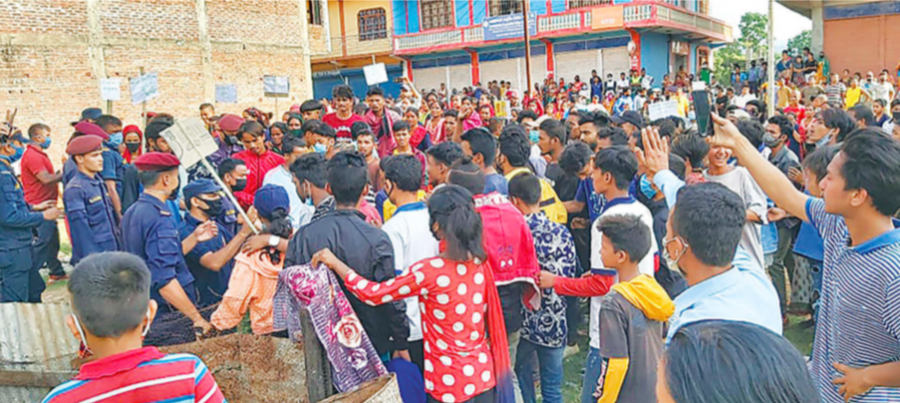 In this file photo, people protest against the gruesome killings, in Chaurjahari, Rukum (West). Hari Gautam/TKP
bookmark
Published at : November 30, 2020
Updated at : December 1, 2020 09:06
Year after year, we hear shocking accounts of murder and violence by people who are against inter-caste relationships and marriages. At the same time, distressing reports of other forms of caste discrimination continue to make headlines. In the majority of these reported incidents from across the country, women and girls continue to be the primary victims, but a number of men and boys have also been killed.
Earlier this year, the murder of six youths in Rukum (West), four of whom were Dalits, drew international condemnation. The parliamentary committee that investigated the incident has said the murders, the result of caste-based discrimination, were premeditated and planned by the family of a 17-year-old girl that was not happy about their daughter's relationship with 21-year-old Nabaraj BK from Jajarkot because he belonged to a so-called lower caste.
Dozens of incidents have been reported since then. On Sunday, the police arrested six people in connection with the murder of a 17-year-old girl in Rautahat. Among the arrested are the victim's parents, who according to the police, had paid some henchmen money to kill their teenage daughter for fear of losing the 'family's honour', as his divorced daughter was in a relationship with another man in the village. The victim had allegedly been married off to a man from Sarlahi last year after her parents disapproved of her relationship with another man.
That caste-based prejudices remain deep-seated in a country that is more educated and progressive than it's ever been, and killing or seriously damaging people's lives beyond repair, is evident of the fact that the scale of this problem is alarming and is an epidemic of its own. Addressing any issue requires examining the root causes. What is clear from the incident reports is that caste discrimination, despite being outlawed 14 years ago, is the bane of Nepali society. It has led to killings in the name of honour, and innocent lives have been lost just because they made relationship and marital choices. If this is not oppression, what is?
Despite constitutional guarantees that protect the right of every person to equality, freedom and to live with human dignity, regardless of origin, caste, race, descent, community, occupation or business or physical condition, the ancient social constructs of the varna system continue to oppress people who are perceived as lower caste. As a consequence, discrimination, violence and killings continue unabated based on the hereditary caste system. Investigations have revealed that the perpetrators are often men and family members while the victims are usually women and girls.
We cannot continue to be bystanders to these gross violations of fundamental human rights laws and principles, which particularly curtails the autonomy of women. In doing so, we have also become accomplices to these crimes against humanity that breach the fundamental rights of an individual, and have brought dishonour upon ourselves. We need to reroute our aspirations and level of maturity as a society and as a nation if we want to progress.
All this eventually boils down to the intent of the government, which bears the primary responsibility of formulating and enforcing legislation that ensures every citizen in this country, especially women and girls, are protected from heinous crimes against them. While legal reforms and national policies provide the necessary framework to operate, cultural norms and values entrenched in the archaic patrilineal system need advocacy and educational interventions.
Our inalienable rights enshrined in the constitution must be ingrained in the educational system if we want to rid our society of caste discrimination. Because only when people, especially men and boys, understand that men and women are equal, regardless of caste or background, will the possibilities of thwarting caste discrimination and subsequent acts of murder and violence become a reality.
---