Buddha and the world
What we really need is a debate on the enlightened one's teachings rather than his citizenship.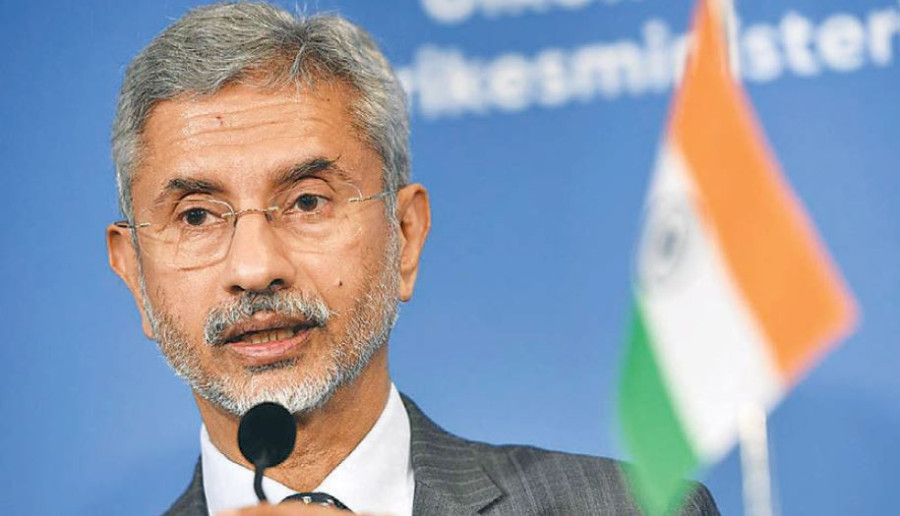 Indian Minister of External Affairs S Jaishankar. Reuters
bookmark
Published at : August 10, 2020
Updated at : August 11, 2020 07:39
As though the bickering over the birthplace of Lord Ram and his nationality was not enough, statements were flying on Sunday about Gautam Buddha and his nationality. This time, Buddha was drawn into Nepal-India politics by S Jaishankar, the Indian minister for external affairs. On Saturday, while addressing an interactive session organised by the Confederation of Indian Industry as part of its India@75 Summit, Jaishankar described Gautam Buddha and Mahatma Gandhi as 'the two greatest Indians' the world remembers. A video clip of Jaishankar making the claim went viral on social media. In Nepal, his statement touched a raw nerve among certain sections of Nepalis who resort to 'Buddha was born in Nepal' as nationalism hits a fever pitch.
Nepal's Ministry of Foreign Affairs on Sunday evening issued a statement to assert that Buddha was born in Nepal. 'It is a well-established and undeniable fact proven by historical and archaeological evidence that Gautam Buddha was born in Lumbini, Nepal', said the ministry in its statement. 'Lumbini, the Birthplace of Buddha and the fountain of Buddhism, is one of the UNESCO World Heritage Sites'. Meanwhile, in a damage-control exercise, India's Ministry of External Affairs also issued a statement, saying the minister's remarks referred to the shared Buddhist heritage [between Nepal and India]. 'There is no doubt that Gautam Buddha was born in Lumbini, which is in Nepal'. read the brief statement posted on the ministry's official website.
Nepal and India enjoy shared history, culture and heritage. And, naturally, they share some irritants that raise their ugly heads once in a while. The relationship between the two countries has hit a low lately over territories on the north-western ridge of Nepal. Even though both Kathmandu and New Delhi have expressed their willingness to hold diplomatic dialogue to resolve the issue, talks have failed to materialise. Amid this, a controversy over Gautam Buddha certainly does not help. Nepal Prime Minister KP Sharma Oli's newfound interest in finding a new Ayodhya in Chitwan's Madi area and building a Ram temple there has already irked a section of the Indian populace.
However, it will be wise to make a clear distinction while talking about Ram and Buddha. Ram is a mythical character. Since there are hundreds of varying retellings of the Ramayana, no claim on the historicity of the epic and its protagonist is absolute. Historical evidence, however, suggests Buddha was born as a prince 2,500 years ago somewhere which falls in present-day Nepal, and is currently known as Lumbini. Facts also suggest that a young Siddhartha Gautam left his father's palace before settling at a site where he attained enlightenment. The place is now in present-day India, and is known as Bodh Gaya.
The imbroglio over the spatiality of Buddha's birth and enlightenment, though, does not explain who he really was. His teachings have spread across the world, and, by extension, he belongs to the world as a symbol of peace and non-violence. Trying to prove whether Buddha is a Nepali or Indian is an unjust and futile exercise. Both Nepal and India should stop squabbling over the citizenship of an individual who was born and died before the concept of citizenship came into existence, and who defied the conventions and boundaries of physical comfort for a transcendental experience. Let the world own up Buddha's teachings because that's what the world needs the most now.
---