Help the distressed
We need to build a robust support system to prevent incidents of suicide.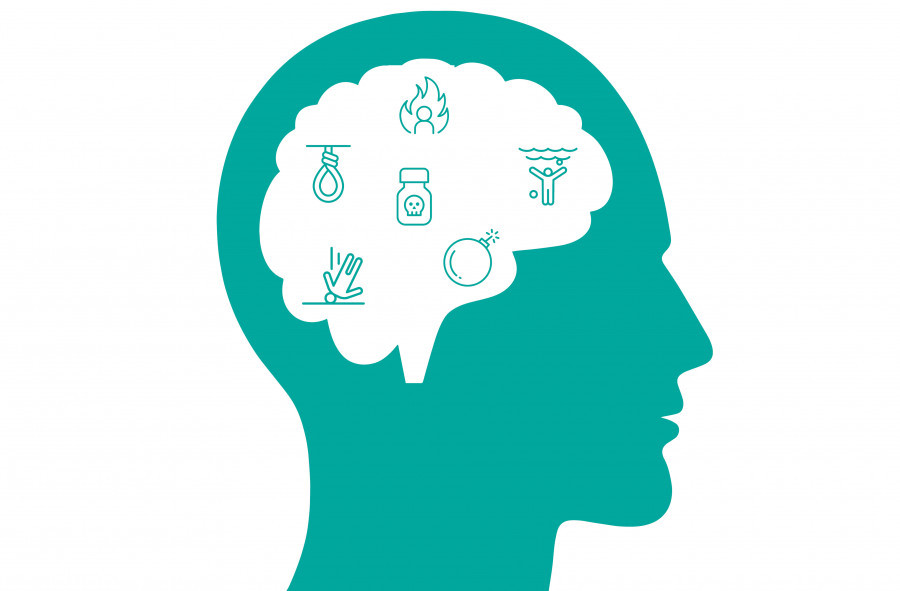 Post Illustration: Bhim Lal Prajapati
bookmark
Published at : July 7, 2020
Updated at : July 7, 2020 22:53
As the Covid-19 pandemic continues to take lives and destabilise the economy worldwide, health professionals predict a sharp rise in cases of depression, substance abuse, post-traumatic stress disorder and suicide. In Nepal, too, the pandemic and the resultant lockdown seem to have increased the number of suicides slightly as the daily average rose to 16.5 cases a day in the first 74 days of the lockdown as against 15.8 in the previous year.
A few incidents of suicide in recent weeks have also highlighted a new modus operandi catching up in Nepal. On July 2, a 23-year-old woman from Tulsipur, Dang killed herself on Facebook livestream before the police could reach her. Similarly, on July 4, a 19-year-old woman from Bharatpur, Chitwan committed suicide on Facebook livestream. The incidents, part of a new disturbing trend of livestreaming suicide in the age of social media have left their audiences traumatised as well.
While the victims face posthumous castigation for 'seeking attention', several issues call for actual attention when it comes to speaking about mental health and preventing suicides. Suicidal people often struggle with hopelessness and social disconnection for long before taking the drastic step. Psychologists say that in many cases, the victims livestream their suicide attempts to memorialise themselves but also to see if the viewers can make one final attempt to save them. So, rather than passing judgement on the victims, their acts should be taken as a public call for attention to the problem itself.
The very fact that an individual would go to the extent of taking his or her life is, in fact, an indictment of society for failing to protect them. Therefore, efforts must be made towards understanding the causes that underlie the problem and addressing them so as to prevent such incidents.
Furthermore, the lack of social responsibility among social media corporations means that their algorithms work well for advertisements and not for the prevention of suicides and other criminal activities. Facebook does have a system that analyses the suicidal tendencies of its users and sends notifications to the user's close friends and the local administration. But its algorithms do not always work due to language issues and the local administration's inability to respond swiftly. By the time the authorities act on the information provided, the victim would have committed suicide already.
According to the World Health Organisation, more than 800,000 people commit suicide every year. And for each suicide, there are more than 20 attempts. Most such cases are preventable if concerted efforts are made towards creating support systems to help those struggling with the problems that lead to suicide. Greater focus should be put on training community and family to identify suicidal tendencies among their fellow members. They should also be trained in creating an environment of care for the distressed, keeping lethal objects away from them, and helping them seek medical treatment and psychological counselling, among others. A collaborative care mechanism is a must to bring suicide rates down significantly.

If you or someone you know is considering suicide, please contact the following helplines.

TUTH Suicide Hotline: 9840021600
Patan Hospital Helpline: 9813476123
TPO Nepal Crisis Hotline: 1660 010 2005
Mental Health Helpline Nepal: 1660 013 3666
---