No time to lose in bringing Nepalis home
It is shameful that it has taken over a month for the government to begin talking about rescue flights.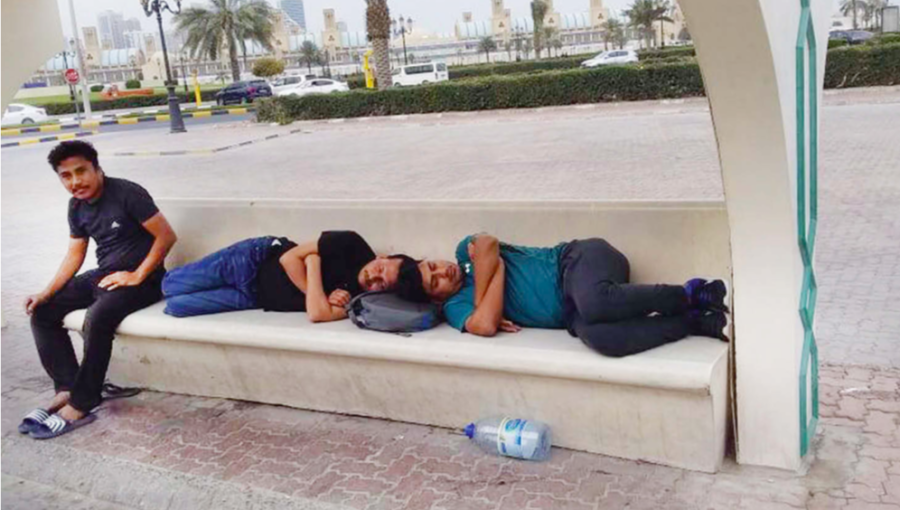 Jobless Nepali migrant workers rest on a park bench in the city of Sharjah, UAE. Photo Courtesy: Ramesh Budhathoki
bookmark
Published at : May 6, 2020
Updated at : May 6, 2020 09:45
It has now been 45 days since Nepal declared a nationwide lockdown and a sealing of the border to mitigate the spread of the novel coronavirus. This also means that it has been 45 days since Nepalis stuck abroad who have wanted, or needed, to come back have been unethically barred from doing so. The Post on multiple occasions has spelt out the potential illegality of this forced exile—for what else can a barring of citizens who have wanted to come back home be called? After all, Article 45 of the constitution 'guarantees that citizens will not be exiled'.

But this goes beyond the legality of the situation. The muted and delayed response to the calls from different sections—out-migrants, civil society, the media and the families of those stuck abroad—to plan for the urgent repatriation of Nepalis shows the lack of empathy on the federal government's part. It also shows the government's hypocrisy. China expanded an unprecedented lockdown in Wuhan and sealed most major cities from the rest of the world on January 24. It did so because it realised, perhaps a little too late, the emergency. Back then, Nepal joined a long list of countries to quickly repatriate its citizens. An emergency rescue flight to Hubei province, the epicentre of the disease, was planned and executed by February 15—mere weeks into China's harsh lockdown.
Perhaps the Nepal government acted in haste then because the evacuees from Hubei were mostly students, whereas most of those asking for urgent help now are low-skilled migrant workers. But it is because of the predicament of those currently asking to be allowed back that it becomes even more necessary for the government to arrange rescue operations in haste. The sense of emergency that existed in China then now applies to all parts of the world, making the situation worse.
Nepal has in the past few decades allowed many citizens to go abroad to earn a living. In fact, it can be said that the state's policy has been to encourage it, issuing 3.5 million labour permits between 2008 and 2017. It has put to good use an ever-growing young population that would otherwise have had to compete for jobs domestically. The rewards have been handsome, too. Migrant workers contributed $8.1 billion to the national income in 2018 alone; the contribution has consistently been equal to around one-third of the country's gross domestic product for years.
But now, with Covid-19 and its preventative measures disrupting the economies all around the world, the jobs that were so plentiful for Nepalis to cash in on have now become scarce—not to mention more exploitative than ever before. A report by the International Labour Organisation said the current crisis was expected to wipe out 6.7 percent of work hours in the latter half of 2020 alone. This is equivalent to 195 million full-time workers. Nepalis have already begun to feel the pressure. In many countries, Nepalis have been forced to work through a lockdown, but with reduced hours and pay. Further, reports from Sharjah in April showed how Nepalis had been brought to the streets after losing their jobs.
Now, 45 days since Nepalis migrants first began to appeal to the government to let them come home, plans remain tentative. Only some 1,300 who walked on their own to the Nepal-India border have been allowed to return as of now, that too after a long quarantine in India. Minister for Foreign Affairs Pradeep Kumar Gyawali recently remarked how Nepal now plans to stagger the number of arrivals from abroad, ensuring the quarantine facilities here are not overwhelmed. That the minister is still talking of such potential measures is shameful. The government had more than a month, which it seems to have wasted, to plan, assess and implement staggered repatriation. Now, it must invest more resources to ramp up quarantine facilities, just as it hastens the frequency and number of rescue flights. After suffering so much to send their earnings back home, Nepali migrant workers deserve that much.
***
What do you think?
Dear reader, we'd like to hear from you. We regularly publish letters to the editor on contemporary issues or direct responses to something the Post has recently published. Please send your letters to tkpoped@kmg.com.np with "Letter to the Editor" in the subject line. Please include your name, location, and a contact address so one of our editors can reach out to you.
---