Globalisation is here to stay
While global trade has raised people out of poverty, it has also caused trade imbalance and debt outstanding.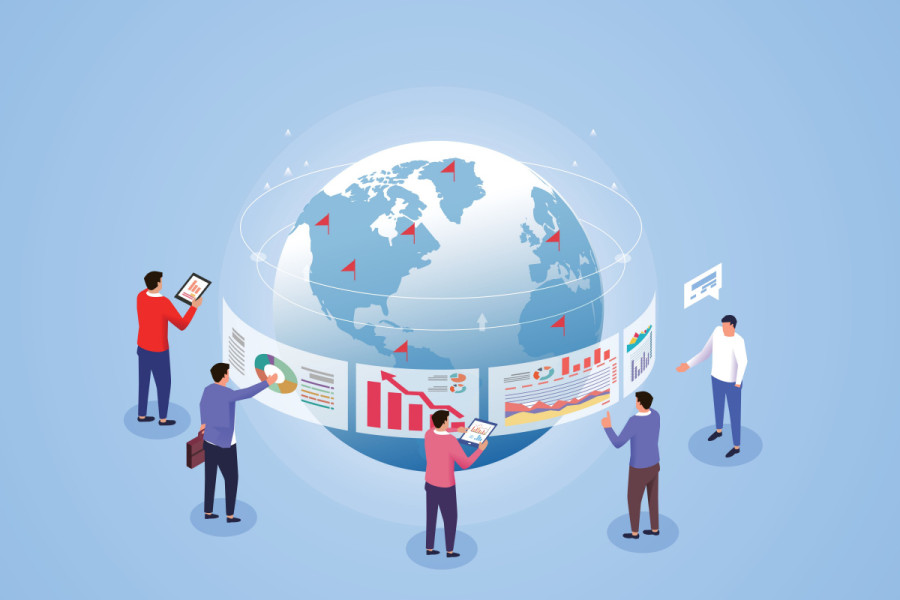 bookmark
Published at : February 21, 2023
Updated at : February 22, 2023 07:35
At the World Economic Forum in Davos, Switzerland, in January this year, global political and economic leaders highlighted the case for globalisation and "deglobalisation" as a result of a host of international incidents that took place in recent years. From Covid-19 to Brexit and the war in Ukraine, the combined effects of these international incidents unexpectedly broke the global supply chain—the offspring of globalisation. That raised questions about the uncertainty of growing dependence among economies and forced countries and companies to rethink their interdependence. However, a key message from Davos, which particularly applies to developed countries, is that globalisation must continue to evolve while its demise has been exaggerated. But its relevance to less-developed countries such as Nepal, struggling to survive in the globalised economy, was undermined.

Nepal initiated integration with the global economy by reducing trade and investment barriers and liberalising the foreign exchange mechanism in the early nineties. It was reinforced by the country's affiliation to the regional free trade agreement in South Asia and the multilateral trading system of the World Trade Organization. While it has raised hundreds of thousands of people out of poverty and boosted trade and investment in the country, it is also blamed for growing trade imbalance and debt outstanding, absolute poverty and uneven development. Moreover, the issues of social discord and inflexibility to domestic regulations often dominate the debates on globalisation in the country.
The contention is not about the advantages and disadvantages of globalisation but about what restrains underdeveloped countries like Nepal from benefiting most from economic globalisation. The trinity of comparative advantage, innovation, and global supply chain explains this phenomenon. Without the combined effect of these forces, it is difficult for underdeveloped countries to specialise, economise, and stabilise production to compete globally.
With the liberalisation of trade, Nepali producers have gained in product specialisation to some extent. The reduction in tariffs and the elimination of the licensing system have helped give them choices to import quality inputs at the lowest possible prices from around the world. Consequently, some consumer goods-based industries flourished domestically to substitute imports, whereas some agriculture and labour-based products emerged as export potential. Hand-knitted carpets, apparel, and pashmina shawls have established their global images. Development of new commercially viable products for export is continuing and should continue.
However, Nepali producers are failing to catch up with the speed of innovation and the global supply chain. An incentive to innovate does not come without compensation to producers for taking the risk as 'first mover'. Similarly, integration into the global supply chain is low due to a lack of human capital and restrictive regulatory policies in the country.
Without these two factors as complementary to specialisation, the producers will focus on the same old goods instead of diversifying into high-value-added products in both the manufacturing and agriculture sectors. This also means less sophisticated global value chains or low participation in the global production network for Nepali producers.
A World Bank study illustrated that the foreign technology embodied in imported intermediate inputs and their higher sophistication positively impact exporter performance in Nepal. Nepali firms that import more than 30 percent of intermediates from outside South Asia have 16.8 percent larger export values, export to 40 percent more destinations, and have unit values that are 10 percent higher on average than other firms.
Ironically, Nepal's trade performance has been stagnant despite having export potential at around 12 times its actual annual merchandise exports, as estimated by the World Bank. With export growth remaining at 4 percent on average since the turn of the century, Nepal features among the 20 countries in the world with the slowest export growth in the past two decades. While Nepal benefitted from globalisation by exporting labourers, a large inflow of remittance made it dependent upon this external source for financing the economy. Nepal ranked fifth in terms of contribution of remittance to gross domestic product (GDP) that finance one of the highest trade deficits in the world. The worst scenario of the migrant workers' export is the shortage of skilled and semi-skilled manpower within the country, resulting in a decline in their contribution to GDP.
Unlike Nepal, many developing countries have boosted growth through trade diversification and integration into global economies. This is evidenced by the achievements made by Nepal's close neighbours. Globalisation has been a boon to India and China. While India has established itself as the world's outsourcing hub for services, China is renowned as the world's manufacturing centre and an attractive location for investment from multinational companies. Most strikingly, Bangladesh has emerged as one of the world's top readymade garment exporters, second after China. This could not have been possible for Bangladesh without its policy coherence to globalisation.
Just as the developed countries benefited from agglomeration and economies of scale through the invention of new technologies in production and transportation in the past, the developing countries have captured the global markets by harnessing labour-intensive sectors. In today's globalised world, commitment to digital trade and e-commerce with management and control of geographically dispersed supply-chain could be a game changer for developing countries. Therefore, Nepali entrepreneurs shouldn't undermine these developments. They should focus on the trilogy of comparative advantage, innovation, and global supply chain to survive in the globalised world. This is because the World Economic Forum at Davos gave a clear message that globalisation is evolving, not retreating.
---
---