City of garbage
The streets have filled up with trash once again, and no solution is in sight.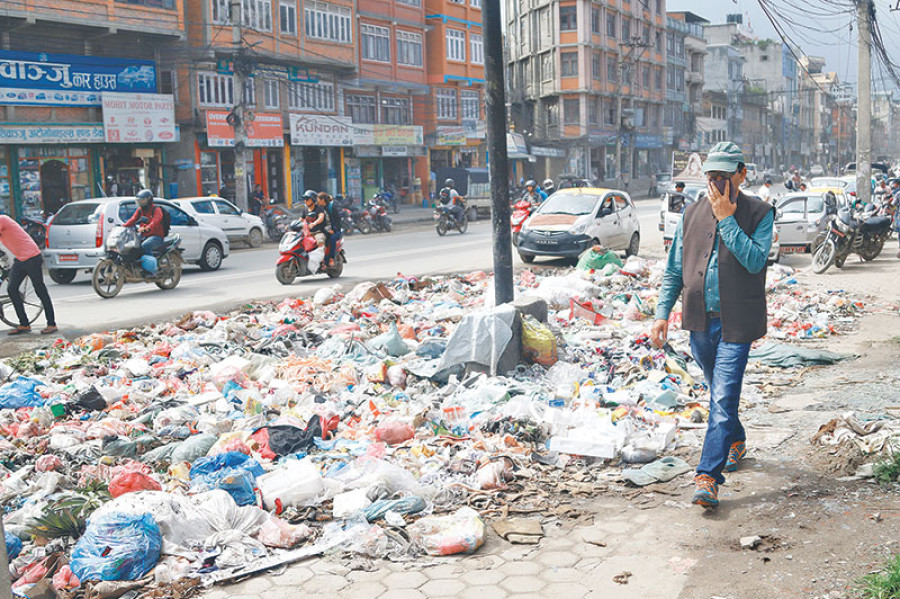 Post file photo
bookmark
Published at : August 18, 2022
Updated at : August 19, 2022 07:39
In the late 1990s and early 2000s, the stretch of road that is currently the Shankhamul-Balkhu River corridor was a ghastly sight to behold. The banks of the Bagmati were treated as an unofficial garbage dumping site, and the stench carried itself far inside the homes of those who lived near. Although land had been earmarked for UN Park, a proposal originally mooted in 1997 to celebrate the 50th anniversary of the multilateral institution, the fences did little to stop the mounds of garbage from piling up.
Suddenly, over the course of a few years, new mounds of garbage stopped appearing. Whether it was divine providence, or the valley finding a new dumping site in Okharpauwa, one couldn't say. UN Park then began to take shape. Today, silver oaks and eucalyptus trees provide green cover to a city starved of any. All along the extended pathway along the river, one can find new lovers and old couples, dog walkers and slackliners, men running to train for physical fitness tests, volleyball matches, cricket pitches, cows feeding on the grass and stray dogs greeting those who come to feed them. There's even a yoga group that practices to the sound of techno every morning. In the evenings, TikTok and Instagram aficionados take over.
The ghats of the past have been replicated in concrete on both sides of the bridge. But the garbage that once littered this spot can still be found, particularly when the soil is dug up. Old plastic wrappers emerge as fossils, and the soil can be dank when it rains. The garbage itself has not disappeared; it simply appears outside the walls of the park, a daily invitation to the stray dogs and several murders of crows.
Mounds of trash
This long segue was necessitated by the uber-perennial problem of waste management inside the valley. The streets have filled up with trash once more, which became floating islands of waste during the heavy rains of these past few weeks. The new Kathmandu mayor seems to be at his wit's end, faced with constant opposition by locals living close to the landfill sites of Banchare Danda and Sisdol in Okharpauwa.
The protests are certainly politically motivated, with its leaders belonging to parties from the ruling coalition. But one could also argue the locals have a point. Who, after all, wants to live next to a landfill site? The protests are outrightly designed to interrupt the independently elected mayor's term in office (and possibly send out a message to other independent candidates in future elections). But the locals have a right to be angry, especially after years of negligence by those who have ruled Kathmandu. They've been promised many amenities in lieu of turning their lands into a garbage dump, most of which have remained unfulfilled. Then there's the road to Sisdol itself, contracted to Maoist chair Prachanda's landlord, which is a mudslide on its worst days and a dust storm on its best.
The valley's waste problem is not unique to it. Most cities in South Asia suffer from it. This April, Delhi's landfill sites began to catch fire in the extreme heat, burning for more than nine days and sending toxic fumes into the skies of the world's most polluted city. Perhaps our cultural distaste towards garbage—and the belief that only lower castes and classes are fit enough to handle it—is why once the garbage leaves our homes, we no longer bother with it.
Buried under its weight
Kathmandu's waste management has been the focus of innumerable studies—both by domestic and international organisations and experts. Several alternatives have been proposed, all of which seem doable, but none has been put into action. International donors began to engage with the issue of waste management from as early as the 1970s onwards with a long-term German involvement. The resultant Solid Waste Management Project began to collapse in the early 1990s under the weight of political changes and other shortcomings. "[I]ts main shortcomings were a centralised waste management system, lack of coordination with the municipalities and dependency on international expertise, machinery and finance."
By 2003, when the valley had begun to generate 300 tonnes of waste a day, the search for a new landfill site had already been going on for a decade, with politicians preferring the Okharpauwa site despite it being "technically, environmentally and economically unsuitable". Environmental engineer Bhushan Tuladhar wrote, "The total waste of Kathmandu and Lalitpur cities can be recycled by setting up a 300 tonne/day organic fertiliser plant for which an India-Nepal joint venture project is already selected. By doing this, the waste disposal problem is reduced by 80 percent with minimal environmental impacts, and high quality fertiliser can be generated."
Twenty years and several such reports later, the valley today generates 1,200 tonnes of waste every day, the majority of which is dumped in landfill sites, and the rest in empty plots and our rivers. At least 75 percent of the solid waste is biodegradable according to experts, with one possible solution being to feed the organic waste to domesticated pigs. A 2014 plan to produce 18 kilowatts of electricity, funded by the European Union, didn't go anywhere either. Roads and parks such as the one along the Bagmati built on top of waste are not an ideal solution by any measure either.
It may be possible that the authorities reach another agreement with the protesting locals—174 such agreements have already been signed—to make the garbage disappear from our streets. But trouble will brew again without an alternative longer-term solution. Garbage collection will be halted, and once more, the issue will come under the spotlight while citizens walk holding their noses and hop, skip and jump over piles of trash. Maybe it's time to dig out the buried reports and act on them.
---
---