Criminalised politics, politicised institutions
Leaders need money to finance elections to secure victory for their cronies, relatives and sycophants.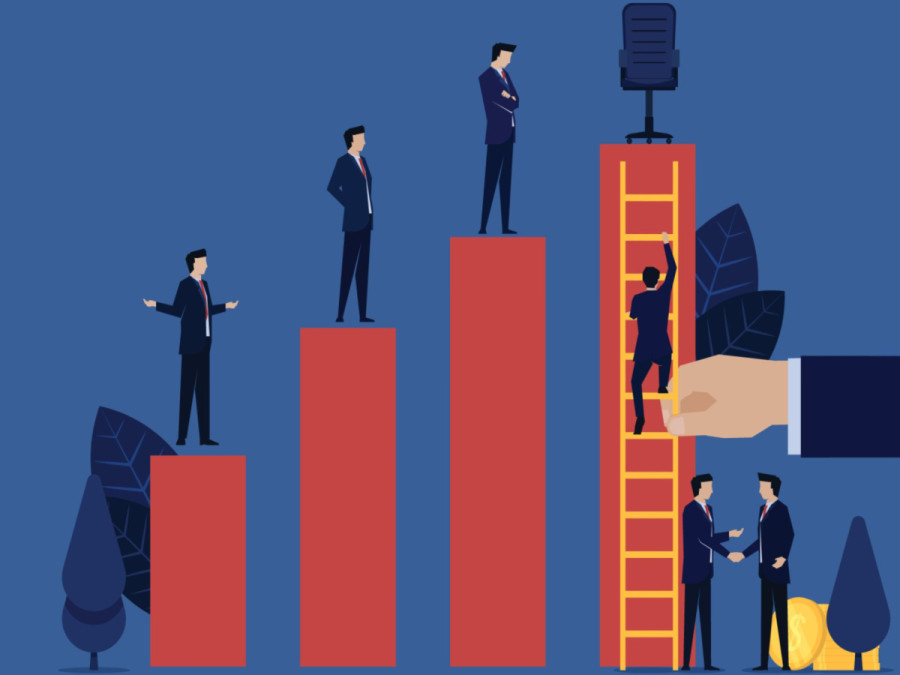 Shutterstock
bookmark
Published at : July 18, 2022
Updated at : July 19, 2022 07:30
A current case of national curiosity is whether or not central bank Governor Maha Prasad Adhikari is the same person named M Adhikari who is designated as a member of the finance and planning department of the main opposition party the CPN-UML. Section 21 (a) of the Nepal Rastra Bank Act 2002 debars a "member or official of a political party" from assuming the position of governor, deputy governor or member of the board. In recent weeks, the nation is witnessing an all out effort by his detractors to establish that Mr M can be none other than Mr Maha Prasad, and also a feeble defence by Governor Adhikari himself and his appointer the UML.
All this controversy is an absolute farce. It may not appear so on the face of it, but it is one of the direct malaises of the blatant criminalisation of politics and excessive politicisation of public institutions. First, it is public knowledge that Maha Prasad is a long-standing bonafide, high levy-paying cadre of the UML who never has been out of a public position for decades now. He was the deputy governor of Nepal Rastra Bank when this law was equally in force, and his identity as an organised UML cadre was in the public domain. He was then appointed as chief executive officer of Investment Board Nepal, another public entity. He never announced that he had relinquished his party position.
Second, this is not the first time this law and many other laws that seek politically neutral public appointments have been flouted. At least four past governors of Nepal Rastra Bank were party cadres. Chiranjeevi Nepal was from the Nepali Congress, Yuba Raj Khatiwada also from the UML and Dipendra Bahadur Kshetri was a committed communist cadre, first with the CPN-Fourth Convention, and later with the Maoist party.
Third, the political parties in power pick their cadres instead of professionals to fill critical public positions, including the judiciary. These controversies are but natural outcomes of the modus operandi of rewarding cronyism or loyalty against merit and competence that has long been practiced by the major political parties, without exception. Therefore, for any mediocre aspirant, joining a powerful political party has become the most convenient short route to grab a lucrative public position.
Another widely practiced mode of public appointment has been a direct deal against a price tag set by power brokers for attractive positions, which may range from minister, ambassador or chief executive of a state-owned enterprise to a clerk in a lucrative revenue collection point. The moral quotient in the political class has ubiquitously been elusive.
A by-product
How is such a pervasive, seemingly irreparable politicisation of public institutions linked to criminalisation of politics? The recipe is straightforward. Political parties and their leaders have become excessively extractive, and have been gradually converting public offices into "extractive institutions". Economists Daron Acemoglu and James Robinson in their 2012 bestseller Why Nations Fail have extensively dealt with how these public offices after being made "extractive" suck the national exchequer to total desiccation.
The politics of ideology, integrity and accountability appears to have been left far behind. Top-rung political leaders need money to finance elections to secure victory for their cronies, relatives and sycophants, fund their regal luxury and amass property. These handpicked mediocre persons are now the main source to manage the required lucre for political masters of all hues; the practice, in turn, is cementing a vicious circle of criminality and exclusion in politics.
Not only the impunity to violate laws, norms and best practices; but also the fierce protection given to such practices by expending the entire strength of the related political party has crippled state systems. For example, Janardan Sharma was forced to resign as finance minister after an extended public furore over his alleged tampering with the tax rates with the help of unauthorised "middlemen" on the eve of the national budget. But his boss, the CPN (Maoist Centre) chairman glorified his resignation as a sacrifice, and vowed to bring him back to the position. Dahal's choice of Sharma as finance minister was itself rooted in vested interest.
In the ongoing imbroglio over Adhikari, the UML's effort to save him squarely vindicates the fact that he indeed is a bonafide cadre of the party. Otherwise, why on earth would the UML care about the fate of a person loyal to another political party?
There are bigger scandals where wrongdoers have got albatross-like protection from powerful political masters. An audio recording of a conversation between Maoist leader Krishna Bahadur Mahara with a purportedly shady Chinese party to strike a Rs500 million deal for horse trading in Parliament became public in 2010. Later, ironically as a reward, he became speaker of the federal Parliament. These examples are only the tip of the iceberg.
What to expect?
If Governor Adhikari resigns, it will certainly set a good precedent. But, all efforts, by himself and the UML, again seem to be concentrated on prevaricating the truth by finding a dummy character to represent Mr M. However, it must be re-emphasised here that Governor Adhikari is not the sole individual to violate the law and norm of political disassociation by a key public servant. The line between politics and professionalism has already been erased in clear detriment to the principle of impartiality of the state apparatus in Nepal. Political top-hats are the only beneficiaries of such an erosion of public institutions to extractive institutions.
The elections to the 753 local bodies are just over, and elections to the federal and provincial legislatures are around the corner. These elections have become, or have been made, extremely expensive. The minimum estimated cost of contesting effectively in a parliamentary election is Rs50 million. The amount may be spent on cadre mobilisation, food and drinks to vote buying. Paradoxically, all such spending is illegal vis-à-vis the election laws, but there is no mechanism to stop it.
Needless to say, the source of such huge sums is shady and would be mobilised by these unduly protected public position holders, businessmen allowed to engage in profiteering and corrupt bureaucrats. Given the costs involved, the contesting candidates leave no stone unturned when mobilising money, muscle and mobsters to get elected. The vicious circle of criminalisation of politics only reinforces itself.
---
---