Promoting white water rafting
Nepal offers some of the wildest and most spectacular rivers for adventurous water sports.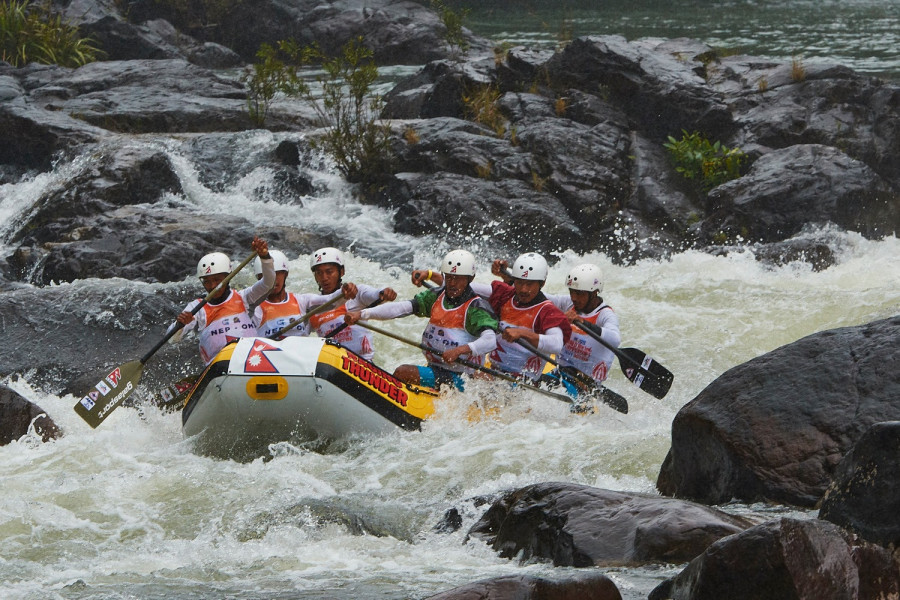 Post File Photo
bookmark
Published at : June 25, 2022
Updated at : June 25, 2022 20:10
Nepal has drawn global attention from mountain lovers ever since Everest in the Himalaya was found to be the world's tallest mountain in 1856. Another event that brought this small Himalayan country into the global limelight was the successful ascent of the summit by Edmund Hillary and Tenzing Norgay Sherpa in 1953. Since then, Nepal has gradually become a popular destination for adventurers and general tourists.
Besides mountaineering, some niche adventure tourism activities in Nepal include trekking, rafting, canoeing, kayaking, canyoning, bungee jumping, paragliding, jungle safari and wild game hunting. Rafting on the white-water rivers flowing down from the high-altitude Himalayan glaciers has become a favourite pastime of many passionate men and women, particularly from the West.
River rafting has a relatively short history in Nepal. The credit for introducing this adventurous sport on Nepali rivers in the late 1960s goes to a few European and American explorers. The Sun Koshi and Trishuli rivers appealed to them at first. As the commercial potential of river rafting became evident, Mike Yager, an American mountaineer, established Himalayan River Exploration, the first commercial river rafting company in Nepal, in 1976. Yager, an experienced river guide from the United States, trained the first batch of Nepali and American enthusiasts, leading young Nepali men to prepare themselves to become professionally competent river guides.
Today, some Nepali river guides are known as the best in the world. As their skills are appreciated internationally, they are often invited to lead and support expeditions in India, Bhutan, China, Japan, Russia, Iceland, Turkey and the United Arab Emirates. The Nepal Association of Rafting Agencies was established in 1989 as the umbrella organisation for professional entrepreneurship development in river rafting. It currently has over five dozen agencies as registered members.
Tourism potential
International experts assert that no other country can compete with Nepal in offering some of the wildest and most spectacular rivers for adventurous water sports. The Sun Koshi, Bhote Koshi and Karnali are among the top 10 rivers rated highly appropriate for rafting. Currently, there are 16 significant rivers open for rafting in Nepal. The Nepal Association of Rafting Agencies estimates that roughly 10 percent of Nepal's 6,000 rivers are suitable for rafting.
Nepal, as a popular tourist destination, offers fun lovers a variety of experiences in rafting. One can access rivers graded from 1 to 6, the international scale of river difficulty, with 1 being easy and 6 being extreme. People can select a rafting trip for a duration that best suits them. While the Sun Koshi and Karnali provide more extended expeditions of up to 10 days, the Trishuli, Bhote Koshi and Seti are suitable for short adventures of one to three days and offer a smooth class experience. A one-day trip on the Trishuli from Fisling to Mugling is popular among Nepali families interested in rafting.
The Centre for Research in Tourism recently conducted a study to assess the feasibility of white water rafting on a particular stretch of the Tama Koshi River. Originating in Tibet, this river flows north to south through Dolakha and Ramechhap districts. I had the privilege to lead the study team comprising several world class Nepali river guides. The study extensively explored the 12-kilometre stretch from Nayapul in Dolakha to Devitar in Ramechhap and recommended its promotion for local employment and income generation.
This section of the river and the entire length of 70 kilometres from Nayapul to Khurkot in Sindhuli district is suitable for rafting. However, several activities need to be done by the concerned stakeholders to realise the potential in the explored areas. Some key challenges include physical infrastructure development, local entrepreneurship development, financial capital for operating the businesses, and the availability of a reasonably trained workforce in the local hospitality market.
Partnership for promotion
While there is no contention over the issue that the private sector should lead business in the 21st century, the government's genuine support is expected in physical infrastructure development that includes access to roads and other transportation networks and facilitating the entire process related to the business. The community has a prominent role in conserving all kinds of unique tourism attractions available locally to benefit most from the industry's success.
As a subsector of tourism, the rafting business was severely affected by the pandemic in 2020 and 2021. Operating costs like staff salary, house rent, capital repayment and interest payments were the immediate problems that surfaced. Despite this, the industry cooperated with the government, closing businesses completely for months to check the spread of the Covid-19 virus. This seasonal business, in the winter and spring in Nepal, employs roughly 10,000 persons in roles varying from office manager to field staff. Women constitute approximately 5 percent of the workforce, mainly in office management. A few are rescuers who, as solo riders in kayaking boats, accompany the rafts.
One notable characteristic of the Nepali rafting industry is its lack of foreign investment. The entrepreneurs are proud of their ability to invest in this business which can be initiated with around Rs3 million. However, foreign investment does not mean merely capital inflow; it is desirable in Nepal for other reasons such as technology transfer and overseas marketing.
Hydropower development has been one of the critical detrimental factors to the growth of rafting. The dams constructed on the Bhote Koshi have checked the growth of rafting and kayaking on some of the world's most promising water sport stretches. Unscientific extraction of sand and boulders is also hampering it severely. Like in many other development-related activities in Nepal, the promotion of white-water rafting lacks inter-organisational coordination and cooperation.
---
---