Us and them
In Nepal, divisions created by differences in caste, culture, gender, religion and vested interests are aplenty.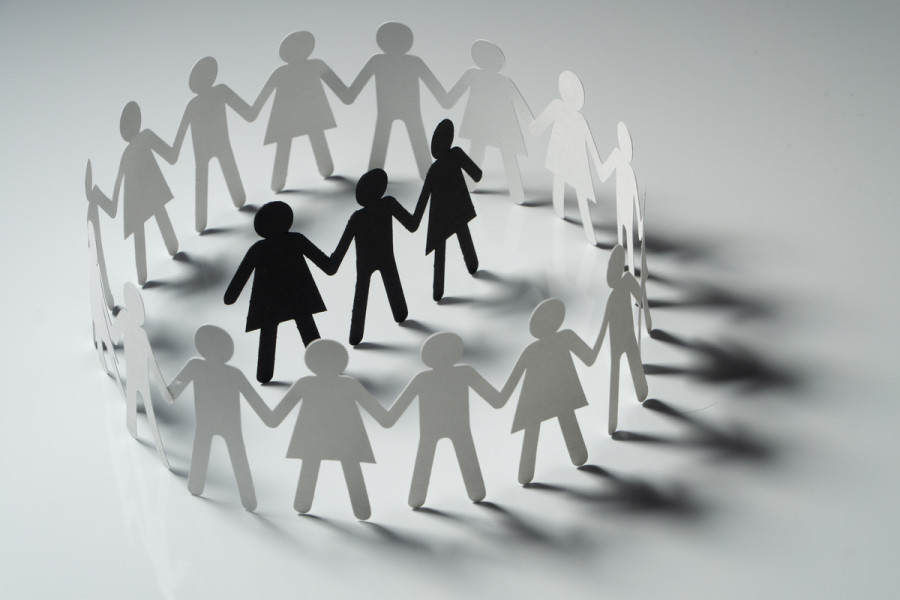 Shutterstock
bookmark
Published at : August 12, 2020
Updated at : August 13, 2020 13:32
At the invitation of the Limbuwan Readers Club, on a Facebook live presentation in Nepali, on July 14 (discussing James Baldwin's The Fire Next Time), I spoke, among others, chiefly two things: Baldwin's advice to his namesake nephew to not internalise the white racial gaze and resist American racism by cultivating a global worldview that would include all of humankind, rather than the narrow Europe-produced, America-adopted racial perspective about blacks. I also spoke about how other African American writers like WEB Du Bois, Richard Wright and many others have done the same thing in their own ways.

The other point I raised about Baldwin's work was his resistance to an 'us' versus 'them' division among humans that produces a feeling of negativity toward 'them'. In this division, about race and religion in Baldwin's case, those that belong to 'us' try to proselytise individuals to be part of the group blindly by asking, in Baldwin's words, 'Whose little boy are you'?—as Baldwin was asked by the mixed-race African American woman under whose influence Baldwin became a Pentecostal preacher and later by Elijah Muhammad who asked Baldwin, 'What religion do you follow'?
Even before all this, as a child, Baldwin had faced a similar question from the pimps and the prostitutes on the Harlem streets in New York who wanted Baldwin to join their trade. And he had confronted the question of 'us and them', just like the white racial categorisation of the blacks, at home from his Baptist minister father for whom blacks had nothing to do with the whites and all whites were suspect; therefore, all whites were 'them'.
A universal phenomenon
In my presentation, I emphasised that 'us and them' divisions exist in all societies along national, racial, caste, linguistic, ethnic, religious, denominational or tribal lines. I gave the example of the European history of religious and racial violence and wars, not just between Christianity and others but within Christianity, between Catholics and Protestants, resulting in colonialism and fascism. Any group identity that gets reified and obtains any form of power (economic, political, religious, linguistic, or nationalistic) develops antagonistic feelings towards others and designates itself as superior, better, more civilised, more advanced—in short, endows itself with all the positive virtues—and imputes all the negative attributes to 'them', who are different.
Baldwin saw African Americans like himself become victims of this division imposed by white supremacist history and the culture of white, majority America. But at the same time, he also found its manifestation in his father's Black Baptist Christianity and Elijah Muhammad's Nation of Islam. Like his father who disliked all non-Christians and looked upon all whites with suspicion, Elijah Muhammad did the same thing—presented Islam as the black people's religion and Christianity as being for the white.
Baldwin resisted all these forms of 'us and them', whether created by the whites or blacks, and realised that he at least cannot be anybody's 'little boy'—a blind, docile follower to do their bidding. In their place, he posited the need for critical thinking; an examination and interrogation of all forms of 'us and them' in society.
Diversity brings complexity
How can one apply this principle to South Asia, where the chasms exist in big as well as small forms everywhere? In Nepal's case, the Nepali state adopted multiple divisions of 'us and them' in the shape of Jung Bahadur Rana's Muluki Ain (legal code) of 1854, which was itself an adaptation of Manusmriti (the laws of Manu) that remained in force for more than a hundred years as state law in Nepal, seeping in the subjugated subjects' consciousness and became what is called sanskar in Sanskrit. But Jung Bahadur was not the original codifier in the subcontinent. The British colonial government had already formulated the Hindu laws based on Manusmriti when William Jones translated it in 1794. Even in the 14th century, Jayasthiti Malla had codified the Hindu laws along with caste divisions based on the Hindu dharmashastras. And, I'm sure, the many kingdoms of India and Nepal had their kings base their laws and rules according to the dharmashastras.
And then there is Hinduism, Buddhism and Islam—all three increasingly asserting themselves as state powers in different countries of South Asia. When a state identifies itself with a particular religion or a specific denomination of a religion, it automatically creates an 'us and them' division. And those who occupy state power become 'us' and those who are marginalised become 'them'. All kinds of judgmental values of virtue and vice are created by attributing all the virtues to 'us' and vices to 'them'. Has there ever been an example where the group that occupies and identifies with the state ever attributes admirable virtues to those whom the state designates as the other? No example comes to mind readily.
In Nepal's case, there are, or have been, many groups of 'them' in contrast to the holders of power. There is 'us and them' within each category of Madhes, indigenous groups, Dalits, women and Muslims—even though broader categories get general recognition for purposes of understanding privilege and marginalisation in the political realm. If in terms of sharing state power, access to state institutions through appointments and career opportunities become the crux of the problem, socially speaking, it's the marital relations that make the 'us and them' division astute.
How can a society grapple with the toxic consequences of such divisions created by religion, state and vested interests? How can group identity be formed only for the purposes of appreciating lives and cultures and political empowerment rather than producing marginalisation through the creation of 'them'? I'll devote my next column to this problem by bringing a couple of notorious examples of historic violence produced by 'us and them' division, as applied to marital relations in Nepal.
---
---