The novel coronavirus has changed how the world connects
A study of the Sino-Indian trade shows just how devastating this pandemic has been.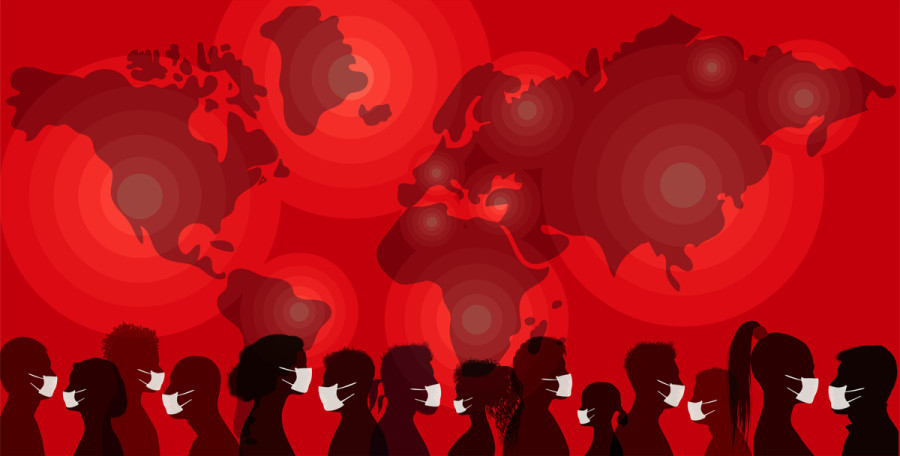 Shutterstock
bookmark
Published at : March 11, 2020
Updated at : March 12, 2020 20:19
Pandemics like the one caused by the novel coronavirus do not respect international borders. Viruses crisscross through national sovereignties, nationalities and cultural ecologies and inject a new sense of forced equality and uniformity. Once again, the world becomes a global village in the real sense. Unlike global goods and services, however, for the pandemic to penetrate global societies, no multinational companies are needed, no innovations and patenting are pre-requisites and no multilateral institutions are essential to regulate it. A pandemic thus transforms a market into human societies and competition into cooperation, without any conscious efforts and global norms.

In such a case, the orthodox concept of military-led national security gets largely diluted. This brings criticality to non-traditional security threats where cooperation overwhelms rivalry and enmity. Unregulated international borders are now closely monitored. Open borders are fenced by public health officials. Flows of people are restricted. Even protractedly neglected and ignored health amenities are activated and rejuvenated. At least temporarily, a new level of hygiene and health consciousness is aroused and witnessed. Like an earthquake, coronavirus is non-discriminatory and unbiased in its effect regarding wealth, religion, caste and gender.
At the same time, the very fear of a pandemic, its scale and reach make us so easily forget and sidetrack much more fatal incidences. For instance, the US-based Centres for Disease Control and Prevention state that influenza has resulted in between 9 million and 45 million illnesses, between 140,000 and 810,000 hospitalisations and between 12,000 and 61,000 deaths annually since 2010 in the USA. At one go, we are jealously guarding ourselves against this virus and blatantly disregard the fact that hundreds of malnourished children die daily and hundreds of able-bodied citizens die every day in road accidents. We also know that our hospital beds are already overflowing with dengue patients and cholera, and that typhoid still kills so many people every day. Are our public health priorities then driven and determined by publicity, scare and visibility alone?
Besides the tolls in human lives, every pandemic has other devastating economic impacts and deleterious social consequences. Depending on where the epicentre of this pandemic is located, countries and people across the globe condemn the nation of origin, throw utterly disgusting racial slurs and, more seriously, resort to condemnable propaganda. Pandemics thus have all witnessed a largely inhuman hegemonic discourse and finger-pointing. The racial overtones are regularly seen in airports, public transports, parks and malls. Such pandemics have also unexpectedly provided huge space for negative stakeholders. Ongoing shortage, hoarding and horrific price hike of medicines, hand sanitizer, masks and paper napkins are just the tip of the iceberg.
As the pandemic steadily transcends the international border and gets ingrained into the political economy of another society and the nation, the impact starts unfurling in various forms and scales. In case of Covid-19, stock markets around the world are trembling, production and exports are fast plummeting, the job market is shrinking, and international mobility of the labour force is adversely affected. Besides the sharp fall in people's movement affecting airlines and hotels, public confidence in state-led institutions is fast eroding.
The macroeconomic impact is palpably high now. Factories, schools, hotels, offices and other business remain partially closed in China. Otherwise vibrant sea, land and air ports are grappling with sudden over capacities and the financial market is sliding. The staggeringly huge and unfathomably deep global reach of China in terms of goods, services and technology including the projects under Belt and Road Initiative are facing a newer variety of challenges like disruptions in supply chains and sliding business confidence.
The total volume of Sino-India trade increased from a mere $3.4 million in 1970 to $ 2.8 billion in 2000 and to a whopping $90.16 billion in 2018. This is expected to reach over $100 billion by 2025. Confederation of Indian Industry just published a glimpse of the impact analysis of the novel coronavirus on shipping, pharmaceuticals, automobiles, IT and mobiles, electronics, textiles, chemicals, solar power and tourism and aviation. It found that China accounts for 45 percent of India's total electronics imports, 33 percent of machinery, 40 percent of organic chemicals, 25 percent of automotive parts and fertilizers, almost 90 percent of certain mobile phone parts and close to 100 percent for many critical antibiotics and antipyretics.
It also reveals that 72 percent of the Indian companies are situated in the eastern part of China like in Shanghai and Beijing and in provinces of Guangdong, Jiangsu and Shandong. These companies relate to industrial manufacturing and services, IT & BPO, logistics, chemicals, airlines and tourism. The fearfulness and emerging confidence deficit are highlighted when it states that 'the biggest challenge for Indian industry operating in China will be retaining and recruiting talent as most of the persons will now prefer to work near their home.'
There has been a sharp drop in the dry bulk cargo movement as the Indian ships cannot enter into Chinese ports. As a result, realisation per day per vessel has declined by more than 75-80 percent in dry bulk trade. If the shutdown in China persists it could result in an 8-10 percent contraction of Indian auto manufacturing in 2020. It could slow down cotton yarn exports by 50 percent, leading to a severe impact on the spinning mills in India. Some 48 cities and 4 provinces are literally in lockdown mode in China and provinces like Jiangsu, Guangdong, Anhui and Zhejiang have a huge supply base of solar equipment imported to India. The mobile phone industry is badly affected as India has started running out of stocks of components. Smartphone sales may fall 10-15 percent in the January-March quarter and fall much sharper in the April-June period. Over 281,000 Chinese tourists visited India in 2018; had it not been for the pandemic, this was projected to reach 500,000 in 2020.
Around 70 percent of India's active pharmaceutical ingredients worth $2.4 billion are imported from China. These go as ingredients in the manufacturing of widely-used medicines like paracetamol, metformin, ofloxacin, metronidazole, ampicillin and amoxicillin. There have been already a tangible mark up in prices of many of these medicines. In India's $39 billion pharmaceutical industry, a number of pharmaceutical companies including Sun, Lupin, Glenmark, Dr Reddy's, Torrent and Aurobindo are already facing the brunt. As the number of countries affected by this pandemic increases, it is bound to affect India's business and other commercial engagements with these countries. This implies a protracted situation of an economic slowdown.
China has a three-fold challenge now. Firstly, how effectively and quickly it comes out of the pandemic and restores normalcy. And how usefully it transmits its experimentation and wherewithal in wrestling with this pandemic to prevent other countries falling into the same crevice. Secondly, how fast it reconnects to the global supply chain and refurbishes the downslide in production matrices within China and in other countries. And thirdly, how valiantly it overcomes the vitriolic global propaganda on its management of coronavirus. Altogether, it puts the Chinese political leadership and governance architecture to an insurmountable pedestal that would test and evaluate its development model of socialism with Chinese characteristics once again.
***
What do you think?
Dear reader, we'd like to hear from you. We regularly publish letters to the editor on contemporary issues or direct responses to something the Post has recently published. Please send your letters to tkpoped@kmg.com.np with "Letter to the Editor" in the subject line. Please include your name, location, and a contact address so one of our editors can reach out to you.
---
---