Cultural heritage and tourism in Bhaktapur
Tourists pay to see the historical attractions, and the money they contribute is used to maintain them.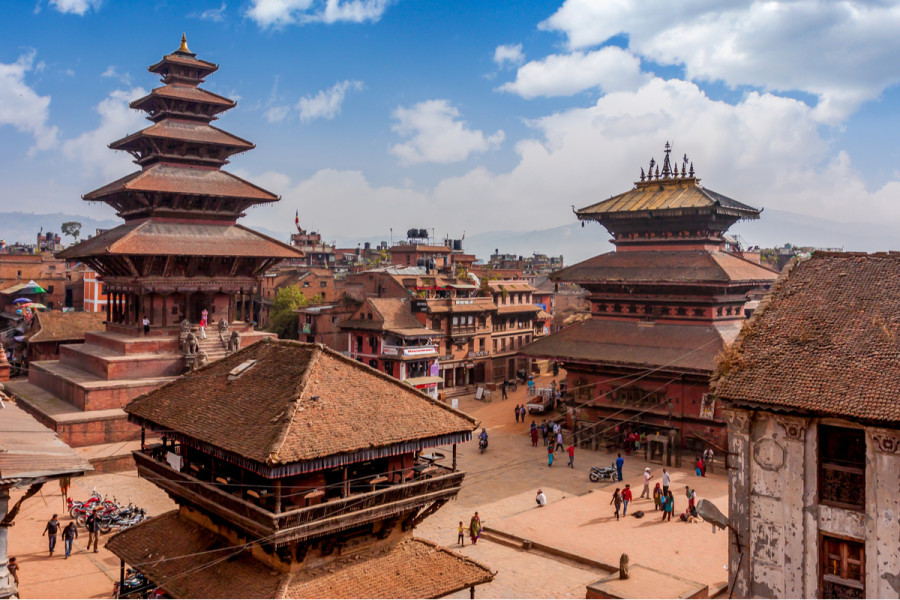 Shutterstock
bookmark
Published at : February 19, 2020
Updated at : February 19, 2020 08:03
There exists a relationship of mutual dependence between cultural heritage and tourism. While cultural heritage creates a foundation for the growth and development of tourism, the latter generates funds that make heritage conservation possible. Indeed, cultural heritage has hardly any meaning without an audience and a community participating in and benefitting from it. At the core of this are cultural attractions, which are often man-made buildings, structures, artefacts and sites. They were initially designed for a purpose other than attracting visitors, such as religious worship, but now attract a substantial number of tourists. Some of these cultural areas have been inscribed on the UNESCO's World Heritage List, and together with other culture and nature areas, these World Heritage Sites are famous attractions. They form the backbone of the tourism industry, which is now a prioritised sector of the government.

Few countries in the world are as blessed as Nepal in terms of both natural and cultural heritage. Ever since the country was made open to foreigners after the advent of a democratic government in 1951, a number of visitors have been coming here to enjoy its beautiful landscapes, multi-ethnic composition and culture, variety of flora and fauna, and high rugged Himalayan mountains as well as beautiful lakes and rivers. Many Himalayan peaks, 17 natural heritage sites including national parks and reserves and nine World Heritage Sites are the main tourist attractions of Nepal. These together receive more than a million tourists every year.
Cultural city
No tourist should consider their visit to Nepal complete unless they have had a glimpse of Bhaktapur. Bhaktapur has been a centre of attraction and admiration since it was set up by king Ananda Dev Malla in 889 AD. A number of centuries have gone by; yet, Bhaktapur has remained intact and hasn't changed much in terms of its integrity and authenticity. Bhaktapur is pristine compared to Kathmandu and Patan. Most of the people in Bhaktapur are Newars—the native inhabitants of the Kathmandu Valley who are well known for their age-old traditions of art, culture and excellent craftsmanship. And Bhaktapur is still a beautiful, well-organised and cultural city.
Bhaktapur has been inscribed in the World Heritage List since 1979. Of the seven UNESCO World Heritage Sites in the Kathmandu Valley, two are in Bhaktapur, namely Changunarayan Temple and Bhaktapur Durbar Square. While Changunarayan—the oldest temple in the Kathmandu Valley—is located in a rural setting, the rest of the cultural heritage sites of Bhaktapur are all in the core city area.
Of great interest to visitors is Bhaktapur Durbar Square, which was the palatial complex of the Malla rulers during the medieval period. The major attractions of the complex are the famous Golden Gate to the Taleju Bhawani Temple, the 55-Windowed Palace and several temples, including those of Jagannath, Kedarnath, Rameshwor and Badrinath. The then Malla kings must have built the latter for those who could not afford to make the pilgrimage to the original sites in India. Also housed in the square is the National Art Gallery, which is a museum of Buddhist paubha (thangka) paintings, palm-leaf manuscripts, as well as stone and metal statues.
Just a minute's walk from this spectacular square to the southeast corner is Taumadhi Square. The major attractions of this square are the Bhairav Temple and Nyatapola or five-storeyed temple. The biggest festival of Bhaktapurians held in April, locally known as Bisket Jatra, commences from this square with the chariot festival of god Bhairavnath and that of goddess Bhadrakali.
Bhaktapur is also famous for Dattatreya Square, which lies in the eastern corner of the city. The main attractions of this square are the Bhimsen Temple, Pujarimath (wood carving museum), peacock window and the Dattatreya Temple itself. It is believed that the temple, dedicated to the combined incarnation of the three supreme Hindu gods Brahma, Vishnu and Maheshwor, was built using timber from a single tree.
Tourism is the only source that brings about an appreciation for and conservation of our heritage sites. It is one of the major income-earning activities of Bhaktapur, which is based on cultural and heritage resources. To raise funds for heritage conservation, Bhaktapur Municipality began levying a $1 service charge on foreign visitors in 1993. Compelled by the urgency to restore many more heritage sites, the city administration raised the toll in several stages to $10 in 2001.
The service charge collected in the form of an entrance fee to the city area by the municipality was initially opposed even by tourism entrepreneurs. They accused the local body of thwarting tourism and of 'killing the goose that lays the golden eggs'. Eventually, this community backlash against the service charge proved to be wrong, as tourists didn't take long to realise what this entrance fee is for and where it is going to go.
Money for renovation
The service charge on visitors by Bhaktapur Municipality through the sale of entrance tickets to the historic town was, and still is, aimed at raising funds for local conservation work that makes cultural and heritage resources accessible to the tourists for their relaxation and enjoyment. Bhaktapur Municipality currently charges Rs500 to tourists from China and SAARC (South Asian Association for Regional Cooperation) countries, and Rs1,500 to visitors from other countries.
Tourism is also Bhaktapur Municipality's largest source of income. The municipality raised Rs240 million from tourism in the last fiscal year while its internal revenue was only Rs90 million. And while Kathmandu and Patan are still struggling to rebuild their ancient monuments, Bhaktapur has already reconstructed and renovated 91 of the 134 historical monuments that were damaged during the 2015 earthquake, spending nearly Rs255 million thus far. All this has contributed significantly to an ever-increasing flow of tourists to this famous cultural city, displaying the harmonious symbiosis that exists between the tourism sector and heritage management here in this great city of Bhaktapur.
Pradhananga holds a postgraduate diploma from the Institute of Social Studies, The Hague, The Netherlands.
***
What do you think?
Dear reader, we'd like to hear from you. We regularly publish letters to the editor on contemporary issues or direct responses to something the Post has recently published. Please send your letters to [email protected] with "Letter to the Editor" in the subject line. Please include your name, location, and a contact address so one of our editors can reach out to you.
---
---