Tiger spotted at a record altitude of 3,165 metres in eastern Nepal
Authorities say the sighting of the big cat in Ilam is also the first ever in the country's eastern mountains.

Photo Courtesy: Red Panda Network
bookmark
Published at : December 11, 2020
Updated at : December 11, 2020 23:29
Kathmandu
A tiger has been caught on camera at an elevation of 3,165 metres in Ilam district of eastern Nepal in the first ever sighting of the big cat at such a high altitude.

According to the Department of Forest and Soil Conservation and Department of National Park and Wildlife Conservation, this is the first ever sighting of a tiger at such a high altitude in the country's documented history.
"Never before has a wild tiger been spotted at such an elevation in the eastern mountains of Nepal," reads the press statement jointly released by the two departments.
The wild tiger was photographed at an elevation of 3,165 metres by a camera trap in a forest.
The same tiger was spotted twice on November 13 and November 21, according to the press statement.
This tiger getting caught on camera breaks the earlier record of highest-ever sighting when a tiger was spotted at an elevation of 2,500 metres in Mahabharat range of Dadeldhura district in April this year.
The photographs of the tiger were taken by one of 20 camera traps set to monitor 10 wild red pandas equipped with GPS-satellite collars in Kangchenjunga Landscape (KL) in eastern Nepal.
Red Panda Network (RPN) has installed camera traps to monitor the movement of red pandas and their response to disturbances. The Network has previously worked on an intensive camera trap mammal survey in 2018 and 2019 in the Panchthar-Ilam-Taplejung (PIT) corridor. These cameras have photographed a thriving wildlife population in the PIT corridor in the past, according to its press statement.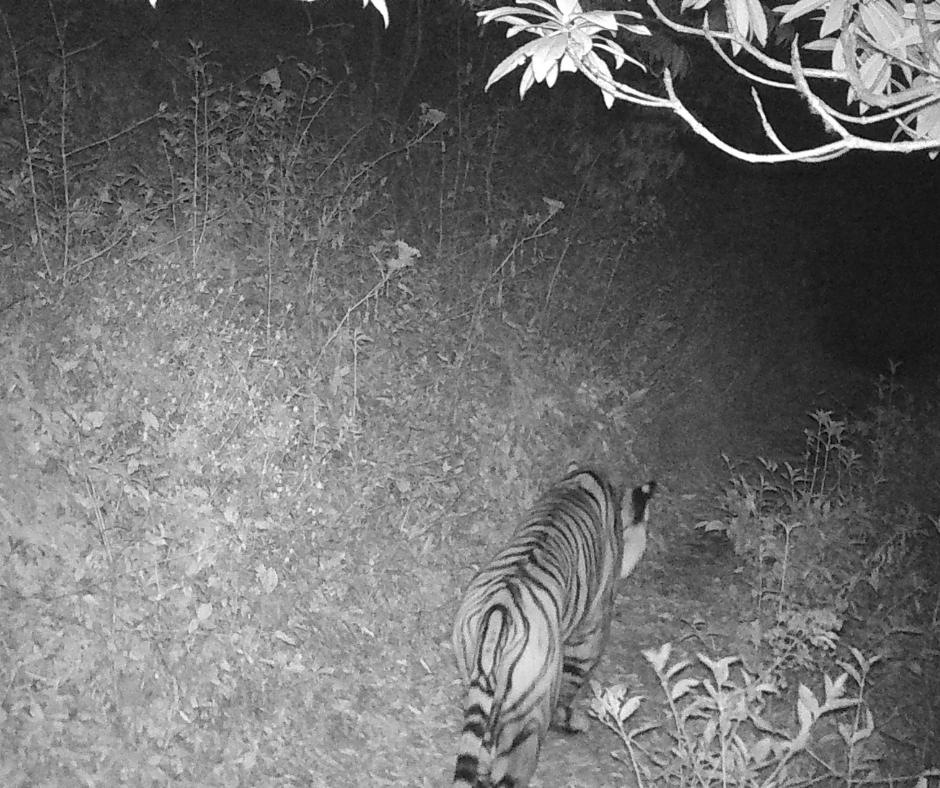 Photo Courtesy: Red Panda Network
This tiger sighting in Ilam district brings the total number of cat species in the Kangchenjunga Landscape (KL) in eastern Nepal to eight, including leopard, clouded leopard, snow leopard, Asiatic golden cat, leopard cat, jungle cat, and marbled cat.
"Tiger is an umbrella species that ensures the well-being of the entire ecosystem across its habitat," Man Bahadur Khadka, director general of the Department of Forests and Soil Conservation was quoted as saying in Red Panda Network's statement. "This record of tiger presence signifies the importance of high-altitude forest in the mountains as a habitat for these endangered big cats."
The highest recorded elevations for the Royal Bengal Tiger are 3,630 metres in India and above 4,400 metres in Bhutan.
The latest sightings in April and now are an indication that tigers are moving up mountains for various reasons, including climate change, habitat loss, human-wildlife conflict and search for prey.
In Nepal, Parsa National Park, Chitwan National Park, Bardia National Park and Shuklaphanta National Park and adjoining forests of these protected areas are the major tiger habitats. As per the latest tiger census, the big cat population stands at 235.
"The first-ever record of a tiger in Ilam district demonstrates the significance of the PIT corridor in eastern Nepal, and how it needs to be a global conservation priority," said Ang Phuri Sherpa, country director of Red Panda Network.
---
---