The art and politics of poetry
Tishani Doshi dwells upon the aesthetics and politics of life in her 2021 poetry collection.

bookmark
Published at : June 3, 2023
Updated at : June 7, 2023 22:01
Poetry doesn't make anything happen, quipped W. H. Auden, ironically, as he went on to write some of the finest poems in the English language. While it can certainly be said that poetry is not witchcraft that can give instant solutions to any ongoing crisis but it cannot be denied that human beings have always relied on poetry and art in every era. Tishani Doshi dwells upon the aesthetics and politics of life in 'A God at the Door'.

The poems take one to faraway places while also commenting on rising intolerance and violence against women and political intolerance in India that further subjugates women. It is not just an endless ranting or a conscious use of poetry to say something meaningful. There is an ease with which words flow. The poems remind us of women, of nations, of beautiful women and of violence in nations. There is also love, failure and grief.
The poems question patriarchy, violence against women, and hyper-nationalism while also celebrating the beauty and pain of everyday existence. The lines "Imagine a life in childhood—one face to the womb, another to the future" and "How good the rain is after a failed romance. Never mind the muddy bloomers. We are appalled by life, and still, any chance we get, we emerge from the earth like cicadas to sing and fuck for a moment of triumph. The shock we carry is that the world doesn't need us" juxtapose love and grief and the synthesis of two opposing forces so well.
That is the beauty of Doshi's poetry. Every poem is full of life and love, even when it talks about grief or violence.
The feminist themes in Indian English poetry are nothing new. From the beginning, Indian poets writing in English engaged with the idea of femininity and violence against women. Doshi continues the tradition while also being authentic and an individual. Every poem is a response to some cataclysmic event, a memory, and an experience. The political undertones are just as relevant as some of the personal revelations. There are allusions to political prisoners, the death of elephants due to climate change, and the Great War, among others.
The shape of some of the poems suggests something more than the poems themselves. It tells something more about the poet. A search of her works took me to an essay by the author where she dwells upon the idea of symmetry and shapes and their significance in Indian culture. In an essay, Doshi writes:
"The landscape of the Indian subcontinent in the ninth century may have been less chaotic than India today, but geometry and shape have always been a preoccupation in a country that delighted in disorder while obsessing about from."
"My American editor, after examining my new manuscripts of poems, gently asked: 'Are you sure you need all these shape poems? They can be considered somewhat gimmicky.' And it's true. It's a bit like going into a tattoo parlour for a delicate dragonfly on your back and emerging with an entire rainforest. Once you begin to think of shape as a container, it's difficult not to get carried away."
This makes her work deeply rooted in Indian culture sans any obsession with nationalism. This crucial difference is probably the call of the hour. It is certainly possible to love your country, call it home and yet not be oblivious to the perils of hyper-nationalism. The shape also shapes the aura of the poem, giving it some verisimilitude of a lived experience.
The poem 'I Carry My Uterus in a Small Suitcase' has the shape of a vagina or a menstrual cup which draws attention to the physicality of the experience. The shape of the poem adds to its artistic value, taking us back to the time of 'Arts for Art's Sake'. Except that it is not that.
There is a social relevance to Doshi's poems, as the author elaborates on the contexts in the 'Notes' section and elsewhere. Women barred from the temples were protesting against it and demanding equal rights in Kerala a few years ago. The vagina stops being a sight of shame and becomes a site of power. It reminds me of the symbol "A" tied around the neck of Hester Prynne and the transformation of its meaning from adultery to being angelic in The Scarlet Letter.
Poetry, in many ways, as history tells us, makes many things happen, and Doshi's poetry is a consolation in these dark times. There is a richness of human experiences coupled with humanistic concerns that tell us how to write and create poetry despite the darkness. Personally, I found the following lines from the poem 'Macroeconomics' touching:
"One man dies so the family living at the top of the hill
can eat sandwiches on the lawn. One man's piggy bank
gets a bailout. One man tips over a stranger's vegetable cart."
As someone who lives in a big city in India where packaged foods are available as if they were born like that and where there is a huge income disparity despite being the IT hub of India, these lines hit me hard.
A god at the door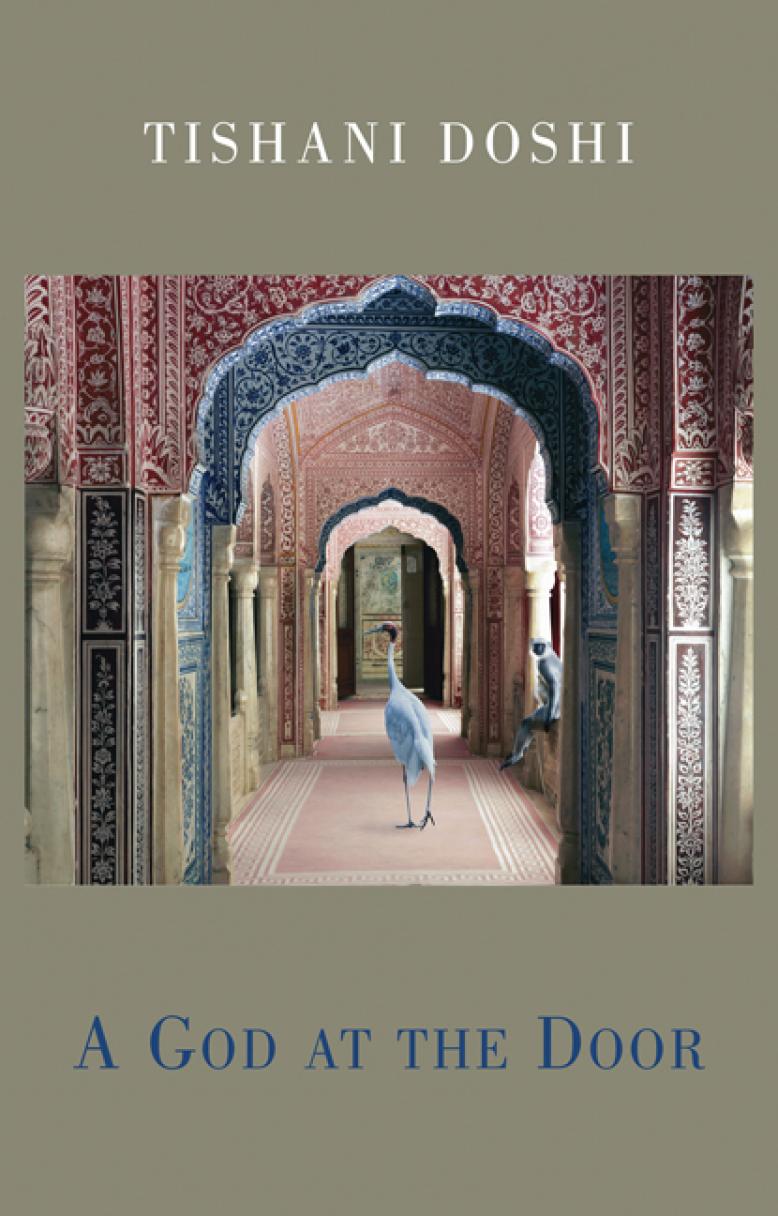 Author: Tishani Doshi

Year: 2021
Publisher: Harper Collins India

---
---