Books bring meaning to my life
Abhi Subedi discusses his reading habits and how his reading preferences have changed over the years.

bookmark
Published at : February 2, 2023
Updated at : February 3, 2023 14:53
Abhi Subedi's foray into the world of books began at an early age. The poet, playwright, linguist, translator, columnist and critic was highly influenced by his mother and started reading religious texts with her. Later, when he was introduced to the world of English literature, his love for reading solidified as he started reading the works of Charles Dickens and Fyodor Dostoevsky.

In an interview with the Post, Subedi discusses his reading habits, how his reading preferences have changed over the years and the reason why he reads.
When and how did you start reading?
I started reading very young. I was greatly influenced by my mother who used to read a lot so, through her influence, I picked up the habit of reading too. I remember my mother used to mostly read religious texts published in Banaras. That was what I began reading too.
Later, when I started school, I got exposed to literature written in English language. I remember we had a bunch of Christian teachers, possibly on missionary operations, teaching at my school in Terhathum for a few years. They encouraged us to read English literature and so began my journey into the world of books.
What are some of the first books you remember reading?
Like I mentioned earlier, I began reading because of my mother's influence and she largely read religious titles. So, some of the first books I picked up would be 'Bhanu Bhakta's Ramayana' and the 'Bangla Ramayana'.
When I began reading in English books, I remember Charles Dickens being one of the first authors I loved. His writing really helped me fall in love with reading more. I also discovered the Russian novelist, short story writer, essayist and journalist Fyodor Mikhailovich Dostoevsky whose books are some of my favorites too. I especially love his novel The Brothers Karamazov. Another author I came across in school that further solidified my love for reading include the Russian writer, socialist, political thinker and proponent Maxim Gorky.
How has your reading habits and preferences changed since?
My reading preferences and habits have changed quite a bit since. I began reading more and more books with theoretical significance as I grew older. Now, I read across a wide variety of genres. The subject I read the most on would be Cultural Studies. One book in this topic I have finished recently and enjoyed reading quite a bit is 'Leadership: Six Studies in World Strategy' by the politician, diplomat, and geopolitical consultant Henry Kissinger. In it, the author analyses the lives and behaviors of six prominent leaders. His conclusions and reflections on what makes these leaders great are truly brilliant.
As a poet and a playwright myself, I read a lot of poetry and plays too. I especially enjoy plays by the Irish dramatist Samuel Beckett. His plays are very abstract and leave you with a lot to ponder on. And Shakespear's plays are classics that I go back to time and again. I love rereading classics in general. There is a reason these books are loved by so many readers across different generations.
Surprisingly enough, I do not read fiction (novels) much. It is not that I don't enjoy the genre. I do enjoy it. But I do not find myself reading it very often. However, I did enjoy reading Pakistani writer and playwright Saadat Hasan Manto's short stories collection some time ago.
I have started considering the action of sitting down to read a book slowly a luxury. That is something I can not afford to do much these days. There are times when I have to read texts so fast that although I get through it and understand the gist of it, that is not how I would ideally want to read a book.
Moreover, because I supervise PhD students, I read a lot on subjects and topics they bring to me. These are mostly books on history, cultural studies and literary-criticism. I also actually enjoy reading up on these topics as they interest me greatly too.
Lastly, I also gauge around for books that are in trend at the moment and add those to my 'to read' list. One such book, Arundhati Roy's 'The Ministry of Utmost Happiness', has been on my shelf for so almost two years. I have been meaning to read it for so long but have not had a chance to do so. That will be my next read.
Who are some Nepali writers you enjoy reading?
Balkrishna Sama is one of my favorite writers. I go back to his writings time and again. I have been revisiting his works recently. I am currently reading his two-part autobiography 'Mero Kavita ko Aaradhana'.
Another Nepali writer I love is BP Koirala. He is another author whose works I reread. I enjoy reading everything he has put out—from novels to autobiography, diaries and memoirs. I also enjoy reading the works of Laxmi Prasad Devkota and Siddhicharan Shrestha.
Why do you read?
In simple terms, I read to see the world. I would say my whole world and my perception of everything has been shaped by the books I have read. Books open up new ways of thinking and give us new point of views to discern each event from. We understand new topics, subjects and why people do the things they do. In a way, they make us more empathetic and compassionate. Books take me to fascinating new places.
I also hold a great love for knowledge. I like reading and learning on different topics. I like knowing how things work and how everything came to be. You grow as a person when you learn about the world.
Additionally, it would not be an exaggeration to say that books bring meaning to my life. Without them, my life would not be as meaningful or significant. Because of these reasons and more, I read.
Abhi Subedi's book recommendations:
The Ministry of Utmost Happiness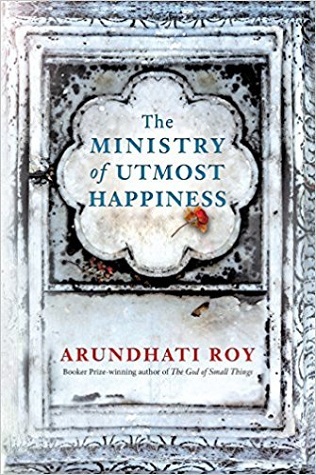 Author: Arundhati Roy
Publisher: Hamish Hamilton, Alfred A. Knopf
Postcolonial Ecocriticism
Author: Graham Huggan, Helen Tiffin
Publisher: Routledge
Leadership: Six Studies in World Strategy
Author: Henry Kissinger
Publisher: Penguin Books
Karnali Blues (English Translation)
Author: Buddhisagar
Translator: Michael Hutt
Publisher: Penguin India
Identity: The Demand for Dignity and the Politics of Resentment
Author: Francis Fukuyama
Publisher: Farrar, Straus and Giroux
Literary Activism: Perspectives
Author: Amit Chaudhuri
Publisher: Oxford University Press
---