It's especially important for women to read
Sumitra Manandhar Gurung, who has been leading women empowerment programmes for decades, talks about her reading habits and the general importance of reading.

Keshav Thapa/TKP
bookmark
Published at : January 26, 2023
Updated at : January 26, 2023 08:13
Born in a Newar household that held education in high regard, Sumitra Manandhar Gurung as a child was always encouraged to read. Manandhar, growing up in a joint family in Kathmandu, did not have much chores to tend to, and that is when she developed a habit of reading. A pioneer in the microfinance sector, Manandhar has been leading women's empowerment programmes and working on women's issues for decades. She is the founder and former CEO of Mahila Sahayatra Microfinance Bittiya Sanstha. Manandhar was also involved in the 2015 constitution-making process in Nepal where she focused on the inclusion of marginalised groups.

In this interview with the Post, Manandhar shares her fondness for reading and talks about how only a few people have the habit of reading.
How did you start reading?
I was in my early teens when I started reading books for fun. My uncle, the youngest brother of my father, read a lot of English comic books. He wouldn't share those books saying it was not meant for the kids. I remember stealing those books and reading them. The illustrations in the comic books are what made me interested in reading and what helped me understand the English language.
Unfortunately, that wasn't the case for books in Nepali. There were limited Nepali books, let alone comic books that attracted young readers. This is a reason why I am not as proficient in Nepali.
Do you believe reading helps a person to grow? How?
It definitely does. Reading helps you understand different perpectives, and societies so, it makes you more compassionate. It helps one get over narrow orthodox beliefs and acts as a window to the outside world. This is why reading is important for everyone and it is especially important for women and children. Since it is women who nurture the family, look after everyone and spend the most time with children, when women understand different perspectives, it passes down to their children. That understanding can either come from experience or reading. And because the majority of Nepali women will never get the opportunity to visit different countries and learn about the world, reading is the fastest medium to gain such knowledge.
However, in Nepal, reading has always been a luxury limited to affluent families and societies. People living in rural areas are still struggling to get basic academic books for the children. And in our social structure, where women are often too busy with their house chores, they rarely get the free time to pursue reading.
You are also the author of 'Beyond the Eco-crisis', an ethnographic study exploring the relationship between the land and ethnographic practices. Do you prefer readeing or writing?
I love doing both. It is after reading that one wants to write. I don't get enough time to read and write nowadays but I try do these as much as I can during my free time.
Although I spend a lot of time looking into this subject, over time, I have also realised that reading and writing about women empowerment or women's issues alone is not enough. It is essential to carry out practical actions to see some change. That is what I have been trying to do through my work as the CEO of Mahila Sahayatra Microfinance Bittiya Sanstha.
What kind of books do you prefer to read?
Your preference for reading evolves as you live through different stages of your life. I also believe that our preferences for books are biological—it depends on what you and your body are going through. I started out reading comic books in my early teens. After that, I started reading books of prose poetry, and moved on to romance novels. Then, I read a lot of books on social structures that gave me a closer look in to the realities of the society we live in. I have been reading biographies and autobiographies lately, as they keep me motivated. Since I am also planning to write reflections on the life I led, reading them has also given me insights into writing one too.
What are some books you would recommend to our readers?
As of now, I would like to recommend 'What Went Right' by Mark Liechty because while everybody is pointing out problems in Nepal, Lietchy looks in to the success stories of Nepal's hydropower project. Another would be, 'Long Walk to Freedom' by Nelson Mandela which is an autobiography that delves deeper into the struggles of leading people and their positions. Likewise, 'Lifelines' by George Zeidenstein, is Zeidenstein's memoir. He was a civil rights lawyer and had the opportunity to work in Nepal as well. Another autobiography would be 'Bhava Thanha: An Autobiography' by AT Ariyaratne, who is the founder of the Sarvodaya Shramadana Movement of Sri Lanka, which envisioned a society with no poverty and no affluence. I would also like to suggest 'The Vulgarity of Caste' by Shailaja Paik and 'Kathmandu Upatykaka Sanskritik Chhirka Mirka' by Bhuwanlal Pradhan. These two books are about the social structure of our country, which I believe are quintessential reads.
Sumitra Manandhar Gurung's book recommendations:

What Went Right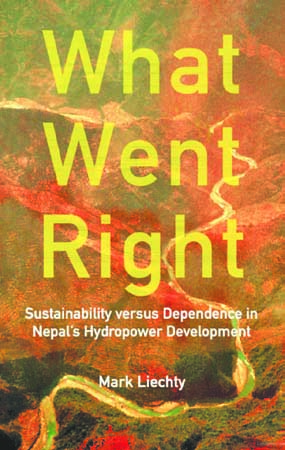 Author: Mark Liechty
Publisher: Cambridge University Press
Long Walk to Freedom
Author: Nelson Mandela
Publisher: Little Brown & Co
Lifelines
Author: George Zeidenstein
Publisher: Modern Memoirs Pub
Bhava Thanha: An Autobiography
Author: AT Ariyaratne
Publisher: Sarvodaya Vishva Lekha
The Vulgarity of Caste
Author: Shailaja Paik
Publisher: Stanford University Press
Kathmandu Upatykaka Sanskritik Chhirka Mirka
Author: Bhuwanlal Pradhan
Publisher: Sumitra Manandhar Gurung
---