Reflections on politics and society
Greatly influenced by his maternal uncle Sushil Pyakurel, Kundan Aryal started reading on politics the day he was introduced to the world of books other than his course material.

Anish Regmi/TKP
bookmark
Published at : January 12, 2023
Updated at : January 12, 2023 08:14
Kathmandu
Kundan Aryal, Associate Professor of Journalism and Mass Communication at Tribhuvan University and former press advisor to then Prime Minister KP Sharma Oli, started reading about politics the day he was introduced to the world of books other than his academics. Greatly influenced by his maternal uncle Sushil Pyakurel, former political advisor to President Bidya Devi Bhandari, and the books available in his library, Aryal got drawn towards reading political books since his early teens.

Here, Aryal shares some of his favourite political books, how there are not many critical books on Nepali politics, and how reading helped him become who he is today.
How and when did you start developing a reading habit?
I developed my love for books because of my maternal uncle Sushil Pyakurel who is a big reader himself. Up to grade 6, reading for me was going through the textbooks. I started reading in grade 7. By the beginning of grade 8, I began reading numerous books in diverse fields, ranging from Chinese comics, quotable quotes of Mao Zedong in Red Book format, and war literature to outlawed political publications. Amidst student politics, I started concentrating on specific books of the Marxist–Leninist philosophy and the left ideology to broaden my worldviews and sharpen my writing and speech.
What was the first book you read that left a lasting impression on you?
The first thick book that I came across was the translated Hindi book 'My Years in an Indian Prison' which is written by Merry Tyler and translated into Hindi by Anand Swaroop Verma. I loved this book so much that in my adolescent years, I used to imagine the characters represented in the book. It presents a vivid picture of prison and the life of Naxalite prisoners.
Which genres do you especially enjoy reading the most?
For the last two decades, I have been concentrating on non-fiction, especially books on communication theories, history, philosophy, and political science. I was an avid reader of literature - especially poetry and novels - during my school and college years.
I read across many genres and from a wide variety of authors. I relish a well-written biographical novel like Irving Stone's 'Lust for Life' which narrates the life of Vincent Van Gogh.
I also loved Jean-Jacques Rousseau's 'The Confessions', where he courageously presents an accurate self-portrait without hiding or glossing over anything. Some other books that have influenced my perception of the world include Bhupi Sherchan's 'Ghumne Mech Mathi Andho Manche', Dhruba Chandra Gautam's 'Alikhit' and 'Laxmi Nibandha Sangraha' (Laxmi Prasad Devkota's essay collection).
These days, however, I do not have the time to sit down and spend hours reading Nepali literary works and autobiographies, so I have not been reading them as much. But I keep up with works that receive rave reviews from other readers.
As a political analyst, what kind of political books do you read?
I have gone through books written in the context of the Russian, Chinese and Indian revolutions, from John Reed's description of the Russian October Revolution to Edgar Snow's writing on China, books on Mao's long march and Mahatma Gandhi's Quit India movement. Communication theories and perspectives have shaped my perception of politics. I must also mention 'Manufacturing Consent: The Political Economy of the Mass Media' by Herman and Noam Chomsky. Similarly, I used to reference 'Public Opinion' by Walter Lipmann, a classic work. 'Democracy in America' by Alexis de Tocqueville. Right now, I am going through Chinese politician Xi Jinping's works.
Do you think there are enough critical books on Nepali politics?
Amidst the poorly edited and self–acclaimed autobiographies, honestly presented critical books on Nepali politics hardly exist. This could be because of the small market (for it) or the lack of a culture of critical discourse.
You were also the Prime Minister's advisor. Did reading help you with the responsibilities that came with that title?
There, I could not apply the wisdom and knowledge I acquired from journalism classrooms, readings and newsrooms. However, insights and ideas from my readings of political, historical, and cultural texts helped me quite a bit with my work.
What is a book that you wish your younger self had read?
More than one book fits this bill, but if I have to name one, it would be Paulo Freire's 'Pedagogy of Oppressed'. I would call it my best read.
I relate to Freire's thoughts on how oppression affects the consciousness of oppressors and the oppressed equally. He states that oppressors treat people like objects to be possessed and see freedom as threatening; oppressed people become alienated from each other and begin to see their oppressors as good. Here, Freire asserts that the fight for liberation must consist of two stages: reflection on the nature of oppression and then concrete action to change it. I enjoy reading up on topics like these.
What are some Nepali books that you like?
I liked 'Langada Ko Sathi', a short novel by Lain Singh Bangdel, which depicts an ignored life of a helpless person. I appreciate his profound observations and depiction of a human being who is entirely beyond all sorts of interactions among human beings.
Can you name some books that everyone should read on politics?
As a media professional and educator, I read many books about political communication, so these are what I would like to recommend too. Carl Bernstein and Bob Woodward's 'All the President's Men', Palagummi Sainath's 'Everybody loves a good drought', James Curran and Jean Seaton's 'Power without Responsibility: The Press, broadcasting, and new media in Britain' and Daniel Lerner's 'The Passing of Traditional Society: Modernizing the Middle East' would be my picks. All of these are books that individuals in the media and academic sphere would enjoy.
For the general reader, I would suggest Upton Sinclair's 'The Brass Check', Guy Debord's 'The Society of Spectacle', and Jean Baudrillard's 'The Gulf War Did Not Take Place' which help uncover the mediated world and that is something everyone can benefit from reading.
Books Recommended by Kudan Aryal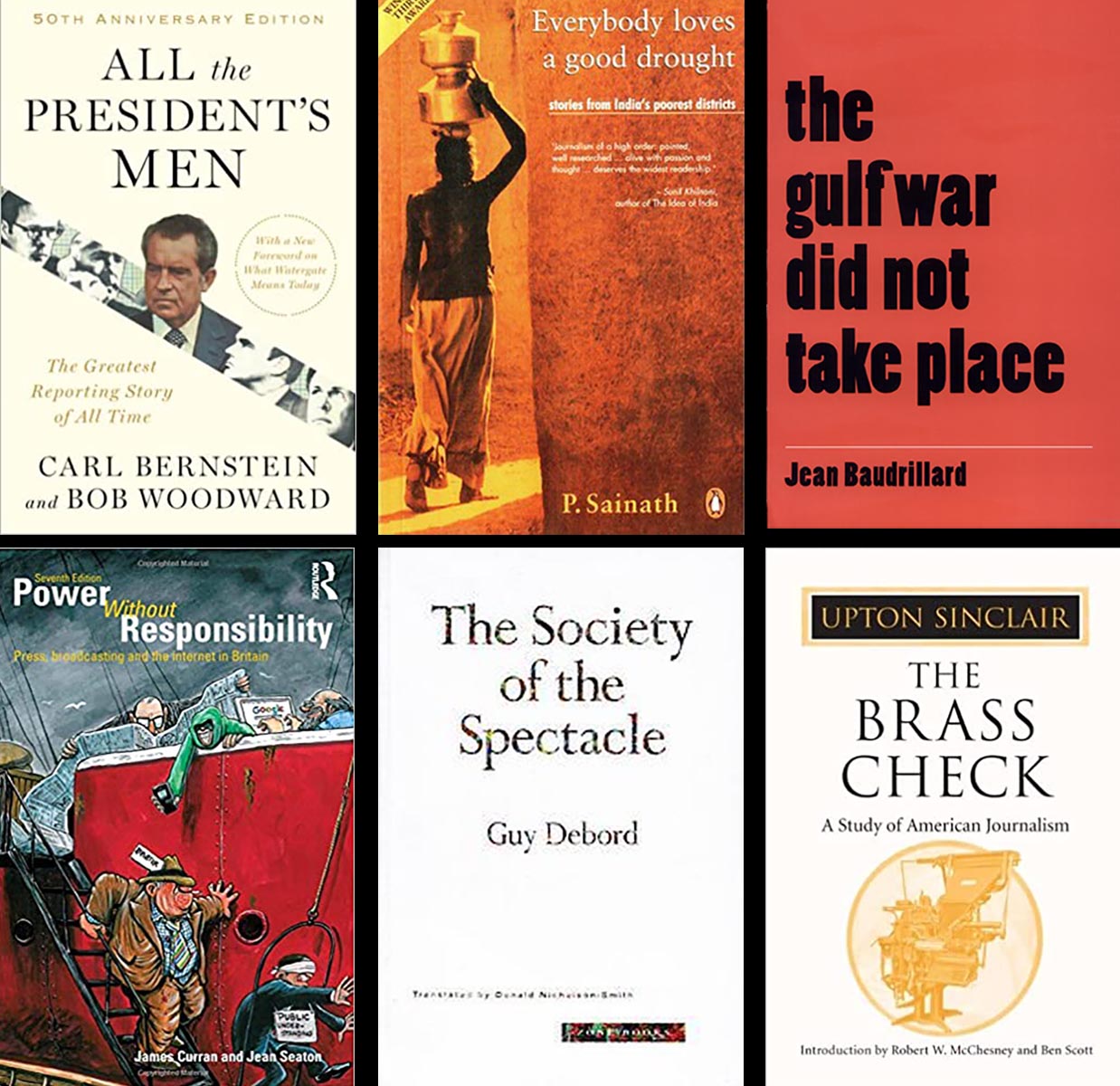 ---