'Ek Bagi', a window to look back at Nepali society and politics
Authored by Ujjwal Prasai, the book is based on the life journey of writer Khagendra Sangraula.

The book launch took place in the open space at Nepal Academy, Kamaladi on Sunday. Keshav Thapa/TKP
bookmark
Published at : October 30, 2022
Updated at : October 30, 2022 19:50
Kathmandu
'Ek Bagi' (A Rebel), a biography of Khagendra Sangraula, was released on Sunday in the presence of Mahesh Kumar Maskey, Sabin Ninglekhu and Usha Shrestha as speakers with Gagan Thapa hosting the event.
Although Sangraula is a writer himself, the book isn't an autobiography, but a biography by author Ujjwal Prasain based on his seven years of research on Sangraula, his literary works and interviews with Sangraula's nearest ones. "Taking intellectual freedom as an author, Prasai has made the book complete with his timely analysis and critique of Sangraula's life journey and decisions," said Sabin Ninglekhu.
Though the book is based on Sangraula's life struggles, the book is also said to be an archival work providing political biography and microhistory of different places Sangraula migrated to in his lifetime.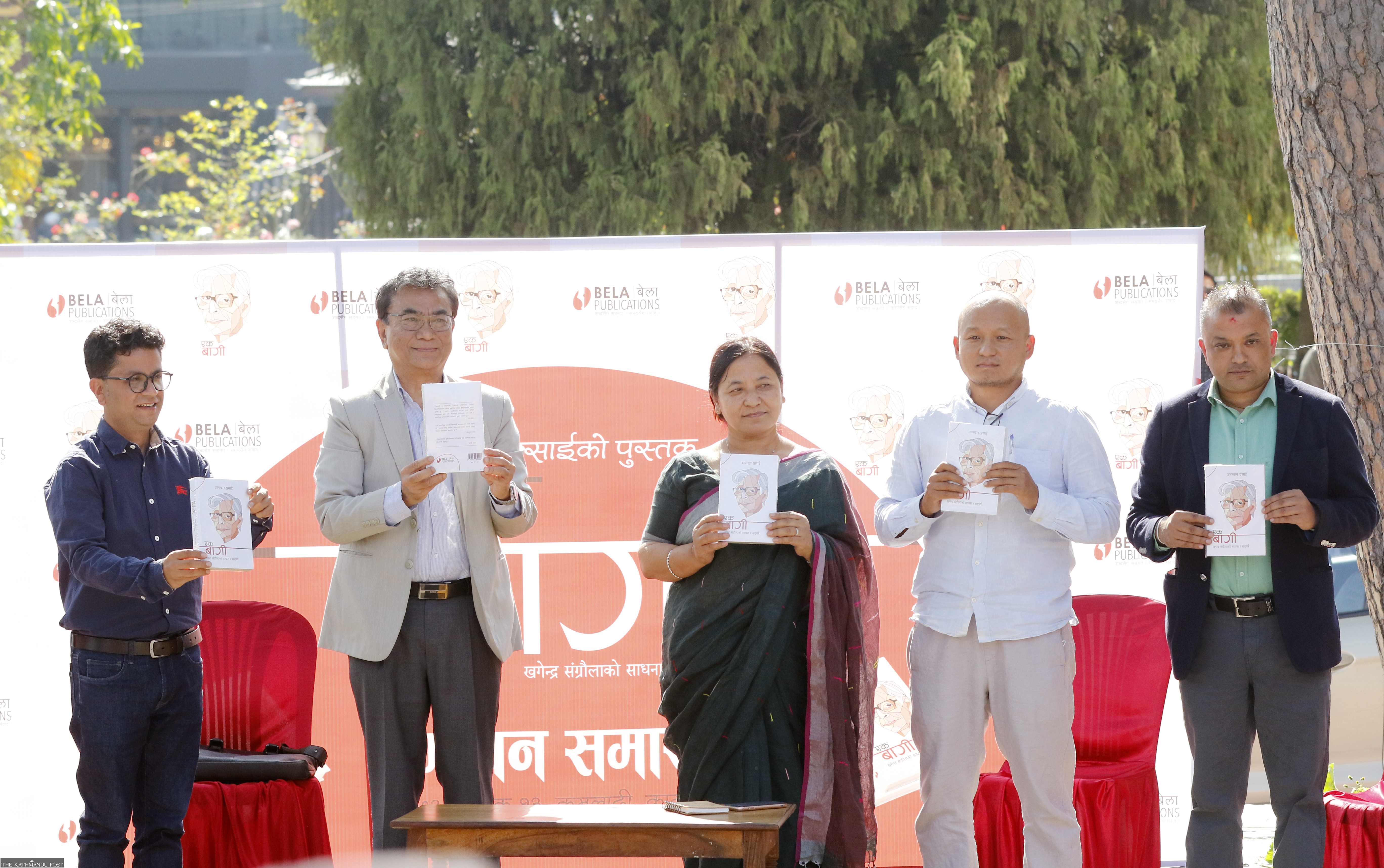 Keshav Thapa/ TKP
Sangraula, described as a pragmatist as well as an idealist by Ninglekhu, quoted the book to be a redefined version of himself. "We can view life in two ways—one from our own eyes and the other from another person's way of viewing. Since the book is from someone else's view, it has been an educative experience to know myself and my actions."
Being a reader of Sangraula's work himself, author Prasai had a fear of creating a book as a hagiography, but he took up the challenge to provide a window to look into Sangraula's life, further leading to Nepali society and politics. With intensive research on the archival works of Sangraula, Prasai also emphasised the need for setting up archival institutions on Nepali literary works.
The book is available in the market and costs Rs945.
---