Travails and ruminations of a senior bureaucrat
In his book 'Anubhab Ra Chintan', Damaru Ballabh Bhattarai provides readers with an insider's perspective of Nepal's civil service.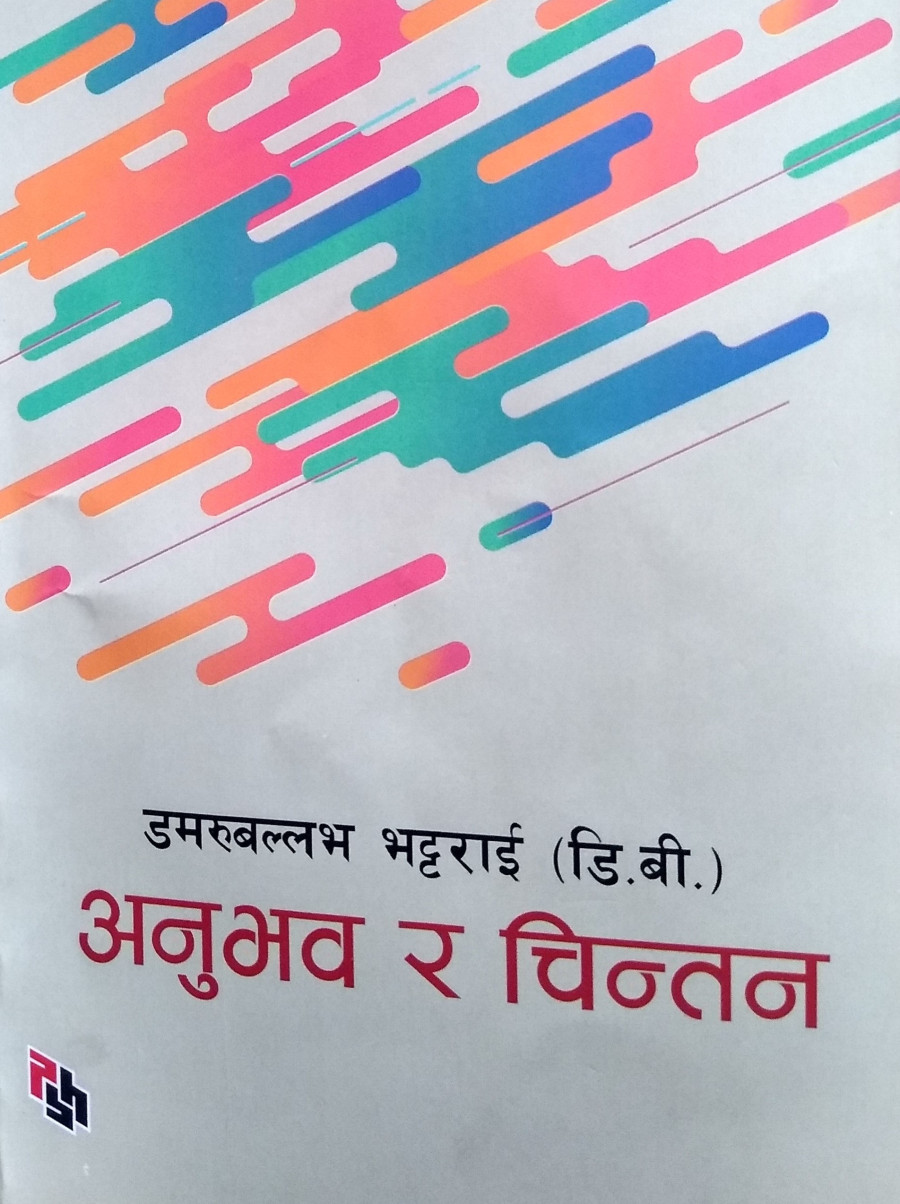 bookmark
Published at : June 26, 2021
Updated at : June 26, 2021 11:29
Damaru Ballabh Bhattarai has brought out an important publication that essentially presents an odyssey of Nepal's civil service from an insider's perspective. The book titled 'Anubhab Ra Chintan' can roughly be translated as 'Experiences and Contemplations'. With a rich experience of both districts and central administration, the author has divided his work into 39 brief chapters detailing his long tryst with Nepal's civil service.
In his three and a half decades of administrative career, Bhattarai held many responsibilities. He served as a chief district officer for 13 years and later went on to hold the position of secretary. As the top district administrator, Bhattarai served in seven districts—Panchthar, Mahottari, Jajarkot, Sankhuwasabha, Dhading, Salyan and Kathmandu. As a senior bureaucrat, he seems to have worked closely with at least seven prime ministers.
Bhattarai is frank in admitting that the career of a bureaucrat involves both positive and negative points and he has no hesitation in accepting full responsibility for all his deeds. He cherishes the good memories of his fruitful interactions with what he calls duty-bound, energetic and thoughtful colleagues that he encountered at both central and district levels of our bureaucracy.
The author starts the first chapter that can be taken as a summary of his nearly four decades of association with Nepal's civil service. Bhattarai minces no words, albeit indirectly, in accusing the first elected government of Nepal after the restoration of the multiparty system. He accuses the government headed by Prime Minister Girija Prasad Koirala for indulging in a systematic retaliatory action against senior civil servants for their allegedly negative advice with regards to the Tanakpur Agreement. He also alleges that the government destroyed the fabric of Nepal's civil service. He has also mentioned the names of two top administrators Kul Sekhar Sharma and Dirgha Raj Koirala, who are said to have resigned from their positions in protest against the move.
The second chapter gives a good account of his family, parentage and his childhood days in Taplejung district. He also deals with the trends of migration of people towards district headquarters, Terai region, Kathmandu Valley and even abroad. Subsequent chapters deal with his education and search for employment that ultimately landed him in the civil service.
The book covers many political stalwarts and administrative brains who dominated our country for a long time. Bhattarai has named most of the top political leaders who came to power including some members of the legislature in places where he served as an administrator. Among political people, he has reserved admirations for people like Man Mohan Adhikary, who was keen that King Birendra should be sent to represent Nepal in some major UN functions, and Pradip Kumar Nepal, who helped Bhattarai—who was relieved of his post by the government even though the court scrapped the government's decision—get reinstated in the civil service.
Bhattarai has named four administrators whose memoirs inspired him to write the book. They are Himalaya Shumsher, Rebati Raman Khanal, Durga Prakash Panday and Khem Raj Nepal. Apart from Khanal, a legal brain and prolific writer who served in the Royal Palace, the rest of the administrators who inspired Bhattarai retired as secretaries to the Government of Nepal. Himalaya Shumsher spent a long time with the United Nations after a decade-long association with Nepal's civil service as the finance secretary and Governor of Nepal Rastra Bank. Panday had a six-year stint as the consul general of Nepal in Kolkata.
Bhattarai has cited with acclaim chief secretaries like Krishna Bam Malla and Major General Kshetra Bikram Rana (also ambassadors to India and China respectively after their retirements from the civil service). Some diplomats mentioned in a rather passing reference include Narendra Bikram Shah and Badri Prasad Khanal.
While the author seems very conscious not to pass any unfavourable judgment on civil servants, he has, however, singled out Damodar Prasad Gautam, former chief secretary and ambassador to the United States, for his severe strictures. While admitting that Gautam belonged to a category of studious, intellectual, balanced and amiable bureaucrats enjoying high respect, loyalty and confidence in the government, Bhattarai accuses him of what he calls lack of accommodation in terms of civil servants who were summarily dismissed and waited for placements for long even after their acquittals by the judiciary. Since the writer himself was a victim forced to fight a rigorous legal battle for reinstatement, this can also be taken as natural ventilation of his grievance.
The book laments Nepal's failure to develop despite several plans and programmes, especially taking into account the rampant poverty, backwardness, and ecological decline seen in most parts of the country. The author seems worried over the prevailing political divide. He has also given a stagnating picture of the Melamchi drinking water project.
He belittles the post of Secretary to the Prime Minister and claims the role is without any real worth. But the most interesting thing is that despite such a vivid caricature of the lack of any worthwhile job for the top civil servant there, the Prime Minister Office, in recent years, has seen an increase of posts in secretarial ranks. Whether this has anything to do with the flurry of activity this office has undergone with the translocation of many departments and offices there in recent years is not clear.
Some other incidents that the author refers to in his most readable book include the granting of citizenship to Dhirendra Shah after he relinquished his status as a royal family member.
With all these positive descriptions, the book suffers from some inherent weaknesses. First and foremost is the author's clear reluctance to write anything on his stint as the Election Commissioner despite the fact that the tenure passed through a difficult period of political tumult and systemic change. The other is a lack of coherence in the case of many chapters. Despite these minor lapses, Bhattarai has rendered a great contribution in highlighting so many facets of Nepal's civil administration and deserves kudos for his endeavours.
——————————————————
Anubhab Ra Chintan
Damaru Ballabh Bhattarai (DB)
Publishers: Pairabi Book House, Kathmandu, 2021
Pages 216
Price: Rs 375
---
---