The creator's heart and mind, unravelled
Despite its promises, Jaipur Journals is a sad and lonely work, layered with contempt and spite.

bookmark
Published at : March 21, 2020
Updated at : March 21, 2020 07:59
Kathmandu
The annual Jaipur Literature Festival (JLF)—proudly proclaiming itself the greatest show on earth—has just begun for the year. A budding poet, born as a result of India's demonetisation drive, wanders around the buzzing grounds with two goals in mind: to meet Janab Javed Akhtar, and to carry out thievery to cover the cost of his trip to Jaipur. The flippant yet touching character of burglar-poet Betaab is enough to evoke interest in Namita Gokhale's latest novel, 'Jaipur Journals.'

On a train hurtling towards Jaipur sits Anura, a precocious child who has been selected as a participant at a Young Adult session at the fest. She spins tales in her head as she awaits her turn to speak.
Also on the train, and later in the audience, is a closet writer, Rudrani Rana (cue: she is an exciting tie to Nepal). She listens to the panel discussions with her manuscript inside her bag. Depending on the outcome of the discussion and the attention accorded to her, she also sends out nasty or congratulatory anonymous notes to the panel members.
Further away is young graphic artist Anirban, busy sketching Rudrani and other members of the audience, when he is not doodling for his column in a newspaper or canoodling with his newly found boyfriend.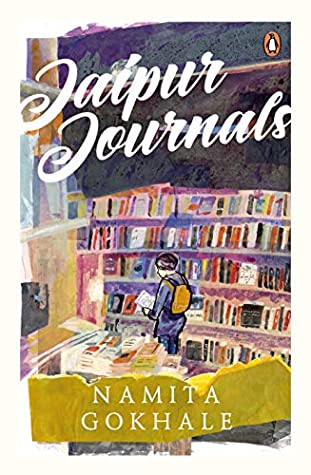 Such diverse personalities and trajectories, and one festival to bind them all. 'Jaipur Journals' is an ode to the people who breathe life and soul into JLF. It is a highly interesting idea, a treat for literature lovers. A novel set across the length and breadth of JLF that hosts some of the most interesting personalities from the literary world and beyond.
The very city of Jaipur brings to mind a special image—of authors and the rapt audience, conversations and book signings; arts and colour; the philosophical and the theoretical. For over a decade now, the city resplendent with heritage and culture has hosted the JLF. As Festival Director, Gokhale fully exploits her insider information and secrets, bringing to attention minute details and carving out unpredictable-seeming characters. The best part is that she sees through all the vainglorious pomposity that often surrounds creators, and does not shy away from making fun of them—or even the festival itself.
"What is the point, what is the purpose, of so many books being written? The sheer bulk of it—the weight of the output, of content creation and self-expression in the days of digital democracy, of all-encompassing platforms—devalues thought, devalues literature," says a Nobel laureate giving a speech at the fest. As if it is not the turn of every new generation to let their creativity unleash, as if the older generation did not step nimbly atop their literary publications to look down on upcoming ones. How sneakily this tussle between the 'classic' and 'contemporary' has been woven into the novel.
Peacocks and peahens and monkeys, masala chai scooped out of a burnished copper pot, people chatting excitedly in Hindi and English and Spanish—and Nepali: the festival comes alive in the pages and the reader becomes an eager participant. Despite several works in fiction and non-fiction, some with great beauty and sensitivities, Gokhale is a relatively underrated writer, and she deserves credit for her effortless style and control over words. Paradoxical as it might sound, there is an artless finesse in her writing that is quite unique, an indecipherable quality of being readable even in its most intricately literary form. The novel has an engrossing start, then there are tantalising snippets, real-life incidents and a clash of vanities that quite simulate the buzz and drama that takes place every year at the festival.
And yet, with all its promises, Jaipur Journals is a sad and lonely work, a work layered with contempt and spite, which somehow does not suit the overall ambience. With Rabindranath Tagore addressed as "That Bengali!", the painstaking use of 'woke' to appear hip, the condescension towards writing and writers in general, a constant mocking of the creative and publishing process… there is little to keep you sympathetic or anchored towards the festival, the foundation of the entire book. That the narrator has arguments with the contemporary literary scenario, that she snaps at the existing system is understandable, and this is perhaps the effect that the novel sets out to generate. To provoke and incense the reader, to acquaint them with the fake veneer that coats their favourite authors and revered books.
But this acerbic tone that permeates the novel is not quite enjoyable, and takes us far away from the original setting. It does not translate to a biting or intelligent satire. There are other challenges, too: the novel reinforces the stereotype of the matronly closet writer; of the sparkling socialite and her rampant infidelity, of the evocative and forgiving Muslim orator. There are some true characters, and some hasty caricatures. A conversation between two cousins on sexualities and its hidden politics, claiming to be 'highly entertaining', is distinctly unfunny and unnecessary. And after introducing some interesting characters and an array of possibly riveting situations, the plot just sort of fizzles off, leaving us with a half-hearted climax.
"I must depart this circle of words and egos," says Rudrani Rana, even as her heart yearns for it. This novel, too, is lost somewhere in that quagmire.
Jaipur Journals
Author: Namita Gokhale
Publisher: Penguin Random House India
Pages: 200
---
---