Bookstores' decision to halt imports places attention once again on taxes on books
Responding to the decision, many on social media have decried the taxation of books on the grounds that reading is about learning and education.

A boy reading a book at the International Book Fair at Bhrikuti Mandap. Beeju Maharjan/TKP
bookmark
Published at : January 30, 2020
Updated at : January 30, 2020 07:24
Kathmandu
On Tuesday, Nepal Mandala Book Shop, a book shop based in Pokhara, announced that it would no longer be bringing in any new books. Announcing their decision on Instagram, the book store said that its decision was prompted by an inability to pay 10 percent customs duty on all books imported from India.

"There are a lot of books that are still at the customs department at various border points," Pratima Sharma, one of the owners of the book shop, told the Post. "We buy books from India, but the government wants us to pay tax based on the dollar or pound price that is printed on the book. This is just not sustainable for us. It hurts us to say this but we won't be able to import new books for our readers anymore."
Nepal Mandala Book Shop's decision to stop importing books was widely shared on social media, with many criticising the government's policy of inflated taxes on imported books. In the budget announcement for this year, Finance Minister Yubaraj Khatiwada had announced 10 percent customs duty on all books being imported from India.
"An import tax so large as to shut down burgeoning startups will increase inequality between those who can afford expensive habits and those who can't," said one user on Twitter. "[It will also create a] drop in knowledge creation/transactions."
"My god, why on earth would a government put a tax on books? This is pretty barbaric. It harms Nepalis and Nepal. I mean obviously there's VAT/GST which is bad enough, but this will put booksellers out of business in a country where there should be more, not less education, and very few people can afford things like electronic reading devices," said another user.
When the tax was first announced, it was widely decried by readers and bookstores as only further burdening students who are already expected to buy expensive books for their classes. Many had also said that the move might affect reading habits among young people.
Like Nepal Mandala, other bookshops too told the Post that their books were stuck at customs, waiting to be released. Many haven't put up any of the international new releases yet.
This, however, isn't the first time a tax has been imposed on books.
In the budget for the fiscal year 1997-98, then finance minister Ram Sharan Mahat had imposed a 10 percent tax on all books being brought into Nepal from India. The same thing happened again, in 2005-06, when then finance minister Madhukar S Rana imposed a similar fine, this time at 5 percent. But after public outcry and pressure from bookshops, the decision was scrapped.
But this time around, book shops and the National Booksellers and Publishers Association of Nepal are refusing to speak publicly about the issue.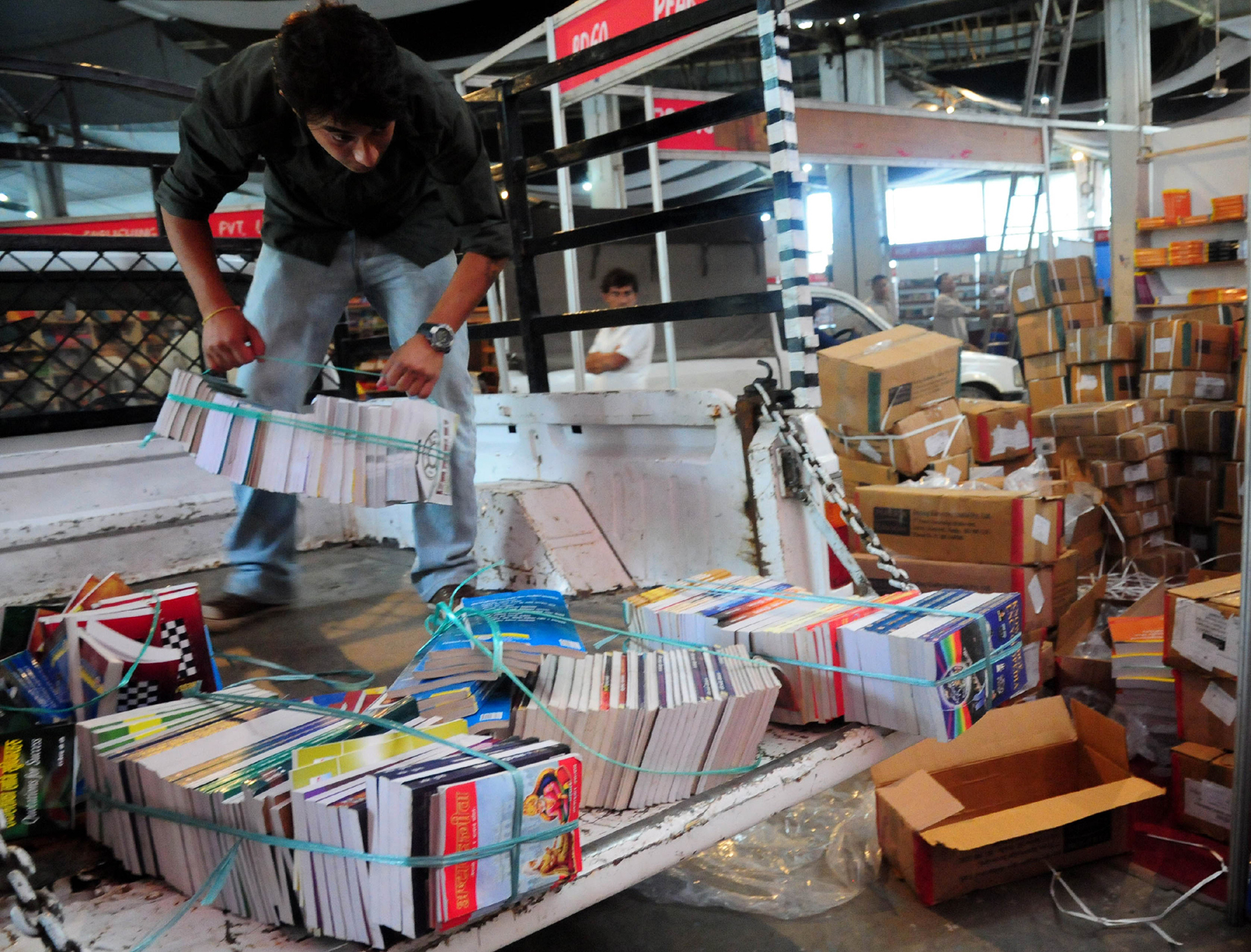 Books being unloaded during Nepal Education and Book Fair at Bhrikuti Mandap. Post File Photo
"I don't want to say anything about it right now. This has been an issue which has been talked about before but right now, I don't want to comment," said Likhit Prasad Pandey, president of the National Booksellers and Publishers Association.
When the Post spoke to Pandey and other booksellers in June last year on the same issue, many had given a public comment. This time around, no one spoke on record because they feared government reprisal.
"When we spoke out against the tax, the government turned vindictive towards bookshops," said a bookshop owner who spoke to the Post on condition of anonymity. "After we started lobbying to stop the tax from being imposed, the government started sending tax officers to bookshops to conduct raids and surveillance. People are afraid that this will happen again if they speak out."
According to the bookshop owner, the government was attempting to create an environment of fear where people will hesitate to speak out. And it appears that the government has succeeded.
Nepal seems to be following in the footsteps of various governments around the world who in recent times have imposed taxes on books. The Indian Finance Ministry, allegedly to "encourage domestic publishing and the printing industry", on July 5, 2019 imposed a 5 percent customs duty on imported books.
Many members of the European Union had also done something similar, imposing VAT of up to 25 percent on e-books. But after widespread criticism, the taxes were slashed significantly, with the maximum at 10 percent.
Many booksellers said that the government decided to impose the tax without consulting with stakeholders.
"The government, before taking these decisions, should have consulted the stakeholders. This is a big decision they have made and it has already had a negative impact on book shops," said the bookseller on condition of anonymity.
Even though the decision to place a tax on books has been in place for a year now, the public outcry only began after Nepal Mandala's decision to stop importing books went viral.
Writer Amish Mulmi tweeted that the government's decision to tax books was terrible policymaking while Tootle co-founder Sixit Bhatta said in a tweet that it was a horrible decision to impose a tax on books.
"For now we can't buy books, but for the future Nepal will be deprived of thinkers, innovators and policy makers. What a loss for the society! What a loss for the country," Bhatta tweeted on Wednesday.
Ajit Baral, a publisher and bookseller, said that the outcry is justified.
"Books are an important part of people's lives," said Baral. "They inspire people and help people. They broaden people's minds so this is definitely something that should be talked about."
---
---