That which has multiple interpretations, and no interpretation is the truth
The Man Who Saw Everything is a novel that treads into the unknown and fantastic, it has fun with its own form but fails to create a coherent narrative for the reader.

Pixabay
bookmark
Published at : October 19, 2019
It is 1988—a year later, the Berlin Wall will come crashing down. Unaware of this relatively optimistic future, a young girl, Luna, in East Berlin craves for the syrup enclosed in a tin of pineapples, something that is unavailable in her part of the country. She usurps a guest's jeans, excitedly plotting with her mother on how best to alter it to suit her slender frame. A while later, this spirited, ballet-dancing nurse falls in love with the guest, a beautiful British man with oceanic eyes. The problem? The man, Saul Adler, lusts after Luna's brother, Walter.
This love triangle isn't even the most interesting of plots in playwright, poet and novelist Deborah Levy's latest novel The Man Who Saw Everything. The novel has the formidable reputation of being the author's third novel to be nominated for the Man Booker Prize, and it is easy to see why. Her thoughts have a freshness about them, a surreal and almost careless splendour that must have been carefully cultivated, but they come across with great ease. The characters are intriguing, the premises exciting. There is history and psychology and a romance woven in that spans three countries and several decades.
But the novel cannot be contained in these mere words. It is quite inexplicable, and honestly exasperating. It is not a lazy book, but it demands from the reader much more than it offers—it requires individual interpretations and a multitude of meanings that could easily expand into a million different understandings. All books seek for personal interpretations, but you could call this novel the height of a writer's expectations. Indeed, Levy has mentioned that her books are 'conversations with readers', so the readers are expected to provide their own ripostes to Levy's volley of words.
The novel begins in Abbey Road in London, as Saul is walking across a zebra cross—to replicate the Beatles exactly as they were, fifty years ago this year. His photographer girlfriend, who forbids him to describe her beauty in any way, is taking his pictures. Then he meets with an accident, his girlfriend rejects his marriage proposal, and he moves to German Democratic Republic (GDR), where he meets the aforementioned siblings Luna and Walter.
Straightforward story until halfway, with some sentences soaked in delightful beauty, a few descriptions to reveal the yesteryear, an exploration of the characters. Then suddenly, something shifts. It is 2016, nearly 30 years after our story opens. Saul meets with another accident on the same street, seemingly hit by the same person, Wolfgang. Things grow strange, then bizarre, then incredulous. There is an attempt to account for the lost years that aren't convincing, and that trip to GDR begins sounding like a chimera, a figment of imagination. Except it isn't, because the characters from the past keep popping up to wish him luck and nurse him to good health and reveal having his babies after one passionate encounter.
Time ceases to have any meaning. Back and forth it goes, like a restless being, up and down. Truth, too, stops existing. Saul could have woken up from a coma, he could have been imagining his past life, he could be lying. Anything could be true, and everything could be false. This is where the novel arrives in its full form. This sleight of words and time, of fiction and farce, can be exulting in spurts, and immensely tiring during the longer lulls.
The tiredness arises most certainly from trying to keep in step with the flitting mind of the narrator. From the very start, the narration is rambling and slightly mysterious and very self-centred, much like the innards of a multitasking mind. It creates a faintly anticipatory and unpleasant buzz, which gradually builds up and whines enough to induce a dull ache on one side of the head. The novel resembles the inside of a millennial's head in its essence, though the character is far from being an actual millennial.
He is a mostly unlikeable person, which is a risky gamble to take on the protagonist. His girlfriend calls him 'detached and absent', and he is more—he is quite irritating. He is unlovable and distant, preening and narcissistic, almost cold. Every ten pages of the book, we are reminded of just how angelic he looks, how obscenely beautiful with his soft lips, how everyone immediately begins lusting for him because they can't help being attracted by his charisma.
When Saul sees (or thinks he sees) his son, his fatherly instinct only extends as far as his comely outer appearance. "I wondered how he would use his extreme beauty," Saul says smugly, "which is always useful and always a burden, sometimes even freakish." This humblebrag is Saul's most telling character, whose world revolves around me, mine, I. He is so selfish that he finds spending time with a normal family 'boring' and 'dull.' Not a pleasant companion to have, though he does chastise himself at times.
His character is made bearable by his curiosity and acceptance of the feminine in him, his explorations in sexuality, the company he keeps. His beauty is described as 'sublime', his father calls him 'nancy boy', he toys with mascara, flaunts an orange silk tie, wears a pearl necklace to a wedding. He carries his father's ashes (who is later revealed to be alive) in a matchbox to bury in GDR. His girlfriend, who creates flighty, whimsical art, has favourite sandals made from car tyres, while her friend is always soaking "some sort of seaweed in a bowl of water." The "upside down" Luna reading Allen Ginsberg's Howl reveals the heart of the novel—people finding themselves in Beat poetry, bohemian music, the need to break free, to rebel, to stand out. The characters are distinct and lovingly introduced, each with hard to miss quirks and foibles. Must every character be so eccentric and wild and dramatic? Then again, aren't we all?
Within all this muddle, lessons and descriptions and meanings are submerged and revealed, seen and hidden. There is an abhorrence towards surveillance and limitations, a desire for unbridled freedom. The novel treads into the unknown and fantastic, it has fun with its own form, it enjoys travelling with the narrator. It fails to create
coherence, but then this restlessness and cartwheels are its identity, the convolutions it is trying to navigate.
This novel is, in the end, "a reality that is so rational it is a little bit mad." Saul's mind is almost a mirror to all of our goldfish memories and attention spans today, the way we Google something and then fall into a labyrinth. Read for your share of mania and lunacy (Luna is short for Lunatic, we often hear).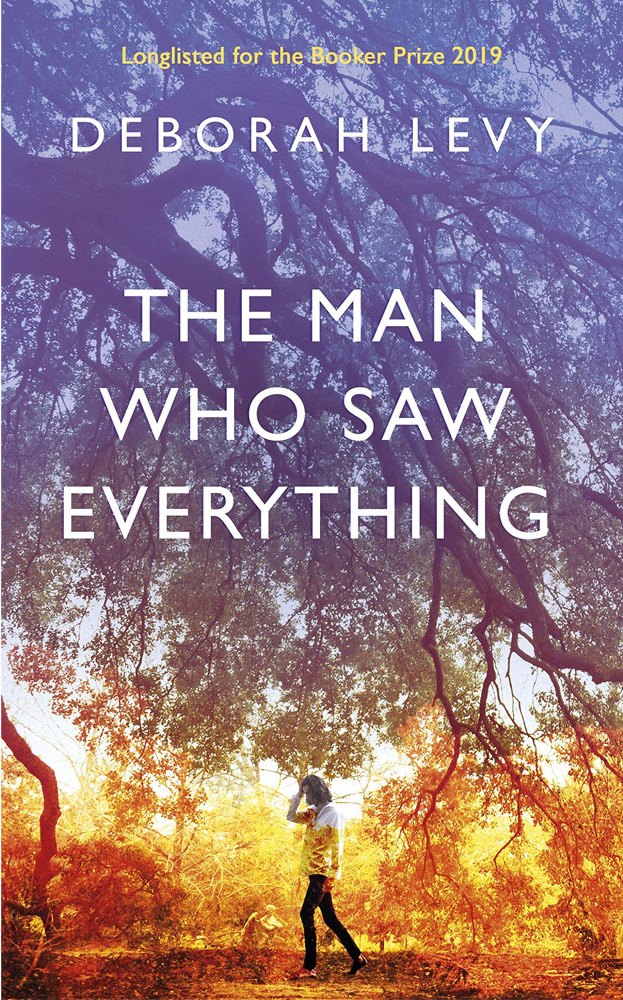 The Man Who Saw Everything
Author: Deborah Levy
Publisher: Hamish Hamilton (Penguin Books)
Price: Rs2,662
---
---